American Beauty Garden 3 Condos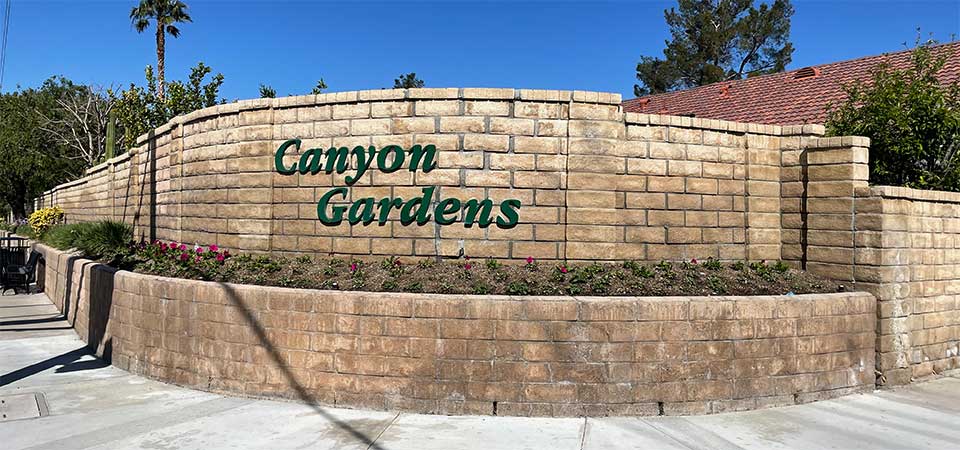 Built in the early 1980's, the American Beauty Garden 3 townhome community is located on the map, a mile from Sand Canyon and just north of Soledad Canyon Road. The homes here are actually classic duplexes, with 2 homes connected together and separated by one common wall.
NOTE: Be advised, this neighborhood is often referred to as "American Beauty Garden 3". It is also known as Canyon Gardens and Canyon Country Condominiums! For the record, according to our local MLS, the subdivision name is Amer. Beauty Garden III. The MLS abbreviation is AMG3. To make things even more confusing, the homes here are all townhomes, NOT condos!
Canyon Gardens Quick Facts
3 & 4 Bedrooms
Condo Sizes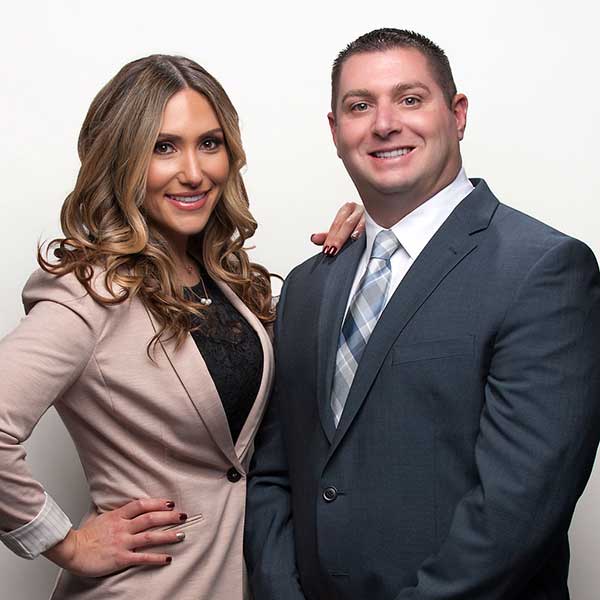 American Beauty Garden 3 Report By
Matt & Meray Gregory
[email protected]

As REALTORS®/brokers, AND lifelong SCV residents, we are especially interested in helping buyers find affordable condos or townhomes. Please contact us to schedule a consultation.

Your Local REALTORS®
DRE# 01463326
DRE# 01831112
Overview of Canyon Gardens – American Beauty Garden 3
The duplex townhomes here are sized from approximately 944 to 2,103 sq ft with 3 or 4 bedrooms and 2 or 3 bathrooms. Perhaps the most common sizes run from 1,600 to just over 1,800 sq ft. Nowadays, that's considered a pretty good size home! Even better, the homes here have decent sized backyards.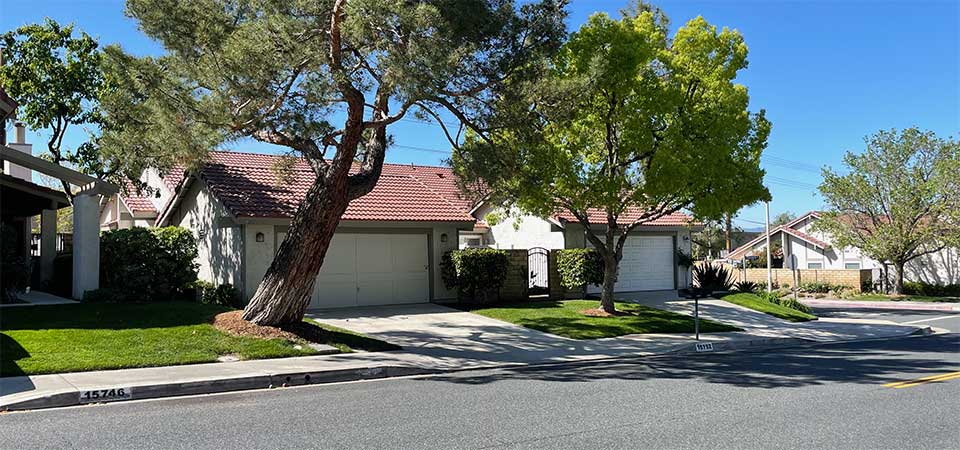 On a recent walk through the community we couldn't help but notice how nice the grounds and home exteriors are maintained. The lovely shade trees continue to be trimmed and the front yards look their best. If interested in buying a classic duplex townhome in a quiet neighborhood, this location is well worth the visit.
New Townhomes vs Classic
If looking at similar homes in the new Mission Village community, you will notice many of those have no backyard at all. You might be surprised to hear that many of our condo & townhome buyers actually prefer these more traditional townhomes, even if they are older. After all, if structurally sound and well maintained, who cares about the age!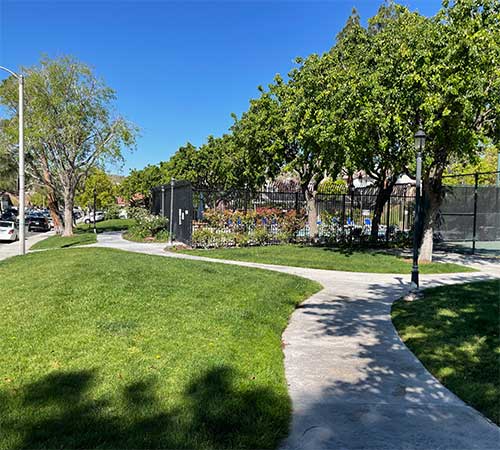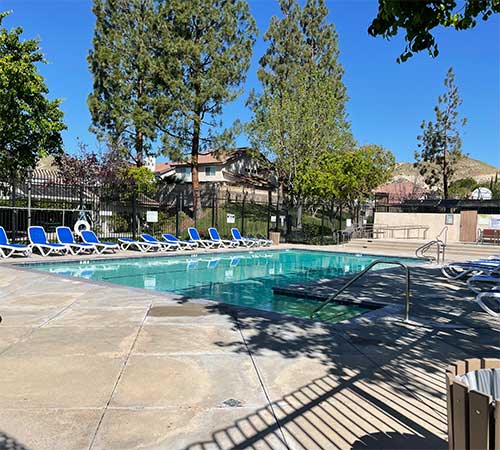 Community Amenities
The American Beauty Garden 3 homes come with some darn nice amenities including a large pool, hot tub, lighted tennis courts, a half basketball court and a playground. Also, there's a Oak Spring neighborhood park located just next door.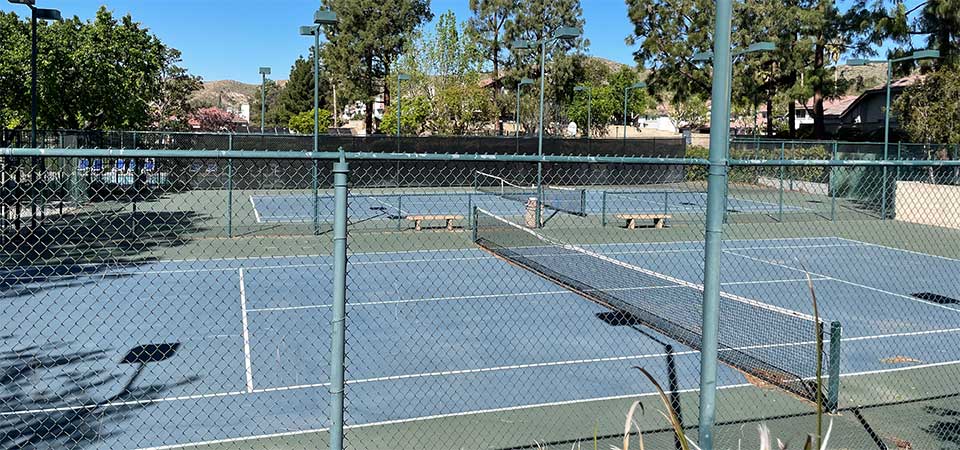 The monthly HOA costs are comparable to other condo or townhome neighborhoods and run in the $300 to $400 range, but be sure to VERIFY before making an offer to buy. Remember, condo or townhome HOA costs might be higher but usually they include most of the ongoing exterior maintenance. This usually includes painting, roofing, etc.
More American Beauty Confusion
Just what we needed! Even more confusion with regard to the naming of condo neighborhoods in Canyon Country. As some might have noticed, there 11 different American Beauty subdivisions in Canyon Country, but at this point, there's nothing to be done about it! Regardless of the name, the location for this neighborhood is shown on the map below.
Schools and Local Conveniences
Nearby schools include Sierra Vista Junior High and Canyon High School. See the William S Hart boundary map here. Nearby grade schools include Pinetree Community School and Mitchell Community Elementary.
Local Convenience Shopping & Dining
There are two nearby shopping centers with dining located about a mile down the road at Sand Canyon Road and Soledad Canyon Road. It's a very short drive and certainly walking distance for some. Of course, it's only a short drive to plenty more locations as well.
Condos For Sale in this Complex and Surrounding Areas
The listings below include only ACTIVE listings of all condos & townhomes for sale in this neighborhood and other nearby neighborhoods. If there are any listings in the Amer. Beauty Garden III condo complex, they will be included in the listings below. You can also view all condos for sale in Santa Clarita to find links to more condo and townhome communities.
Sorry we are experiencing system issues. Please try again.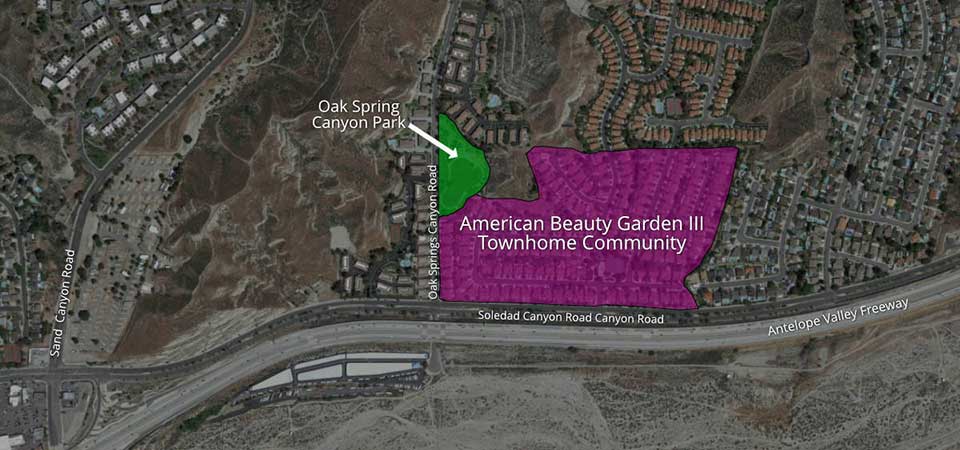 Find Maps to More Condo Locations
If you are having problems finding condo and townhome communities, we've prepared pages displaying maps to multiple condo complexes for each area as shown below. Please keep in mind, we have NOT included ALL locations so if looking for something specific please contact us directly for a consultation.
Canyon Country Mapped Locations