New Entry Door Locks Make Your New Home More Secure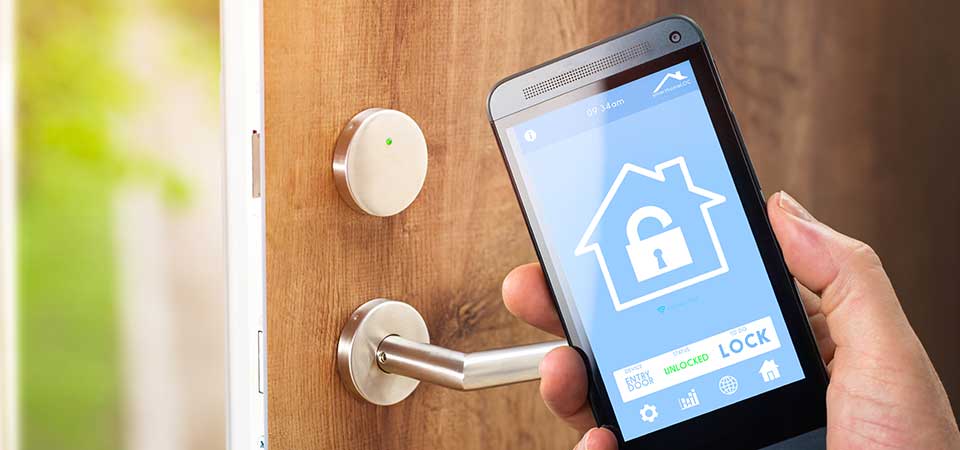 As local realtors we usually advise our home buying clients to re-key or replace their main entry door locks immediately after escrow closes. Should you choose to replace your locks check out the latest tech options offering both security and convenience. Either way, when moving into your new home be sure to add entry door locks to the top of the to do list.
Control Your Home Entry Door Locks With Your Mobile Phone
For quite a long time, we've all had the option of choosing a key card or key pad access instead of a traditional keyed lock. Well, now it's even more convenient to operate your front entry door lock by using your mobile phone app. In fact, you don't even need to be home because you can operate your door from anywhere you have an internet connection. Nowadays, with the right entry door lock you can conveniently operate your door using your phone from any location with an internet connection.
It's So Convenient!
It's just so darn convenient when away from home to have the ability to unlock your door to allow a delivery person to place a package inside the door. You can even have a small cam which enables you to see who's there before unlocking the door. Next, say you needed to allow your neighbor access to your home while you're on vacation. With the new entry door lock technology, instead of handing out keys, you can allow users to temporarily use their own phones to access your home. Then, when you return from vacation simply disable the user and you're all set.
No More Answering the Door for Pesky Solicitors
We especially like the feature of viewing visitors before answering the door. No more taking chances for someone you don't know or dealing with annoying solicitors. Oh, and just so you know, we are not the type of realtors to come knocking on your door. We have plenty of home buyer resources here, but if you are considering buying or selling a home you may contact us, Matt and Meray Gregory at 661-713-4799.

What Does the Locksmith Say?
Recently we spoke with a trusted local locksmith, Scott Ziola of Flying Locksmiths. He shared a number of features to consider when planning to buy a new smart entry door lock.
Choose an smart entry door lock that is wifi enabled so you can control it from anywhere your phone works.
A Wifi enabled lock is a better option than bluetooth because you'll have better range. Scott did say it's important to verify your home wifi has the range needed to reach location of the new entry door lock.
Choose an entry door lock that enables video activation whenever someone rings the door bell.
Verify the entry door lock app allows full control over users at the tap of a button.
To help keep track of when your kids are coming and going, verify the app keeps activity logs.
Unless you're extremely handy, we recommend using a good local locksmith to install your new smart entry door locks. Your home's security is just too darn important to risk mistakes and it won't be horribly costly! When considering what the convenience factor, probably well worth it.
Though we have no affiliation with any one locksmith, we have recommended Scott Ziola in the past and he has always come through and at a reasonable price. If you live anywhere in greater Los Angeles vicinity you may contact Scott directly by calling 818-356-7444.
DIY Smart Door Locks
If you decide to go the do it yourself route and install an entry door lock on your own, be sure to do your home work and check out all your options.
We noticed the door bell cam is a separate device but you may be able to purchase the smart lock and cam as one unit. It would be nice if you to control all the devices from the same phone app. There are too many options and since we're not lock experts, we'll leave it to you!
New Home Technology Making Our Lives More Convenient Than Ever
Honestly, we are so darn impressed with the new smart entry door locks and find it interesting how far locksmithing technology has come. It's no longer about traditional locks and keys and after speaking with the local locksmith, he opened our eyes to all the improved security and convenience now available. As realtors, we make it our business to keep up to date with the latest home improvement technology and we think these new smart entry door locks are options worth the expense.