Find 4th of July Fireworks Shows in Santa Clarita
Fireworks Displays in SCV in 2023
As lifelong residents and local realtors, we're pleased to share about where to find fireworks shows here in Santa Clarita. Of course, much of this is common knowledge, but we also provide a few tips on where to park and how to get the best spot!
UPDATE 2023 Stevenson Ranch: YES, there will be a fireworks show in Stevenson Ranch, but it will be on Monday, July 3rd at Richard Rioux Park. The park opens at 6:00pm, it's FREE and everyone is welcome!

Santa Clarita Fireworks Displays – Locations & Start Times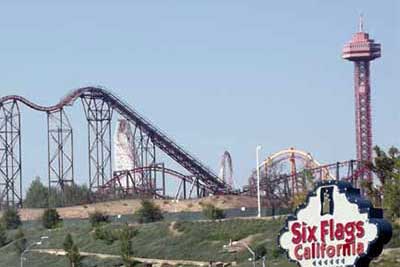 Magic Mountain
Fireworks show for 4 straight nights beginning July 1st and ending on the 4th. Lasts about 14 minutes.
Fireworks Start: Approximately 9:00 PM each night.
2023 – SCV 4th of July Local Information
There are two Santa Clarita locations for fireworks displays on the Fourth and one location in Stevenson Ranch on July 3rd!
Stevenson Ranch on July 3rd
It's been a few years since the last Fireworks show in Stevenson Ranch, but it's finally back on for 2023. HOWEVER, the show is on July 3rd! The event will take place at Richard H. Rioux Memorial Park. The park opens at 6pm. Here's a map to the park.
Westfield Town Center Mall on the 4th
The mall has an outstanding fire works display and it's FREE for all. Generally, most locals will tell you they like the mall fireworks the best. This is partly because you can listen to the music that goes along with the display by tuning in your radio to our Hometown Radio Station KHTS AM 1220 or 98.1 FM.
Magic Mountain will be having their Let Freedom Ring Fireworks display and we have confirmed it goes on for 3 straight nights beginning on July 1st through the 4th. Magic Mountain will cost you! Yes, you can view the Magic Mountain show from afar but you won't see the whole show unless you are inside the park. In fact, the Magic Mountain display combines the fireworks with laser effects and it really is quite spectacular. All best viewed from inside the park. The best spots to view the fireworks from inside the park are at the Full Throttle Plaza and Main Gate Plaza.
Mall Fireworks Parking NOT Fun
So, if you want to get a good spot near the mall it's best to arrive very early. Some people stop by early in the day and save their spots by placing blankets along the curb. We've never really seen the value in that because you still have to park and don't forget, it's worse getting out of the parking lot than it is getting in. We usually ride our bikes. You can get just about anywhere you want to go and it's great exercise too. If you really want that special spot away from the crowds, try scoping out hilltops early in the day. You should be able to find a prime location to watch both the Magic Mountain and Mall fireworks.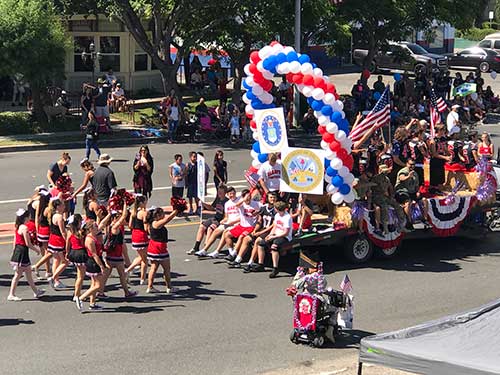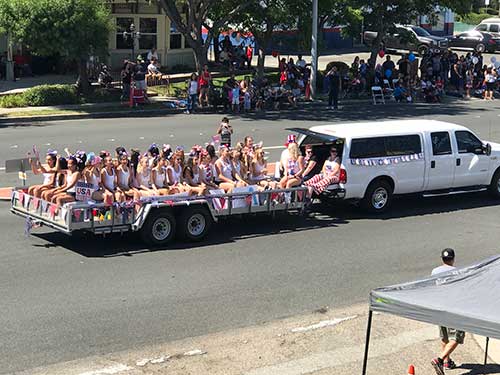 2023 – The Santa Clarita 4th of July Parade is On!
The Fourth of July celebrations in Santa Clarita consist of plenty more activities than just fireworks. If you're planning on entering the parade be sure to visit the 2023 Santa Clarita Parade Website to register and get all the information. We also have the annual Independence Day Classic 5K & 10K presented by Santa Clarita Running Club.
Schedule of Activities
6:30 am – 9:30am Pancake Breakfast at the golf shop on Main street between 5th & 6th streets
7:00 am – 10K Run/Walk. Newhall Park
7:45am – Kids K
8:00 am – 5K Run/Walk. Newhall Park
9:00 am – Parade begins. See the Parade Route and Map.
The Fourth of July Parade will begin at 9:00am on Main Street, then travel along Lyons Avenue and Orchard Village, finishing at Placerita Junior High. We always arrive early for the pancake breakfast, this year at 6:30am! If you want shade, it's best to get a spot on the South side of the street or anywhere under a tree. Don't forget, it'll probably be hot so be prepared and stay hydrated. Yes, parking is tough so get there early. Oh and by the way, the riding the bike suggestion works well for the parade as well.
Insider Information for the Fireworks Show
Okay, so we know you're really looking for that one secluded spot with no crowd, easy parking and a perfect view of all the fireworks in SCV! Sorry, but that's not going to happen. Well, there might be a few spots, but really, all the residents enjoy the displays and most of the prime locations are filled up early.
Post Up Close to the Mall
The absolute best spot to enjoy the fireworks is to arrive EARLY to get situated near the mall. Yep, it's going to be crowded and parking will not be fun, but do it anyway! It's a terrific show, worth the crowds and parking issues. Many people go early in the day and set up their blankets and chairs. Heck, we can all use a bit of exercise. Find somewhere to park a couple miles from the mall and walk or ride your bike. Makes us want one of those little electric scooters!
Less Crowded View Locations
Obviously, you want a location that is up high with a view. You can find them up around the River Village community, around Newhall Ranch Road around the Golden Valley. The problem is, many of those streets don't allow parking, so that means you'll need to get close and walk. You'll see the fireworks, but it's a bit far from the show to fully enjoy!
Another good spot might be Newhall Ranch road about a mile east of 126. Again, parking is an issue, but this one will give you a great view of Magic Mountain.
The best advice we can give is to arrive early or park at a remote location so you can either walk or ride your bike. Don't forget to bring a small, lightweight folding chair so once you find your spot, you can sit back, relax and enjoy the show.