Find 4th of July Fireworks Shows in Santa Clarita
Fireworks Displays in SCV are BACK!
As lifelong residents and local realtors, we're pleased to share, locals will once again be able to enjoy a fireworks display. Of course, this is common knowledge but I bet your news sources won't share the insider information on where to park and how to get the best spot!
See below, listings for the fireworks displays at the Valencia Mall and Magic Mountain.
Unfortunately, Stevenson Ranch is NOT going to have a fireworks show in 2021… but it sounds like it will be coming back, possibly next year.

Santa Clarita Fireworks Displays – Locations & Start Times
2021 – SCV 4th of July Local Information
There are two Santa Clarita locations for fireworks displays on the Fourth. Last year we only had 3 displays but this year there will not be a Stevenson Ranch display.
Magic Mountain will be having their July 4th Fest fireworks display and we have confirmed it goes on for 3 straight nights beginning on July2rd through the 4th. Keep in mind, the fireworks displays at the mall are free but of course, Magic Mountain will cost you! Yes, you can view the Magic Mountain show from afar but you won't see the whole show unless you are inside the park. In fact, the Magic Mountain display combines the fireworks with a laser show and it really is quite spectacular. All best viewed from inside the park.
In the past the mall and the Stevenson Ranch fireworks displays have really been outstanding. Generally, most locals will tell you they like the mall fireworks the best. This is partly because you can listen to the music that goes along with the display by tuning in your radio to our Hometown Radio Station KHTS AM 1220 or 98.1 FM.
Here's a Link Our HomeTown Radio Station where you can listen to the music that accompanies the fireworks display. Link to Listen Live.
Mall Fireworks Parking NOT Fun
So, if you want to get a good spot near the mall it's best to arrive very early. Some people stop by early in the day and save their spots by placing blankets along the curb. We've never really seen the value in that because you still have to park and don't forget, it's worse getting out of the parking lot than it is getting in. We usually ride our bikes. You can get just about anywhere you want to go and it's great exercise too. If you really want that special spot away from the crowds, try scoping out hilltops early in the day. You can easily find a prime location so you watch both the Magic Mountain and mall fireworks.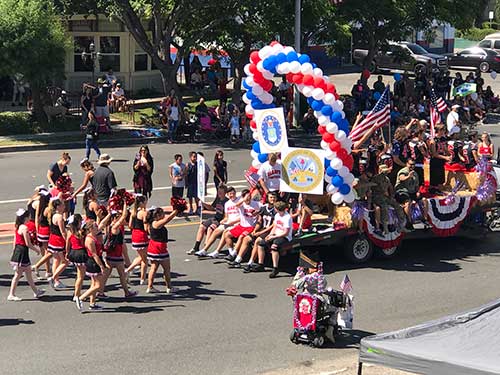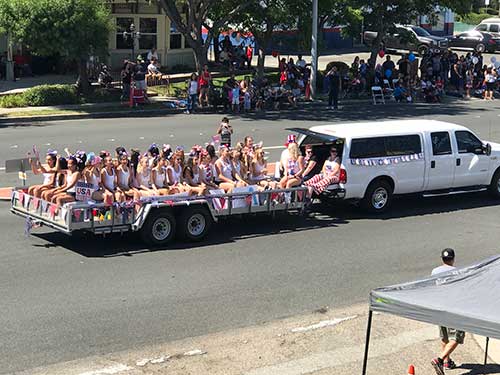 2021 – SCV 4th NO Parade Once Again This Year
Due to Covid, the city once again cancelled the parade. What a shame!
Once upon time the Fourth of July celebrations in Santa Clarita consisted of plenty more activities than just fireworks.
There is NO Pancake breakfast!
The Fourth of July Parade used to start at 9:00am and traveled along Lyons Avenue and Orchard Village, finishing along 16th street. We always arrived early for the pancakes and get a spot in the shade. If you want shade, it's best to get a spot on the South side of the street or anywhere under a tree. Yes, once again, parking is tough so get there early. Oh and by the way, the riding the bike suggestion works well for the parade as well.
Insider Information for the 4th
Okay, so we know you're really looking for that one secluded spot with a perfect view of all the fireworks in SCV! Well, there might be a few but really, all the residents enjoy the displays and most of the obvious locations are filled up early. Obviously, you want a location that is up high with a view. You can find them up around Newhall Ranch Road around the Golden Valley area. The problem is, many of those streets don't allow parking so that means you'll need to get close and walk.
Another good spot might be Newhall Ranch road about a mile before you reach the 126. Again, parking is an issue, but this one will give you a great view of Magic Mountain.
The best advice we can give is to arrive early or park at a remote location so you can either walk or ride your bike. Also, bring a small, lightweight folding chair so once you find your spot, you can sit back, relax and enjoy the show.