Placerita Canyon Homes, Community and Real Estate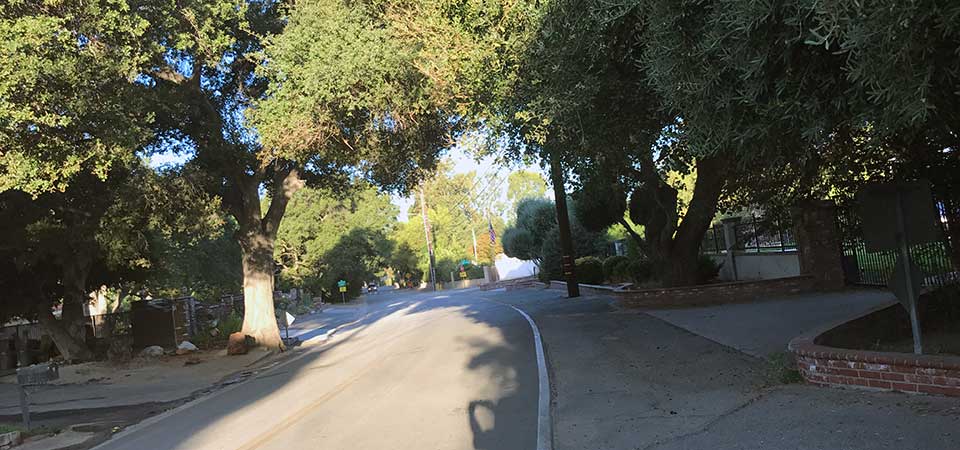 Placerita Canyon is not one of the typical cookie cutter developments we're used to seeing here in SCV. No, these properties include a variety of custom built homes, some built back in the 1920's and other's are almost brand new. If you like country living, privacy, large homes on large lots, with many zoned for horses, this is the place for you!
In this report, we'll be focusing on the "Heart of Placerita Canyon". This is the area where most of the homes exist, on the west side of the freeway.
Scroll down to see listings of Placerita Canyon homes for sale, information about the schools, local conveniences and extensive information about the overall community.
Placerita Canyon Quick Facts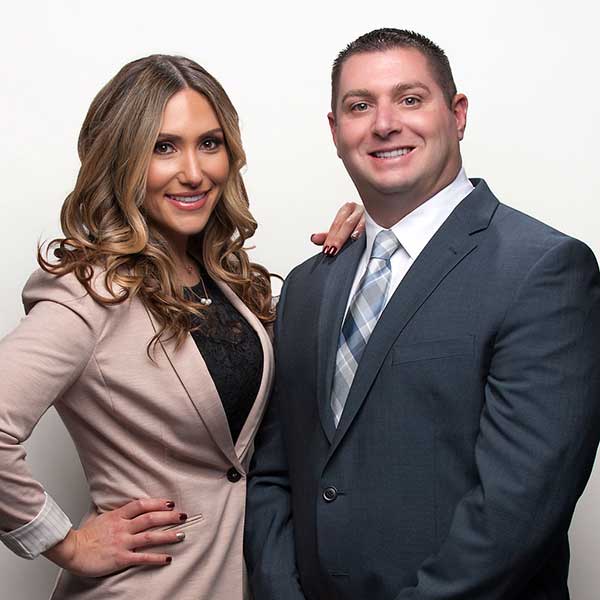 Placerita Canyon Community Report By
Matt & Meray Gregory
Email: [email protected]

As local Santa Clarita REALTORS®/Brokers, we have first hand information about this neighborhood and many other communities. Contact us and we'll get started helping you to buy or sell your home.

Your Santa Clarita REALTORS®
DRE# 01463326
DRE# 01831112
Overview of the Placerita Canyon
The Placerita Canyon community is thought by most to be situated in Newhall of Santa Clarita, WEST of the 14 freeway and north of downtown Newhall. This is actually incorrect! While it's true, this is where 99% of all the homes are situated, the community also extends east of the 14 freeway and there are a few homes on that side as well.
Other than a couple new sub divisions located further north, each home is unique. There are a wide variety from which to choose and most have been custom built to suit the owner. Home buyers can expect to find homes from one bedroom shacks to 9 bedroom mansions. As you might expect, prices range from mid to the very high.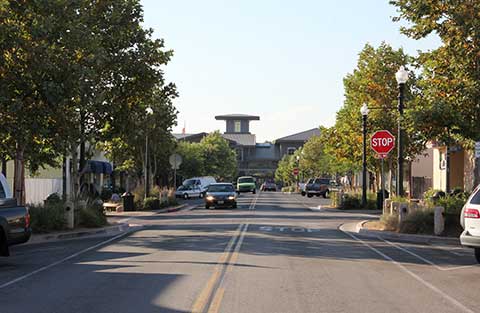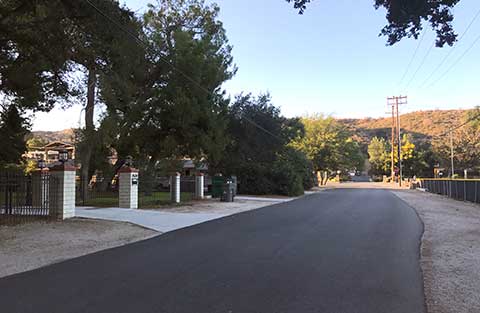 Amenities & Local Conveniences
There are few community amenities in the older portion of Placerita Canyon. We have seen folks riding horses on local horse trails Also, to the best of our knowledge there is no Mello Roos, however be sure to verify and double check for any other bonds or assessments.
This is a quiet community where residents can live the country life but still have relatively easy access to all local convenience shopping and dining.
Most Placerita Canyon residents do their shopping and dining in Old Town Newhall and along Lyons Ave. Of course, it's also a very short drive to an array of other shopping centers and the mall.
Placerita Canyon Park and Nature Center is situated up the road on the east side of the 14 freeway. Then, Old Orchard Park also just a short drive. If that's not enough, we have William S Hart Park, a long time favorite situated right here in Newhall.
Schools Nearby Placerita Canyon
Nearby grade schools include Newhall Elementary or McGrath Elementary school. The nearest middle schools are Placerita or La Mesa Junior High. High schools are Golden Valley or Hart High School. Of course, Master's College is also located directly within Placerita Canyon.
If it's important exactly which school your child attends, have a look at the attendance boundary maps provided by the school districts. All high schools and junior highs are in the William S Hart school district and the grade schools are part of the Newhall school districts.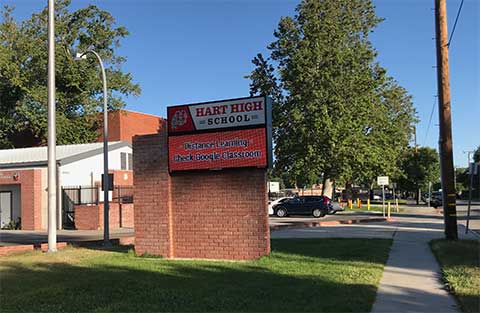 Homes for Sale in Placerita Canyon
Click the View Active Listings button below to view current real estate listings in Placerita Canyon and the surrounding neighborhoods. If you find Placerita Canyon is NOT for you, try checking out the Happy Valley community.
Placerita Canyon Map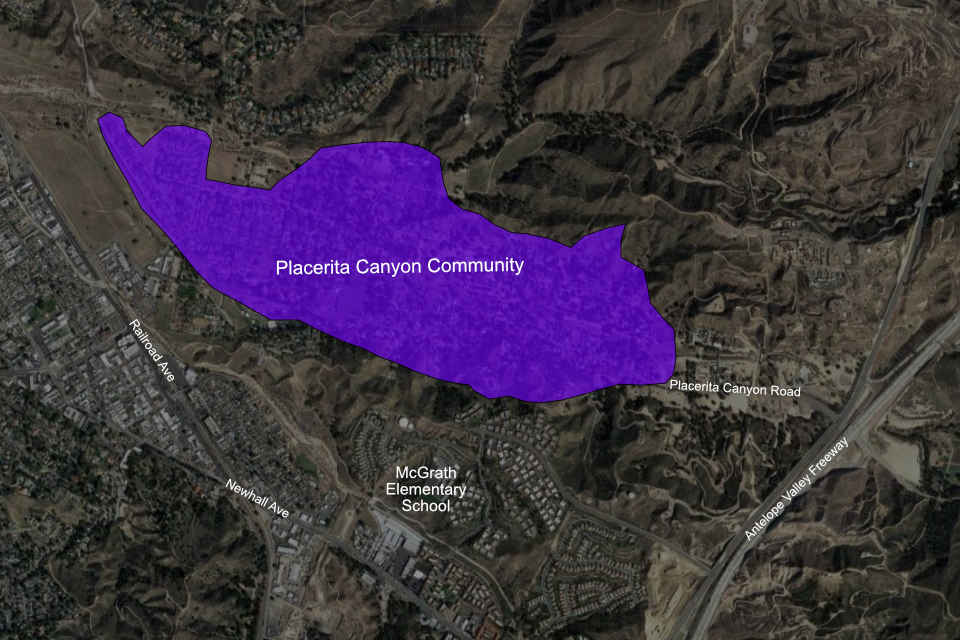 General Description of Homes in Placerita Canyon
Since most of the Placerita Canyon homes are custom, there's no accurate way to lump them together. They are way too different, but here's what we can explain.
Most of the Placerita Canyon homes are custom built to suite the preferences of the owners.
Some homes are highly upgraded and expensive!
Many homes come with several acres of land and the entire community is horse friendly.
Some homes come with a rare second building such as a small apartment or guest house.
Placerita Canyon Road is actually a private road, owned by the residents. In fact, the road is gated on the end nearest the 14 freeway and opened only to residents.
As far as we know, there is no Mello Roos assessment but there could be other hidden bond assessments.
There are no concrete sidewalks or paved trails

CAUTION
One thing for sure, if planning to buy a property in Placerita Canyon, use extreme caution and do your homework. Some homes have multiple easements and others may not be connected to the city sewer. Be most cautious of easements, utility connections, hidden bond assessments, etc. When buying an older property with land, we usually suggest hiring a consultant to fully research the for any easements and other oddities. Also, don't forget to get a home inspection.
Should New Buyers Should Plan to Redecorate?
As a buyer you won't find many homes available with neutral interior decor. Most homeowners have upgraded and remodeled their homes to suit themselves. So, unless you luck out and find a home with decor to suit your taste, you should plan additional costs to redecorate.
Final Thoughts
Placerita Canyon is certainly not a lifestyle fit for everyone, but for other's it's a perfect fit! No, you won't find concrete sidewalks or paved public walking trails. Yes, there are a few dirt roads here and there, but it's a quite and peaceful community. There are also some amazing homes and properties. For some, it's little slice heaven on earth!
We hope you found our report about the community of Placerita Canyon helpful and we're always available should you need representation to buy or sell a home.