Hasley Hills Neighborhood, Homes and Real Estate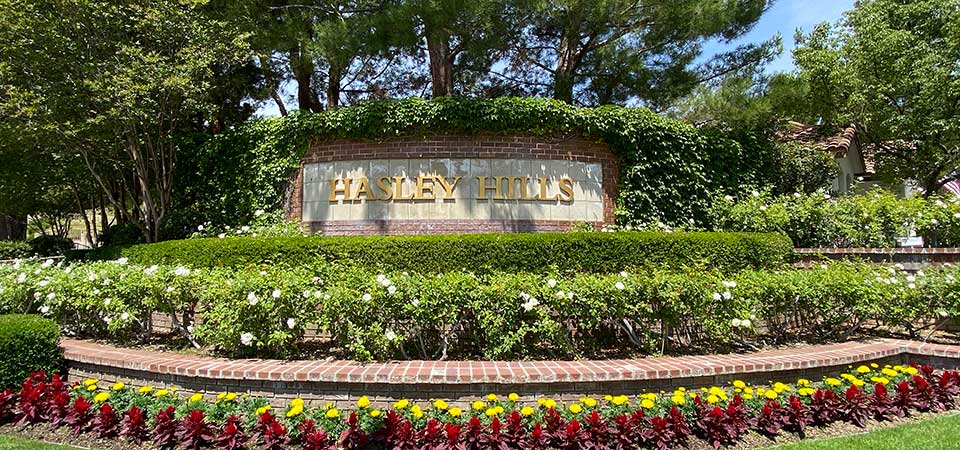 Construction of the Hasley Hills neighborhood began in the mid 1980's and the first home sales occurred around 1988. The community is quite popular and one of the most desired of all the neighborhoods in Castaic. Hasley Hills is located on the map in Castaic, CA, just west of The Old Road and north of Hasley Canyon Road.
Below, see our first hand information including a video, photos and descriptions of the amenities and local conveniences. We also provide links to active listings of homes for sale. We hope you enjoy our report and please know, you are always welcome!
Community Theme
Contemporary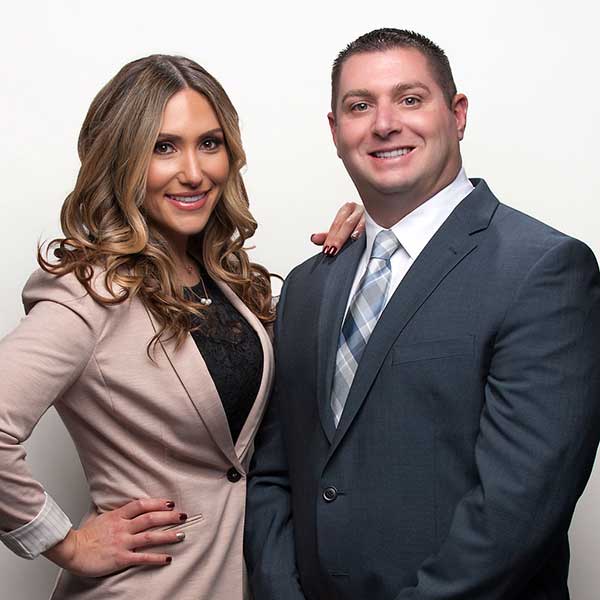 Hasley Hills Report By
Matt & Meray Gregory
What a terrific community! If considering buying a home in Castaic, don't miss checking out Hasley Hills. Please contact us to schedule a consultation.

[email protected]

Your Castaic REALTORS®
DRE# 01463326
DRE# 01831112
Hasley Hills Community Video
Community Overview
Hasley Hills is one of 10 different communities within Castaic. Overall, the community has that fresh, clean look and the local residents enjoy the outdoor lifestyle and nearby recreational activities.
There are 5 different neighborhoods within Hasley Hills as follows:
Belmont
Cambridge Collection
Canterbury Heights
Crest as Hasley Hills
North Bluffs
With the exception of North Bluffs, all of the subdivisions have an HOA. Although there are no amenities such as a community pool or recreation center, the HOA maintains the common area grounds. North Bluffs has no HOA.

Homes in Hasley Hills
There are no condos or townhomes here in Hasley Hills. The homes of Hasley Hills include a variety of 3 and 4 bedroom and some 5 and 6 bedroom houses. The homes range in size from 1,416 sq ft up to just over 4,000 sq ft.
For more detailed information about the homes in each neighborhood of Hasley Hills, please scroll to the bottom of the page to view descriptions about each of the neighborhoods.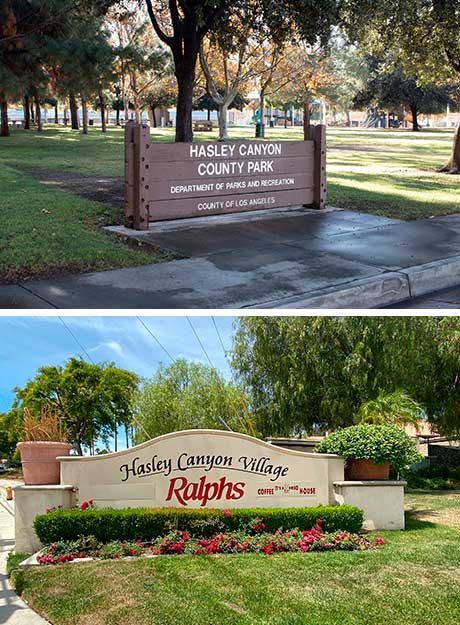 Hasley Hills Local Conveniences
Residents enjoy variety of nearby parks, lakes and recreation areas. Hasley Canyon Park is conveniently located just below the community and right next door to Live Oak Elementary school. It's a lovely park with lots of shade trees, picnic tables, a playground and plenty of open greenbelt. Then of course, there is the huge, Castaic Lake and Recreation Area located just a few miles north. There's an upper lake and lower lake with camping, picnic areas a beach and plenty of hiking trails. There's also the Castaic Sports Complex and Aquatics Center. All are located just a short drive up the road.
Local Conveniences
At the base of the community is where you'll find most of the convenience shopping and dining options at Hasley Canyon Village shopping center and Hasley Crossroads. One of our local favorite spots is "It's a Grind Coffee House". There, you can enjoy specialty beverages and home baked foods. There is also a Ralph's market, Subway and a few other stores as well.
Schools in Castaic
Overall, Castaic residents speak highly of their local schools and all are thrilled with the new high school serving all the neighborhoods in Castaic. The schools nearby Hasley Hills are as follows:
Prior to the new Castaic High School opening up, the older teens had to travel to Santa Clarita and attend Valencia High. The school is a terrific addition to the community.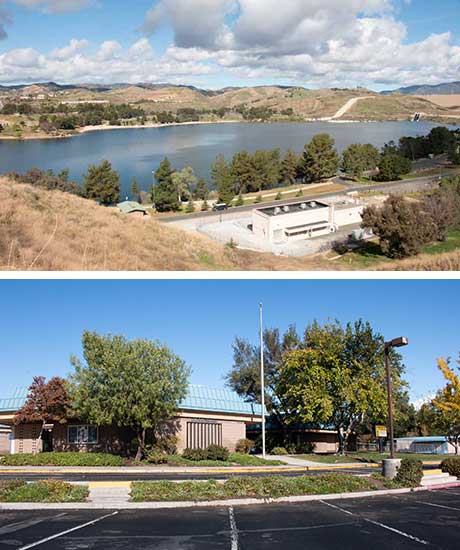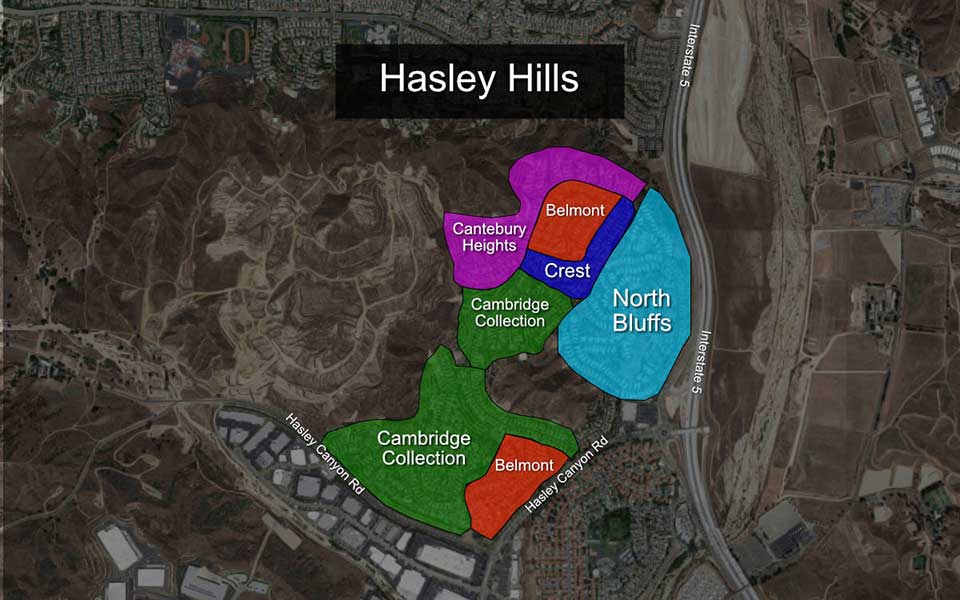 Hasley Hills Homes For Sale
Click the blue button to see current listings of homes for sale in Hasley Hills of Castaic, CA. Generally, the housing here includes a variety of 3, 4 and 5 bedroom homes sized from approximately 1,416 to over 4,000 SF. Hasley Hills is not a large community and occasionally there may be no current or active listings.
Description of Neighborhoods in Hasley Hills
The subdivisions map below includes a good portion of the neighborhoods with homes, condos and townhomes in Bouquet Canyon. It does NOT include ALL the neighborhoods here, nor does it include apartment complexes. However, it does provide a general idea of how the community is divided. Keep in mind, back in the 1950's when development first began, there were no master plan neighborhoods as we have today.
Belmont
Built in the early 2000's, the homes are sized from approximately 1,900 sq ft up to 3,020 sq ft. Most homes include 4 and 5 bedroom homes with views of the surrounding area. Although there is an HOA, there are few amenities and the monthly cost is very low. No Mello Roos!
Cambridge Collection
The Cambridge Collection homes are approximately sized from 1,416 sq ft to 3,400 sq ft and built in the early 2000's. Most homes range from 3-5 bedrooms. There is a low HOA cost, but this only covers the maintenance of the common areas. There are no swimming pools or other amenities. No Mello Roos!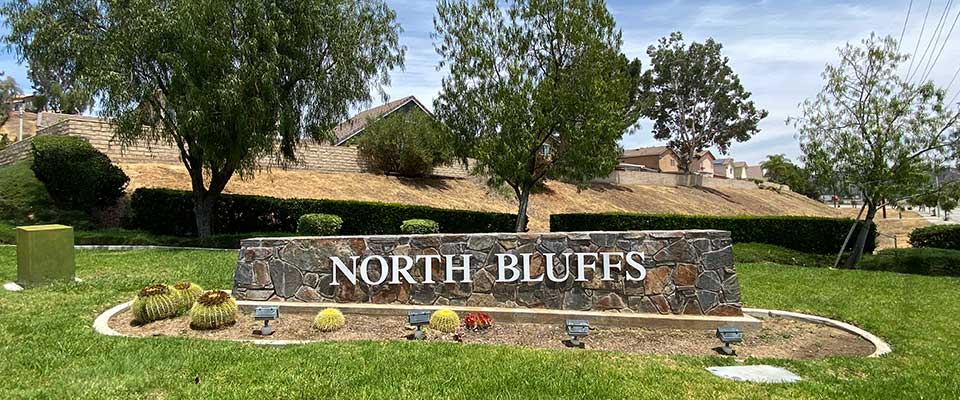 North Bluffs
Built in the late 1980's, the North Bluffs include a lovely mix of 3 and 4 bedroom homes sized from 1,512 to 2,230 sq ft. There is no HOA and no Mello Roos.
Canterbury Heights
Built in the early early 2000's, the homes are larger in size mostly ranging from 4-5 bedrooms and approximately sized from 2,000 sq ft up to 4,000 sq ft. Low monthly HOA amount, but it only includes common area grounds maintenance and there are no other amenities. NO Mello Roos!
Crest at Hasley Hills
The houses in the Crest subdivision include mostly larger, 3 to 5 bedroom houses sized from approximately 2,000 sq ft up to just over 3,000 sq ft. Low monthly HOA, but it only includes common area grounds maintenance and there are no other amenities. NO Mello Roos!