Legacy Village, a Future Development in Valencia, CA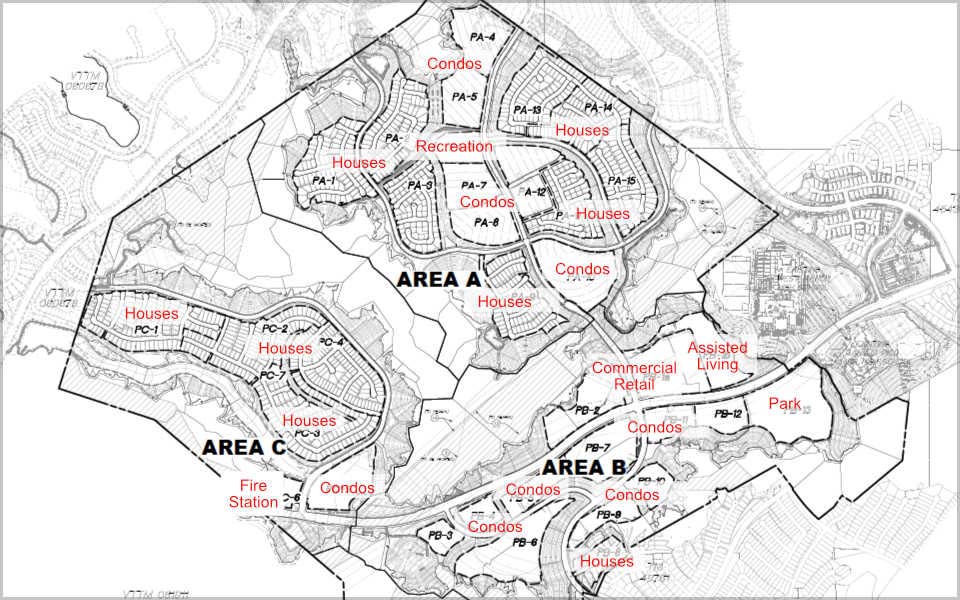 Legacy Village is a new community planned for development in Valencia, CA. It will be located west of Interstate 5 and just north & west of Stevenson Ranch. Take a look at the map overlay below to see how it fits in with the other existing communities.
We know Mission Village and Landmark Village are the first two communities slated for development, but we cannot yet confirm exactly when Legacy will fit into the schedule.
As you probably know, the overall development is a huge 20 year project so we can expect development schedules will be impacted by a number of factors such as the economy and housing demands.
Legacy Village Quick Facts
Other Uses
Retail & Offices
Boundary Map for the Future Legacy Village
Looking at the map below, Legacy Village will border Stevenson Ranch, CA to the south and Westridge of Valencia, CA to the east. West Ranch High and Rancho Pico Junior High are also located just west.
Comparing the boundary map to the new tract map, and looking at Google Maps, there is going to be an extensive amount of grading required to make this project possible. There are lots of hills and mountains to get through before anything else.
We'll be looking forward to see how this all connects to and impacts the existing roads and communities.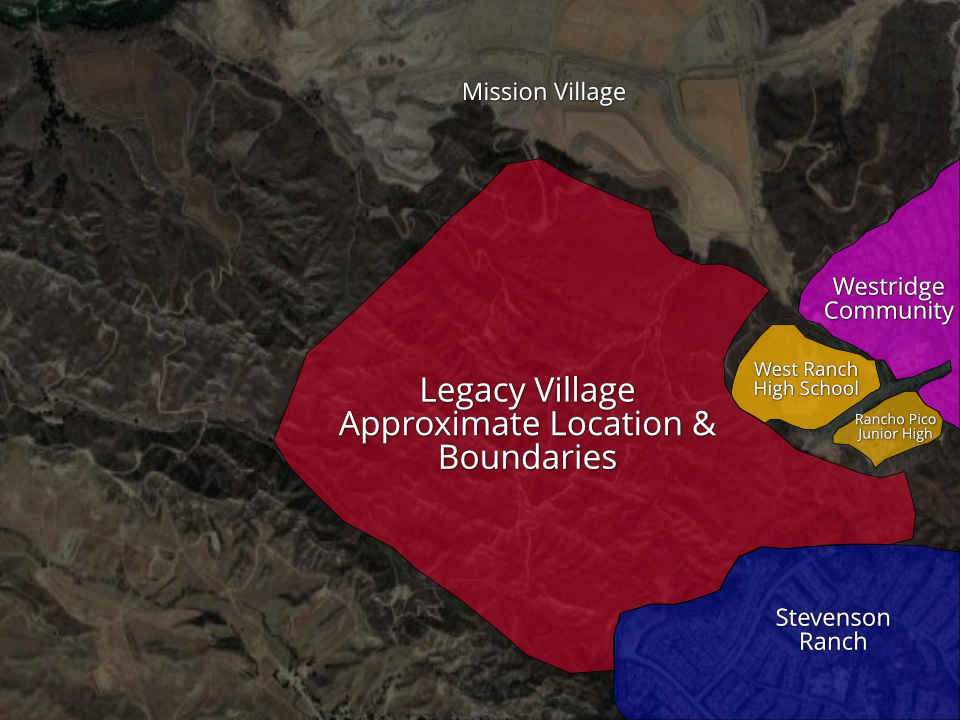 Homes and Condos Planned for Legacy Village
In Phase One of Legacy Village there will be 580 houses, 875 condos and 223 acres of open space. Phase Two will include 17 houses, 1,319 condos, 839,000 sq ft of commercial/retail space and over 220 acres of open space. Phase Three will consist of 414 houses, 252 condos and 196 acres of open area. Phase Four is to be entirely made up of open space totaling 464 acres.
The totals for all 4 phases are as follows:
1,011 Single Family Homes
2,446 condos or apartments
839,000 sq ft of commercial or retail space
1,103 acres of open area.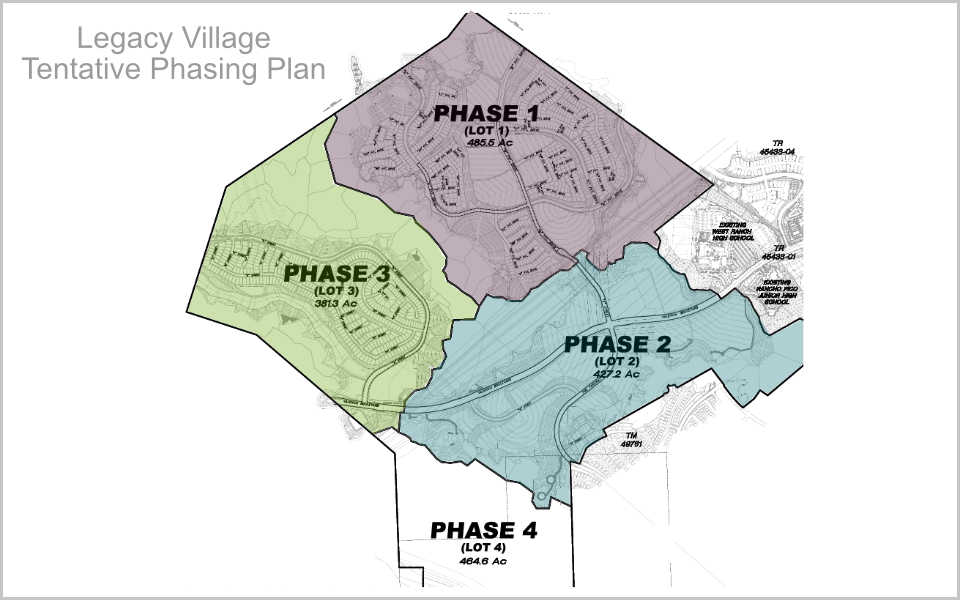 Keep in mind, we are NOT associated with the builder or developer in any manner. All of this information is tentative and based upon our own determinations by viewing the Tentative Tract Map on file with the county.
Long Term Energy Standards
Don't forget, as with all the neighborhoods planned for this development, Legacy Village will also be environmentally friendly and developed specifically to achieve the lowest possible energy standards.
Should you have any questions or want your own broker/realtor to represent you when purchasing a brand new home, contact us to schedule a consultation & work with us.
General information
The information provided here is based on our visits to some of the boundaries around this project and our own review of documents, articles & videos concerning Legacy Village.
We are a family of REALTORS®/Brokers at the Gregory Real Estate Group and NOT affiliated with the developers or builders of this project in any manner whatsoever. We are also lifetime residents of Santa Clarita. Of course, we are very interested in this development from a professional and personal perspective.
SOURCE: All the information provided on this page represents our own interpretation of the drawings titled, Vesting Tentative Tract Map 061996 currently on file with the County of Los Angeles.
As always, we are fully committed to providing professional representation for all home buyers and sellers. This is especially important when buying in new housing developments.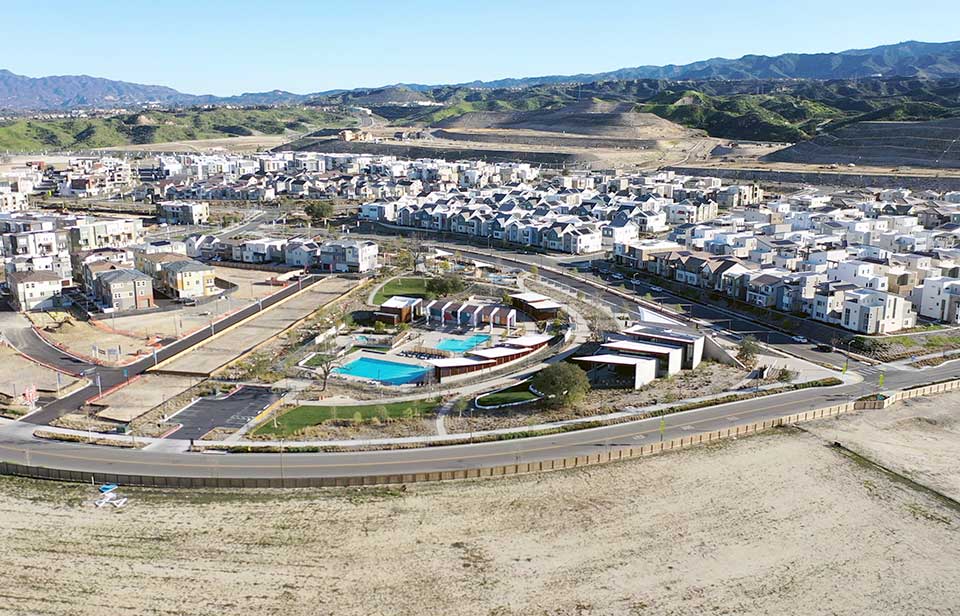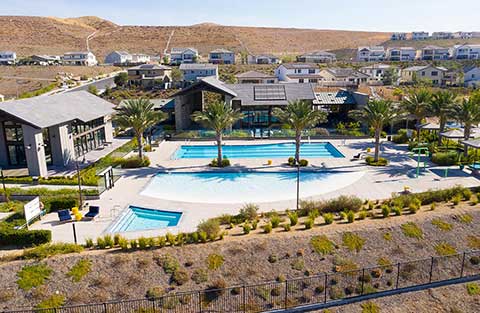 Why Wait? New Housing Available Now!
Legacy Village won't be finished for quite a long time in the future. If you don't want to wait, you might be interested in number of other new housing developments in Santa Clarita.
Also, although construction continues, there are many brand new homes now available Valencia, CA.
Even if some new developments are sold out, it's still very possible to buy nearly brand new homes as resales. In some ways, it's a better option than buying brand new.
It costs you nothing for us to represent you with a new home purchase. However, when visiting a new housing development it's important to take us with you before signing up online or visiting the sales office. If you sign in at the development without us, we can't represent you on your new home purchase. Contact us to schedule a consultation and we'll provide the professional representation you deserve!
Ready to sell Your Home?
If considering selling your home you might find our home selling tips quite helpful. Our tips cover just about every topic related to selling a home and perfect to help you get started.
When you are ready, we also to provide professional representation to sell your home.