Mission Village Development in Valencia, CA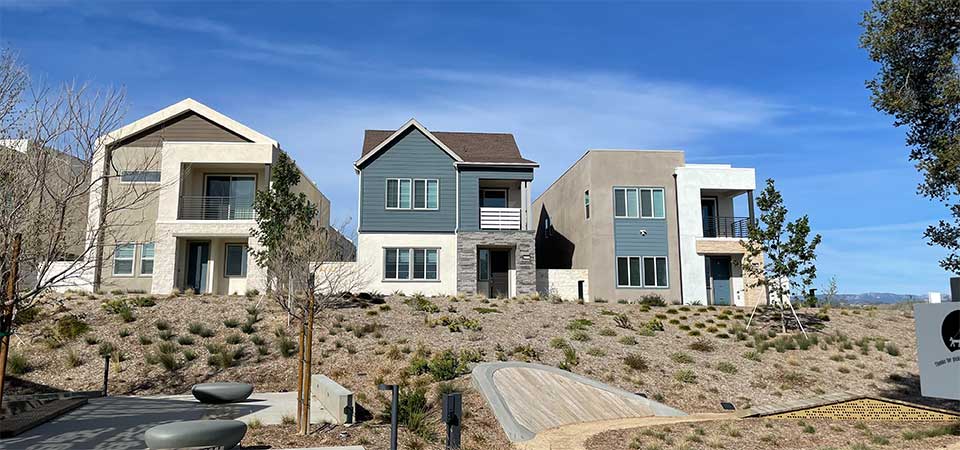 As of 2023 housing construction continues, but many homes are now complete and occupied. Scroll down to see our subdivision map and brief descriptions about each neighborhood. Those interested will also find our video, photos and more. Originally the developer announced and stated in documents this community would be called Mission Village, but so far there's no signage or references stating such. Regardless, it looks as though the community is now referred to in the MLS as FivePoint Valencia. Until the dust settles we'll continue referring to the community as the new homes near Magic Mountain! Whatever the name, it's a welcome addition to the neighborhoods in Valencia, CA.
Other Uses
Retail & Offices
Homes For Sale
Click the blue button to see active listings of all homes on the market here, west of Magic Mountain in Valencia, CA. For now, most of the listings displayed are those being marketed by the builders, but there could also be a few resales.
Unfortunately, NOT ALL builder or coming soon listings are shown on most real estate websites! As REALTORS®, we have access to coming soon listings that we can share with clients exclusively working with us. Contact us to schedule a consultation.
New Community Video – Updated 2023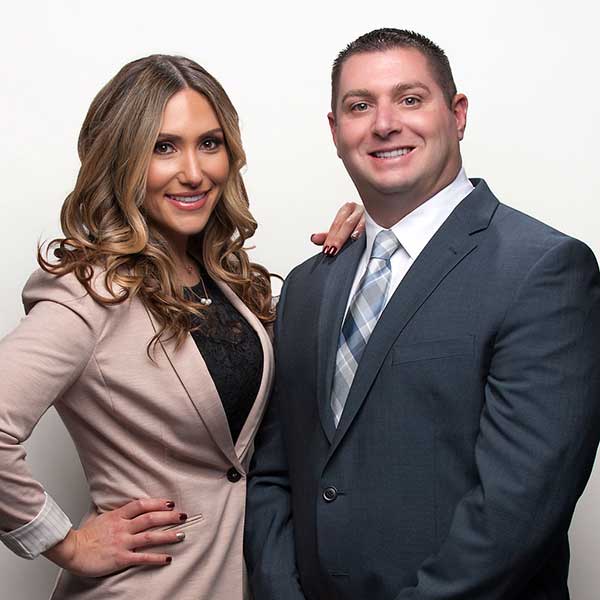 Mission Village Report By
Matt & Meray Gregory
[email protected]

As Valencia, CA REALTORS®/Brokers AND lifetime SCV residents, we are especially well suited to provide representation & protect the interests of those looking to buy or sell in new developments. With us, there's never any sales pressure, whatsoever!

Your Valencia, CA REALTORS®
DRE# 01463326
DRE# 01831112
Descriptions of Homes and Subdivisions
As this development continues to grow, we also continue publishing full reports on nearly every subdivision or neighborhood in this area. Be sure to bookmark this page so you can return later for the links to each report.
Calla: The homes in Calla consists of attached, 3 story homes sized from approximately 1,621 – 2,124 SF. Although the homes have shared common walls, there are no neighbors above or below. The homes come with 2 or 3 bedrooms, 2.5 to 3.5 bathrooms, a laundry room, 2 car garage and all the rest. See our Calla neighborhood report.
Cassia: This collection consists of two story attached triplex homes with 3 bedrooms each. They are expected to be approximately sized from 1,862 to 1,956 sq ft.
Crimson: Built by KB Home, these are attached 3 story triplexes. Sized from 1,866 to 2,054 SF with 3 bedrooms, 2.5 to 3 bathrooms and a 2 car garage. Although there are no neighbors above or below, there are shared common walls. Each unit has it's own private patio, also referred to as a courtyard. See our Crimson neighborhood report.
Jasmine: The Jasmine neighborhood is a collection of townhomes available in 3 different floor plans sized from approximately 2,062 to 2,128 SF. These homes are considered to be twin townhomes (think duplex) which means there are 2 homes per structure. Residents can charge their electric vehicles right from their own garages. Learn more about the Jasmine neighborhood and homes.
Lamplight: The homes in Lamplight are called Flats (think apartments) by the builder and are the smallest homes in the community. Even though they are sized small, from 720 – 1,442 sq ft, the architect has done an exceptional job making the absolute most out of the available space. Each unit comes with 1, 2 or 3 bedrooms and 1 or 2 bathrooms. Yes, these homes have garages sized to fit 1 or 2 cars, depending on the floor plan.
Lantana: Consists of 3 story townhomes sized from approximately 1,461 – 1,714 sq ft with 2 or 3 bedrooms and 2-1/2 bathrooms.
Marigold: Includes detached single family homes sized from approximately 2,133 to 2,246 sq ft. The homes come with 3 or 4 bedrooms, 2-1/2 to 3-1/2 bathrooms and 2 car garages. If this name of this neighborhood sounds familiar, you're right! There are at least 2 other subdivisions here in Santa Clarita also called Marigold.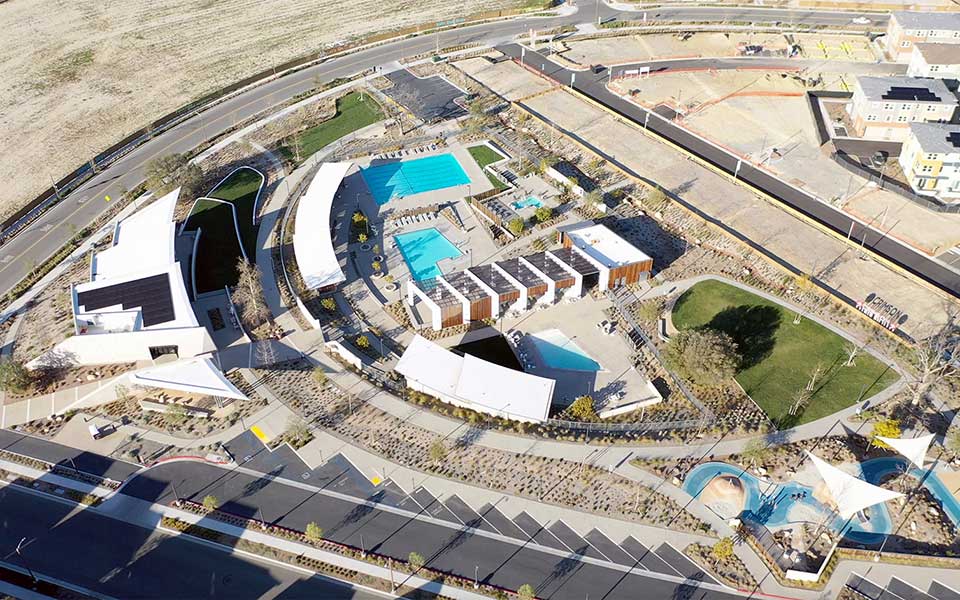 Orchid: This townhome neighborhood is similar to Tulip, but the units run a bit smaller. Sized from 1,579 – 2,158 sq ft, each home comes with 2 to 4 bedrooms and 2-1/2 to 3-1/2 bathrooms. Yep, these come with garages also.
Redmond: Unique single family 2 or 3 story homes built by Richmond American Homes. Available in 4 different plans, the homes are sized from 1,510 to 2,070 SF with 3 or 4 bedrooms, 2.5 to 3 bathrooms, a 2 car garage and more. The prices are not too bad and we really like this builder! See the full report about the Redmond neighborhood and homes.
Rosemist: The Rosemist subdivision includes a variety of large, detached 4 and 5 bedroom homes sized from 2,843 to 3,261 SF. These are 3 story homes with open floor plans with 3.5 to 4.5 bathrooms. There's a 2 car garage which will also include charging station. Yes, the homes are quite nice but as with all new neighborhoods in this development, watch out for the Mello Roos costs! See our full report and video about the Rosemist neighborhood.
Rowan: The homes here in Rowan are considered to be attached townhomes, with 2 separate occupants sharing one building. It's like a duplex, but in this case a single story unit is combined with a either a 2 or 3 story unit. Available in 3 different plans, the homes are sized from 1,496 to 2,797 square feet and come with 3 or 4 bedrooms and 2 to 3.5 bathrooms. Although there are no yards to care for, each home comes with an outdoor patio or balcony. Learn more about the Rowan neighborhood and homes.
SAGE: Built by KB Homes, this community is next door to Skylar and also consists of traditional, 2 story single family homes. Available in 4 different floor plans, the homes are sized from 2,121 to 2,800 SF with 3 to 5 bedrooms, 2.5 to 4 bathrooms and a large 2 car garage plus NEV. Learn more about the Sage Neighborhood.
Siena: Includes an interesting collection typical 2 story houses built with an open concept in mind. Approximately sized from 2,325 – 2,623 sq ft, there are 3 floor plans. Depending on the options, there may be additional features such as decks, outdoor spaces, dens and even lofts. As with most homes here, each has a two car garage with possible charging station hookups.
Skylar: Toll Brothers is currently building 85 of the largest traditional single family homes in the development! Sized up to 4,000 SF with 5 bedrooms, 4.5 bathrooms, a 2 car garage with more extra space for the NEV. Yep, there are plenty of other rooms, options and more. See our Skylar neighborhood report.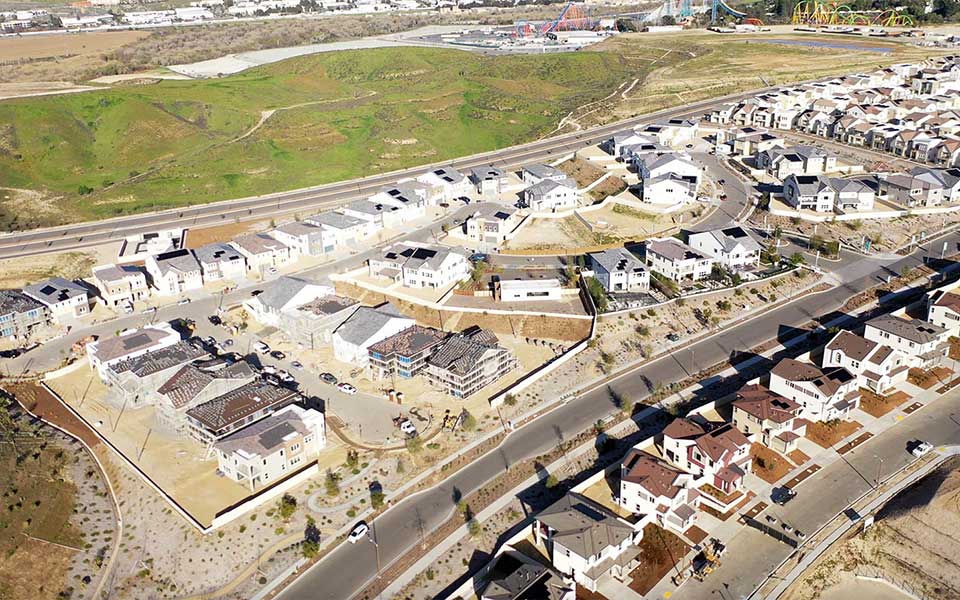 Solaire: Situated on the south side of Magic Mountain Parkway, Solaire is being built by Lennar and as of May 2023, the models are ready for tours. Includes a collection of 2 story detached homes sized from approximately 1,986 to 2,246 SF. Learn more about the Solaire homes and neighborhood.
Torrin: This will be one of the first neighborhoods built on the south side of Magic Mountain Parkway and as of June 2023, the Torrin models are ready for tours. The homes and neighborhood here under construction by Richmond American Homes, the same builder that built out Redmond. The 2 or 3 story homes will all be detached condos, available in 4 different plans sized from approximately 1,500 to 2,080 SF. See our full report about the neighborhood and homes in Torrin.
Tulip: Tulip is a popular townhome neighborhood with units sized from 1,689 to 2,688 sq ft. There are multiple floor plans available with 2, 3 or 4 bedrooms and 2-1/2 to 3-1/2 bathrooms. Each home has a garage large enough to park 2 vehicles.
Vesper: The Vesper townhomes are considered to be attached, 2 story duplexes. Built by KB Home and available in multiple floor plans sized from 1,764 to 2,219 SF. These homes look great and are actually kind of interesting. The prices are not too bad to start, but watch out for the options. To learn more, see the full report about the Vesper neighborhood.
Wisteria: In keeping with tradition, these Wisteria homes consist of an array of good sized two story houses with 3 or 4 bedrooms and 3-1/2 to 4-1/2 bathrooms. With open floor plans sized from 2,356 to 3,402 sq ft, the interiors look and feel even larger. Also, to avoid confusion you should know, there is another well known Wisteria subdivision in the popular Copper Hill North community. Too bad they didn't choose a different name for this neighborhood.
Buyer Representation in New Communities
If looking to buy a brand new home here in Mission Village or any other new community, be sure to take us with you on your first visit. Why? Because, if you sign in at the development without us, we won't be able to represent you with your purchase. We know all of the questions to ask and exactly what to watch for when buying a home in a new development. We'll guide you every step of the way, help you ask the right questions and provide the information needed to make accurate and informed decisions.
Homes and Local Conveniences
The home types in Mission Village include attached and detached homes such as condos, townhomes, flats/apartments and a few more traditional single family homes. Overall, the homes have a modern look and feel, all available in a variety of floorplans.
Local Amenities and Local Conveniences
The main recreation area is just gorgeous. There are multiple pools, parks, playgrounds, community gardens and more. There will be more recreation areas filled with everything one might expect in a brand new community. There are also trails, a flower preserve, public transportation and over 600 acres of open space.
General information
The information provided here is based on our visits to this project and our own review of documents, articles & videos concerning Mission Village.
To be clear, the Gregory Real Estate Group is not affiliated with the developer or builders of this project in any way. We are a family of Santa Clarita Valley residents and local, independent REALTORS®/BROKERS. As with all our communities, we are very interested in learning everything possible about new developments and sharing our unbiased, first hand information with our friends, clients and website visitors.
As always, we are fully committed to providing professional real estate representation for all.
More New Developments
Of course, that are more new developments in the Santa Clarita vicinity and we've prepared reports to help you become familiar with what's to come.
Each year it seems Castaic becomes more and more popular for new home buyers. Do NOT MISS taking a look at the new development in the Williams Ranch community! The homes and lots are really something special!