Marigold Detached Condos in Valencia, CA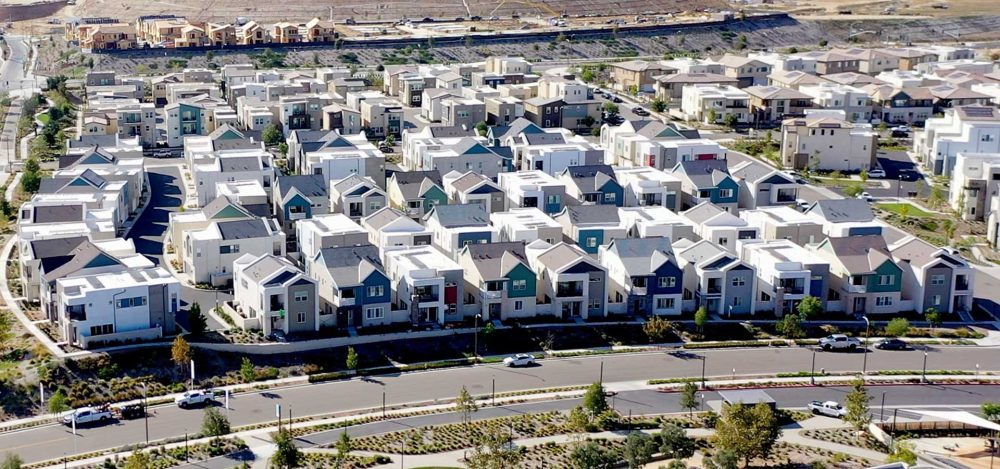 Built around 2022, Marigold includes a collection of approximately 58 two-story detached condominiums located just west of Magic Mountain in beautiful Valencia, CA. Scroll down to read our first-hand local insights, watch a video, browse neighborhood photos, and access links to available homes for sale.
NOTE: This website is NOT associated with the HOA property manager for this neighborhood.
Marigold Detached Homes For Sale
To check if any condos in Marigold are currently on the market, simply click on the blue button. Given the limited size of this neighborhood, finding an active listing is often a challenge. Fortunately, there are numerous comparable homes in the nearby Redmond neighborhood. We also recommend exploring all available homes for sale in the vicinity of Magic Mountain.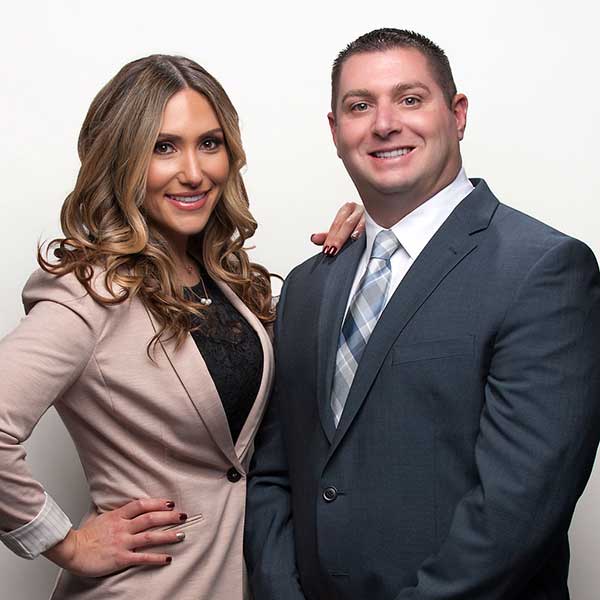 Marigold Neighborhood Report By
Matt & Meray Gregory
Contact Matt & Meray

With our extensive experience as REALTORS®, Brokers, and local experts, we are highly qualified to assist anyone in their quest to purchase a home in Valencia, regardless of the neighborhood. Rest assured, when working with us, you'll never encounter any form of sales pressure.

Your Local REALTORS®
DRE# 01463326
DRE# 01831112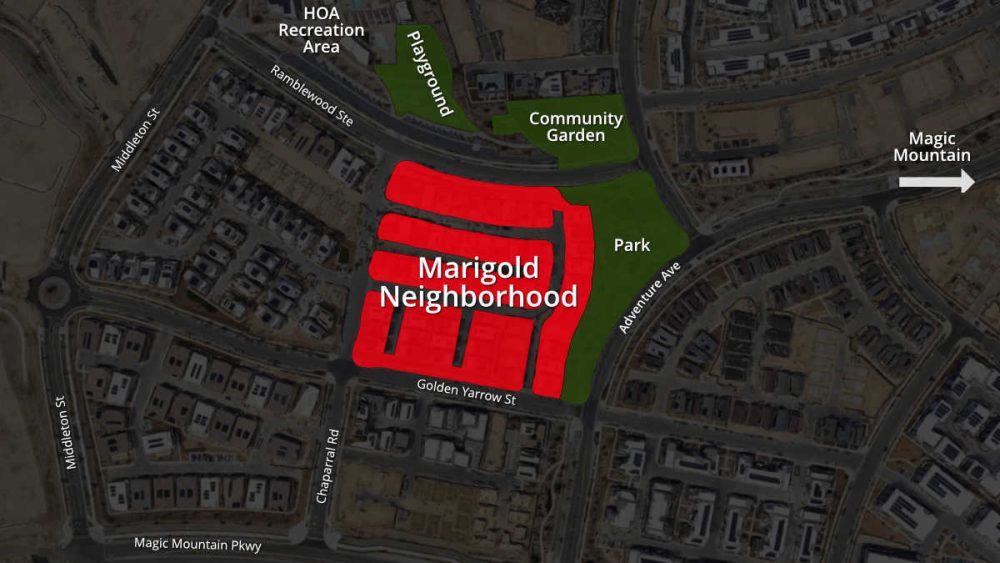 Overview of Homes
Marigold is conveniently situated between the Rosemist neighborhood to the west, a charming park to the east, and a recreation area just across the street to the north. As you explore the well planned common areas in and around Marigold, you'll notice a fresh and modern atmosphere. The landscaping has been thoughtfully designed with water efficiency in mind, creating a visually appealing environment.
The condominiums, ranging from approximately 2,133 to 2,246 square feet, offer 3 to 4 bedrooms, 2.5 to 3.5 bathrooms, a 2-bay garage, and a cozy patio. The main living space is conveniently situated on the first floor, while the bedrooms and laundry room are located on the second floor. Some homes feature spacious lofts, covered decks, or both!
As mentioned, the homes are actually detached condos, so there are no shared common walls and no neighbors above or below. Also, there are no front or backyards to care for, residents can spend their free time enjoying other activities.
Here are brief descriptions of the three home plans originally offered by the builder.
Plan 1: Two levels sized at approximately 2,133 square feet with 3 bedrooms, 2.5 bathrooms and a 2 Bay Garage.
Plan 2: Two levels sized at approximately 2,183 square feet with 3 bedrooms, 2.5 bathrooms and a 2 Bay Garage.
Plan 3: Two levels sized at approximately 2,246 square feet with 4 bedrooms, 3.5 bathrooms and a 2 Bay Garage.
Yes, there is a monthly HOA cost and an annual Mello Roos.
Discover more new housing available here in Valencia, CA next to Magic Mountain.
HOA Amenities and Local Conveniences
For fun and relaxation, residents have access to Confluence Park. This recreation area includes a substantial multi-use building, inviting swimming pools, a serene hot tub, comfortable lounge areas, multiple parks, and more. Sidewalks and trails connect Marigold to other neighborhoods and the Santa Clarita trail systems, providing a variety of outdoor experiences. There's even a lovely community garden and covered rest areas. It's evident that residents take pleasure in the well-maintained communal spaces.
Convenience Shopping & Dining
It's about 2 miles to the nearest convenience shopping and dining at the intersection of Magic Mountain Pkwy and The Old Road. Of course, it's only about 4 miles to many other popular department stores and restaurants.
Nearby Schools
Nearby public schools include Oak Hills Elementary, West Ranch High and Rancho Pico Junior High. West Ranch and Rancho Pico are both part of the William S Hart School District.
Location of Marigold in the Overall Community
Since this new community west of Magic Mountain is still in development, the map below is a work in progress and will continue to expand and evolve as construction continues. Although reasonably accurate, the map is only intended as a quick reference to determine the basic layout of the subdivisions in the area.