Santa Clarita Condos For Sale
Here we provide active listings of condos for sale in Santa Clarita. There are also links to a number of condo community reports and extensive information about what to expect when finding or buying a condominium.
Condos & Townhomes For Sale in Santa Clarita
See 9 of the MOST CURRENT ACTIVE listings of Santa Clarita Valley condominiums for sale. Click the button below the listings to SEE ALL CONDO listings. The specific areas included are Valencia, Newhall, Canyon Country, Saugus, Castaic, Stevenson Ranch, Acton and Agua Dulce.
List By Esther Marie Lafa Keller Williams Hollywood Hills
(CA BRE # shown above if in IDX data)

List By Mike Glickman Represented By
(CA BRE # shown above if in IDX data)

Open House:
May 22, 2022 4:00 PM - 6:30 PM
List By Kenneth Wei Better Real Estate California Inc
(CA BRE # shown above if in IDX data)

3
Beds
3
Baths
1,960
SqFt
List By Daniel Regan RE/MAX of Santa Clarita
(CA BRE # shown above if in IDX data)

2
Beds
2
Baths
1,046
SqFt
List By Susan Berkeley-Cheney Realenomics,Inc.
(CA BRE # shown above if in IDX data)

List By Danny Cassese eXp Realty of California Inc
(CA BRE # shown above if in IDX data)

Open House:
May 22, 2022 1:00 PM - 4:00 PM
List By Todd Kaufman Rodeo Realty
(CA BRE # shown above if in IDX data)

List By Tereza Toramanyan Coldwell Banker Hallmark
(CA BRE # shown above if in IDX data)

Open House:
May 22, 2022 1:00 PM - 3:00 PM
List By Daniel Andrizzi Pinnacle Estate Properties
(CA BRE # shown above if in IDX data)


Based on information from CRMLS and/or CLAW and/or CRISNet MLS as of May 21, 2022 2:15 AM PT. All data, including all measurements and calculations of area, is obtained from various sources and has not been, and will not be, verified by broker or MLS. All information should be independently reviewed and verified for accuracy. Properties may or may not be listed by the office/agent presenting the information. IDX powered by iHomefinder, Inc.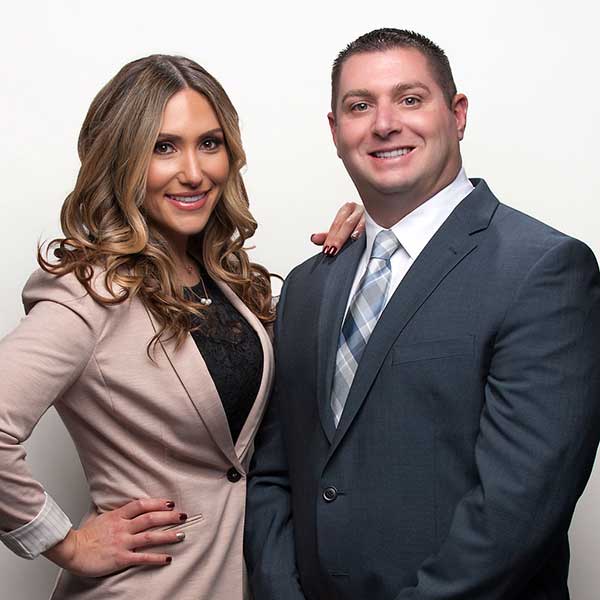 Local Realtors & Brokers
Matt & Meray Gregory
Call or Text us at 661-713-4799

We are experienced local REALTORS®/Brokers, AND life long residents. Contact us to schedule a consultation and get started.

Your Local REALTORS®
DRE# 01463326
DRE# 01831112
Where to Find Condo and Townhome Communities in Santa Clarita
The list of condo communities below does NOT include ALL the locations in Santa Clarita however, these are some of the more well known or popular condo communities.
Links to Condo Communities in Santa Clarita
Sometimes there is no easy way of finding condo or townhome communities, but here we offer a few tips. When viewing any condo real estate listing, somewhere in in the details there should be the name of the complex or neighborhood. There should also be a map showing the exact location. Cross reference the community name with the mapped location of the listing. Where there's one condo, there are bound to be more.
Once finding a condo of interest, driving or walking through the neighborhood or complex is the good way to get a feel. However, some complexes are gated so it might not be possible. If you have selected us as your realtors, of course we'll make all the arrangements and meet you for a tour.
Less Obvious Condo Locations
Some neighborhoods might include an assortment of houses, townhomes and condos. Others could be a condo complex or neighborhood filled with condos or townhomes only. It becomes more difficult to identify condos in neighborhoods consisting of single family homes mixed in with detached townhomes or condos.
When buying a unit it can be tricky to really know of the day to day life. Buyers never quite know what they're getting into until moved in. If possible, try chatting with current residents to get the full lowdown on each area. Find out what the parking is like for residents and guests. Ask about the mailboxes, trash can locations, recreation areas, etc.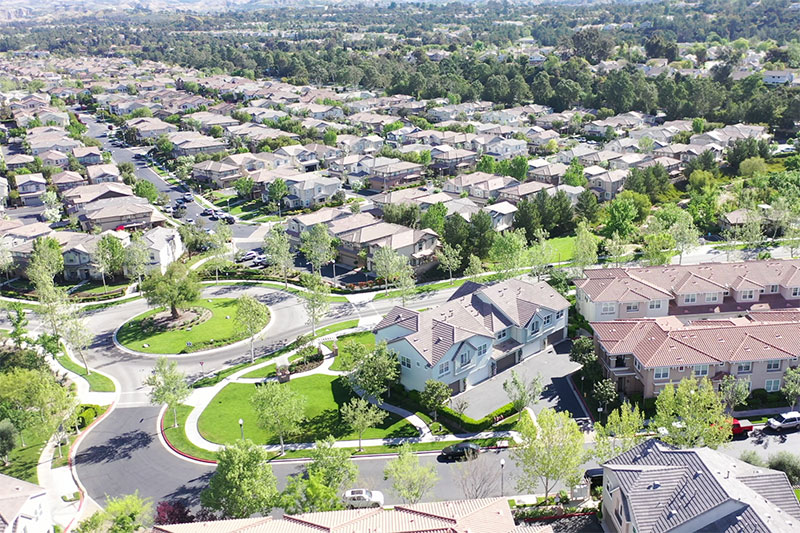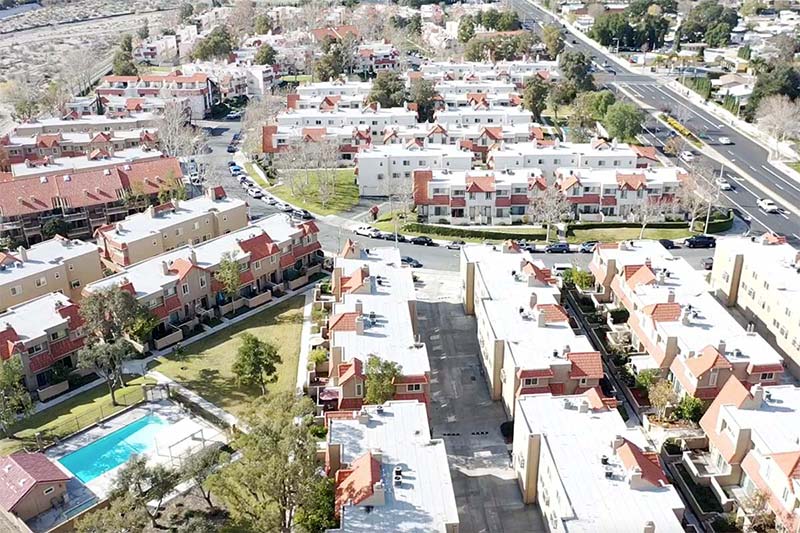 Well Known Local Condo Locations in SCV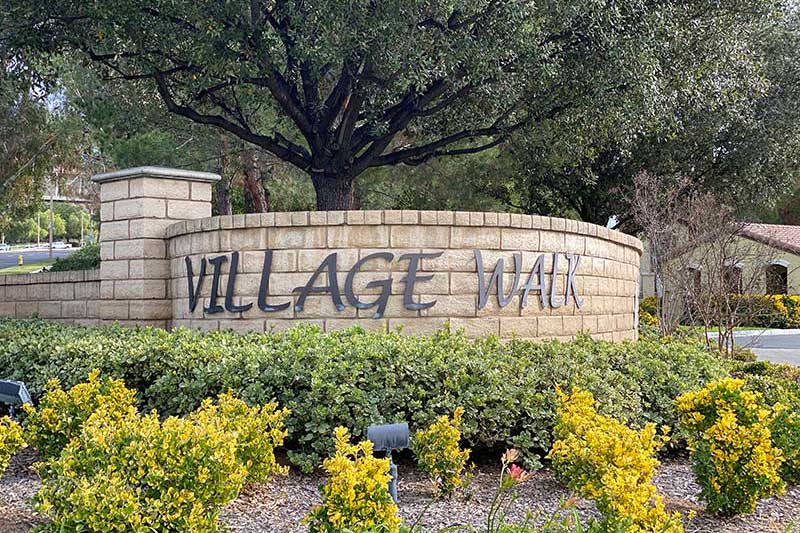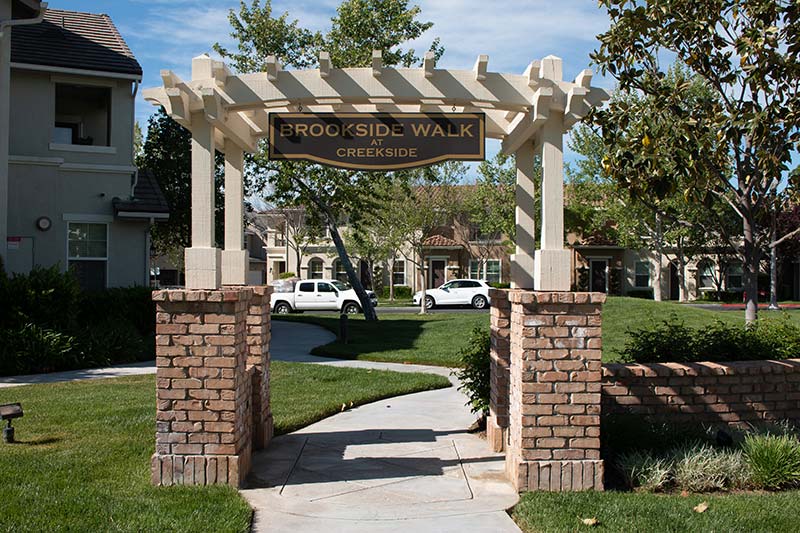 There are a large number of condo locations here in SCV and those listed below represent only a small sampling. Contact us directly to schedule a consultation! We provide our clients with more locations best fitting their needs and budget.
We especially like the townhomes in the Village Walk community. Another popular community is at the Villas at Town Center, aka, The Madisons. An old favorite condo community can be found at the Siena Villas. In Plum Canyon buyers will find the popular Mariposa complex, the Borduex community, the new Toll Brothers units in Sierra and Victoria.
If you're interested in a brand new condo or townhome, be sure to check out some of the new Santa Clarita developments. We like the Kensington, Hartford and new Concord units over in River Village.
There are 2 very nice condo or townhome neighborhoods in Creekside and Bridgeport.
Links to Santa Clarita Neighborhoods
See our community page for links to popular areas and neighborhoods of Santa Clarita. Each report contains first hand information and photos for each community. Also, we include brief descriptions about each of the subdivisions in each community. This will tell you which neighborhoods contain condos or townhomes.
Typical Condo Community Amenities
Most condominium buyers expect to live in a well maintained community filled with amenities such as playgrounds, swimming pools, hot tubs, etc. Unfortunately, this is not always true with all communities. In fact, there are a few condo communities here with none of the above. Usually, there will be a pool, hot tub and perhaps a play ground for the children. If it's a larger complex there may be multiple pool locations.
In the more upscale condo neighborhoods residents might enjoy more amenities such as gyms, movie rooms, juice bars and the like. You can bet, if a complex has more amenities, the monthly cost will be higher.
When viewing condo real estate listings, DO NOT trust what you read in the listing descriptions. It's not because the listing is being misrepresented. Sometimes the listing agents just get it wrong. That's why we ALWAYS verify the amenities and amounts BEFORE making an offer to buy.
Typically, the common areas throughout a condo or townhome community include the building exteriors, recreation areas, gates, walkways, landscaping, hardscaping, irrigation, signage and more. Basically, anything except the interior of each condo. After all, one of the primary benefits of living in a complex is the convenience of not having to perform exterior maintenance. Of course, as we'll explain below, each homeowner must pay their fair share but often the cost is not bad, all things considered.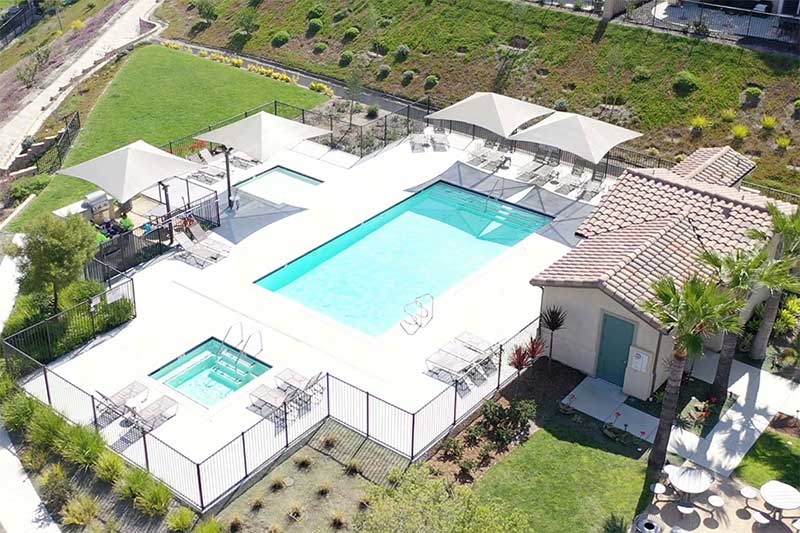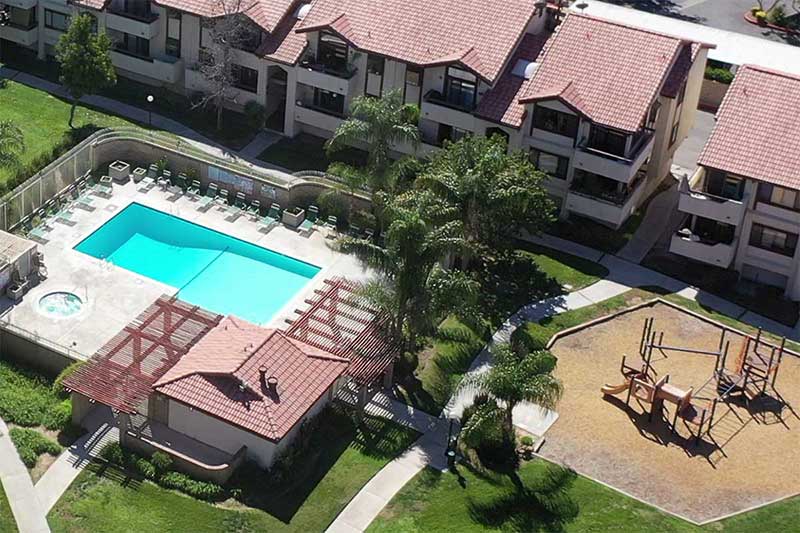 HOA Benefits and Higher Costs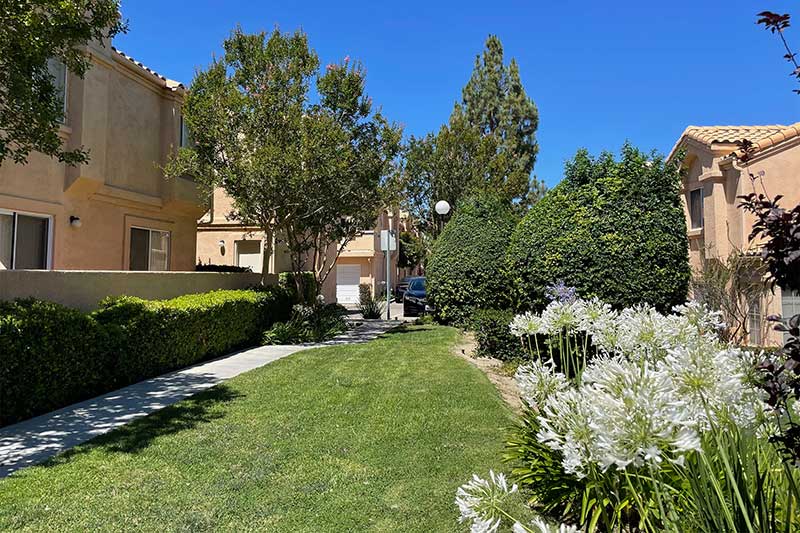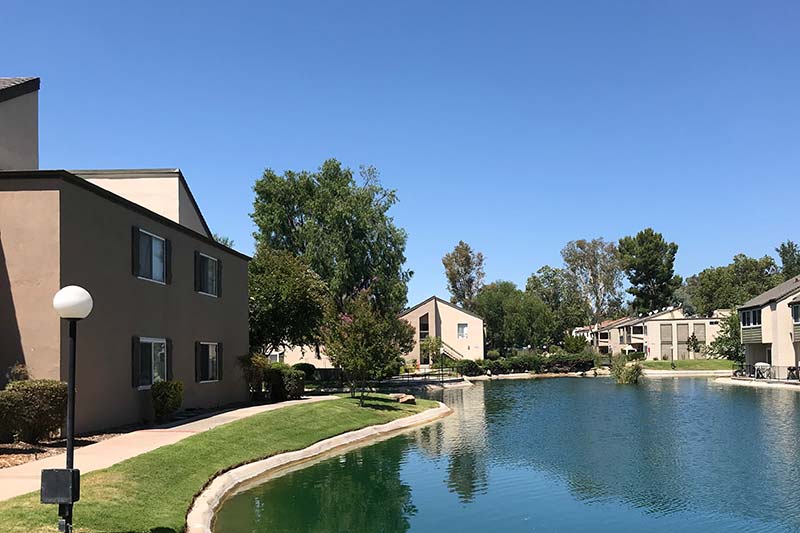 The monthly HOA dues for condos or townhomes can seem quite steep, but in most instances the amenities are usually well worth it. Although there are exceptions, usually the HOA takes care of any maintenance or upkeep outside the condo or townhome and the residents pay for any repairs or maintenance inside the home. Even though you might pay higher monthly HOA costs, you get more in return.
There are always exceptions and gray areas. For instance, sometimes the condo owner may be responsible for the air conditioning unit. Exterior painting, roofing, landscaping, irrigation and security is often taken care of by the homeowner's association.
Then, sometimes the HOA includes utilities, internet, TV cable, garbage collection and such.
The HOA's for condominium or townhome communities are not all the same, so it's important to ALWAYS VERIFY the amounts and what is included BEFORE making an offer to buy!
Many first time home buyers purchase a condo using FHA financing! This is a great way to keep your down payment low, to about 3-1/2%. Be sure to verify the entire condo complex is FHA approved BEFORE making an offer to buy. It can be a very frustrating experience to find out the condo of interest is NOT approved for FHA financing. Condo buyers can avoid this roadblock by working with us. We keep a complete list of all FHA approved condos. If we know you intend to utilize FHA financing, we'll show you exactly where to look.
Thankfully, we provide a current and complete list of condos in a communities approved for FHA financing.
By the way, condo facilities must be approved for VA loans too. Also, if there are ongoing litigation's with the HOA, that could also affect any type of financing.
There are a number of unique challenges associated with financing any condo and having a proactive real estate agent/lender team can be a tremendous advantage. If you are serious about buying a condo, we can help.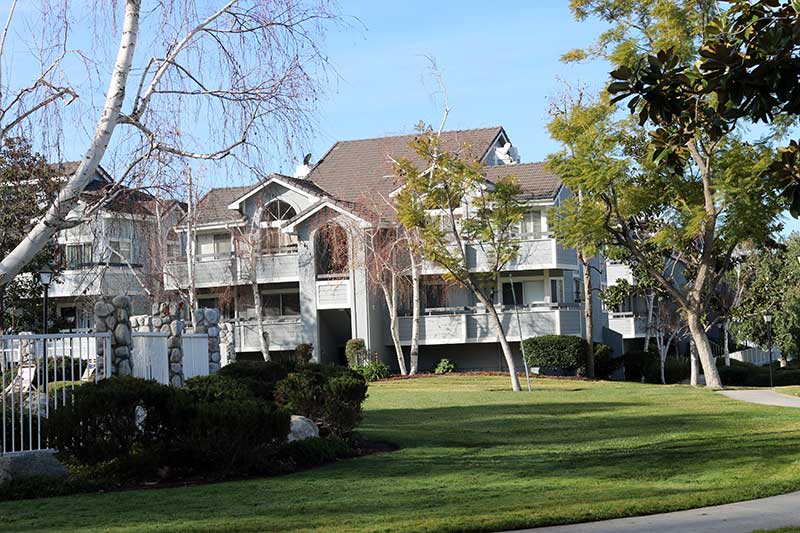 Condo Living and What to Consider When Buying
If you have ever lived in an apartment, you'll have a pretty good idea of what to look for when planning to buy a condo. However, if you've never lived in anything other than a house, there's much to consider. See below a few suggestions about what to look for when searching for a condo.
Multi Dwelling Structures – Unlike a single family home, when living in a condo you'll have neighbors living next door, separated by a common wall. Depending on where your condo is situated, you could have neighbors above, below and on each side. Residents often prefer living in an end unit for a bit more privacy.
Condos or Townhomes? – Sometimes you will find condos that are more like townhomes or even houses. This can be confusing and it all depends on what the title says. Often, a townhome is a duplex. Usually, a condo building uses common walls to divide up space between multiple residents.
Size of Units – Nowadays, some newer condos can be quite large, but generally you can expect to find mostly 2 bedroom and 2 bathroom units commonly sized around 1000 sq ft. Look closely at the floor plans. Some architects do a better job than others at making best use of space in smaller units. You'll need to adapt you possessions to fit the available space. Generally, when buying furniture, think smaller.
Storage Space – In most cases, there is no garage so be sure to verify if a separate, storage cabinet or locker is provided.
Parking – Parking can be a problem in condo communities. Usually, each resident has at least one covered parking space and perhaps one other space. What about parking for visitors? If visitor parking is important to you, make parking a primary consideration when searching.
Security – Some condo communities in Santa Clarita are gated and others are not. Add this to your check list.
Site Maintenance – Look closely at the community and amenities. Everything should look clean and fresh.
Living in Peace and Harmony
Based on our own observations, overall, the condo communities here are generally very well maintained. We often notice lots of friendly smiles and residents appear to be enjoying their homes. The crime rate here in SCV is quite low and we have outstanding medical services. We also have plenty of award winning schools.
What if you have a disruptive neighbor?
Unlike an apartment building filled with renters, a condo owner cannot be as easily evicted. Yes, legal action and liens can be taken, but condo owners and their neighbors must depend on each other to live in peace and harmony.
Find Mapped Condo Complex Locations
Canyon Country Mapped Locations