Franciscan Hill Townhomes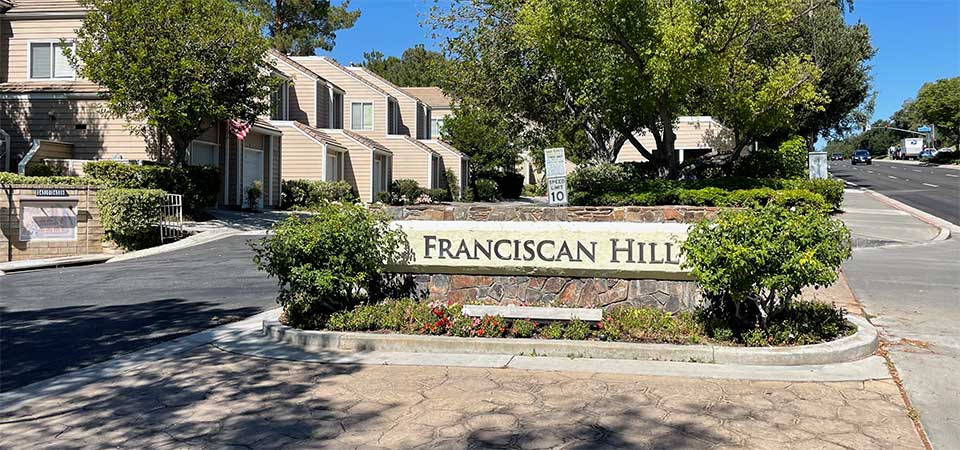 Franciscan Hill is a small, classic condo community located next to Cal Arts in Valencia, CA, just off McBean Parkway and Tournament Road. Residents & visitors can enter or exit the neighborhood from either street. If this complex is not what you had in mind, have a look at all condos for sale in Santa Clarita. Scroll down for a first hand description and view photos of this charming complex. We also provide links to real estate listings.
Franciscan Hill Quick Facts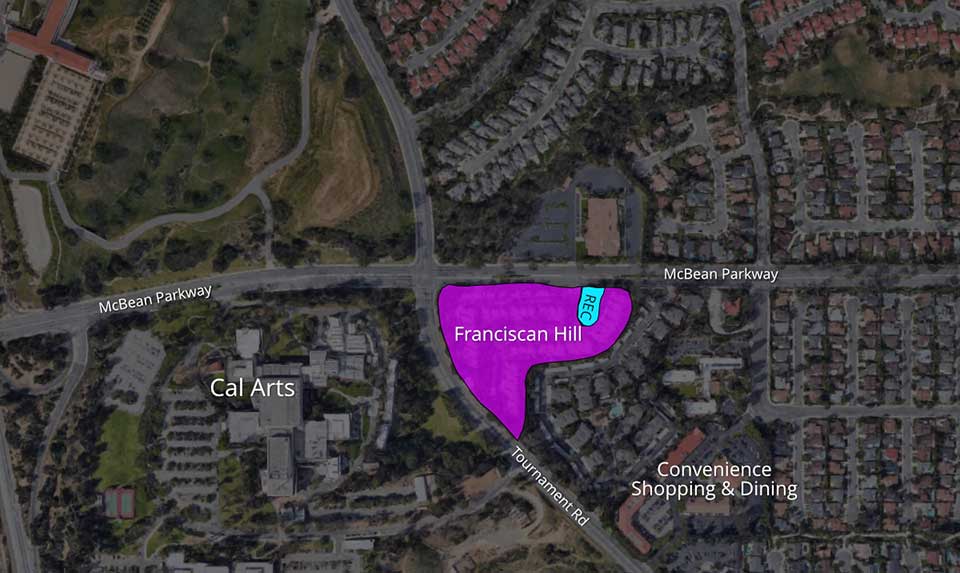 Townhomes or Condos For Sale in Franciscan Hill & Vicinity
Franciscan Hill Active Listings Only. If no units are currently available, you'll also have the option to look at recently sold homes. Those interested can at least view the listing photos to get a feel for the home interiors.
Click the blue View ACTIVE Listings button below to see current listings of condos or townhomes in Franciscan Hill AND other nearby neighborhoods in the heart of Valencia. For more options, take a look at all condos & townhomes for sale in Valencia, CA.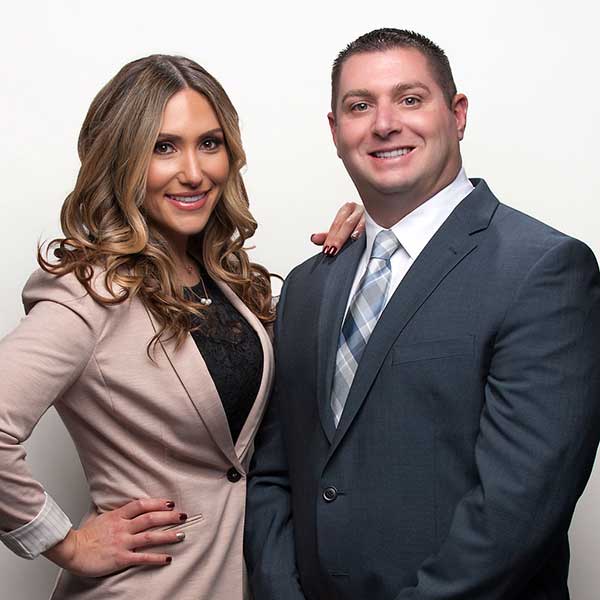 Franciscan Hill Report By
Matt & Meray Gregory
Contact Matt & Meray

As SCV REALTORS®/brokers, AND residents, we have helped many find and buy affordable condos or townhomes.

Your Local REALTORS®
DRE# 01463326
DRE# 01831112
Overview of the Franciscan Hill Complex
Built in 1988, this cozy Valencia community is calm, peaceful and surrounded by lovely, mature shade trees. Even though situated next to McBean Parkway, the environment is very quiet and it's obvious the common areas and buildings are well cared for.
The homes here are referred to by real estate agents as condos or townhomes. They are actually attached units with common separation walls and/or floors. Typically, each home comes with a single car garage and an assigned covered car port. There are also laundry hookups inside the units. The balconies are quite nice and some are good sized with terrific views. It's a great spot to relax and enjoy a cup of morning coffee or a refreshing beverage in the evening.
All the units have vaulted ceilings which were quite common for homes during the 80's. The smaller units are considered to be one level, but some are upper level units while others are lower units.
The largest and most common homes are sized at 1,212 SF and include 2 levels, with the 2 bedrooms and 2 bathrooms upstairs and a 1/2 half bathroom down. These same units also have a step down living room. Next, there are smaller units sized at 1,033 SF that come with 2 bedrooms and 2 bathrooms. The least common units are also the smallest, with 2 bedrooms and 2 bathrooms and sized at 977 SF.
Perhaps the most unique homes are the end units. Each might be a bit different, but the primary bedrooms and bathrooms are more like a suite with walk-in closets, fireplace and balcony access. Some are wrap around balconies, large enough for a small bit of entertainment. Certainly not something one might expect to find in an attached home.
If planning to utilize FHA financing to buy a condo or townhome in Santa Clarita, be sure to see our list of FHA approved condos in SCV. Always VERIFY this information with your lender.
HOA Amenities and Local Conveniences
Amenities include outdoor cooking area, picnic area, swimming pool, hot tub, trash containers and more.
Convenience Shopping & Dining
Local convenience shopping or dining is available at Vista Village Center, located about 1/4 mile down Tournament Road. Of course, from Franciscan Hill it's just a short drive to plenty of shopping and dining at the mall.
Nearby Schools
Nearby schools include Meadows Elementary, Placerita Junior High and Hart High School. The high school and middle school are both part of the William S Hart School District.
Maps to More Condo and Townhome Complexes
Yes, we understand these condo and townhome complexes can be hard to find. As a result, we created some handy maps displaying the location for many complexes throughout SCV.
Canyon Country Mapped Locations