Maps to Condo Complexes in Valencia, CA
See below, maps to condo complexes in Valencia of Santa Clarita. See more condo listings by viewing all Santa Clarita Condos For Sale. Each map highlights the specific complex along with street names making it easy to find the nearest street leading the condo or townhome location of interest.
We know it can be a bit frustrating finding condos or townhomes. This is exactly why we created this list of maps. As always, we hope to help buyers avoid wasting time when finding and buying a home.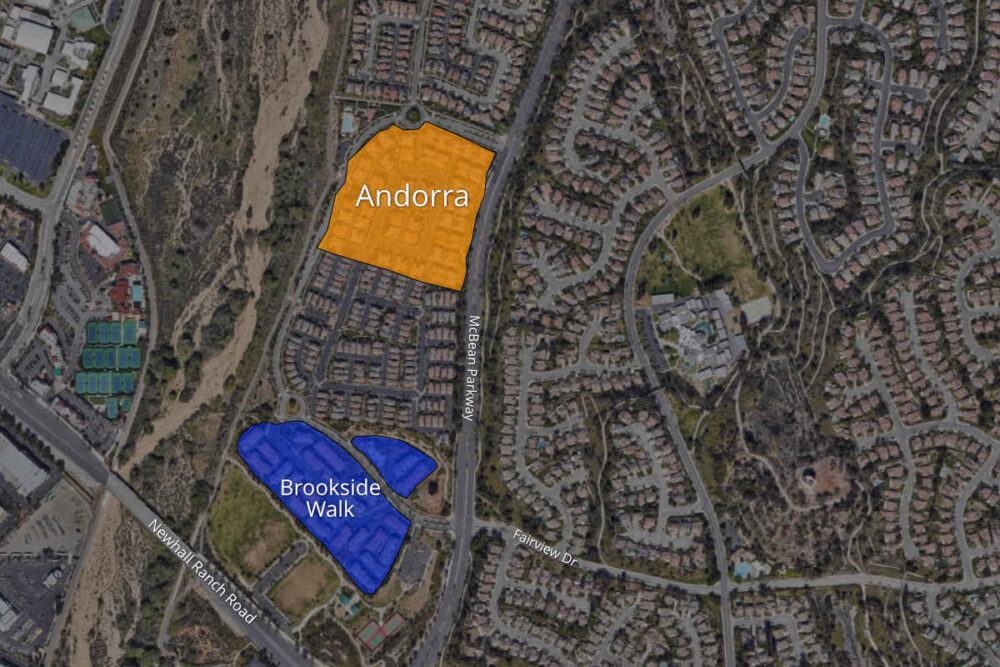 Andorra and Brookside Walk of Creekside
Located in the Valencia Creekside community, one of the most lovely and sought after in Valencia. Brookside Walk includes condos or townhomes with 2 or 3 bedroom units sized from 1,120 to 1,420 SF. Built in the mid 2000's.
Also in Creekside, the homes in Andorra are larger, sized from 1,352 to over 1,900 SF with 2 to 4 bedrooms. Also built in the mid 2000's.
Avignon
Located off of Magic Mountain Parkway and a block west of McBean Parkway. This gated neighborhood includes large, 3 & 4 bedroom townhomes built in the late 1990's. Quite beautiful and situated along the fairways but come with a hefty price tag. Yep, they are costly though.
It's interesting to note, although Avignon is isolated on it's own, it's actually considered to be part of the Northbridge community.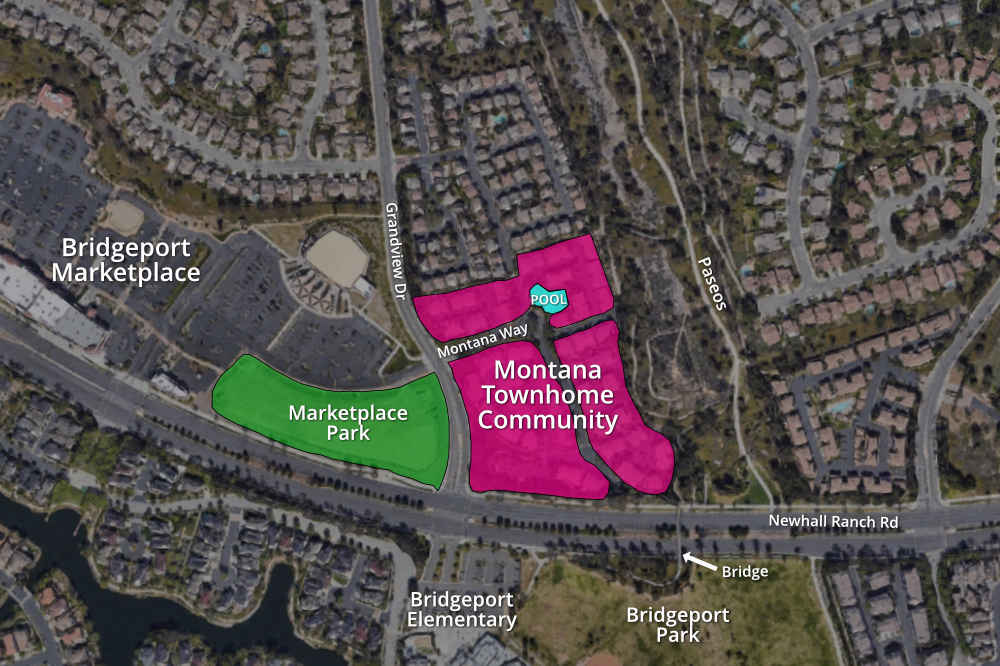 Montana Townhomes
Located in Valencia Northbridge, the homes come with 2 or 3 bedrooms sized from 982 – 1,344 SF. The Montana townhomes were built from 1995 to 1996 and the neighborhood is nicely maintained.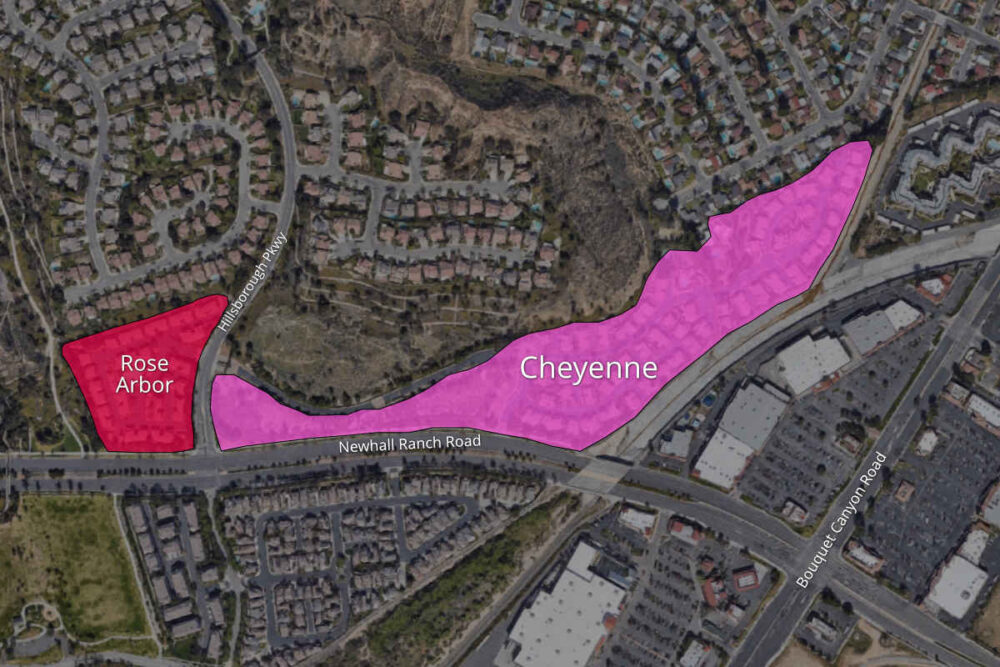 Cheyenne and Rose Arbor
Both communities are quite lovely and located next to each other in the Valencia Northbridge community.
The 1 & 2 bedroom Rose Arbor condos are sized small, from 592 to 863 SF. Perhaps a good opportunity for first time buyers.
Built in the late 1990's, the Cheyenne townhomes come with 2 or 3 bedrooms each and sized from 1,025 to 1,433 SF.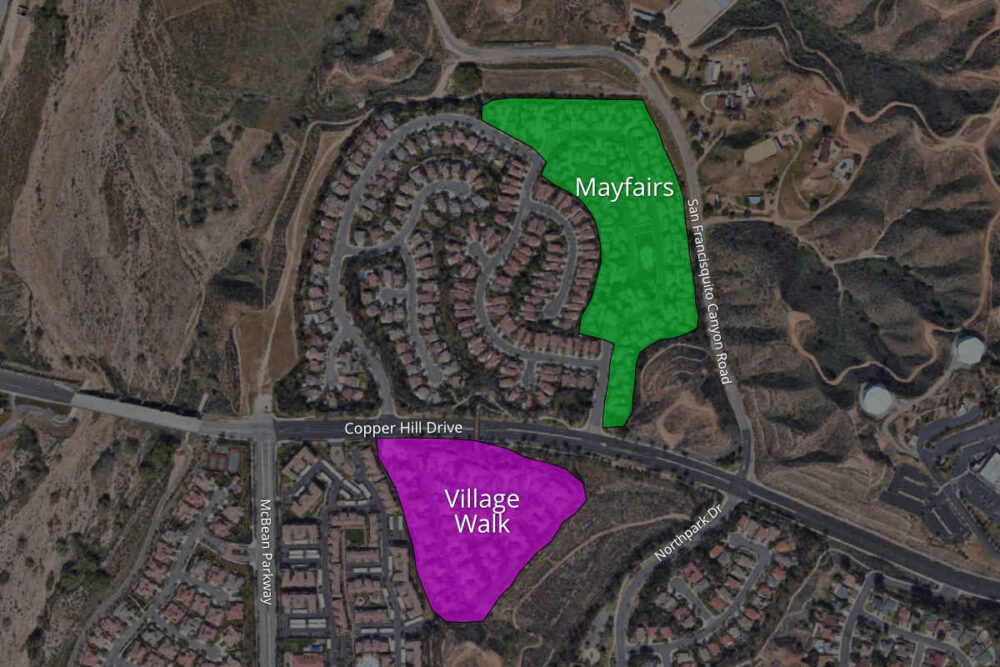 Village Walk and Mayfair (Copperhill)
Both complexes are located in the Northpark community.
The Mayfair homes were built in the late 1990's & consist of mostly 3 bedroom detached units commonly sized at 1,346 or 1,419 SF.
Village Walk is a lovely little community of townhomes available with 2 and 3 bedroom with sizes starting at 1,377 sq ft..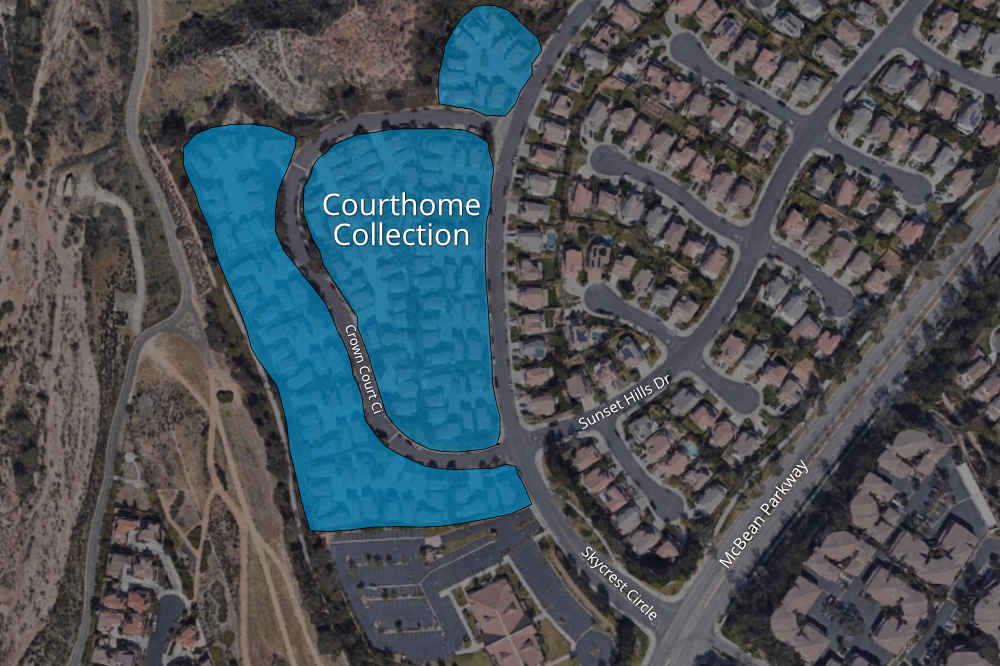 Courthome Collection
A collection of cute, detached condos in the Valencia Northpark community and developed in the mid 1990's. Various sizes of 2 and 3 bed units. We've sold a few of these homes and we there are very much like houses. Unlike the detached homes in new developments, some of these homes have nice yards.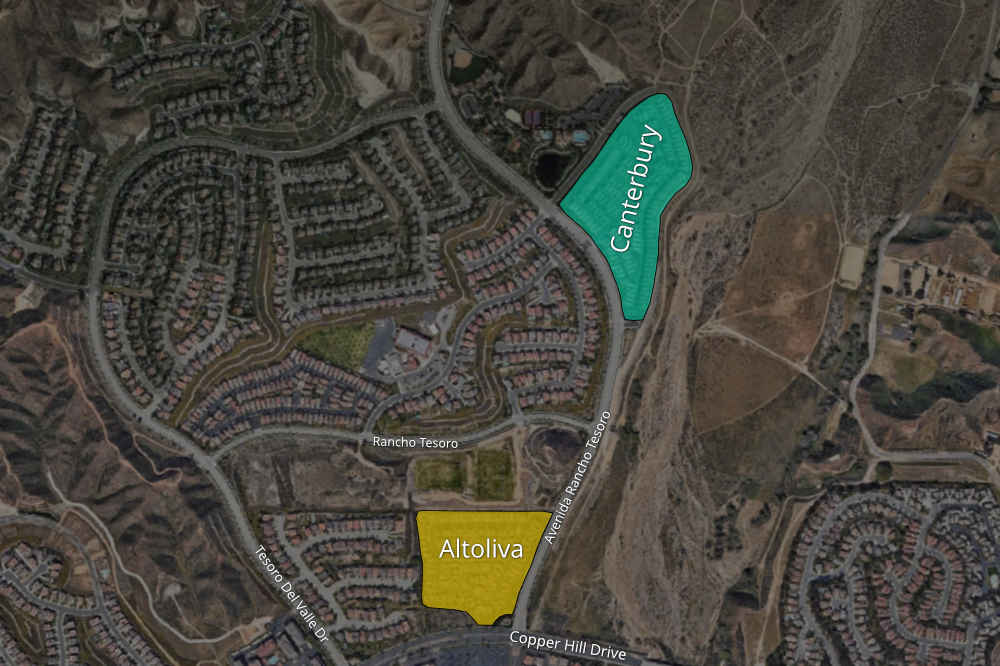 Altoliva and Canterbury in Tesoro
The only two condo or townhome complexes located in the popular Tesoro community.
Built in the early 2000's, Altoliva consists of large, 3 or 4 bedroom detached condos sized from 1,962 to almost 2,500 SF. The Canterbury's are mostly 3 bedroom detached homes sized from approximately 1,611 to 1,957 SF. Both are quite nice but beware of 2 HOA's AND Mello Roos. Of course, the Tesoro amenities are nothing short of amazing!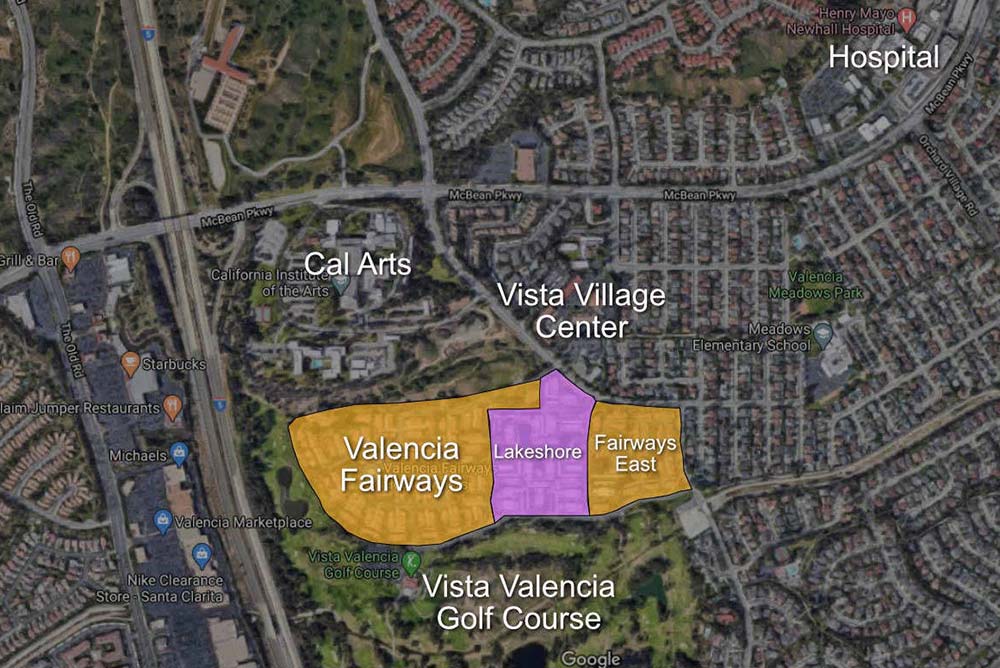 Fairways and Lakeshore
The Fairways is a golf themed complex built in the 70's consisting of a variety of townhomes, many of which are situated on the fairways.
Both complexes are located on the map south of McBean Parkway off of Tournament Road. The Lakeshore condo complex was also built in the 70's and buyers will find a large variety of condos sized from approximately 722 to 1,658 SF. There's a lovely lake situated around the center of the complex projecting a feeling of peace and tranquility.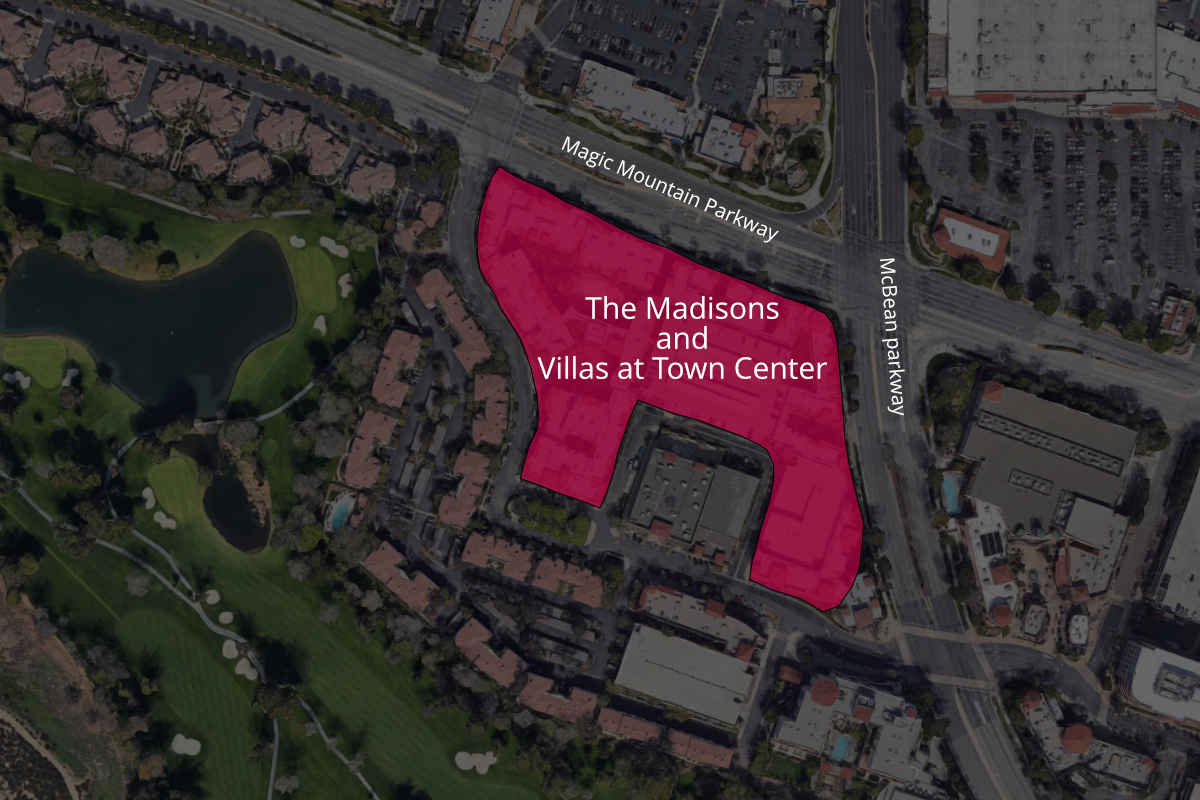 Madisons and Villa's at Town Center
A large and popular condo community, very nice with outstanding amenities and close to nearly all the best shopping and dining. Learn more about the Madisons and Villas at Town Center.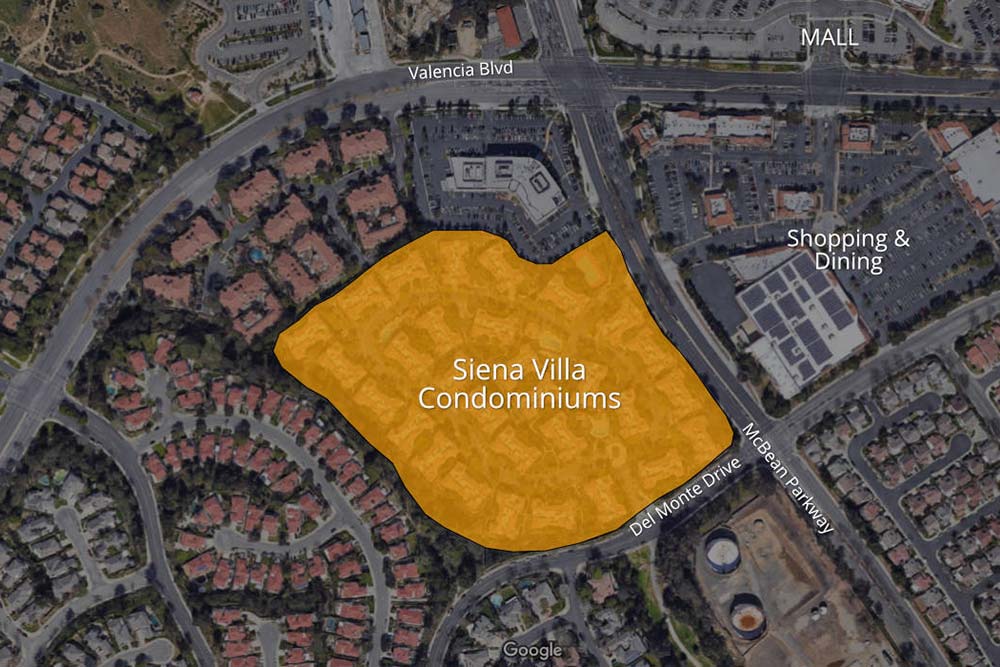 Siena Villas
Built in 1989 and 1990, the condos in the Siena Villa complex are especially popular among investors. Many 2 + 2 units, each bedroom with it's own bathroom.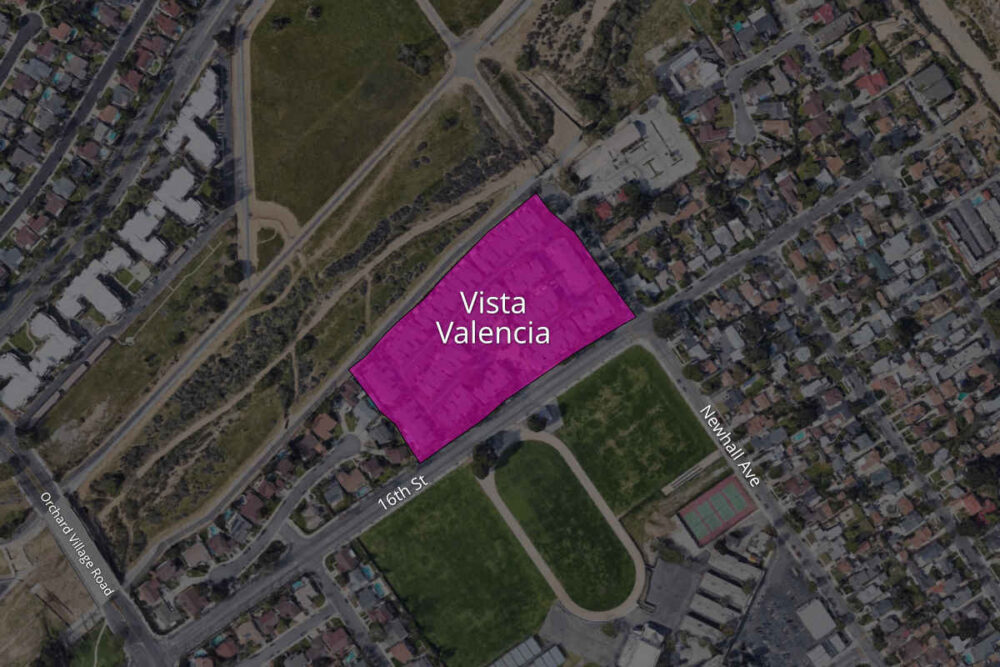 Vista Valencia
Classic townhomes located on the map east of Orchard Village road off of 16th street in Newhall across the street from Newhall Park. Classic, gated complex of 2 and 3 bedroom units built in the late 1970's.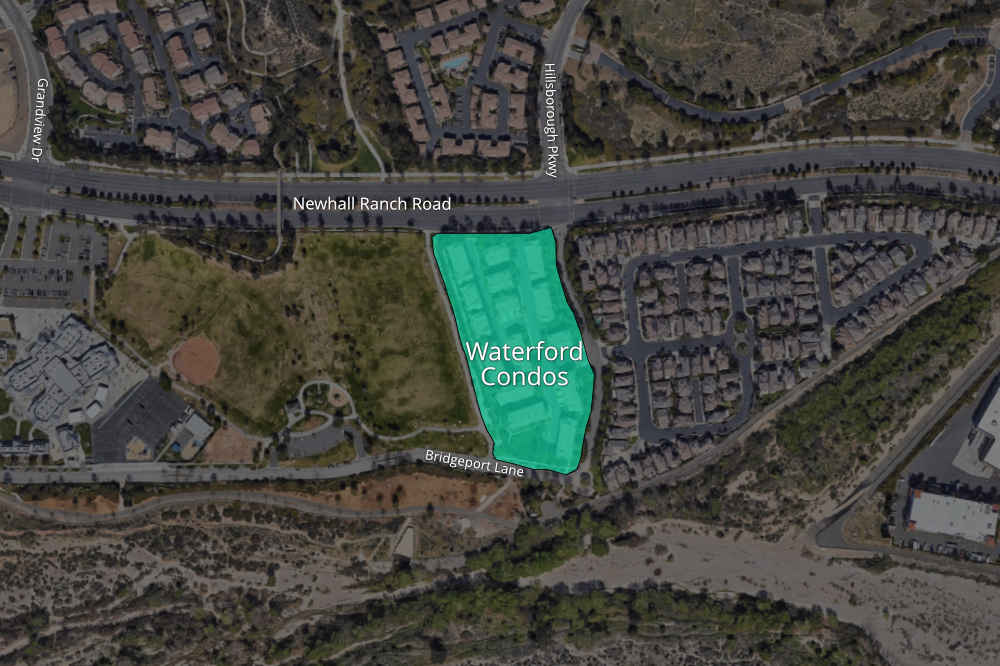 Waterford
Built in 2001, the Waterford complex is one of two condo or townhome complexes located in the Valencia Bridgeport community. The homes here are mostly large tri-level units with 3 bedrooms. Just gorgeous!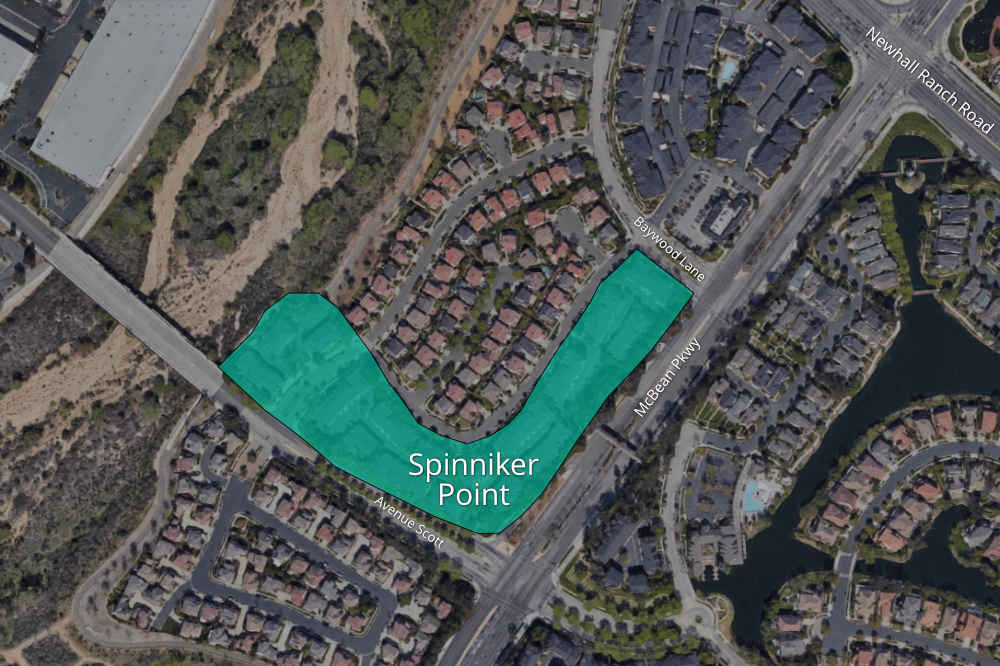 Spinniker Point
Built in 2001, Spinniker Point is a townhome complex located in the lovely Valencia Bridgeport community. The homes come with 2 or 3 bedrooms sized from 990 to 1,556 SF. Situated across the street from the lake, there's a handy pedestrian bridge connecting residents to the main community.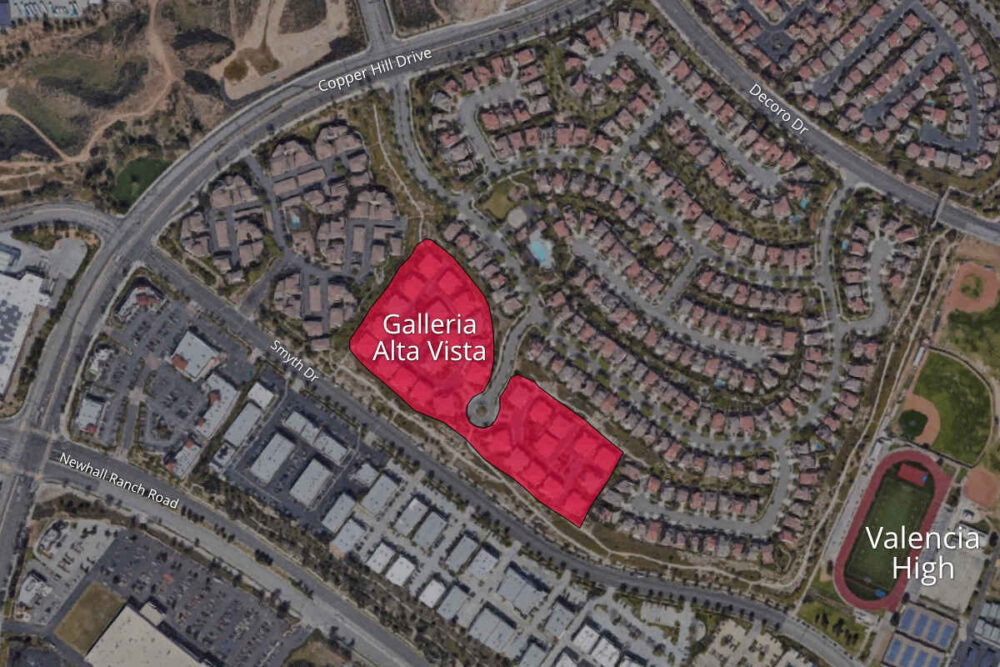 Galleria-Alta Vista
Attached 2 and 3 bedroom condos commonly sized from 1,315 to 1,936 SF and built in 2004. Located in the popular Alta Vista community.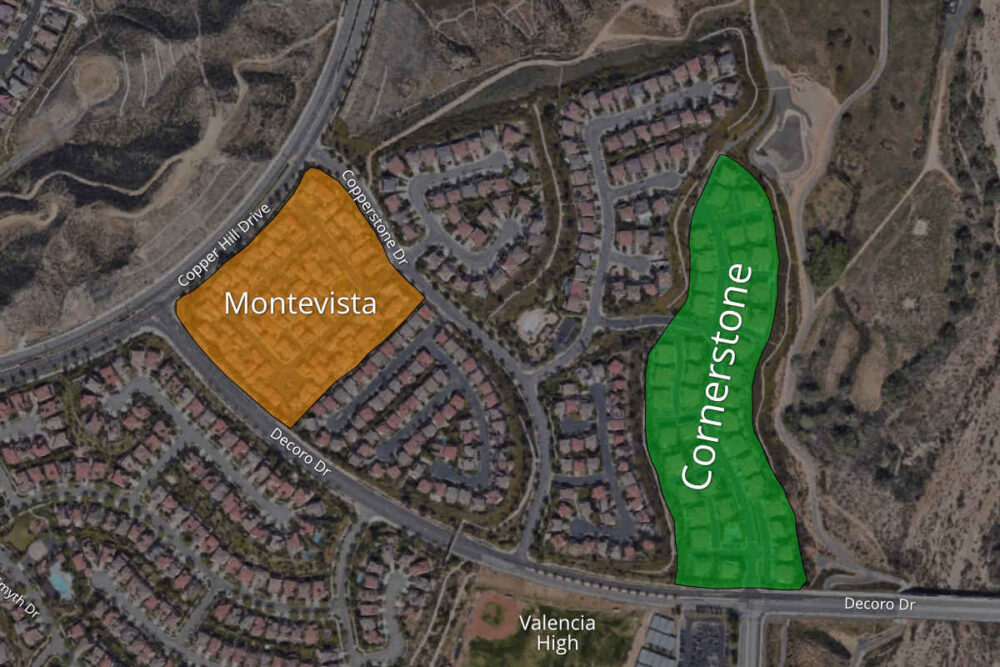 Montevista and Cornerstone
Both complexes are located just north of Decoro Dr and west of Copper Hill Drive in the Valencia Copperhill community.
Built in the early 2000's, the Cornerstone neighborhood has that village feel and consists of condos, commonly sized from 1,349 to 1,707 SF. The Montevista condos were built during the same period, sized from 1,517 to 1,694 SF.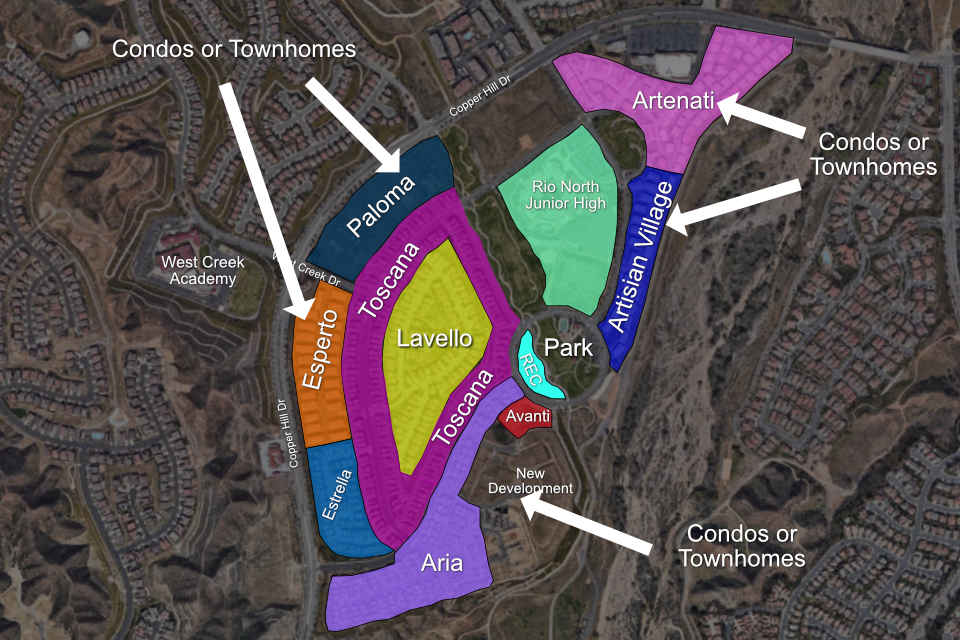 West Creek Condos & Townhomes
The West Creek community has a fresh & new park like feel and filled with a variety of houses, condos and townhomes. Learn more by visiting our Condos and Townhomes in West Creek page.
Valencia West Creek development began back in 2007 and still building a few more homes as of 2021. Overall, it's a terrific community certainly worth a visit.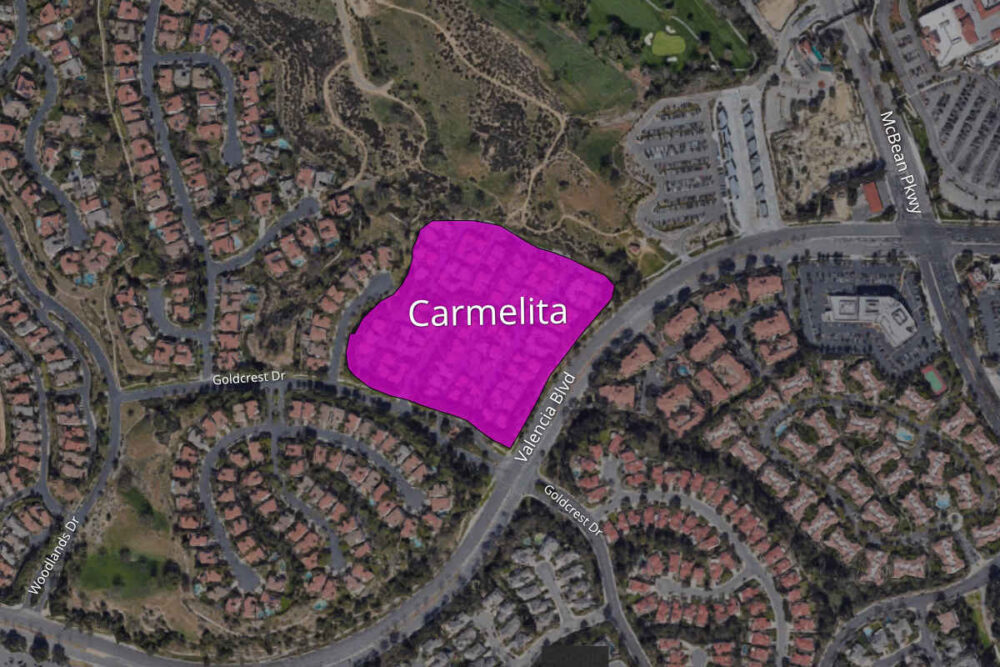 Carmelita
Located in the gated Valencia Woodlands community, Carmelita consists of a variety of large, detached condos. The neighborhood was built from 1999 to 2001 and absolutely gorgeous.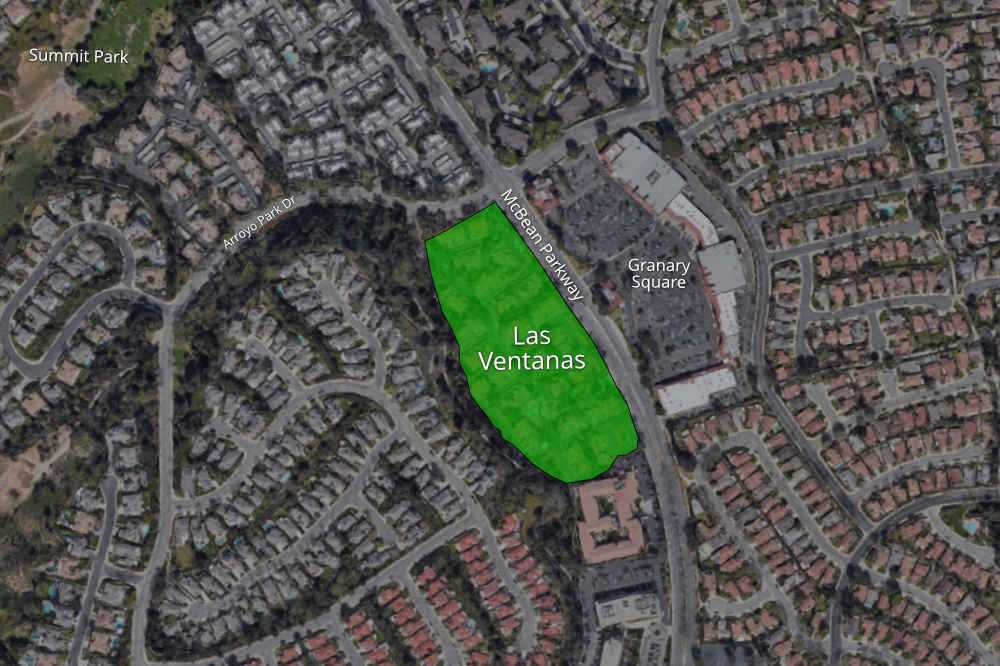 Las Ventanas
Located on the map in the Heart of Valencia, just west of McBean Pkwy and south of Arroyo Park Dr. Built in 1988, the Las Ventanas complex consists of 1 and 2 bedroom condos sized from 786 to 1,488 SF.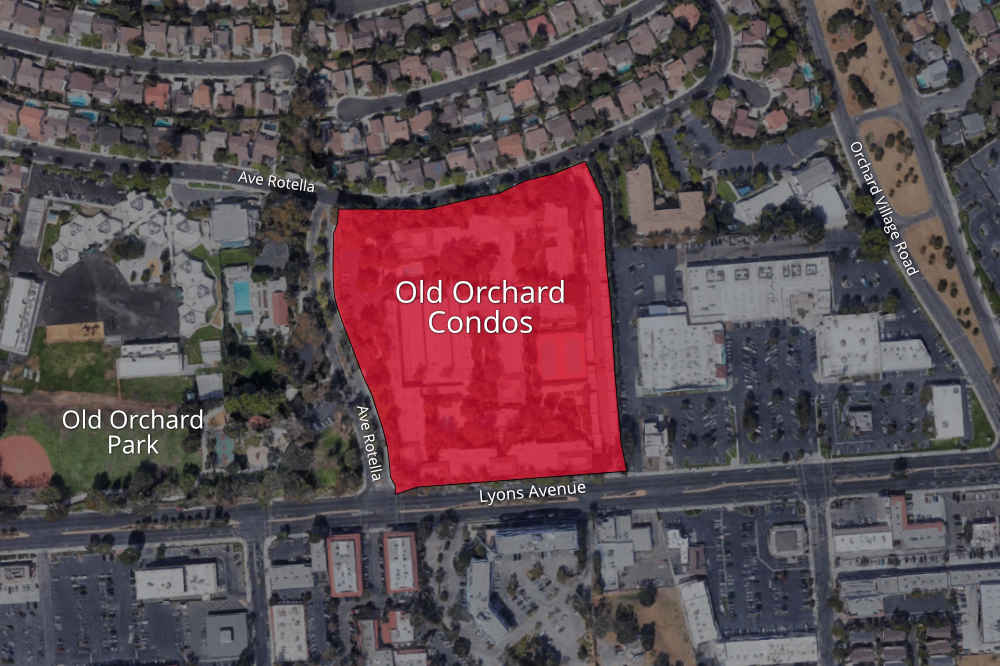 Old Orchard Condos
Popular classics, built in the 1960's and located in the Old Orchard community. The complex is filled with 1 and 2 bedroom units sized from 482 to 987 sq ft. Well maintained grounds and very close to convenience shopping and dining. If looking for an affordable condo surrounded by classic beauty, this is it!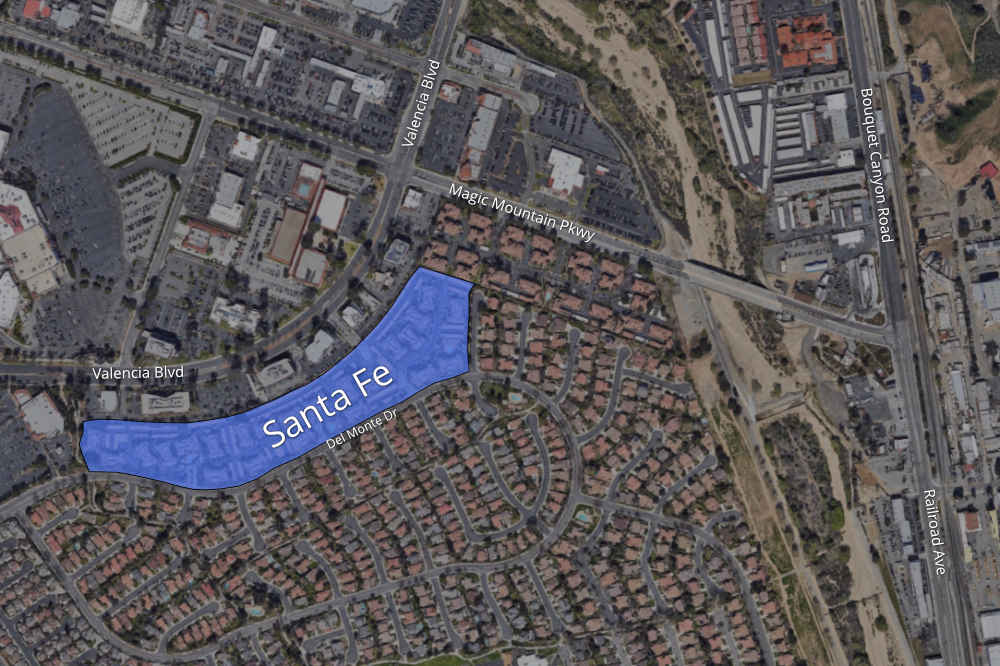 Santa Fe
Situated next door Kohl's shopping center in the Heart of Valencia, the Santa Fe condos include 1 and 2 bed units sized from 710 to 1,067 sq ft. Built in the late 1980's. Unlike many newer complexes, the monthly HOA cost is more reasonable here.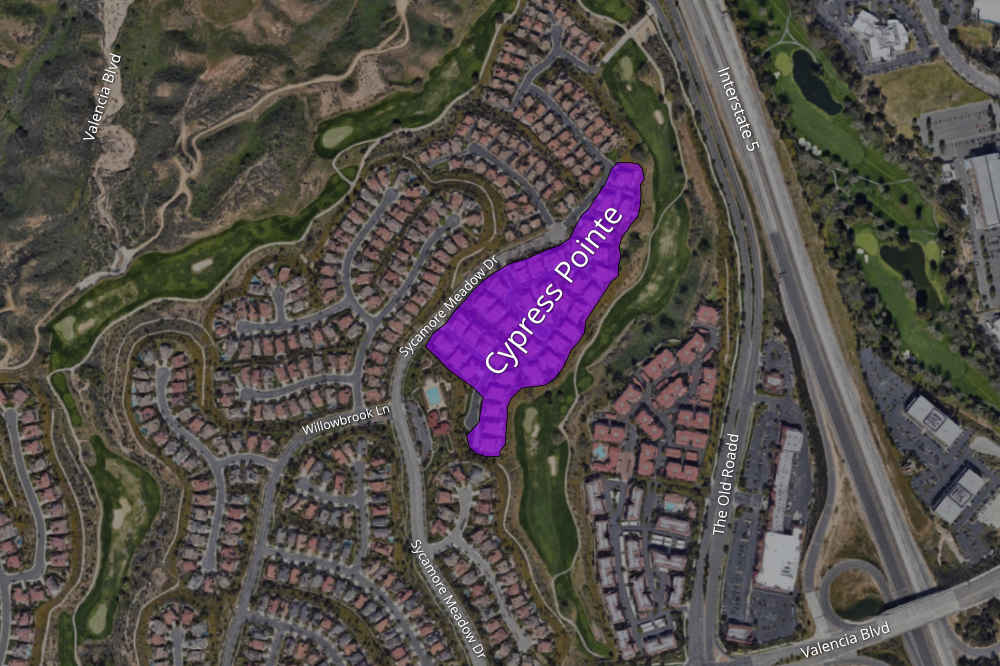 Cypress Point
Located in the exclusive Valencia Westridge community. Nice sized 2 and 3 bedroom units built in 2004. Some residents enjoy amazing views situated along the fairways.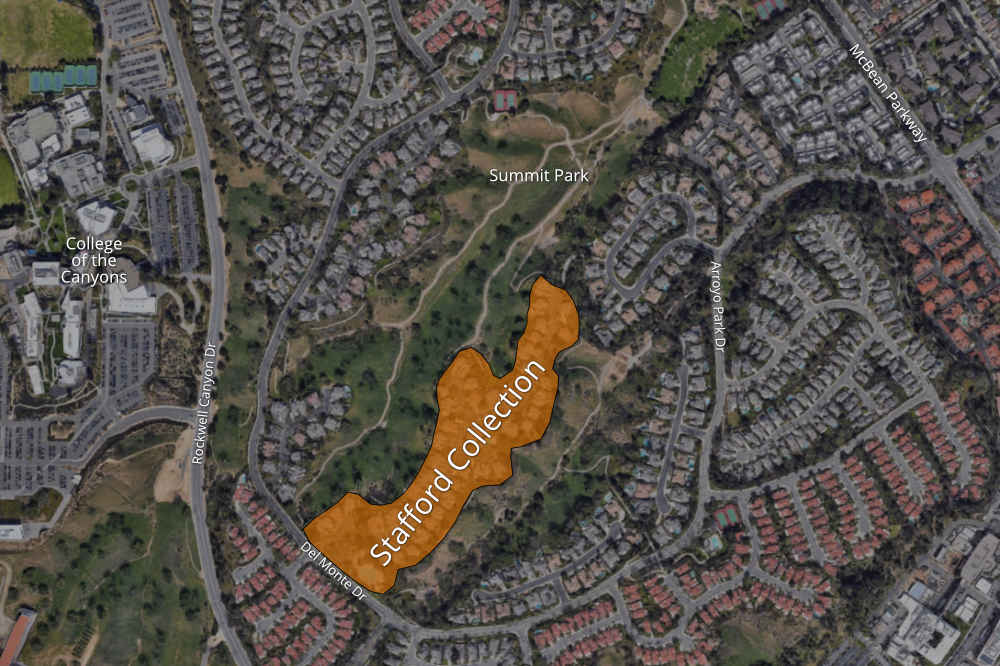 Stafford Collection
Just gorgeous! Attached condos built in the late 1980's and located in the desirable Valencia Summit community. This is certainly one of the most beautiful communities in all of SCV. The trails of Summit Park are filled with natural wildlife not found anywhere else in Valencia making for some beautiful hikes.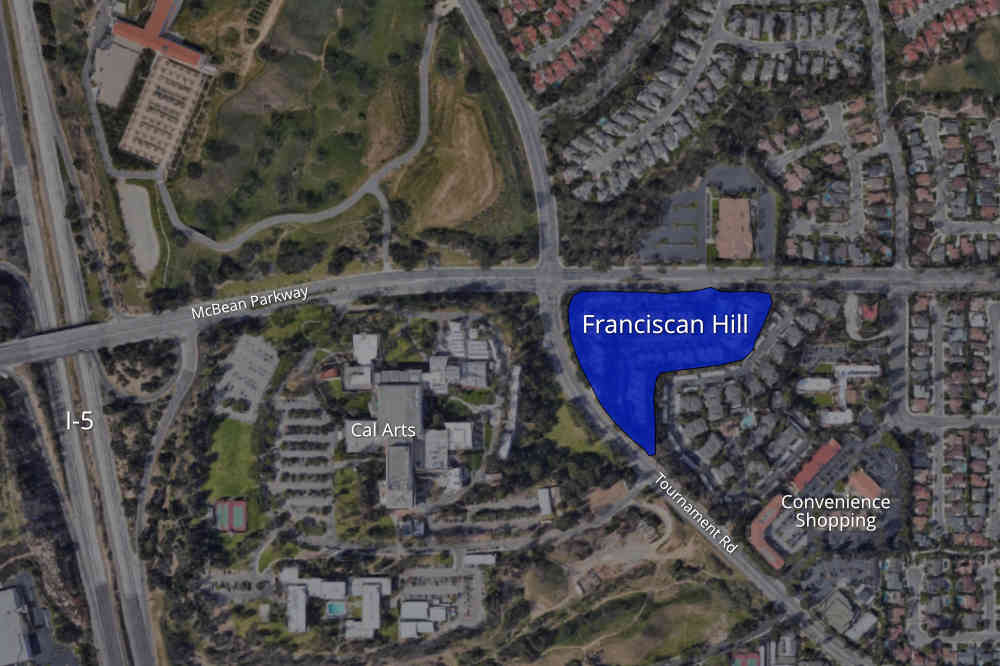 Franciscan Hill
Located next to Cal Arts in the Heart of Valencia, units come with 2 bedrooms sized from 977 to 1,212 SF. Franciscan Hill is a classic townhome community built in 1988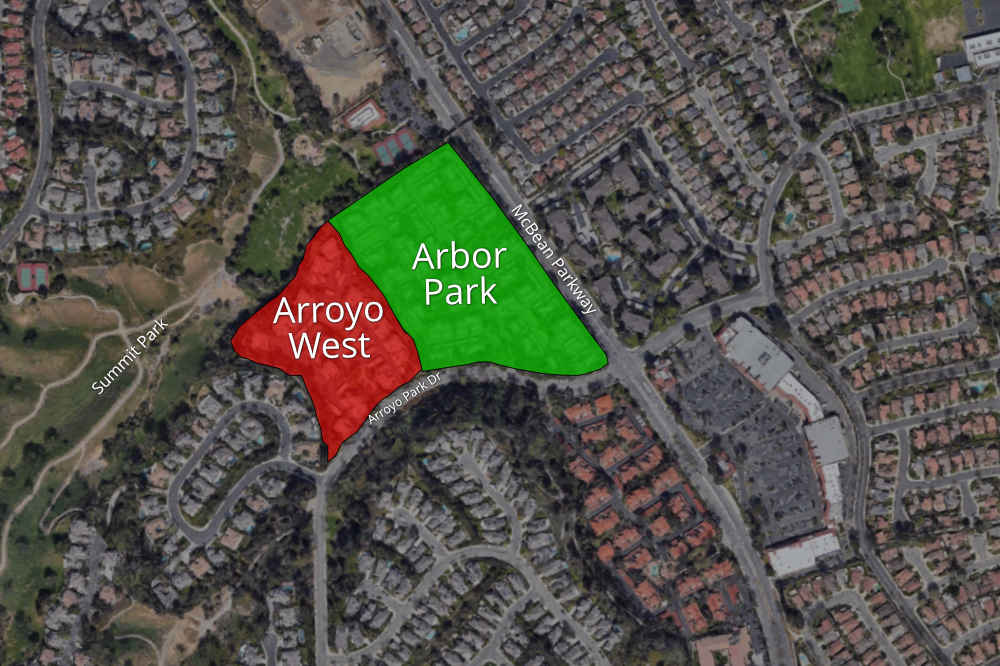 Arbor Park & Arroyo West
These two classic neighborhoods at the base of the Summit Community!
Arbor Park was built in 1985 and consists of 1 & 2 bedroom units sized from 695 to 1,527 SF. Arroyo West also includes 1 & 2 bedroom units sized a bit larger, from 790 to 1,442 SF.
Find Condo Complex Locations