Tesoro Del Valle Neighborhood of Valencia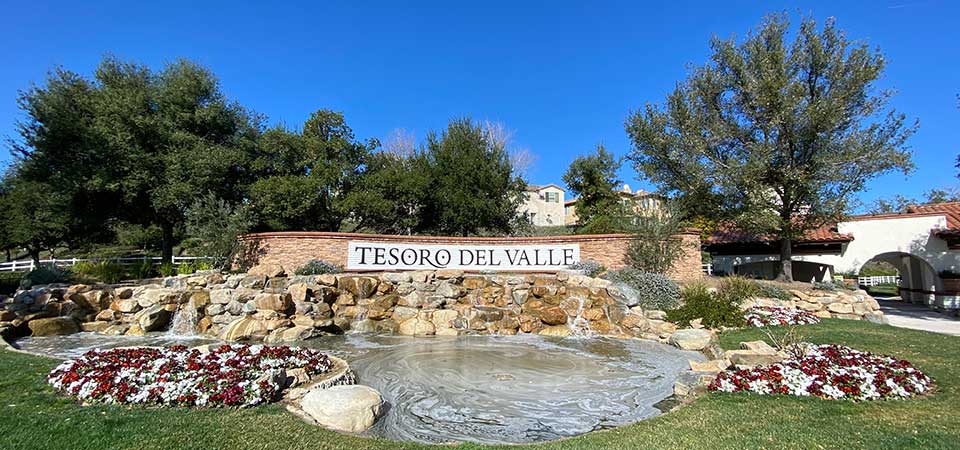 Originally developed in the early 2000's, Tesoro Del Valle is located on the map in the northern portion of Valencia, just north of Copper Hill Drive, on both sides of Tesoro Del Valle Drive. The community currently consists of 11 separate neighborhoods and the recreational amenities might be the very best in Santa Clarita. Also, the new Highlands development continues and we expect to see the first three new model homes coming soon in 2023!
Here we provide a community video, photos, links to listings of Tesoro homes for sale, list of amenities and extensive information about the neighborhoods, local conveniences, schools and shopping.
Community Theme
Contempory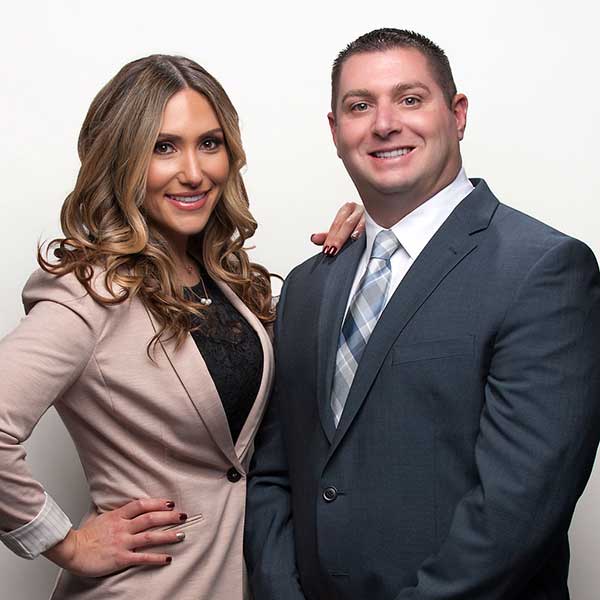 Tesoro Del Valle Presented By
Matt & Meray Gregory
[email protected]

As Valencia REALTORS®, Brokers AND current Valencia residents, we are especially interested in Tesoro and well suited to represent those looking to buy or sell their home.

Your Tesoro REALTORS®
DRE# 01463326
DRE# 01831112
Tesoro Del Valle Community Video
Tesoro Community Overview
If you're searching for a home to buy in a newer and nicely developed neighborhood, Tesoro Del Valle might just be the perfect fit! The neighborhoods and homes are always looking their best and the home values continue to remain strong. This may be partly due to the local community homeowners association, rules, regulations and guidelines, but it's also a reflection the pride of ownership by the Tesoro homeowners. Most local residents will agree, Tesoro is one of the nicest neighborhoods in Valencia.
Future Development Coming Soon
More housing is under construction at The Highlands in Tesoro and the first three model homes should be ready for tours later in 2023. The development is planned for approximately 820 homes, 360 of which would be designated for senior housing.
The Valencia locals often refer to Tesoro Del Valle as just "Tesoro." Of course, it's known for breath taking views and the amenities may be the best in all of Santa Clarita.
The main community HOA recreation area is absolutely outstanding, featuring a lovely man made lake and a variety of amenities, some of which you won't find in other neighborhoods. The developers really did go all out on the amenities here in Tesoro. Scroll down for more specific information.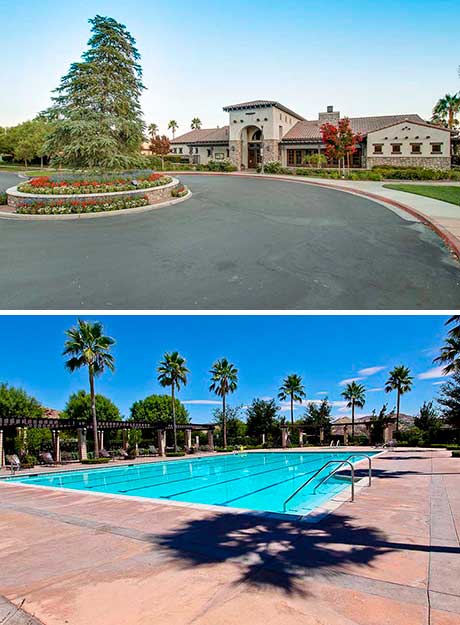 Tesoro Del Valle Amenities
There's a terrific pool, spa, barbecue, outdoor cooking area, picnic area, playground, tennis, gym/exercise room and a clubhouse. Residents enjoy walking or jogging along the developed trails that extend around the lake and connect up with the local park. As expected, all these fine amenities come with a price and HOA costs can be quite steep. By the way, unlike the lake in Valencia Bridgeport, the lake in Tesoro is fenced in and not open to the public.
Tesoro Adobe Park
In addition to the community HOA amenities, there's also Tesoro Adobe Park, available to all and located just above the clubhouse at the top of the community.
Mello Roos
For those unfamiliar with the area, it's important to be aware of the Mello Roos Tax. Mello Roos is an added tax paid by homeowners living in a specific developed community, and Tesoro does have this Mello Roos tax. See our interview with title expert, Derrick LeBlanc to learn more about Mello Roos in Santa Clarita.
Schools & Local Conveniences
Schools nearby Tesoro include Tesoro Del Valle Elementary which is situated centrally in the neighborhood. Rio Norte Junior High School is located at the bottom of the community, just across the street. Valencia High School is just a short drive down the road.
The elementary school is part of the Saugus Union School District. Valencia High and Rio Norte are both part of the William S. Hart School District.
Local Conveniences
Tesoro residents enjoy nearby local convenience shopping or dining at the base of the community at Tesoro Village.
Albertsons
Jersey Mikes
Banking
Nail Salon
Great Clips
More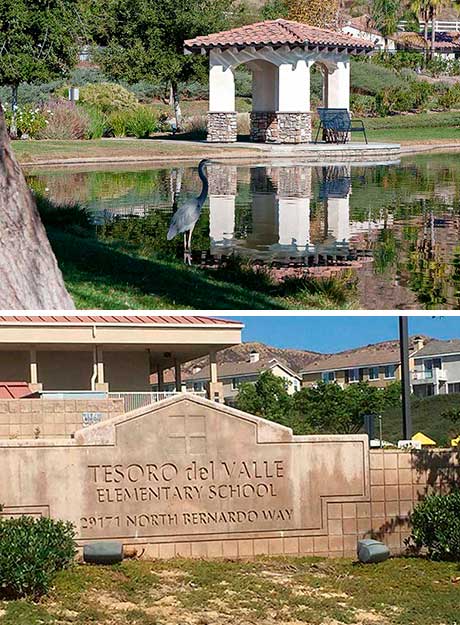 Map of Tesoro
The map below includes the subdivisions in the original Tesoro Del Valle community and the new Tesoro Highlands.
Homes for Sale in Tesoro Del Valle
Click on the View ACTIVE Listings button below. If there are any homes on the market here in Tesoro they will be displayed on the listing page.
More Valencia Communities and Home Buying Options
If Tesoro Del Valle is not for you, have a look at more communities in Valencia! We continue to provide extensive, first hand information for nearly ALL Valencia communities, filled with our own photos, videos and descriptions.
More Homes in Valencia
View Homes For Sale in ALL of Valencia, CA
11 Subdivisions of Tesoro Del Valle
See below brief descriptions for each of the 11 separate subdivisions or neighborhoods in Tesoro.
HIGHLANDS NEW DEVELOPMENT UPDATE:
Great news! The new Highlands project is in progress! The Highlands will include 1,270 acres on land with approximately 460 single family homes and 360 homes for the 55+ crowd. All neighborhoods will be gated with easy access to 22 miles of improved trails. There will be a total of 13 neighborhoods, 4 of which will be for active adults only.
Learn More About The Highlands
Altoliva: The Altoliva subdivision is located at the bottom of Tesoro at the NW corner of Copper Hill Drive and Avenida Rancho Tesoro. Built from 2003 to 2004, this gated community includes 3 and 4 bedroom houses and a few detached condos or townhomes. The homes are sized from 1,962 sq ft to 2,484 but most are just above 2,000 sq ft.
Canterbury: The Canterbury neighborhood was developed from around 2005 to 2006 and is located near the top of Tesoro Del Valle. next to the HOA clubhouse and lake. More specifically, it's at the SE corder of Avenida Rancho Tesoro and Stoney Creek Road. You'll find single family homes with 3 or 4 bedrooms sized from approximately 1,611 up to 2,137 sq ft. Homes usually include 2.5 or 3 bathrooms.
Encanto: Built from 2003 to 2004, the exclusive Encanto subdivision is tucked in near the top of the community just west of Tesoro Del Valle Drive and north of Casa Luna Place. These homes are not cheap but they are are big and beautiful, sized from 3,631 sq ft up to at least 5,023 sq ft. Many Encanto homes have their own pools, spas and tons of amenities.
Esperance: Also built in 2004, the Esperance homes are situated just east of Tesoro Del Valle Drive and accessible from Las Brisas Road. The homes are quite large, sized from 3,568 to approximately 4,515 sq ft. Most have 5 bedrooms, 4 or more bathrooms, balconies, family rooms, large yards and plenty of upgrades. Tesoro Del Valle Elementary is located just down the street.
Festivo: The Festivo subdivision is located just west of Avenida Rancho Tesoro and north of Rancho Tesoro. The neighborhood was developed in 2003 and 2004 and the homes sized from 2,662 sq ft to 3,571. Most homes have 4 or 5 bedrooms. Very popular community located near the elementary school.
Hunington: The Hunington Collection is located near the center of the Tesoro community between Tesoro Del Valle Drive and Las Brisas Road. Homes include 4 or 5 bedrooms sized around 3,500 sq ft.
Sonora Heights: Located in the center of the community, Sonora Heights is just lovely and was built around 2003/2004. Single Family houses include 3, 4 and 5 bedrooms and sized from 1,765 to 2,664 sq ft. These homes are much more reasonably priced and a more affordable option for first time buyers or those moving up from condos to houses.
Sonora Ridge: The homes in Sonora Ridge are situated just west of Avenida Rancho Tesoro, across from the HOA clubhouse and lake. The homes include mostly 4 bedrooms and sized from 2,317 to 2,680 sq ft. Some homes have lofts, pools and more. Even though sized similar to those in Sonora Heights these homes include more goodies and are more expensive.
Tango: The houses in Tango are located just off of Tesoro Del Valle Drive and Rancho Tesoro. Available at a lower price point than most, the neighborhood includes 3 and 4 bedroom homes sized just above or below 2,000 sq ft. Also developed in 2003 and 2004.
Terraza: The exclusive Terraza subdivision is located at the very top of the community. Amazing view homes are sized from up to about 4,800 sq ft and are just gorgeous. Yes, as you might expect, the Terraza homes are some of the most expensive in all of Tesoro.
The Ranch:
The Ranch properties are located at the bottom of the community just north of Copper Hill Drive and west of Tesoro Del Valle Drive. The homes don't come cheap but there are a variety of home types sized from 2,640 to 3,246 sq ft. All were built in 2004.
Considering Selling Your Home in Tesoro?
We really like this Tesoro community and have represented a good number of buyers and sellers here. We know how important it is to make sure our clients have a clear understanding of the costs associated with the Mello Roos and HOA's. Yep, some homes come with 2 HOA's! Most are unaware of other factors specific to this community and it's essential buyers and sellers know what to expect when moving forward with a transaction. We are here to help so feel free to reach out and schedule a consultation. With us, there's NEVER any sales pressure, whatsoever!
Matt & Meray