Valencia Bridgeport Community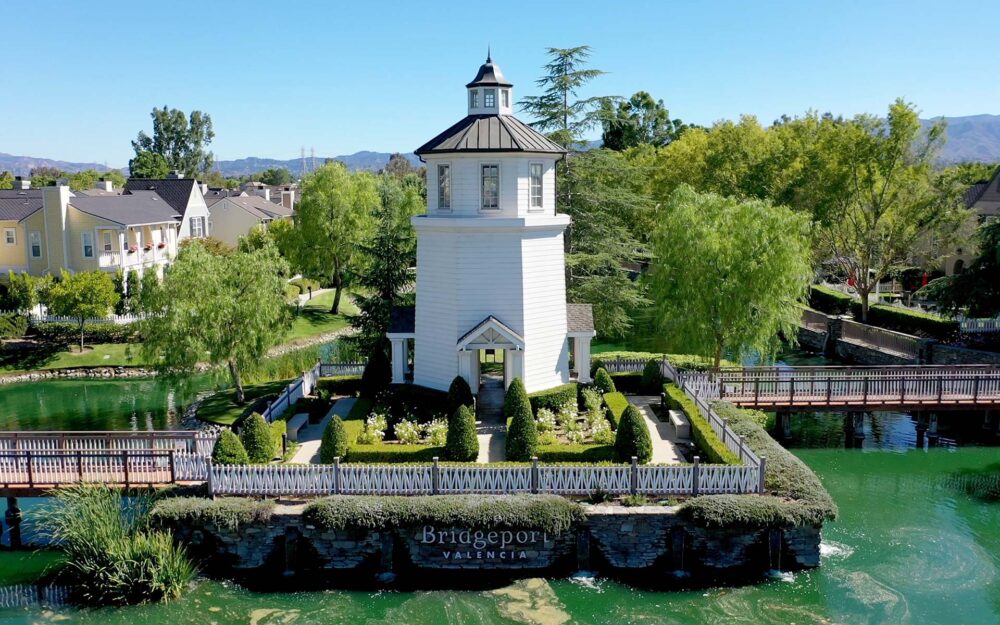 Discover the gorgeous Valencia Bridgeport community and waterfront homes! Here we provide information about the neighborhoods, amenities, homes for sale, schools, and local conveniences. Yes, we know everyone says their community is gorgeous, but this one really is, we promise!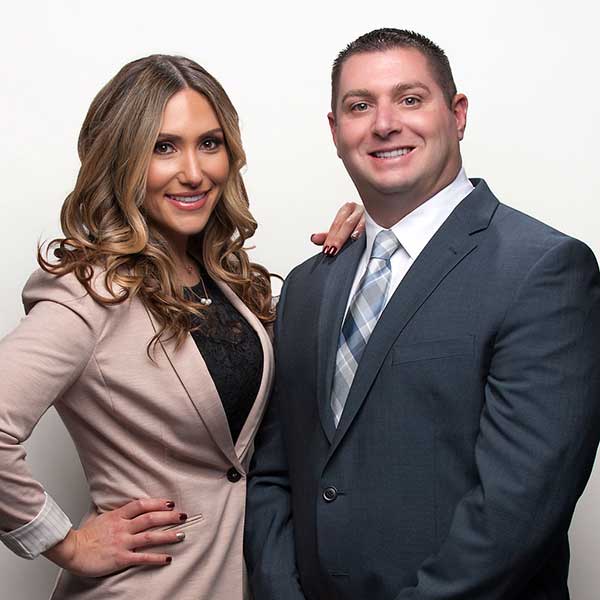 Valencia Bridgeport Report By
Matt & Meray Gregory
[email protected]

As Valencia REALTORS®, brokers AND residents, we can tell you Bridgeport really is a remarkable community. Feel free to reach out and schedule a consultation. We appreciate the opportunity to be of service.

Your Valencia REALTORS®
DRE# 01463326
DRE# 01831112
Bridgeport Community Video
Valencia Bridgeport Community Overview
Bridgeport is located on the map in Valencia, CA on both sides of McBean Parkway and just south of Newhall Ranch Road. Built in the early 2000's, Bridgeport is a master planned community consisting of 9 very special neighborhoods surrounding an amazing man made lake and comes with some terrific amenities.
The homes here include a variety of amazing single family homes, nicely designed condos and lovely townhomes. As expected, some homes come with scenic lakeside views. Scroll down to see specific descriptions about the homes in each neighborhood.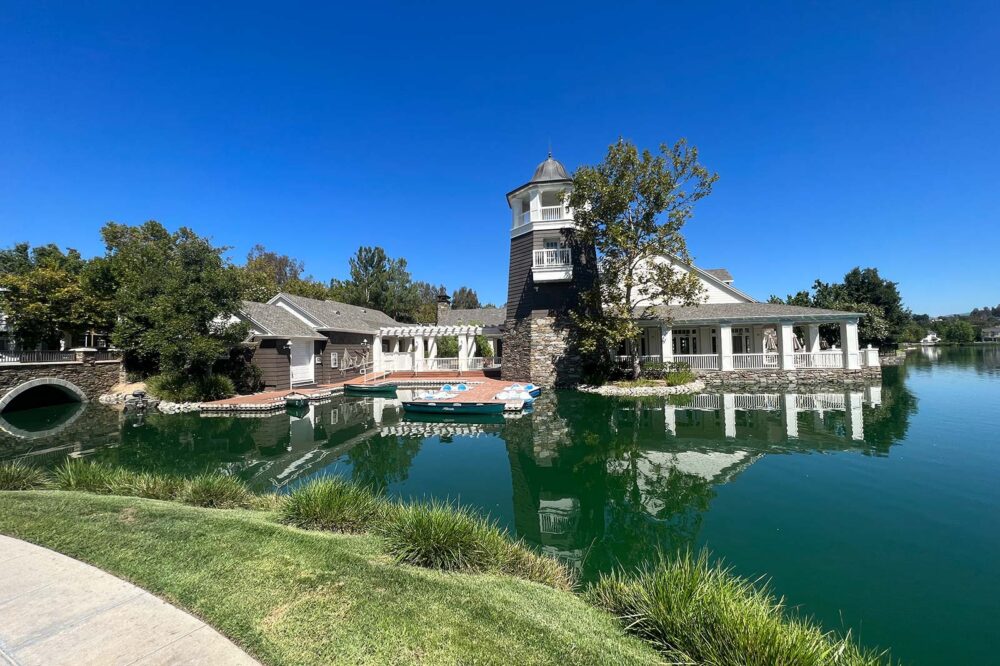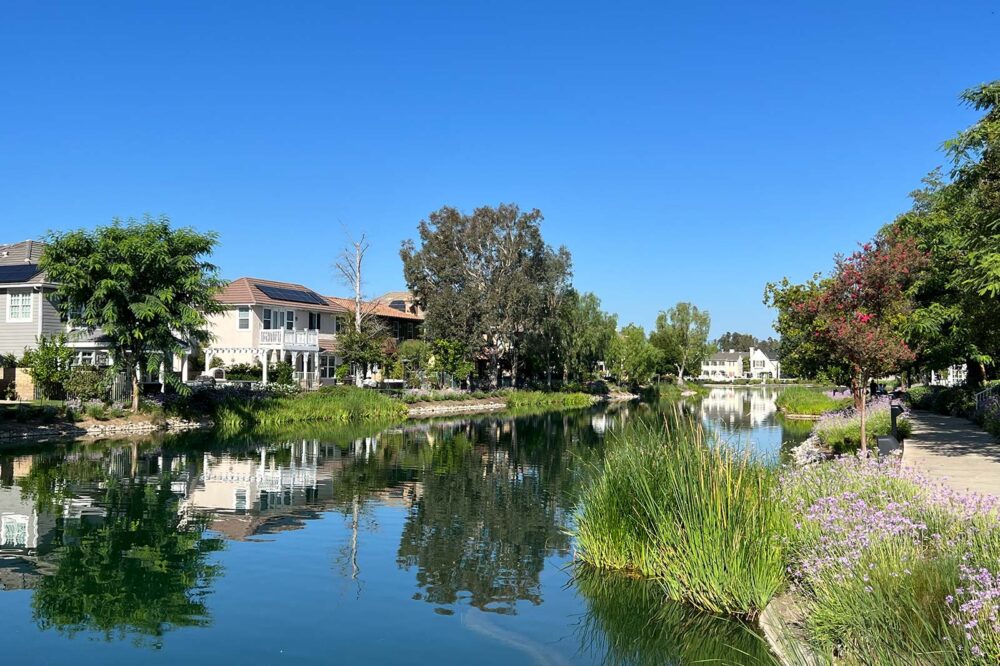 The community is known for its lush beauty, the gorgeous lake, fantastic amenities and comfortable living. Residents enjoy peaceful, serene neighborhoods, beautiful homes, waterfront trails, swimming pools, spas, and it all connects to the school, shopping and the local park.
Also, don't miss having a look at reports for other Valencia neighborhoods. Each report includes our own first hand descriptions, videos, photos, listings and more.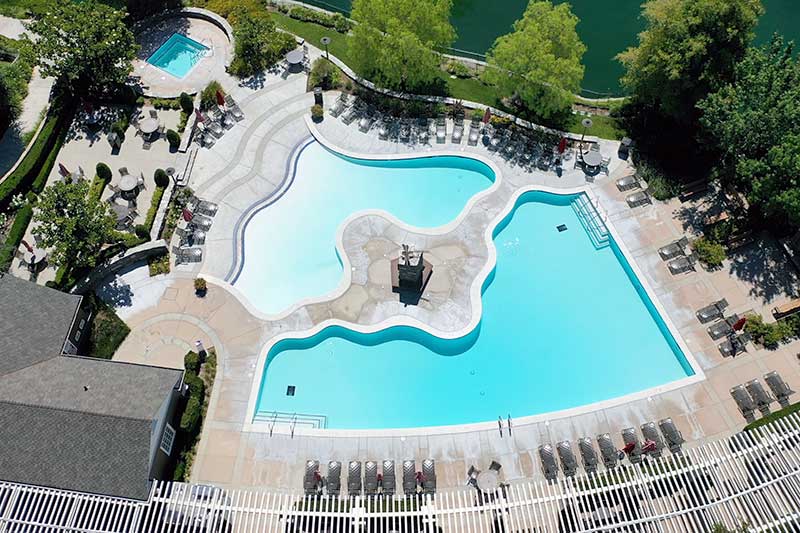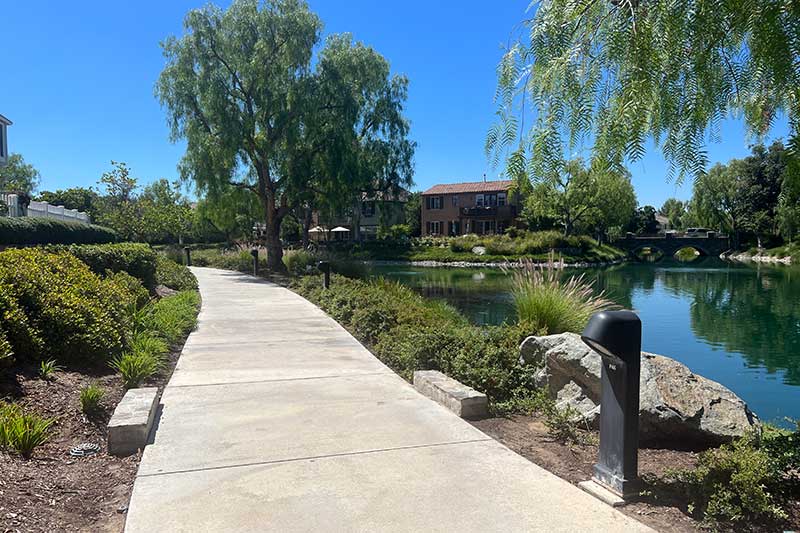 Valencia Bridgeport Amenities
Take a visit to Bridgeport and treat yourself to a stroll around the lake. Depending on the time of the year, you'll see ducks, geese, turtles and a variety of birds. It's easy to see why residents enjoy spending time walking and jogging the nicely developed trails. They also connect to the elementary school and park.
There's a main clubhouse available to residents for rent and it's a popular spot for special occasions. There's a resort styled recreation area with custom swimming pools, a spa and more. Just gorgeous!
HOA Costs and NO Mello Roos
These amenities do come with an HOA cost which is determined depending on which of the 9 neighborhoods each home is located. There is NO Mello Roos.
We have a lifetime of extensive local information about Bridgeport and nearly every community in Valencia. Of course, we share it here on our website, but more is reserved for our clients. If desired, feel free to reach out to us for a consultation.
Schools & Local Conveniences
Schools Nearby Bridgeport
Bridgeport Elementary School is located within the community and for most local children, it's an easy walk. Other nearby schools include Rio Norte Junior High and Valencia High School.
Bridgeport Elementary is part of the Saugus Union School District. Valencia High and Rio Norte are part of the William S. Hart School District.
Local Conveniences
Bridgeport residents enjoy nearby local convenience shopping or dining at Bridgeport Marketplace. Examples include Valley Marketplace, California Pizza Kitchen, Wells Fargo ATM, Walgreens, Marston's Restaurant, Tesla Supercharger stations, Providence Medical and more.
Bridgeport Park
The park is conveniently situated just next door to the elementary school. There's an expansive greenbelt, a baseball field, playground and the developed trails extend around nearly the entire perimeter. There's also a pedestrian bridge that crosses over Newhall Ranch Road into the Northbridge community.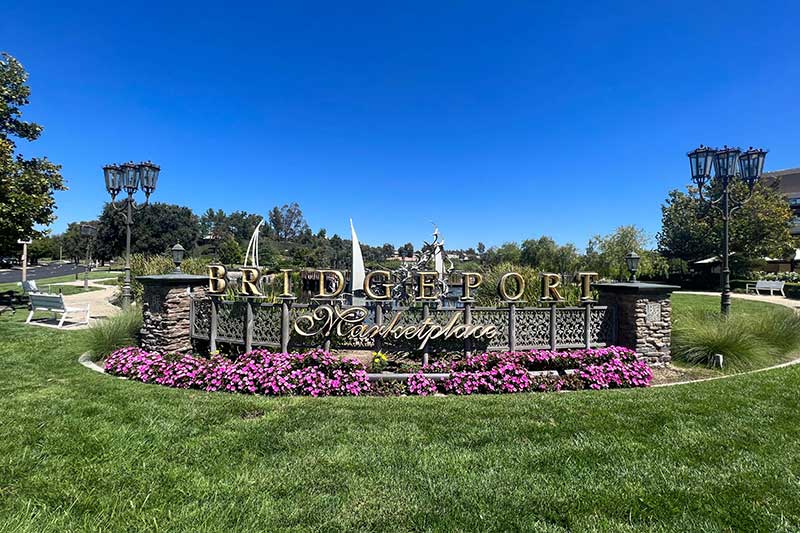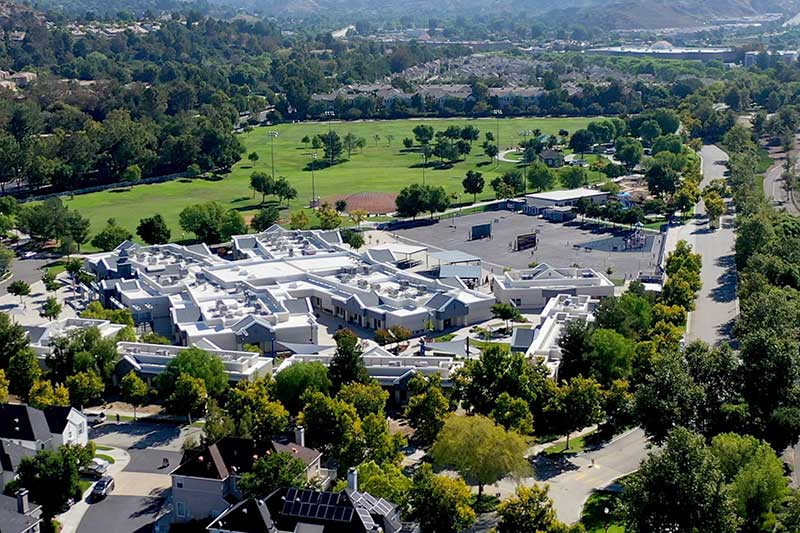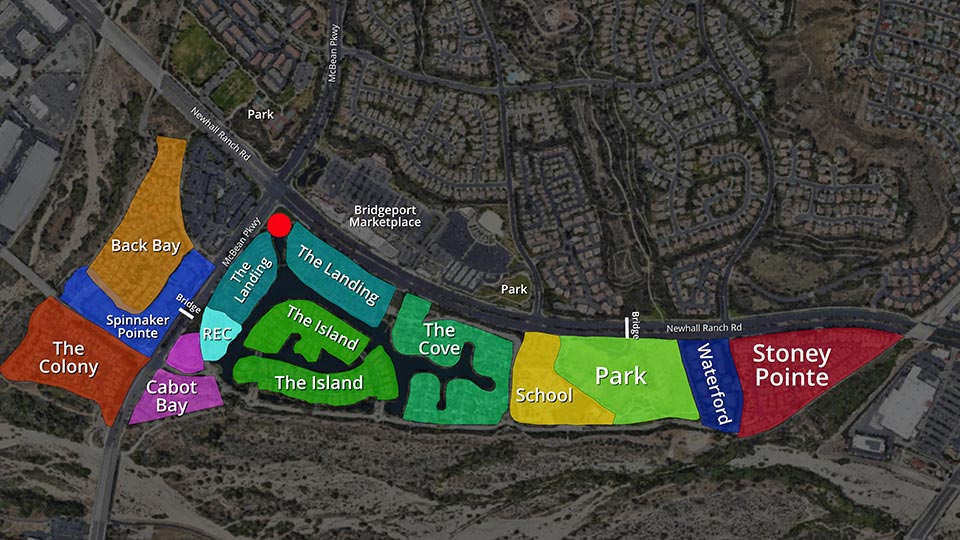 Valencia Bridgeport Homes For Sale
Those interested in finding lakeside homes here in Santa Clarita will see them here! Waterfront properties in this area are extremely rare, making Bridgeport that much more desirable!
More Valencia Communities and Home Buying Options
If you'd like to discover more local communities, we offer a variety of community reports for most neighborhoods in Valencia.
9 Subdivisions of Valencia Bridgeport
See below our brief descriptions about each of the nine subdivisions here in Valencia Bridgeport. The Colony, Spinnaker Pointe, and Back Bay reside on the west side of McBean Parkway with a convenient pedestrian bridge connecting residents to the lake on the opposite side of the street. On the east side of the park, you'll discover the Stoney Pointe and Waterford neighborhoods. All information comes from our own research and many visits to various homes within the community.
The random photos below are intended to give our visitors an idea of the lovely homes one might find here in Bridgeport.
Back Bay
Back Bay is a charming residential neighborhood characterized by its two-story detached single-family homes. These homes predominantly offer spacious layouts with 4 bedrooms and 3 bathrooms, ranging in size from 1,788-2,415 sq ft. Situated on the west side of McBean Parkway, Back Bay enjoys a prime location that combines the tranquility of a suburban setting with convenient access to amenities and services.
Cabot Bay
Cabot Bay exudes the enchanting allure of a quintessential New England seaside hideaway. Nestled by the tranquil community lake, this charming residential enclave offers tri-level attached townhomes adorned with timeless coastal charm. Ranging from 1,307-1,680 sq ft with 2-3 bedrooms, 2 bathrooms, and some featuring inviting lofts and picturesque balconies, Cabot Bay combines cozy elegance with modern living. Its proximity to the clubhouse and pool area ensures that residents can relish the relaxed, yet vibrant atmosphere that defines this coastal haven. Learn more about the Cabot Bay townhome neighborhood.
The Island
The Island is a breathtaking gated community offering luxurious living at its finest. Nestled amidst serene surroundings, the lavish two-story detached single-family homes boast expansive lake views and waterfront backyards, creating a truly picturesque setting. These grand residences range from approximately 3,000-4,000 sq ft in size, featuring 3-6 bedrooms and 3-5 bathrooms, making them the epitome of spacious elegance.
Stoney Pointe
These charming two-story detached single-family homes offer spacious living with 3-4 bedrooms and 2-3 bathrooms, ranging in size from 2,167-2,272 sq ft. Each residence boasts the convenience of a two-car garage and features cozy yet manageable backyard spaces. Nestled to the east of Bridgeport Park and Bridgeport Elementary School, these homes provide a friendly environment with access to recreational facilities and educational resources.
Spinnaker Pointe
Spinnaker Pointe offers comfortable attached condominium and townhome living, featuring residences ranging from approximately 990-1,556 sq ft in size. These thoughtfully designed condos offer a choice of 2-3 bedrooms and 2-3 bathrooms, providing ample space for residents to enjoy. Nestled on the west side of McBean Parkway, Spinnaker Pointe's prime location ensures convenient access to nearby amenities and a vibrant community atmosphere.
The Colony
The Colony, nestled on the western side of McBean Parkway, boasts an exclusive, gated community featuring charming two-story detached single-family homes, each equipped with a spacious 2-car garage. These residences span from 1,796-2,147 sq ft, offering ample space for comfortable living with 3-4 bedrooms and 2.5-3 bathrooms. Additionally, the homes feature private, cozy backyards.
The Cove
The Cove is a picturesque community of beautifully styled homes, nestled in a serene setting. Most of these exquisite residences boast stunning lakefront views, providing residents with a sense of peace and tranquility. These two-story detached single-family homes offer spacious living, featuring 3-4 bedrooms, 2.5-3.5 bathrooms, and generous floor plans ranging from 2,377-3,178 sq ft. Enjoy the perfect blend of luxury, natural beauty, and comfort in this idyllic lakeside enclave.
The Landing
The Landing offers exquisite luxury two-story single-family homes, featuring stunning lakefront views for select properties. These homes range from 3-4 bedrooms and 3-4 baths, spanning a generous 2,748-3,255 sq ft of living space. With their charming cottage-style exteriors, these residences boast lovely, spacious front yards and inviting side patios. Moreover, The Landing's strategic location provides residents with convenient access to the clubhouse and pool area, enhancing the overall lifestyle experience.
Waterford
Waterford, nestled next to Bridgeport Park, offer a picturesque setting for comfortable living. This charming Waterford townhome neighborhood is comprised of tri-level attached townhomes, each featuring a convenient two-car direct access garage with additional space for storage. With layouts boasting 3 bedrooms and 2-3 bathrooms, these homes vary in size from 1,844-2,116 sq ft, providing ample space for modern living. Enjoy the tree-filled surroundings and the tranquility of this community.
Sell Your Home in Bridgeport
If you are a Valencia Bridgeport homeowner and are considering selling your home, contact us to schedule a free consultation to discuss your goals and how we can put our experience, knowledge, exceptional customer service and marketing strategies to best serve you.