Valencia Bridgeport Community – Easy Living!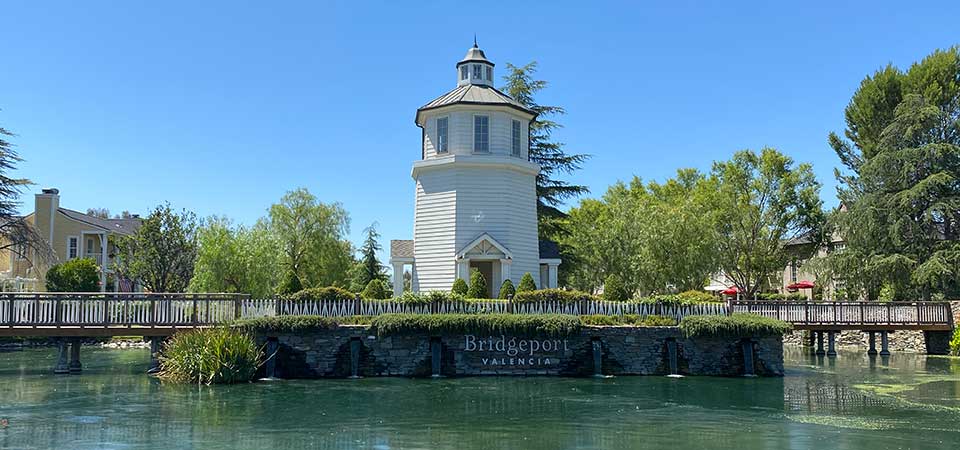 Discover the gorgeous Valencia Bridgeport community and waterfront homes! Here we provide information about the neighborhoods, amenities, homes for sale, schools, and local conveniences. Yes, we know everyone says their community is gorgeous, but this one really is, we promise!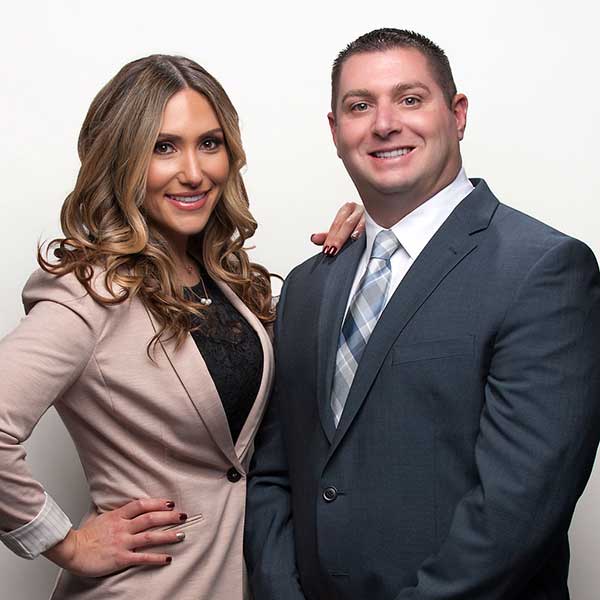 Valencia Bridgeport Report By
Matt & Meray Gregory
[email protected]

As Valencia REALTORS®, brokers AND residents, we can tell you Bridgeport really is a remarkable community. Feel free to reach out and schedule a consultation. We appreciate the opportunity to be of service.

Your Valencia REALTORS®
DRE# 01463326
DRE# 01831112
Bridgeport Community Video
Valencia Bridgeport Community Overview
Bridgeport is located on the map in Valencia, CA on both sides of McBean Parkway and just south of Newhall Ranch Road. Built in the early 2000's, Bridgeport is a master planned community consisting of 9 very special neighborhoods surrounding an amazing man made lake and comes with some terrific amenities.

The Bridgeport community is known for it's lush beauty, the gorgeous lake, fantastic amenities and comfortable living. Residents enjoy peaceful, serene neighborhoods, beautiful homes, waterfront trails, swimming pools, spas, and it all connects to the school, shopping and the local park.
Also, don't miss having a look at many more reports about all the Valencia neighborhoods. Each report includes our own first hand descriptions, videos, photos, listings and more.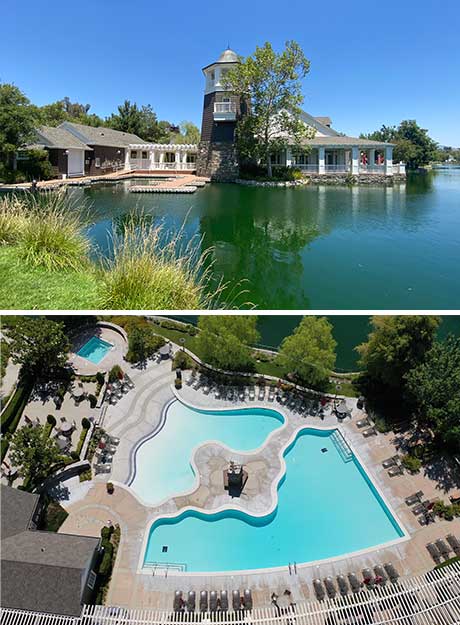 Valencia Bridgeport Amenities
Take a visit to Bridgeport and treat yourself to a stroll around the lake. Depending on the time of the year, you'll see ducks, geese, turtles and a variety of birds. It's easy to see why residents enjoy spending time walking and jogging the nicely developed trails. They also connect to the elementary school and park.
There's a main clubhouse available to residents for rent and it's a popular spot for special occasions. There's a resort styled recreation area with custom swimming pools, a spa and more. Just gorgeous!
HOA Costs and NO Mello Roos
These amenities do come with an HOA cost which is determined depending on which of the 9 neighborhoods each home is located. There is NO Mello Roos.
We have a lifetime of extensive local information about Bridgeport and nearly every community in Valencia. Of course, we share it here on our website, but more is reserved for our clients. If desired, feel free to reach out to us for a consultation.
Schools & Local Conveniences
Schools Nearby Bridgeport
Bridgeport Elementary School is located within the community and for most local children, it's an easy walk. Other nearby schools include Rio Norte Junior High and Valencia High School.
Bridgeport elementary is part of the Saugus Union School District. Valencia High and Rio Norte part of the William S. Hart School District.
Local Conveniences
Bridgeport residents enjoy nearby local convenience shopping or dining at Bridgeport Marketplace. Examples include Whole Foods, California Pizza Kitchen, Wells Fargo ATM, Walgreens, Marstons, Valley Produce Market, Providence Medical and more.
Bridgeport Park
The park is conveniently situated just next door to the elementary school. There's an expansive greenbelt, a baseball field, playground and the developed trails extend around nearly the entire perimeter. There's also a pedestrian bridge that crosses over Newhall Ranch Road into the Northbridge community.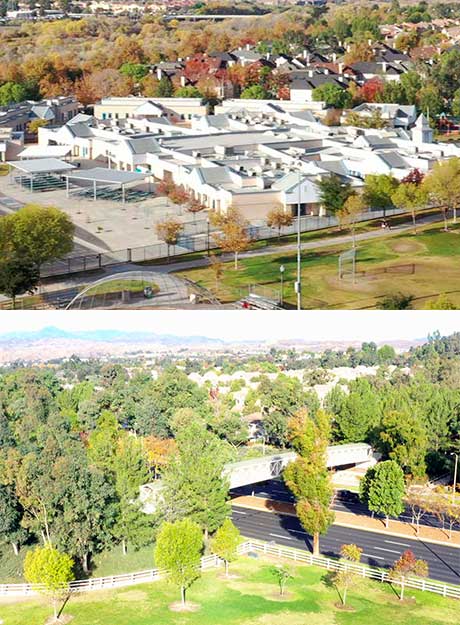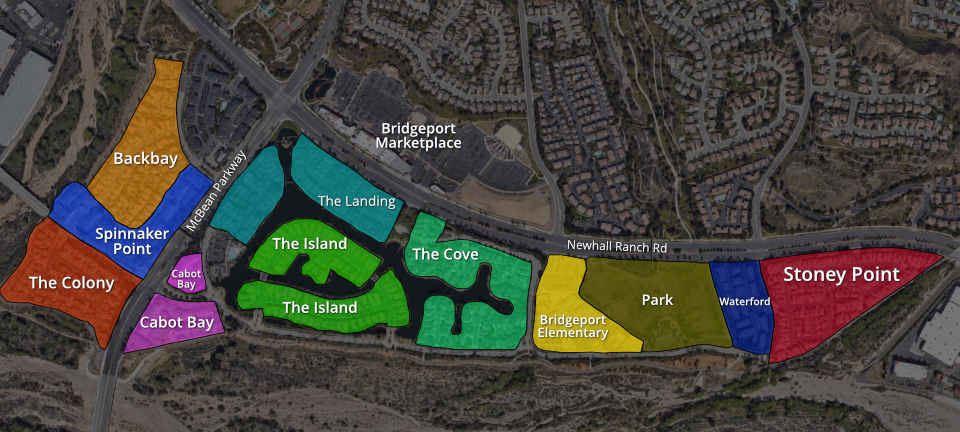 Valencia Bridgeport Homes For Sale
Those interested in finding lakeside homes here in Santa Clarita will see them here! Waterfront properties in this area are extremely rare, making Bridgeport that much more desirable!
More Valencia Communities and Home Buying Options
If you'd like to discover more local communities, we offer a variety of community reports for most neighborhoods in Valencia.
Valencia Bridgeport Photo Gallery
If you enjoy taking photos, grab your camera and go for a stroll around the lake. You'll find an unlimited number of photo opportunities and sure to get some amazing shots. Although we are not pro photographers, we sure enjoy sharing our pics & video footage shot with our drone.
9 Subdivisions of Valencia Bridgeport
See below our brief descriptions about each of the nine subdivisions here in Valencia Bridgeport. Keep in mind, The Colony, Spinnaker Point and Backbay are all located on the west side of McBean Parkway. There is a handy pedestrian bridge connecting residents to the lake on the east side of the street. All information comes from our own research of the MLS and our own visits to various homes within the community.
Back Bay
Back Bay consists of two story detached homes, mostly 4 bedroom and 3 bath ranging in size from 1,788 to 2,415 sf. It should be noted, Backbay is located on the west side of McBean Parkway.
Cabot Bay
Some call these homes townhomes and others refer to them as condos, but they really are some terrific homes. Mostly two and three bedroom units with two plus bathrooms. Some also have lofts and balconies with views. These units come with 2 and 3 bedrooms sized from 1,307 to 1,680 sf. Learn more about the Cabot Bay townhome neighborhood.
The Island
The Island is a gated community that includes larger lakeside homes, with 4, 5, and even 6 bedrooms and 4 or more bathrooms. Ranging in size from approximately 3,000 to over 4,000 sf. Absolutely gorgeous are the first words that come to mind.
Stoney Point
Two story detached single family homes with 3 and 4 bedrooms ranging in size from 2,167 to 2,272 sf. All have either one or two car garages and back yards of various sizes. With all the wonderful lake front paths and trails, people living in this community don't tend to spend much time in their own backyards.
Spinnaker Point
Spinnaker Point consists of mostly condominiums and is similar to Cabot Bay but a bit smaller in size. Mostly 2 Bedrooms and 2 baths from 990 to 1,556 sf. Living here appears to be convenient, laid back and comfortable.
The Colony
Located on the west side of McBean Parkway, this gated neighborhood includes two story detached single family homes with 2 car garages. Ranging from 1,796 to 2,147 sf with 3 bedrooms 2 1/2 bathrooms and nice backyards. Be sure to check out the video to see the shot of the neighborhood and gated street entry.
The Cove
Beautifully styled homes on the lake front. Some of these homes have the front patios right on the edge of the lake! Peaceful and Serene! Wouldn't that be wonderful after a hard day of work! Two story detached with 3 and 4 Bedrooms 2,500 to 3,178 sf.
The Landing
More lovely and leisurely homes on the lake front. Mostly 4 bedroom and 4 bath homes from 2,748 to 3,255 sf . These homes are truly amazing but the price does start elevating!
Waterford
Located next to Bridgeport Park, the Waterford townhome neighborhood consists of tri-level attached homes with two car direct access garages. 3 bedrooms and 3 bathrooms ranging in size from 1,844 to 2,116 sf.
Sell Your Home in Bridgeport
If you are considering selling your home here we'd appreciate the opportunity to share our presentation. We really do go all out with our results driven marketing. By attracting more qualified offers to the door, we make sure our sellers receive the highest price possible.