The Highlands Community Now in Progress – Santa Clarita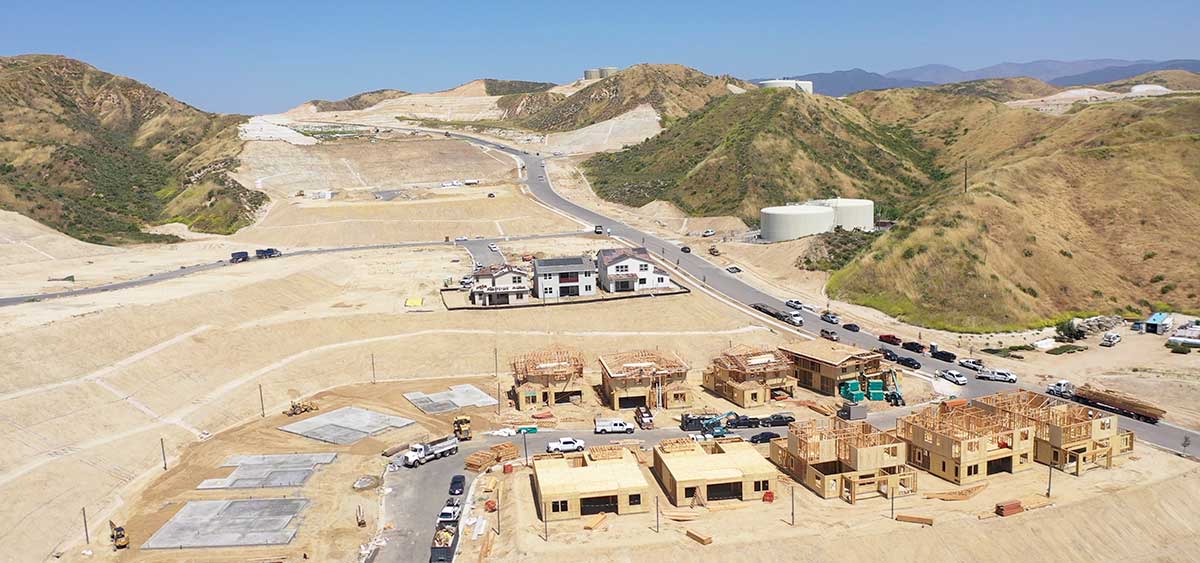 The Highlands is a new home development located at the top edge of the Tesoro Del Valle community in Valencia of Santa Clarita. The community will include 1,270 acres of land with approximately 820 homes, 360 of which will be for the 55+ crowd. The neighborhoods will be gated at various locations while providing access to 22 miles of improved trails. The two builders for the project will be Lennar and Toll Brothers.
Update: May 2023
The picture displayed above was shot with our drone from the top of Tesoro on 5/11/23. We can now see some color with the model home exterior finishes and the framing construction is in progress on the first group of homes. According to Lennar, the first three models will be called Campana 1, Campana 2 and Campana 3. The first collection is anticipated to be released this summer and are sized from 3,100 SF to just under 4,000 SF with rooms ranging from 3-5 bedrooms. Exact release dates and pricing have not yet been determined.
The Highlands Quick Facts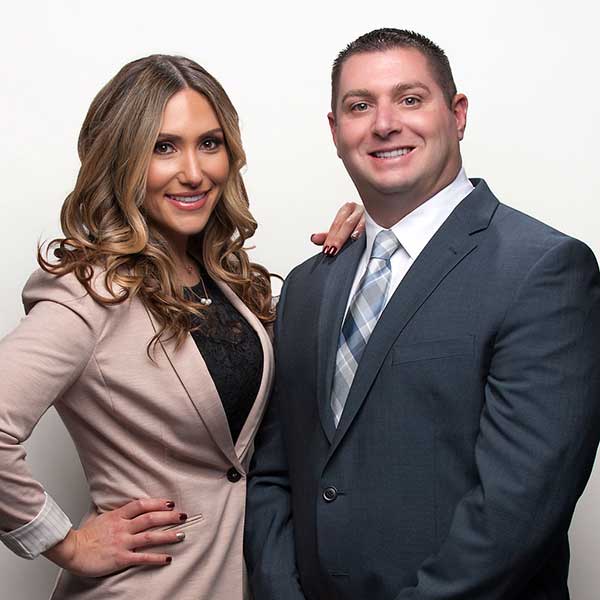 The Highlands Development By
Matt & Meray Gregory

As Valencia REALTORS®/Brokers & Senior Real Estate Specialists, we are especially interested in The Highlands and well suited to represent home buyers of all ages.

Your Tesoro Del Valle REALTORS®
DRE# 01463326
DRE# 01831112
The Highlands Video – Updated April 2023
The Highlands Overview
They are planning to create a village like atmosphere, taking advantage of the local natural surroundings, hillsides and open space. The idea of expanding and enhancing the trails is sure to be a popular attraction among prospective buyers. Given the location above Tesoro, we can expect to see a good number of beautiful views from within the neighborhoods.
Model Home Sizes
The first 3 model homes will be sized large with open floor plans, flexible space with plenty of options from which to choose.
Campana 1 Model: Sized at 3,104 SF with 3 bedrooms and 3.5 bathrooms.
Campana 2 Model: Sized at 3,275 SF with 4 bedrooms and 4 bathrooms.
Campana 3 Model: Sized at 3,919 SF with 5 bedrooms and 4.5 bathrooms.
We are especially excited for the large number of much needed homes for active adults. When it comes to buying a home, there are currently only a few age restricted options in the SCV area. Sure, there are rental communities, but more home buying options for seniors will be a welcome addition to Santa Clarita Valley.
NOTE: One reason this project had been moving slowly was due to requirements for the Copper Hill Drive bridge that crosses over San Francisquito Creek to be widened. Only a certain number of homes can be built until the bridge is complete, but once done they can proceed with the remaining homes. Those interested in more information can check out the January 24th article in the Signal.
The Highlands Neighborhood Amenities
As we can see on the map above, compared to the current Tesoro subdivisions, the Highlands is quite large. We know there are plans for a recreation center, multiple neighborhood parks, community gardens, extended trail systems and lots more. The plan is to provide comfortable gathering points to enable residents to meet and socialize.
Much of this original information was preliminary, but now that the project is progressing we'll provide additional information. It's safe to say, the recreational amenities will probably be similar to those found in other new housing developments. By the way, if you have not seen it yet, don't miss having a look at the new Skyline community. Their primary recreation area is one of our favorites! We also have extensive information about the new neighborhoods in Valencia next to Magic Mountain.
The Highlands – Moving Forward
Moving forward, we'll wait and share more information as the development continues and more reliable information is available. Once the model homes are complete we'll be happy to accompany clients on their tours.
Caution! Before Visiting The Highlands
It's important to remember, if looking to buy a brand new home here in The Highlands or any other new development, be sure to take us with you on your first visit. Why? Because, if you sign in at the development without us, we won't be able to represent you on your new home purchase. We'll guide you every step of the way, help you ask the right questions and provide the information you need to make accurate and informed decisions. Having your own agent makes good sense and provides a much needed extra layer of protection.
Cost for Us to Represent You on Your Home Purchase is $0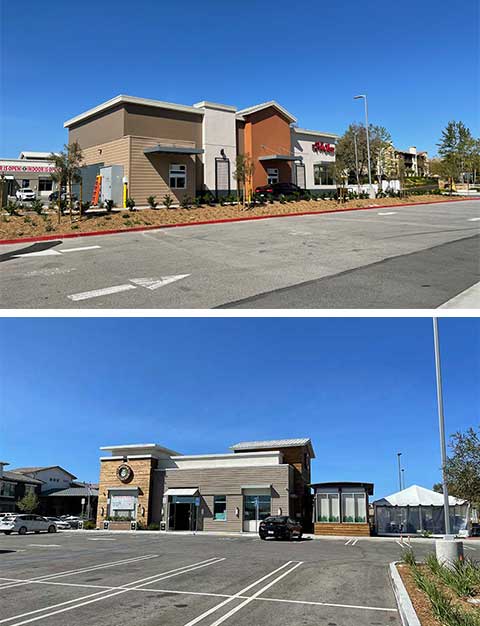 Schools & Local Conveniences
The schools nearby The Highlands are the same as those for all of Tesoro. Tesoro Del Valle Elementary is situated centrally within Tesoro. Rio Norte Junior High School is across Copper Hill Drive and Valencia High School is just a short drive down the road.
The elementary school is part of the Saugus Union School District. Valencia High and Rio Norte are both part of the William S. Hart School District.
Local Conveniences
Of course, Tesoro Village has been around a while. It's a local favorite and located at the bottom of Tesoro. There are also several new convenience locations such as Havana Savannah, El Pollo Loco, a gas station with a convenience store and more.
General Information
The information provided here is based on our visits to some of the boundaries of the development and our own review of documents and articles about the development.
To be clear, the Gregory Real Estate Group is not affiliated with this Highlands project in any way. We are local REALTORS®/Brokers and a family owned real estate company. Of course, we are always interested in new housing developments and sharing our unbiased, first hand information with our friends, clients and website visitors.