Skyline Community, Homes and Neighborhoods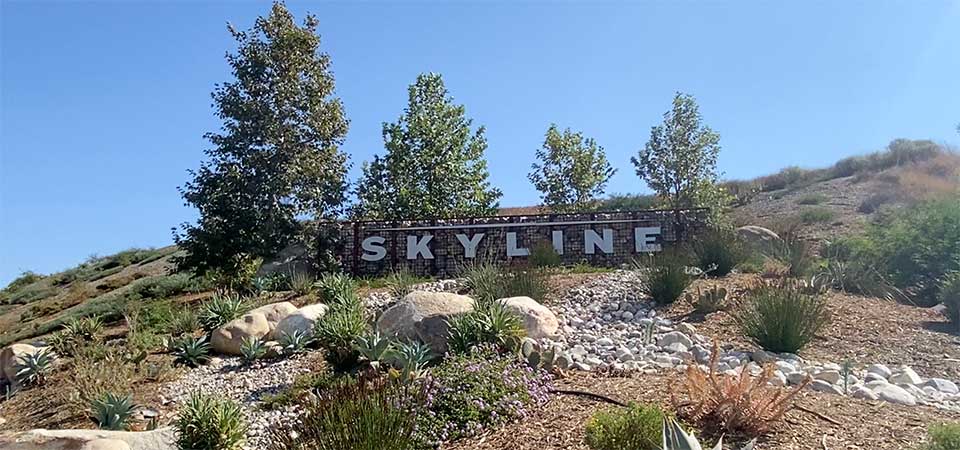 The Skyline community is a contemporary new development located in the Plum Canyon area of Santa Clarita. It currently consists of 5 beautiful neighborhoods and surrounded by over 1,600 acres of natural designated open space with miles of trail systems. The community is situated on the map just 9 miles from the 14 freeway.
If you plan on visiting Skyline or any other new development, it's very important to READ THIS MESSAGE.
Contemporary
Community Theme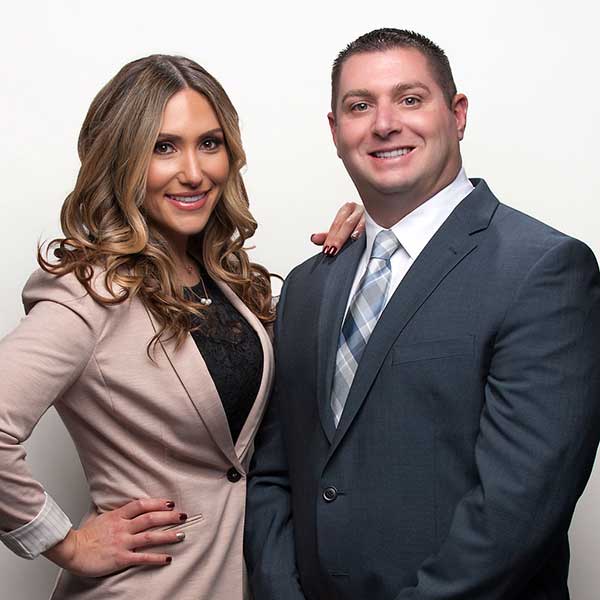 Skyline Community Report By
Matt & Meray Gregory
Email: [email protected]

As local REALTORS®/Brokers AND life long Santa Clarita residents, we have extensive experience representing those buying or selling here in Skyline

Your Skyline Ranch REALTORS®
DRE# 01463326
DRE# 01831112
Skyline Community Video
Skyline Community Description
UPDATE: MARCH 2022: More development in now in progress here in Skyline and we will be updating our video, photos and neighborhood descriptions very soon.
Construction at Skyline is still in progress and as you will see when viewing the subdivision map, there are more neighborhoods, homes and amenities coming in the future. The community appears somewhat secluded, yet it's close enough to local conveniences, schools, the fire department and more. As expected, Skyline has it's own private amenities and they are perhaps the finest in all of Santa Clarita.
The 5 neighborhoods are named Luna, Lyra, Sola, Celestia and Mystral. Luna, Lyra and Sola were built by Pardee Homes while Celestia and Mystral were developed by TRI Pointe Homes.
New Homes
There are a variety of single family homes ranging in size from 1,880 sq ft up to over 3,500 sq ft. The smaller homes come with 3 bedrooms and the largest with as many as 7 bedrooms. Of course, there are plenty of 4, 5 and 6 bedroom homes as well. If looking for a nice one or two story model with an open floor plan and a 2 car garage, be sure check out the homes in the Celestial or Luna neighborhoods.
There are also some terrific homes in Sola with flexible spaces like lofts, dens and bonus rooms. If you need extra space, the homes in Lyra and Mystral run quite large. Some with up to 7 bedrooms, 5 bathrooms and a garage large enough to fit 4 cars! Others even come with a special flex or NextGen space! As the Skyline community name implies, some homes even have amazing skyline views.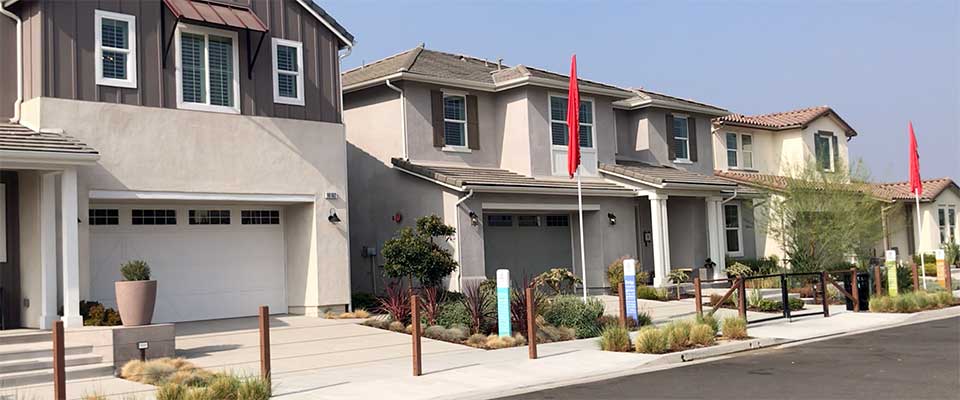 Caution! Before Visiting New Developments in Skyline
If looking to buy a brand new home here in Skyline or any other new development, be sure to take us with you on your first visit. Why? Because, if you sign in at the development without us, you lose your right to have us represent you on your new home purchase. We know all of the questions to ask and exactly what to watch for when buying a home in a new development. We'll guide you every step of the way, help you ask the right questions and provide the information you need to make accurate and informed decisions.
Matt & Meray Gregory
[email protected]
Resort Styled Amenities at The Lookout!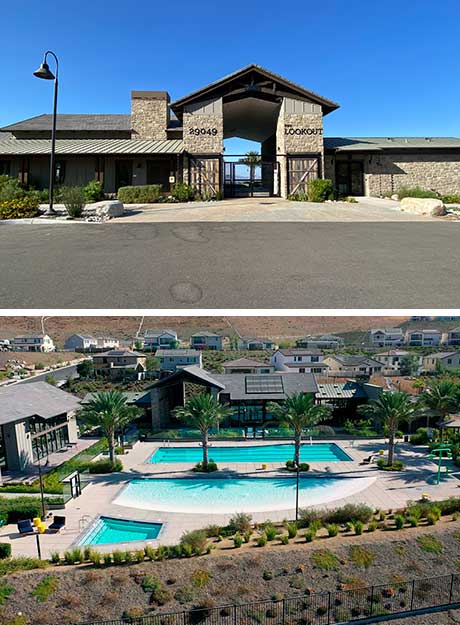 The community amenities here are outstanding and some of the very best of all the more recent developments throughout Santa Clarita.
At "The Lookout" HOA clubhouse there's a playground, large swimming pool, splash pool, hot tub, 2 bocce ball areas, barbecue grills, showers, restrooms and more. The landscaping and hardscaping surrounding the pool is just gorgeous! There are palm trees and lovely low maintenance plants and shrubs. The clubhouse is beautiful and tastefully decorated. Next door to the clubhouse is a nice sized, well equipped fitness center.
We have visited every new development in the area and the amenities at The Lookout recreation center are the BEST we've seen!
HOA & Mello Roos
There are monthly HOA dues, but residents enjoy a wide array of community amenities. There is also an annual Mello Roos.
Local Conveniences
Developed Trails
There are natural surface trails that extend throughout the community. Eventually the trails will connect to parks, recreation areas, a new school & Plum Canyon Park. Along the way, walkers will find a dog park and a lovely butterfly garden. What a nice touch!
Local Parks
Plum Canyon Park is located near the bottom of the community. There's a covered picnic or party area, full basketball court, baseball diamond, plenty of greenbelt, restrooms and more.
Skyline Park has not yet been developed, however, it is planned and it won't be long until it's complete.
Local Convenience Shopping
The nearest local shopping and dining is available at Skyline Ranch Plaza, situated at the bottom of the community.Then, it's only a short drive to plenty more locations nearby.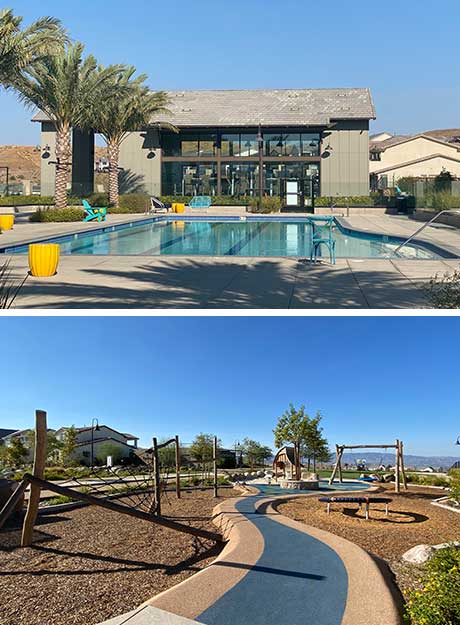 Schools Nearby Skyline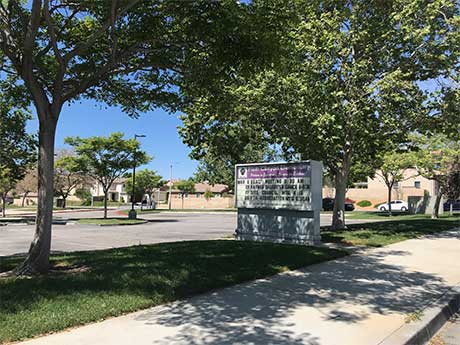 It's worth mentioning, there are plans in place for a brand new Skyline Elementary school which will be built directly within the community. Other schools currently nearby Skyline are as follows:
Saugus High School
Canyon High School
Sierra Vista Junior High
Arroyo Seco Junior High
Plum Canyon Elementary School
New Homes For Sale in the Skyline Vicinity
Skyline is a new community and some of the neighborhoods are sold out. Typically, the builders share few listings for brand new homes in our local MLS. If looking to buy, it's best to work directly with a realtor who can provide you with accurate and reliable new home construction information.
Click the View Active Listings button to see homes built from 2010 to 2022 in the SCV area. IF there are any resales in Skyline, they will appear below.
Work with the Gregory Real Estate Group
We have extensive knowledge and experience helping our friends and clients buy and sell real estate throughout all of Santa Clarita. To schedule a consultation, call or text Matt and Meray Gregory of the Gregory Real Estate Group at 661-713-4799.
Descriptions of Skyline Homes & Neighborhoods
Skyline is a new community and some of the neighborhoods are sold out. Keep in mind, it might be possible to find an occasional resale. Please contact us directly and we'll let you know of any homes on the market.
The homes and neighborhoods were developed by two well known builders, Pardee Homes and TRI Pointe Homes. Pardee developed the Luna, Lyra and Sola neighborhoods while TRI Pointe built out Celestia and Mystral.
Luna Neighborhood
The new Luna neighborhood has a touch of that big city feel, but with some amazing skylines in the background. The housing consists of a variety of single story and two story homes, approximately sized from 2,095 to 2,950 sq ft. The homes come with 3, 4 or 5 bedrooms, 2 to 4 bathrooms and each with a garage large enough for two cars. The contemporary, open plan living areas provide plenty of space and efficient functionality throughout.
Lyra Neighborhood
If searching for a large new home this Lyra neighborhood might be just the place! The homes here have 4 to 7 bedrooms and between 2.5 to 5 bathrooms. The garages are also large and some even have room for up to 4 vehicles! The Lyra homes are sized from approximately 2,861 to 3,506 sq ft! As you can see, they are very large!
Sola Neighborhood
The housing here in Sola are a bit smaller than the others, but they are also the most affordable. These are terrific homes! Each comes with 3 or 4 bedrooms, 2.5 to 3 bathrooms and range in size from approximately 1,882 to 2,465 sq ft. There's also a 2 car garage.
Celestia Neighborhood
The housing here in Celestia include nicely designed, attractive single story and two story models. The homes come in a variety of sizes, from around 2,001 to 2,596 sq ft with 3, 4 or 5 bedrooms and 2.5 to 4 bathrooms. Each has a garage large enough for 2 vehicles.
Mystral Neighborhood
Sized from approximately 2,600 to 3,132 sq ft, the homes here in Mystral are larger and some even have a space that can be used for the kids, multi-generation, or whatever you can imagine. Each home comes with 3 to 6 bedrooms, 2.5 to 5 bathrooms and a 2 car garage.