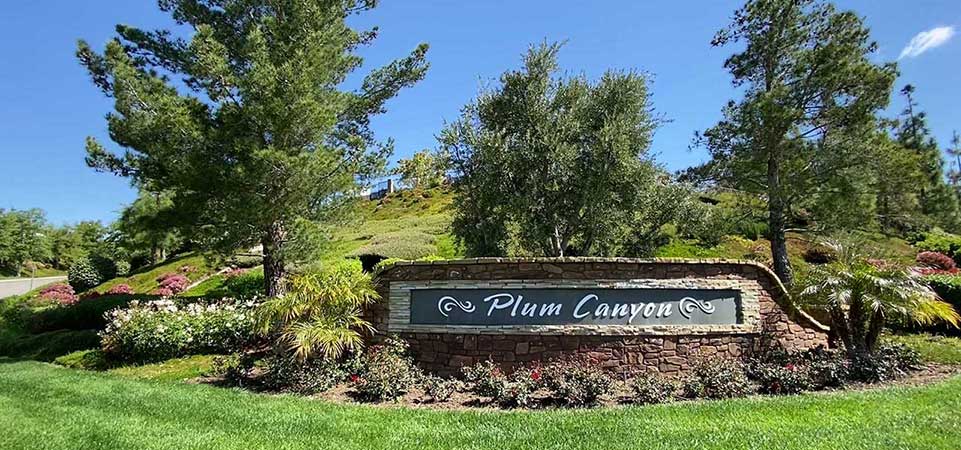 The neighborhoods of Plum Canyon are located on the map to the east of Bouquet Canyon Road, extending approximately 2.5 miles on both sides of Plum Canyon Road. This vibrant community consists of over 30 subdivisions, many of which retain a pristine and modern appearance. For in-depth details about Plum Canyon, including a video, photos, and links to real estate listings, please continue scrolling.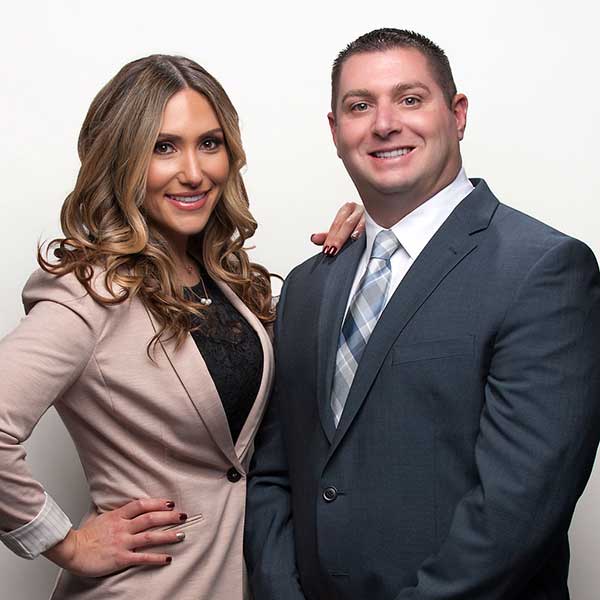 Plum Canyon Report By
Matt & Meray Gregory
[email protected]

As local REALTORS®, Brokers AND life long Santa Clarita residents, we have the expertise & local knowledge to help when it's time to buy or sell your home.

Your Plum Canyon REALTORS®
DRE# 01463326
DRE# 01831112
Plum Canyon Neighborhood Video
Plum Canyon Community Overview
The development of Plum Canyon commenced in the mid-1980s and evolved steadily until around 2021, when Toll Brothers completed the Avalon, Mirabelle, Sierra, and Victoria neighborhoods. While there are exceptions, the newer homes tend to be in the neighborhoods on the east end of the community, with the older classics are on the western side. Thoughtfully planned and meticulously maintained, Plum Canyon stands as an ideal community to call home.
Diverse in style, shape, and size, most neighborhoods feature traditional single-family homes, ranging from cozy single-story dwellings to expansive luxury residences. There are also many beautiful hillside homes, some with amazing views. If interested in condo living, be sure to have a look at the Mariposa complex. There are also some terrific condos to be found in the Bordeaux neighborhood. Both complexes are well known condo communities in Santa Clarita and popular stops for prospective condo buyers.
Certainly, when considering home prices, location plays a crucial role, and Plum Canyon is no different. The pricing is also influenced by prevailing market conditions and various other factors. In specific neighborhoods within Plum Canyon, certain homes may be subject to a Mello Roos tax, while others are not. We provide essential information about Mello Roos, allowing you to determine whether the home you're interested in carries this additional cost.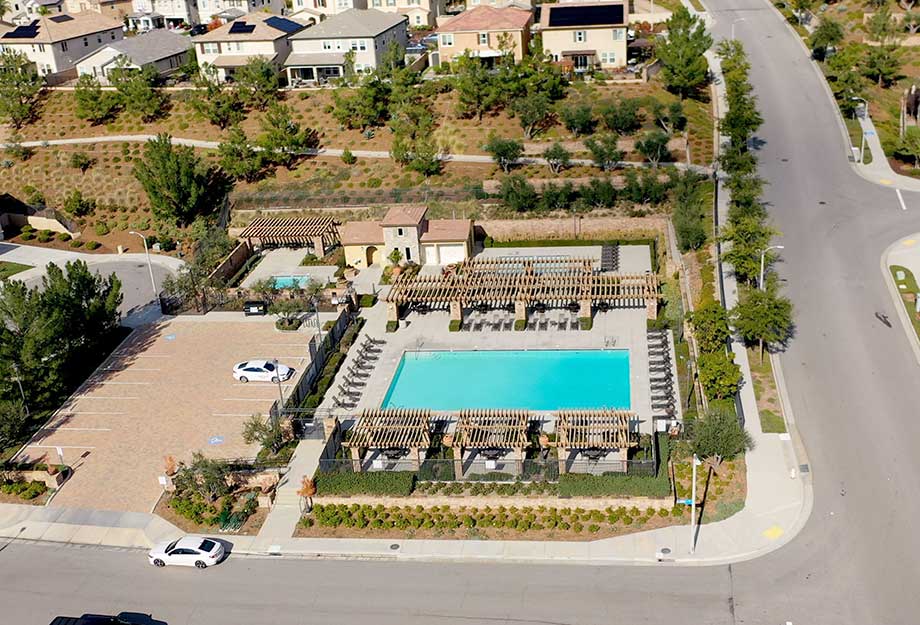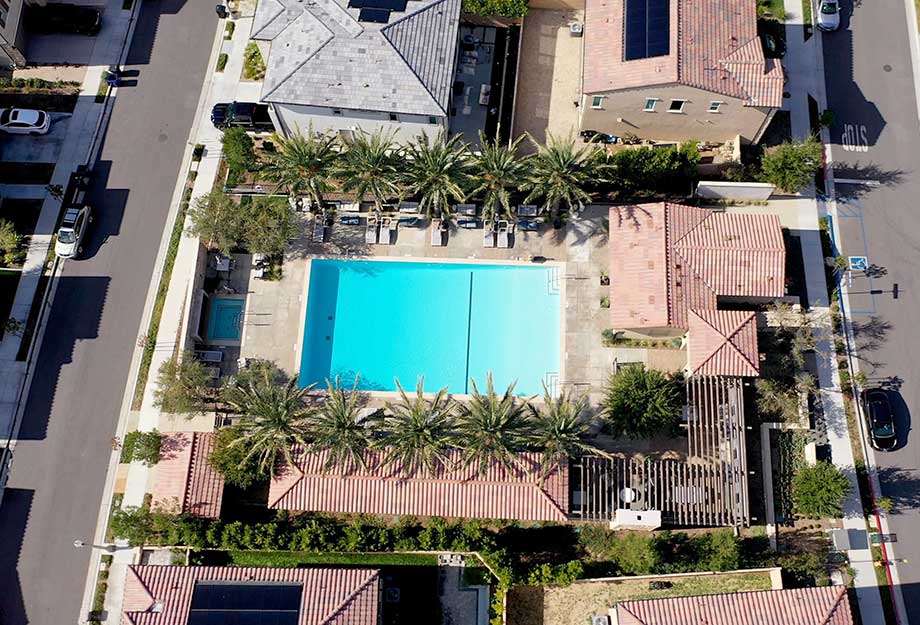 Plum Canyon HOA's & Amenities
Plum Canyon is a bit different than other communities. Some neighborhoods come with an HOA while others do not. Some actually have 2 HOA's. There are a few neighborhoods with an HOA, but amenities only include common area maintenance. Others include amenities such as swimming pools, hot tubs or recreation rooms. It varies from neighborhood to neighborhood. Be sure to scroll down for a look at our subdivisions section to find out more about each specific neighborhood.
As expected, there are also private recreational amenities in the Mariposa and Bordeaux condo and townhome neighborhoods
Some homeowners like the idea of a HOA because it's proven to help maintain home values. Others prefer no HOA. Whatever your preference, it's all here in Plum Canyon.
Local Conveniences
Residents enjoy easy access to local convenience shopping and dining at the new Skyline Ranch Plaza, located near the top of the community. There's a Starbucks, Telly's and more.
Nearby Fire Station 128
Plum Canyon is rather secluded back in the hills of Santa Clarita, but residents find comfort in knowing LA County Fire Station is situated at the east edge of the community.
New Plum Canyon Park
Plum Canyon Park is located east edge of the community. There's a covered picnic or party area, full basketball court, baseball diamond, plenty of greenbelt, restrooms and more. Since the park is still new, it'll be a while until the trees mature enough to provide shade.
David March Park
March Park is a smaller neighborhood park with parking, rest rooms, plenty of shade trees, a grass area and a nice playground for the little ones. There is an interesting March Family Bell in the park so it's certainly worth a visit, if only to see the memorial.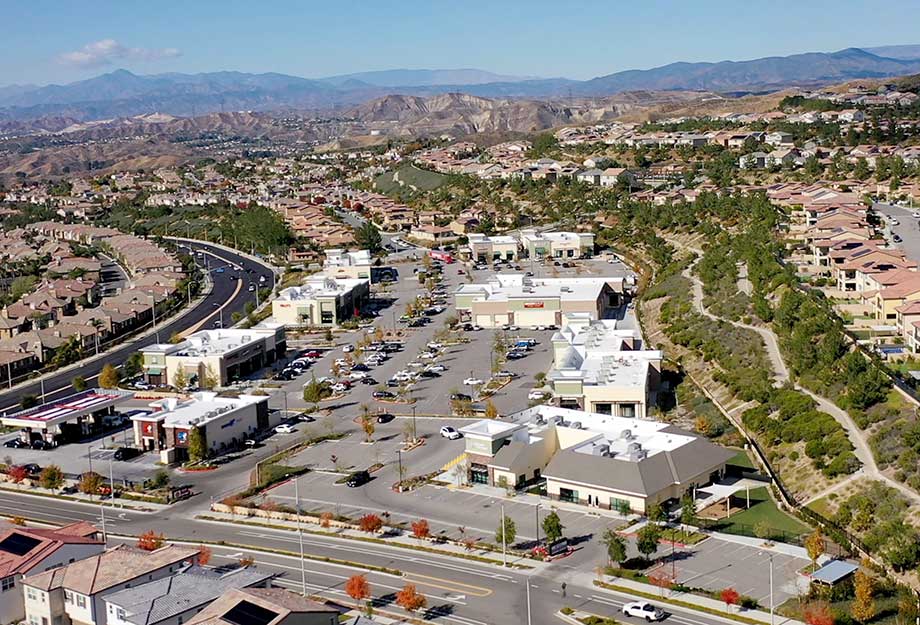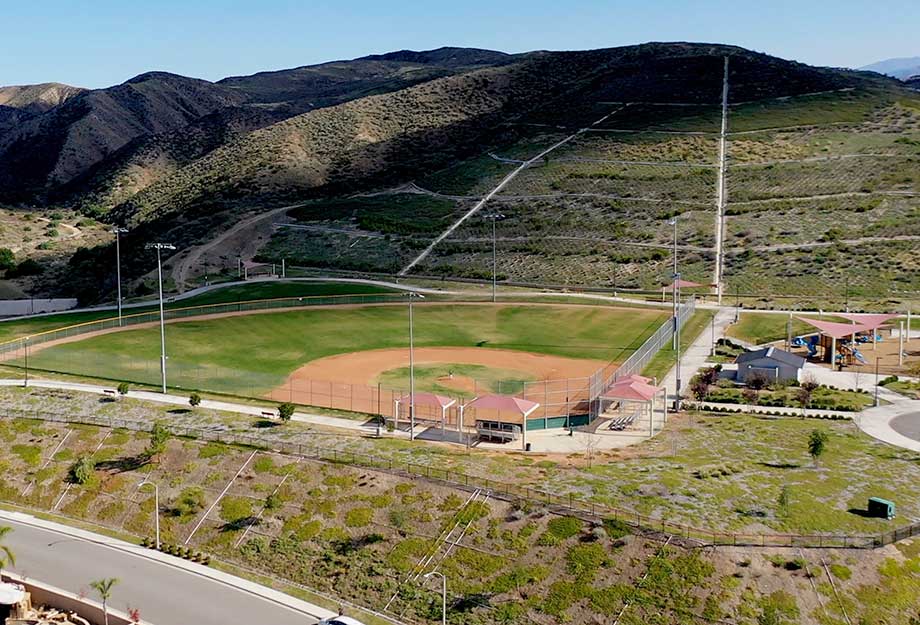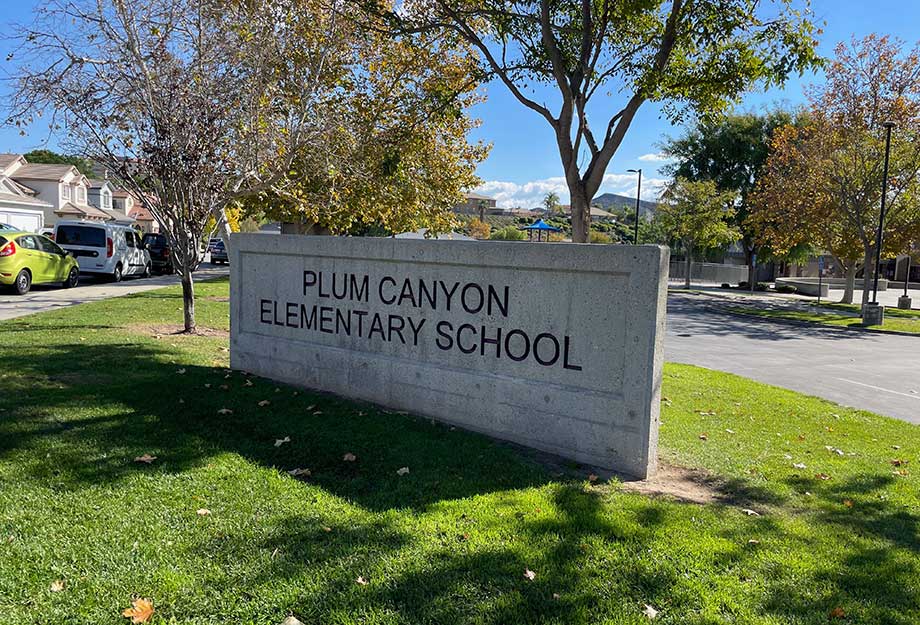 Schools Nearby Plum Canyon
Plum Canyon Elementary School is centrally located directly within the community and it's been reported Skyline Elementary is planned in the future. Nearby schools include the following:
Saugus High School
Arroyo Seco Junior High
Plum Canyon Elementary School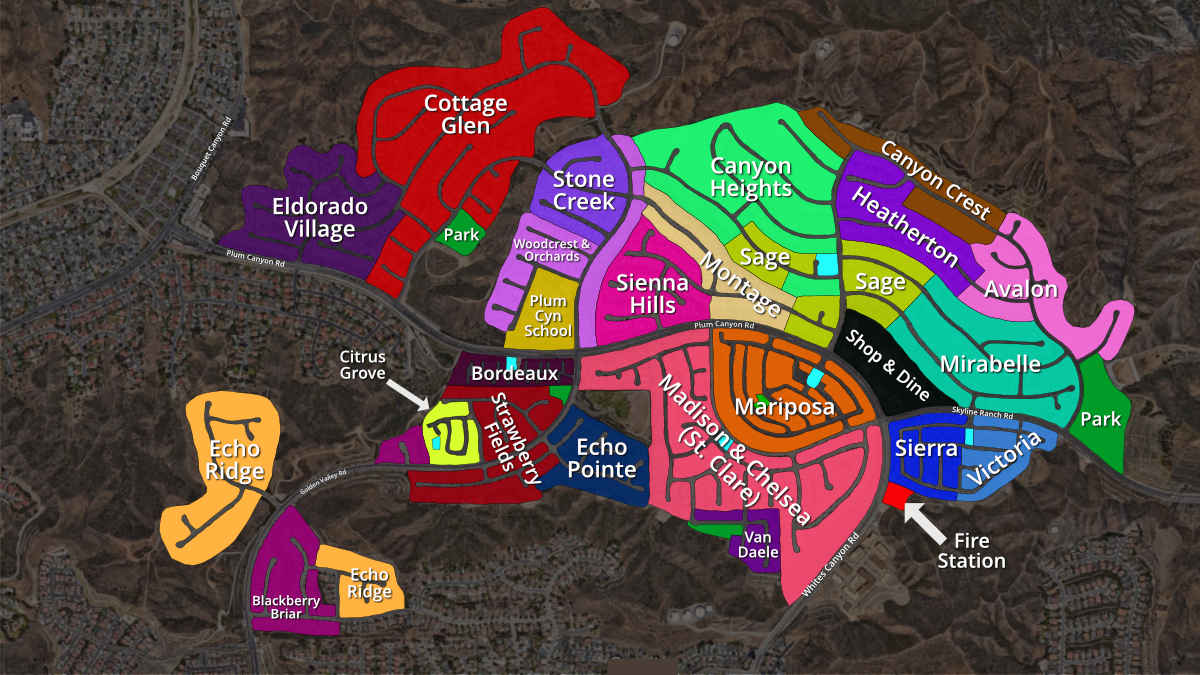 Homes For Sale in the Plum Canyon Community
Click the blue button to see current listings of homes for sale in Plum Canyon.
Descriptions of Subdivisions and Homes in Plum Canyon
Blackberry Briar: Comprises a collection of homes with three, four, and five bedrooms, constructed in the year 2007. While there is a reasonably priced Homeowners Association (HOA), it exclusively covers the maintenance of common areas, with no additional community amenities provided.
Bordeaux: A gated community featuring one to three condos and townhomes constructed in 2001. This gated facility includes a HOA, which provides access to various amenities such as a clubhouse, gym, pool, spa, outdoor fireplace, barbecue, and additional recreational facilities.
Canyon Crest: Canyon Crest offers a limited number of four-bedroom houses ranging in size from approximately 1,925 to 4,616 square feet. The majority of these homes were constructed around 2015 to 2019. Notably, there is no Mello Roos, and the homeowners association fees are low.
Canyon Heights: Newer neighborhood featuring 3 to 5 bedroom homes of diverse sizes, constructed between 2015 and 2019. There is no Mello Roos associated with this area. The HOA fees are reasonably priced and include access to fantastic community amenities such as a pool, spa, BBQ facilities, and outdoor showers.
Chelsea (St.Clare): consists of single-family homes with three and four bedrooms, constructed between 2003 and 2004. The community is subject to a reasonably priced St. Clare HOA. Residents can enjoy various amenities, including a pool, hot tub, fire pit, barbecue facilities, outdoor cooking areas, and a playground.
Madison (St. Clare): Predominantly features 3 to 5 bedroom homes constructed in 2003 and 2004. Madison is part of the same St Clare HOA as outlined above for Chelsea.
Citrus Grove: Established in 2006, comprises a blend of three and four-bedroom detached condos. Despite having two Homeowners Associations, the neighborhood provides amenities such as a pool, hot tub, and a playground for residents to enjoy.
Cottage Glen: Typically features homes with three to five bedrooms. Notably, there is no HOA, but it is advisable to verify the presence of any Mello Roos obligations.
Echo Pointe: Offers three and four-bedroom houses constructed between 2011 and 2014. It's important to note the existence of a Homeowners Association and Mello Roos; however, verification is recommended. Notably, there are no amenities associated with this community.
Echo Ridge: Echo Ridge features homes with three, four, and five bedrooms, constructed between 2011 and 2014. The community has a Homeowners Association with a moderate cost, but no amenities are provided. It is advisable to verify the presence of Mello Roos for this neighborhood.
Eldorado Village: Includes older homes, with four and five bedrooms built between 1987 and 1998.
Heatherton: Built between 2011 and approximately 2014, this subdivision offers a delightful blend of predominantly larger, five-bedroom homes ranging from 2,097 to 3,072 sq ft. Notably, there is no Mello Roos; however, there is at least one HOA. Residents can enjoy amenities such as a pool, spa, and a clubhouse, although it's advisable to verify the specific number of HOAs associated with the community.
Mariposa Neighborhood: The Mariposa Neighborhood is characterized by numerous condos and townhomes, typically featuring 2 or 3 bedrooms. This highly sought-after community was constructed in 2005 and 2006. Mariposa residents enjoy a variety of amenities, including a pool, hot tub, barbecue facilities, playground, and a clubhouse. Additionally, the HOA cost is deemed reasonable, contributing to the appeal of this vibrant condo complex. For more in-depth information, you may want to explore details specific to the Mariposa condo complex. Learn more about the Mariposa condo complex.
Montage: Features well-proportioned four and five-bedroom homes constructed in 2006. Notably, the neighborhood is subject to two Homeowners Associations. Residents can enjoy amenities such as a pool, hot tub, and more. There should be no Mello Roos, but as always, be sure to verify.
Orchards: Includes a small mix of four and five-bedroom homes and nestled within the Wood Crest subdivision, with construction dating back to the early 2000s. Remarkably, this neighborhood boasts the absence of both Mello Roos and HOA fees, offering residents a distinctive and cost-effective living experience.
Ridgeview at Echo Ridge: Small number of homes mixed in with Echo Ridge neighborhood.
Sage: Constructed between 2011 and 2014, primarily consists of four-bedroom homes ranging in size from 2,300 to 2,550 sq ft. While there are some basic amenities, it is important to verify the HOA costs and double-check the presence of any Mello Roos obligations for accurate information.
Sienna Hills at Plum Canyon: Built from 2005 to 2006, a small number of 3, 4 and 5 bedroom homes. No HOA!
Stone Creek: 3 and 4 bedroom homes developed in the early 2000's. NO HOA and No Mello Roos.
Strawberry Fields: 3 and 4 bedroom houses built from 2006 to 2007. Yes, there is a Mello Roos and HOA. Other than common area upkeep, there are no amenities.
Van Daele at Plum Canyon: Comprises four-bedroom houses constructed around 2017. This small neighborhood is affiliated with the St. Clare Homeowners Association, offering residents attractive amenities. The HOA cost is notably low, and there is no Mello Roos,.
Wood Crest: 3 & 4 bedroom homes built in early 2000's. NO HOA and NO MELLO ROOS!
Toll Brothers Neighborhoods
Learn more about the 4 neighborhoods built by Toll Brothers in Plum Canyon. As of 2022, Mirabelle, Avalon, Sierra and Victoria are ALL complete.
Mirabelle: Developed in 2018 with mostly 5 bedroom houses sized from 2,500 to 3,000 sq ft.
Avalon: More large 5 bedroom houses built in 2018 – 2019.
Sierra: Unique detached condos that appear as a house.
Victoria: Just lovely! Very similar to Sierra.
Skyline Neighborhoods
The Skyline community is actually situated next door to Plum Canyon to the east. It was originally considered to be within the Plum Canyon MLS area, but that has changed and now Skyline Ranch is it's own MLS area.
Those interested can check out our full report about the Skyline Ranch homes, neighborhoods and real estate.