Valencia Creekside Community, Homes and Real Estate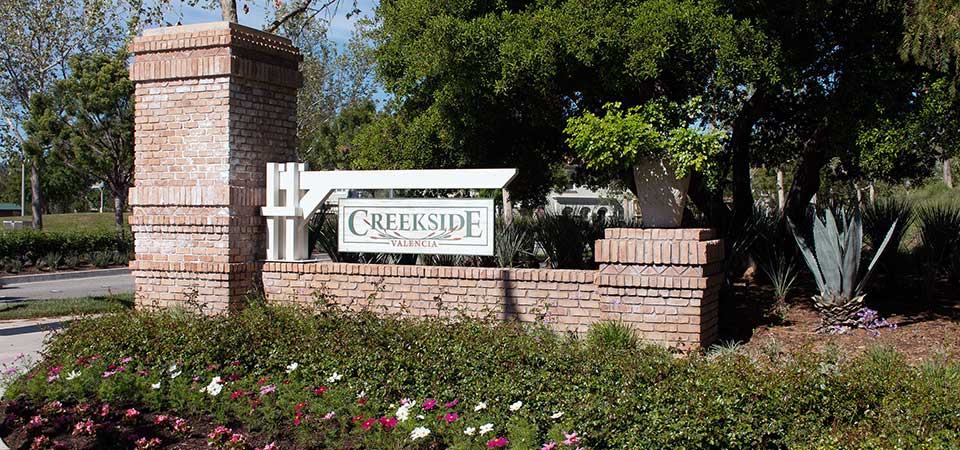 Discover the popular Valencia Creekside Community of Santa Clarita. Creekside is located on the map in Valencia, CA, just west of McBean Parkway, north of Newhall Ranch Road above Heritage Park. The San Francisquito Trail runs parallel to the neighborhoods, connecting residents to the back entrance of the park. When it comes to curb appeal, the homes here are tough to beat!
Scroll down and check out our community video, neighborhood photos and links to real estate listings.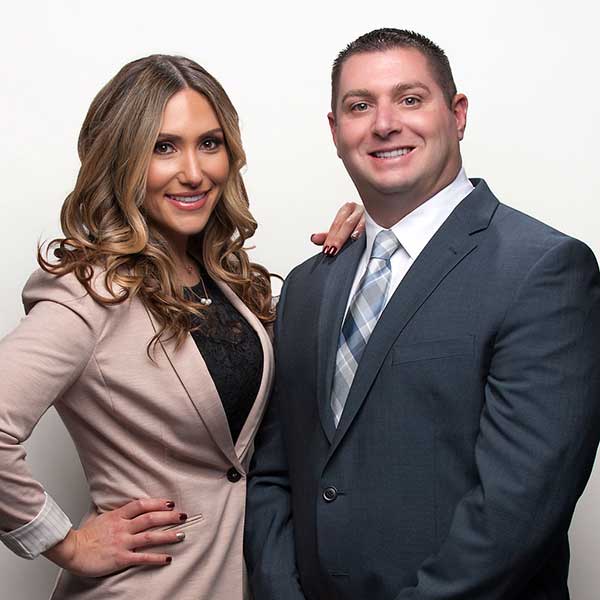 Valencia Creekside Presented By
Matt & Meray Gregory
[email protected]

Creekside is a charming community and one of our favorites! Contact us to schedule a consultation. Remember, with us there's NEVER any sales pressure, whatsoever.

Your Valencia REALTORS®
DRE# 01463326
DRE# 01831112
Valencia Creekside Community Video
Creekside Community Overview
Built around 2005, Creekside is a master planned community of 6 neighborhoods situated in a village like setting. Residents are close enough to enjoy nature yet it's a short walk to local conveniences. Creekside is convenient to shopping, dining and for commuters, Interstate 5 is less than 4 miles to the west, just off Newhall Ranch Road.
When we first visited Creekside back around 2012, it was early spring and the morning dew was glistening atop the colorful flower gardens. We so business here, live nearby and often pass through the neighborhoods on our walks. We can tell you, the community is just as lovely today as when when we first visited. It was, and is, one of the nicest neighborhoods in Santa Clarita.
The common area landscaping is quite attractive, resulting in a great first impression. When it comes to curb appeal, Creekside is a terrific example.
The homes here include a nice mix of single family homes, condos and townhomes, all available in various sizes. As mentioned, the area is quite popular and the homes often sell quickly.
Residents from all parts of Valencia love to walk and bike along the peaceful trails and paseos extending throughout Valencia, and Creekside is no exception. The locals are often seen jogging, walking, skating and riding bikes. The paseos and trails are accessible to most Creekside residents right out their front doors. There's also convenient shopping and dining down at the Bridgeport Market Place and it's an easy walk via the trails.
Creekside Amenities
Walking through Creekside you'll notice how well it's maintained. The community projects a feeling of lush beauty. Residents enjoy exclusive use of the community pool, spa, playground area and the Trellis clubhouse. We love the useful and unique turnabouts found when entering and exiting to the main cross streets. It's no wonder the curb appeal throughout this community is such an instant attraction! We love this community!
Heritage Park
Heritage park is conveniently situated at the south edge of the community and connects to the Santa Clarita trail system. There's a playground, large soccer fields and plenty of greenbelt, perfect for a picnic and flying a kite on a breezy day. There's a good sized play area for the children and multiple, large fields, great for soccer, football and more.
HOA & NO Mello Roos
Yes, of course there is a homeowner's association but prospective home buyers will be pleased to know, there is NO Mello Roos.
Schools And Local Conveniences
Nearby schools include Bridgeport Elementary School, Rio Norte Junior High and Valencia High School.
Bridgeport elementary is part of the Saugus Union School District. Valencia High and Rio Norte are both part of the William S. Hart School District.
Local Conveniences
Creekside residents enjoy nearby local convenience shopping or dining at Bridgeport Marketplace or Northpark Village Square. Shopping and dining examples include:
California Pizza Kitchen
Ralph's
Wells Fargo ATM
Wells Fargo Bank
Walgreens
Rite Aid
Marstons
Valley Produce Market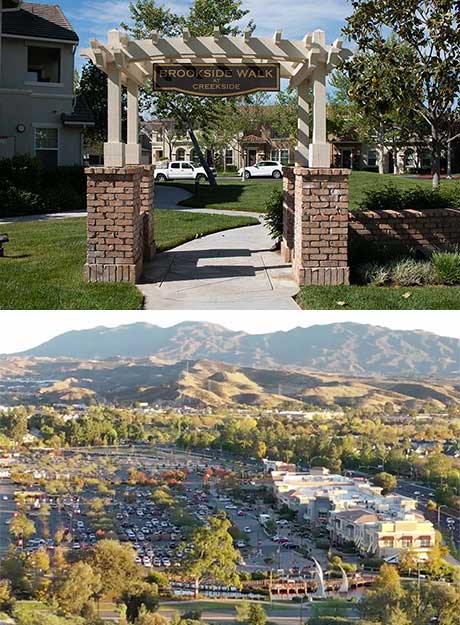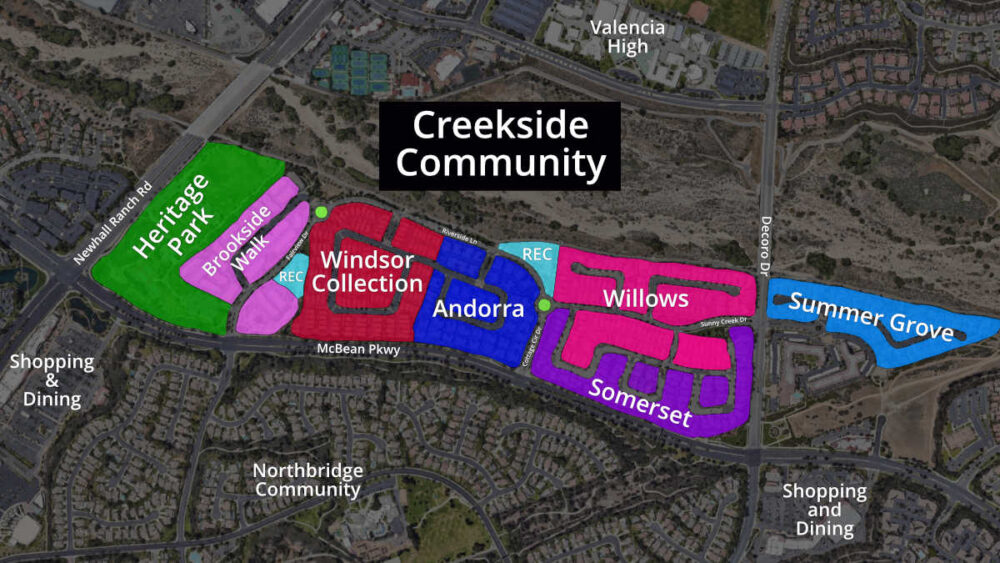 Valencia Creekside Homes For Sale
Creekside is extremely popular and sometimes there may be NO listings available. If there are no homes on the market try having a look at all Valencia Homes For Sale.
6 Subdivisions of Valencia Creekside
Valencia Creekside consists of six unique neighborhoods of homes, each with its own character and charm. The Brookside Walk and Andorra neighborhoods are home to townhouses, while the Windsor, Somerset, Summer Grove, and Willows neighborhoods feature single-family homes. Despite the differences in the types of homes available, all of the homes in Valencia Creekside share one common characteristic, which is that they all have relatively small yards. For prospective buyers who desire larger yards, it is worth exploring other neighborhoods in Valencia such as Northbridge or The Summit. However, for those who prefer a more manageable yard size, the homes in Valencia Creekside are an ideal choice.
Somerset: The homes in Somerset are detached single family homes with attached garages. These are larger than the townhomes and consist mostly of 4 bedroom, 3 baths and range from 2,116 to 2,363 sq ft. Additionally, these homes generally have a small back yard with lawn and a patio.
Summergrove: The homes are similar to those in Somerset but typically sized a bit smaller. They are mostly 3 bedroom, 3 bath homes and range in size from 1,603 to 1,866 sq ft.
Brookside Walk: Attached townhomes with attached garages and quite similar to the Andorra's. There are an assortment of mostly 3 bedroom and 2 or 3 bath homes ranging in size from 1,120 to 1,420 sq ft. When you walk in the front door of some of these homes you will walk through cute courtyard with benches, trees and gardens. It's a very serene setting!
Andorra: The Andorra homes are mostly 2 bedrooms and 2 bath attached town homes, starting at 1,352 sq ft. There are also a few larger models here and there and those go up to around 1,852 sq ft with 4 bedrooms and 2 baths. Most units have a small enclosed patio and a two car attached garage.
The Willows: Generally 3 bedroom and 3 bath detached homes with attached garages. These homes range in size from 1,946 to 2,366 sq ft and some of these actually have cool covered balconies or indoor lofts. These homes are very popular and don't last long on the market.
Windsor Collection: The Windsor Collection consists of well appointed single family, 3 and 4 bedroom homes with 3 bathrooms. They are sized from 1,547 to 2,156 sq ft with attached garages.
Considering Selling Your Home in Creekside?
If you are thinking about selling, of course we can help. As realtors, brokers AND online marketing experts, we know exactly how to attract more qualified buyers to your door. This is exactly what is needed to receive the highest price possible.