Valencia Summit Neighborhood – Homes for Sale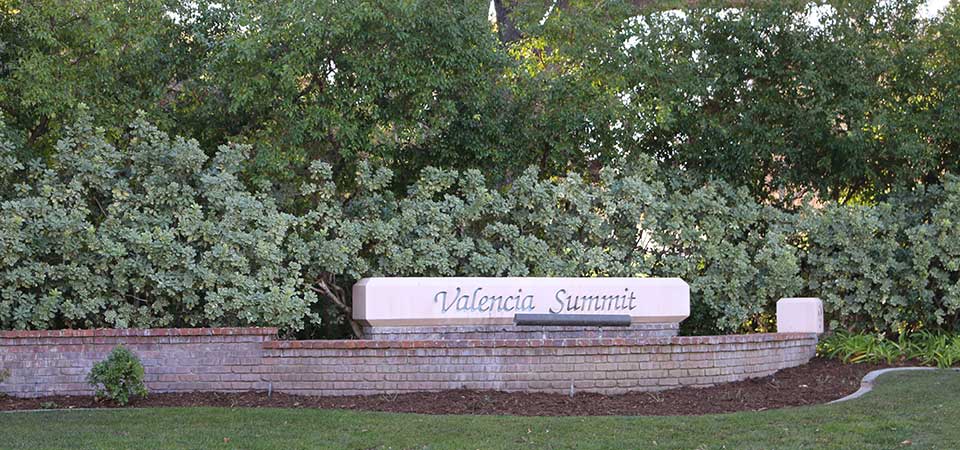 The Valencia Summit community is truly one of the most prized and cherished in all of Valencia. In fact, as REALTORS® we can easily identify the most popular Valencia neighborhoods by our everyday marketing analysis. Valencia Summit has a very low turn over rate.
The community is located in the heart of Valencia in Santa Clarita. Have a look at the Google map and notice it's well situated, close to everything. Scroll down to see Summit homes for sale our video, pics & read first hand local information.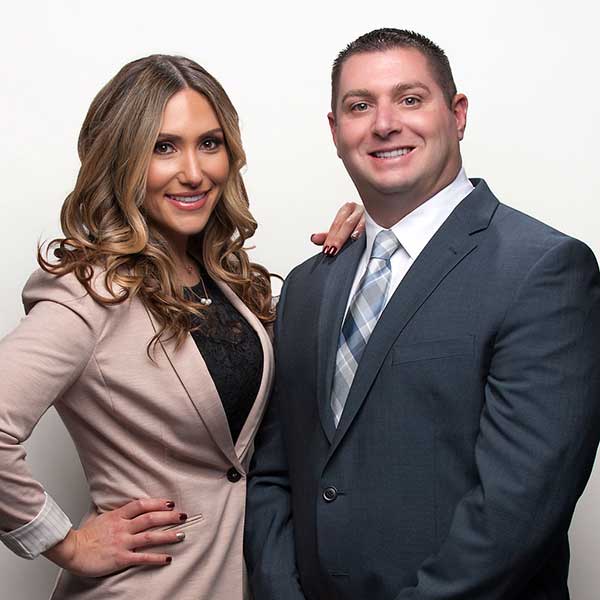 Valencia Summit Report By
Matt & Meray Gregory
[email protected]

As Valencia REALTORS®/Brokers AND life long Santa Clarita residents, are well suited to represent those looking to buy and/or sell their home.

Your Summit REALTORS®
DRE# 01463326
DRE# 01831112
Valencia Summit Community Video
The Summit Community Overview
Built from 1985 to 1990, this Summit community really is a gem and one of the most prized in all of Santa Clarita. It's easy to see why, once new homeowners are settled in, they just don't want to budge. The community is made up of 4 nicely situated subdivisions. There are single family homes in the San Marino, Chelsea and Windermere neighborhoods.The Stratford Collection includes an attractive selection of townhomes.
Homes
Home buyers will find an assortment of 1 and 2 story houses available in various sizes and price ranges. This homes look nothing like a typical track home community. They really don't appear as cookie cutters, probably because the architect did a great job on design and paid close attention to detail. This area projects the feeling of individuality and class. Not only does the community look beautiful, but it feels special because it really is amazing!

When it comes to amenities the Summit is hard to beat. There is no shortage of pools, spas, tennis courts and much more. Even better, the HOA costs are some of the lowest in Santa Clarita. There is no shortage of nearby shopping and dining locations. Then, with the Mall situated just a stones throw away, there's no reason to travel out of the area for much of anything!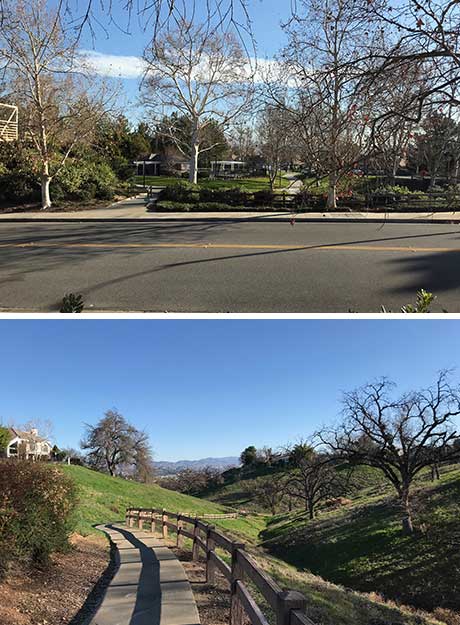 Valencia Summit Amenities
Residents enjoy multiple tennis courts, pools, spas, kiddie pools, bathrooms and a clubhouse. The best part is, with the exception of the Stratford Collection, there is only one, LOW cost HOA. There is NO MELLO ROOS tax for any homes in Valencia Summit.
Trails and Wildlife
Santa Clarita locals all enjoy many trails throughout Valencia but those here in the Summit are much more than that. The trails here are like hiking through an wildlife refuge.
We love visiting a new community each week and going for hikes, but this is really something special. The trails are open to the public, so take a morning walk someday and we promise, you will love it! Be advised, some of trails can be quite steep so it can be a bit strenuous.
Parks
There's also the Summit Park with a playground, tennis courts, a picnic area and some of the most lovely trails and Paseos in Valencia. Also, the YMCA is conveniently located in the same location as the park.
Summit Recreation Locations
The are 4 separate recreation areas conveniently located for each of the 4 subdivisions. Each is quite similar and all are nicely appointed and well maintained. Below, we've provided the approximate locations for each.
Arroyo Park Drive and Kirstengary Way:
Residents enjoy use of a beautiful swimming pool, hot tub, bathrooms and two lighted tennis courts. There are also multiple access points to the many trails and paseos.
Brighton Drive and West Del Monte Drive
There's a nicely appointed community clubhouse, bathrooms, large pool, hot tub and kiddie pool.
West Del Monte Drive and Goldcrest
Another refreshing swimming pool, hot tub, bathrooms and two lighted tennis courts directly across the street. There is also access to the amazing trail system.
Emerald Dove Drive and Woodlark Lane
A smaller but very nice pool, hot tub and bathrooms.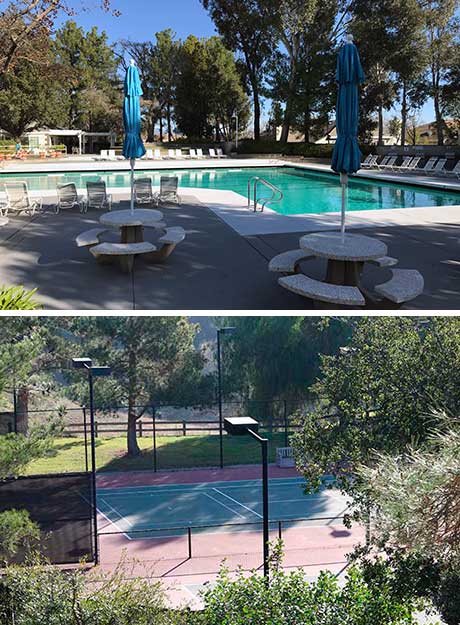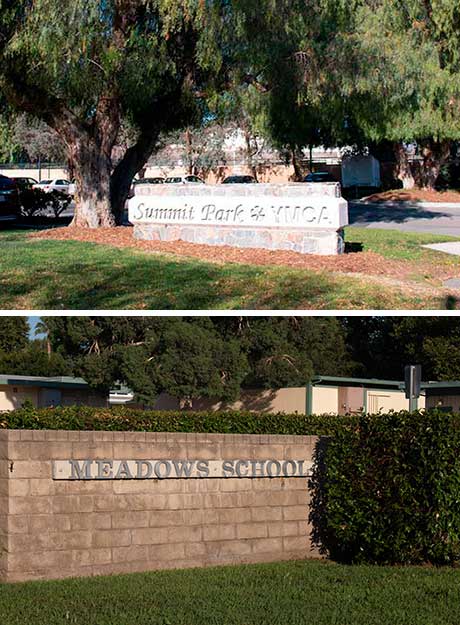 Schools And Local Conveniences
Although there are no schools directly within the community they are nearby. In fact, College of the Canyons is just west of the community. Public schools include Hart High School, Placerita Junior High and Meadows Elementary.
Convenience Shopping & Dining
Residents in the Valencia Summit community enjoy easy access to a variety of nearby convenience shopping & dining at the base of the community. Also, the local Mall is just down the road. Some examples include:
Starbucks
Ralphs
The Habit
CVS
Kohls
Whole Foods Market
Islands
Homes For Sale in The Valencia Summit Community
In the Summit you'll find a variety of home types available at various price points. There are single story and two story houses sized from around 1,300 up to almost 5,000 sq ft. The townhomes come with 2 or 3 bedrooms sized from 1,500 sq ft to a little over 2,000 sq ft.
Current Real Estate Listings in The Summit ONLY
Choose to view ACTIVE listings of home in the Summit community, or learn more about our FREE home search app for your smart phone or tablet.
Can't Find the Home You Want in the Summit?
There may be few listings at any given time so if you can't find the home you want have a look at more popular communities in Valencia. We've also published a page specifically for those interested in finding condo and townhomes for sale in Valencia.
Real Estate Representation
If you are interested in buying a home here in the Summit community and don't have an agent, be sure to contact us to schedule a consultation. This is a very popular area and the turn over rate is quite low.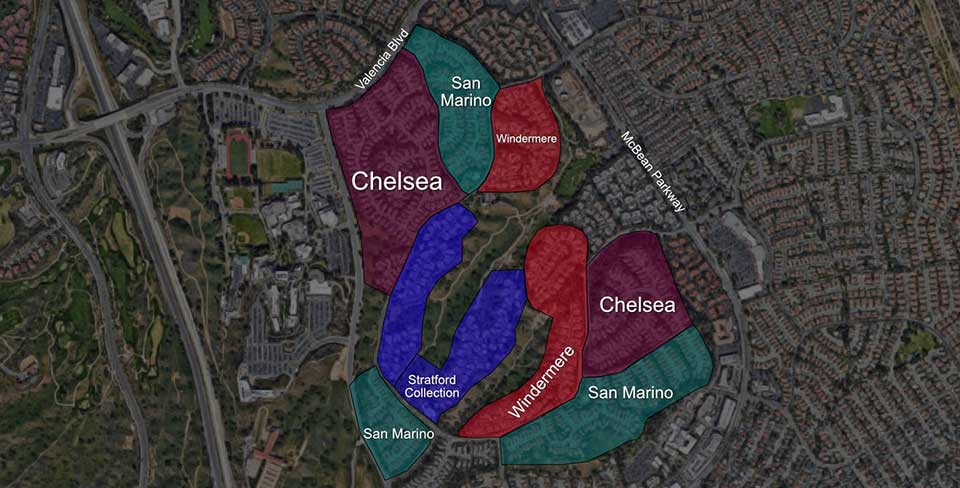 4 Subdivisions in the Valencia Summit Community
Although there are only four subdivisions, notice the separation and how each specific area is split into different neighborhoods. Also, with the exception of the Stratford townhomes, the HOA in all other Summit neighborhoods is very low. One of the lowest in all of Valencia.
Chelsea
Built around 1986 the homes range in size from 1,600 sq ft with 3 bedrooms and two baths, to over 3,000 sq ft with 5 bedrooms with 3 baths. Although the the HOA amenities include a beautiful swimming pool, many of the homes have swimming pools and great backyards, perfect for entertaining. Just 1 low HOA
San Marino
Built around 1988 the San Marino homes offer more of the same, but may run a little larger, with more two story homes. Some of the homes offer wonderful views.
Windermere
Also built in the late 1980's, this neighborhood includes mostly larger homes sized from 2,800 to almost 5,000 sq ft. Just 1 low HOA
Stratford Collection Townhomes
Built in 1989, these Summit townhomes are some of the best available in Valencia. For town homes, they are very nice sized with a typical size being from 1,500 SF with 2 bedrooms and 3 bathrooms and there are also some 3+2's with over 2,000 SF. These town homes really are amazing and truly a step above the rest.
Homes Are Not Cookie Cutters
This neighborhood of homes looks nothing like a typical track home community. They really don't look like cookie cutters, because the developer did a great job on design and attention to detail. Though they were built as such, the area projects that special individuality and inner beauty. Not only does the Valencia Summit neighborhood look beautiful, but it feels special and is really amazing!
When viewing the Valencia Summit homes for sale you might notice three different home types. There are single story homes, two story homes and some of the nicest townhomes in all of Valencia.
Considering Selling Your Home in the Summit?
Many buyers are attracted to this area and have represented a few homeowners to sell their homes. We've also worked with a number of buyers here and continue to keep close tabs the homes, market values and current conditions! Feel free to contact us with your questions or to schedule an appointment. There's NEVER any sales pressure whatsoever.
Matt & Meray