Crimson Townhomes in Valencia, CA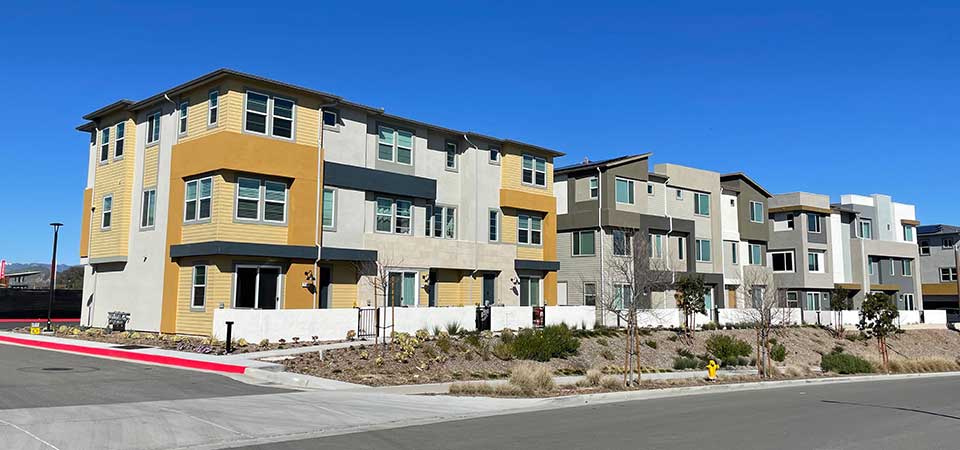 Built by KB Home, the Crimson neighborhood of townhomes is situated just west of Magic Mountain in Valencia, CA. Although still under construction, some homes are complete and occupied, with more on the way. Scroll down to watch the video, read detailed neighborhood descriptions, see the pics and links to listings of homes for sale.
NOTE: This website is NOT associated with the builder or HOA manager for this neighborhood.
Crimson Townhomes For Sale
Click the blue button below to see current listings of Crimson townhomes for sale. As of 2023, the builder is still selling new units and preparing to build more. Be sure to contact us directly should you need representation to buy a brand new home or a nearby resale.
Listings of ALL Condos and Townhomes in Nearby Neighborhoods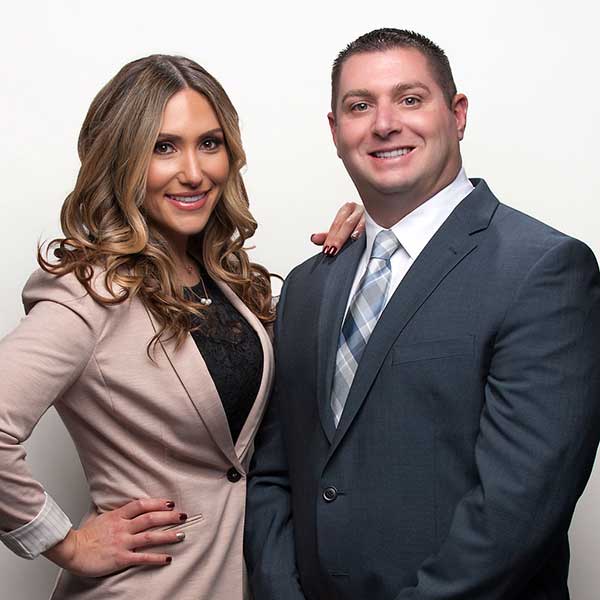 Crimson Neighborhood Report By
Matt & Meray Gregory
Contact Matt & Meray

As SCV REALTORS®, brokers AND lifetime residents, we are especially well suited to represent buyers in brand new developments. Remember, with us there's NEVER any sales pressure, whatsoever!

Your Local REALTORS®
DRE# 01463326
DRE# 01831112
Crimson Neighborhood Video
Attention Buyers!
Those interested in purchasing a brand new Crimson townhome or a home in any new development, be sure to take us with you on your first visit. Why? Because if you sign in at the sales office without us, we won't be able to represent you with your purchase. We know all the right questions to ask to get the answers you need to make accurate and informed decisions.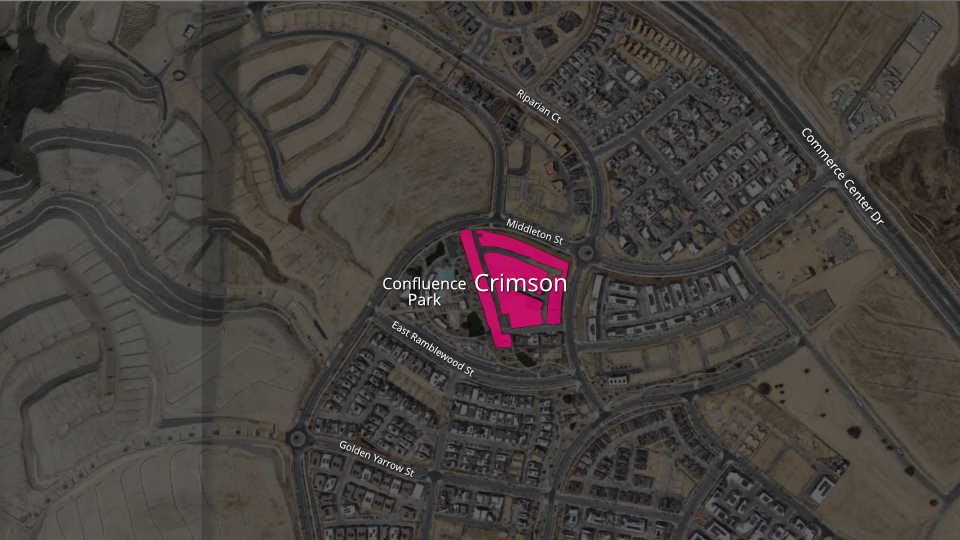 Description of Crimson Neighborhood and Homes
As of 2023, some of the Crimson homes are complete and some have not yet begun. Yes, there are models available to tour, but you'll want to contact us to make an appointment to take you on a tour for your first visit.
The homes are considered to be triplexes and each structure includes three attached townhomes, each with three levels. There are no neighbors above or below, but there are shared common walls between homes. Although the building exteriors are rectangular shaped, they are architecturally appealing, with distinctive boxed features, multiple finishes and nicely matched paint colors.
Sized from 1,866 – 2,054 SF, the homes come with 3 or 4 bedrooms and 2.5 to 3.5 bathrooms. All three models have the garage, entry, a bedroom or den and bathroom on the 1st floor, the kitchen and living space is on the 2nd floor with the bedrooms up top. Each home includes a 2 car garage with an EV charging station, a small private patio or courtyard and roof mounted solar panels.
Discover more new housing available here in Valencia, CA next to Magic Mountain.
Crimson Home Plans
The Crimson homes come in multiple, but very similar floor plans. See below a few brief home descriptions:
Plan 1866: Sized at 1,866 SF with 3 bedrooms and 3.5 bathrooms. The 1st floor consists of a garage, entry, coat closet, a bedroom, closet and bathroom. There's also an enclosed patio or courtyard. The 2nd floor includes the primary living space with an open floor plan, kitchen, pantry, living room and 1/2 bathroom. The 3rd floor includes a hallway, laundry room, primary bedroom & bathroom with a walk-in closet. The second bedroom has a connected bathroom and smaller closet.
Plan 1982: Sized at 1,982 SF with 3 bedrooms and 3.5 bathrooms. Very similar to the 1866 model but the layout is a bit different and the overall home is larger.
Plan 2054: Sized at 2,054 SF with 3 or 4 bedrooms and 3 to 3.5 bathrooms. This one is larger and a bit different than the other two models. The first floor has a den and 1/2 bathroom instead of a bedroom & full bathroom. The 2nd floor uses the same open floor plan and includes a coat closet, 1/2 bathroom, kitchen, pantry and living space. The hallway, laundry room and all 3 bedrooms are on the 3rd floor. Bedrooms 2 & 3 share a full bathroom and the primary bedroom has a walk-in closet, a full bathroom with a separate shower and bathtub.
Those planning on utilizing FHA financing will be happy to hear, Crimson is already pre-approved for FHA financing through at least 8/29/25. See our full list of FHA approved condo communities in all of Santa Clarita.
HOA Amenities and Local Conveniences
Crimson residents enjoy some of the best shared amenities in the area and the primary recreation area is situated right next door at Confluence Park. There's a large multi-use building, multiple swimming pools, a hot tub, lounge areas, playground, parks and more. There are also various trails, parks, gardens and other amenities situated throughout the community.
Convenience Shopping & Dining
It's about 2 miles to the nearest convenience shopping and dining at the intersection of Magic Mountain Pkwy and The Old Road. Of course, it's only about 4 miles to the local mall and many other popular stores and restaurants.
Nearby Schools
Nearby public schools include Oak Hills Elementary, Valencia Bridgeport Elementary, West Ranch High and Rancho Pico Junior High. West Ranch and Rancho Pico are both part of the William S Hart School District.
Mapped Location of Crimson Neighborhood
As displayed on the map below, Crimson is just one of many new neighborhoods in the Mission Village community and it's all situated just west of Magic Mountain. Learn more about all the new home neighborhoods in Valencia, CA.
Maps to More Condo and Townhome Complexes
There are many other condo and townhome complexes here in Santa Clarita. As a result, we created some handy maps displaying the location for many complexes throughout SCV. They also contain links to more neighborhood guides!
Canyon Country Mapped Locations