Rowan Townhomes in Valencia, CA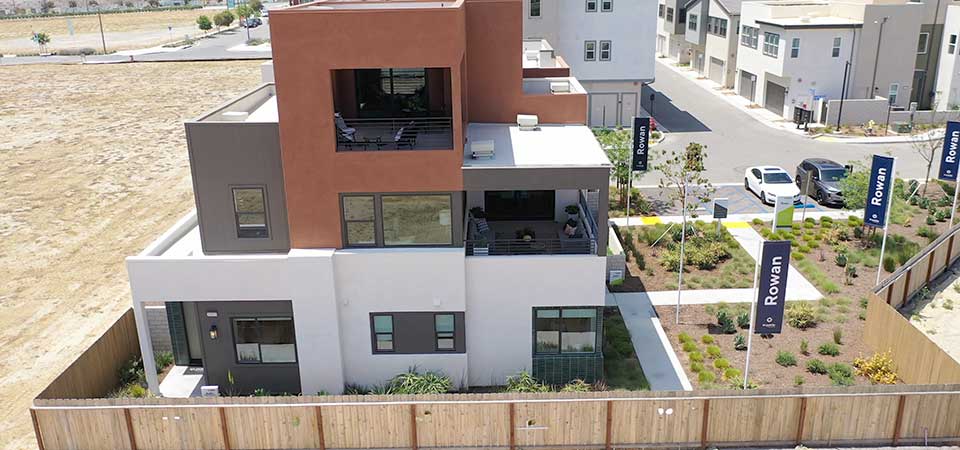 Welcome! In this post we're sharing about the recently built Rowan townhomes located within the modern new housing development of Valencia, CA. The neighborhood is situated just off of Sage Street and west of Magic Mountain. Below, you'll see our own firsthand descriptions, photos, an engaging neighborhood video, and convenient links to browse available listings of homes for sale. Keep scrolling to discover the allure of this exciting new community.
NOTE: This website is NOT associated with the builder or HOA property manager for this neighborhood. Here is the link to the Calla and Rowan HOA website.
Rowan Townhomes For Sale
Be advised, most builders do not share ALL their brand new home listings in the MLS. You can click the blue, View Active Listings button, but if you don't see anything, we've also provided a link to all condos and townhomes for sale in Rowan, AND nearby neighborhoods. The best way to find new home neighborhoods is to contact us and schedule a consultation.
Listings of ALL Condos and Townhomes in Nearby Neighborhoods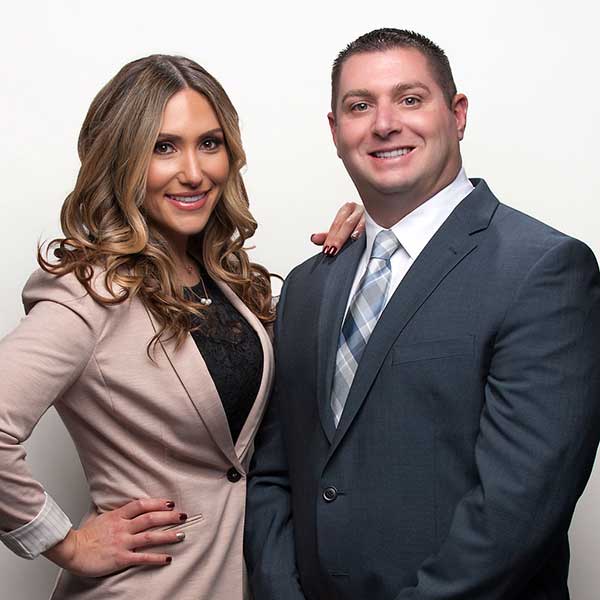 Rowan Neighborhood Report By
Matt & Meray Gregory
Contact Matt & Meray

As SCV REALTORS®, brokers AND lifetime residents, we are especially well suited to represent buyers in brand new developments. Remember, with us there's NEVER any sales pressure, whatsoever!

Your Local REALTORS®
DRE# 01463326
DRE# 01831112
Attention Buyers!
If interested in purchasing a brand new Rowan townhome or a home in any new development, be sure to take us with you on your first visit. Why? Because if you sign in at the sales office without us, we won't be able to represent you with your purchase. We know all the right questions to ask to get the answers you need to make accurate and informed decisions.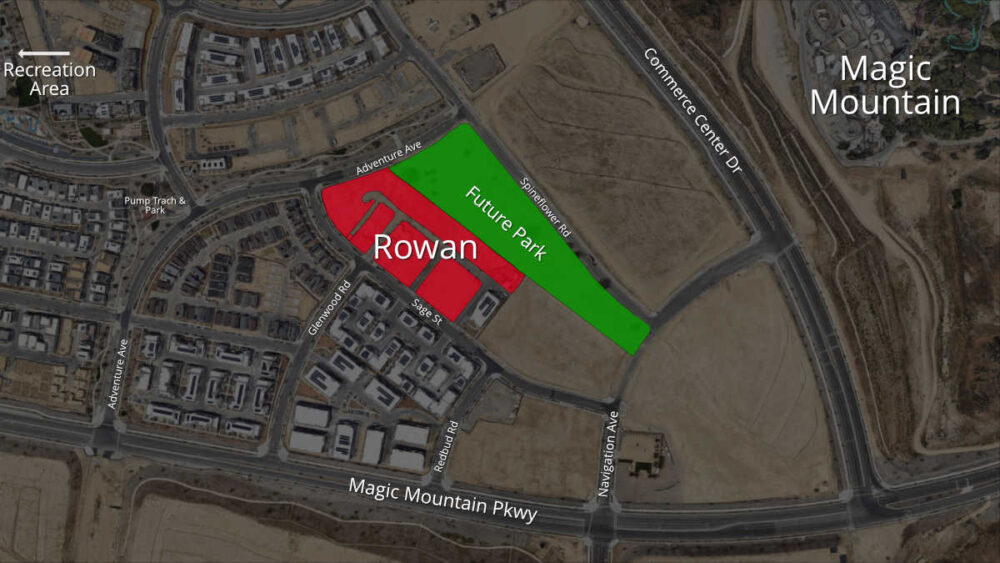 Overview of Rowan Townhomes and Neighborhood
Built by Tri Pointe Homes, Rowan offers a range of attached homes available in three different models. The homes feature open and spacious main living areas, ranging from approximately 1,496 to 2,797 square feet. With 3 or 4 bedrooms and 2 to 3.5 bathrooms, the available layouts are suitable for a variety of needs. Plus, each home comes with a convenient 2 car garage and roof mounted solar panels.
Plan 1 offers a single-story layout, while Plan 2 is a two-story design with the garage and entry on the first level, and all other living spaces, including a deck, on the second floor. Plan 3 is similar to Plan 2, but it also includes a third level with a deck, loft, a full bathroom and a fourth bedroom.
It's interesting to note, the exterior design seamlessly hides the attachment points between the homes, giving the buildings a distinctive appearance.
Discover more new housing available here in Valencia, CA next to Magic Mountain.
Rowan Patios and Decks
While there are no individual yards for these homes, Plan 1 does have a nice outdoor patio area and Plan 2 and 3 have the decks. The common areas have been thoughtfully landscaped with drought-tolerant plants and shrubs. If you have a green thumb, there's a shared community garden nearby where you can grow your own vegetables.
Rowan Model Home Descriptions
See below brief descriptions of the model homes. Those interested in learning of more details can visit the builder's website directly. Remember, if you would like us to provide you with professional representation to make a purchase, be sure to contact us BEFORE signing in or visiting the sales office.
Plan 1: Sized at 1,496 SF with 3 bedrooms and 2 bathrooms. There is a direct access garage, entry, living room, dining area, kitchen, pantry, a large primary bedroom and laundry room. The primary bedroom has a large walk-in closet with a connected bathroom. Outdoors, there's also a covered patio and courtyard.
Plan 2: Sized at 2,230 SF with 3 bedrooms and 2.5 bathrooms. All living space except for the garage and entry is located on the 2nd level. There's also an outdoor covered deck.
Plan 3: Sized at 2,797 SF and includes 4 bedrooms and 3.5 bathrooms. Plan 3 is similar to Plan 2, but it also includes a third level with a deck, loft, a full bathroom and a fourth bedroom.
NOTE: Rowen is pre-approved for FHA financing through at least 9/29/25. See our full list of FHA approved condo communities in all of Santa Clarita.
HOA Amenities and Local Conveniences
Residents of Rowan enjoy access to the same fantastic amenities as those in neighboring subdivisions. The main recreational hub is Confluence Park, the perfect place to spend those warm summer days. It features a spacious multi-use building, refreshing swimming pools, a relaxing hot tub, inviting lounge areas, barbecues, a park, and much more. Additionally, there are a number of parks and rest areas in various locations throughout the larger community.
While the amenities are impressive, prospective buyers should be aware of the additional costs associated with an annual Mello Roos and the expected monthly HOA fees.
Convenience Shopping & Dining
Although more convenience shopping and dining locations are planned here in the future, for now residents must drive approximately 2 miles to the nearest convenience shopping and dining at the intersection of Magic Mountain Pkwy and The Old Road. Also, it's about 4 miles to the local Mall and many other popular stores and restaurants.
Nearby Schools
We know there are new schools planned in the future, but for now the nearest public schools are in Valencia Westridge and include Oak Hills Elementary, West Ranch High and Rancho Pico Junior High. West Ranch and Rancho Pico are both part of the William S Hart School District.
Rowen Neighborhood On the Map
The map below is intended to show where Rowan is situated in relation to other nearby neighborhoods. Since the development is ongoing, the map is a work in progress and will change as construction continues. By the way, Valencia is not the only new housing community here in SCV! We have published plenty more new home neighborhoods in all of Santa Clarita.