Condos for Sale in The Villas at Town Center – Madisons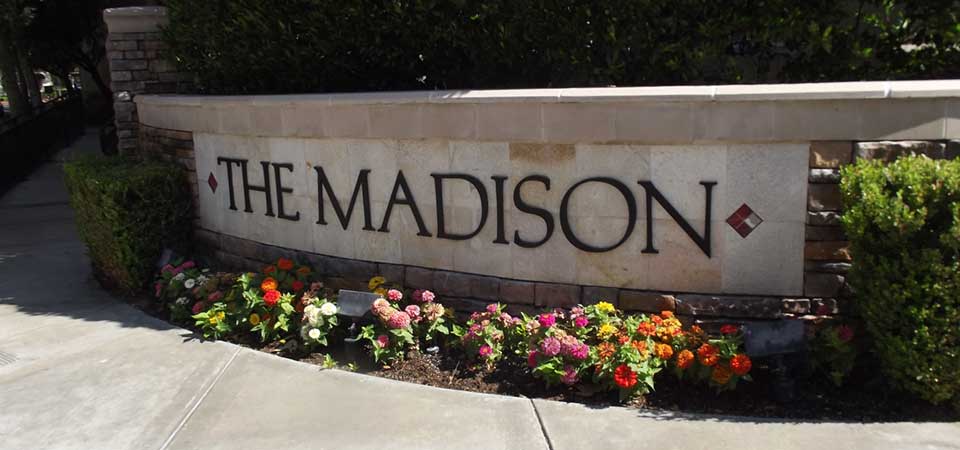 Built around 2003, The Villas At Town Center is a popular condo community with terrific amenities, perfect for those interested in an easy going, condo lifestyle. Also known as the Madisons, the community is located on the map at the southwest corner of McBean Parkway and Magic Mountain Parkway. Although you might find nicer condos in other Valencia neighborhoods, these are considered by many to be the most conveniently situated of all the condos in Santa Clarita.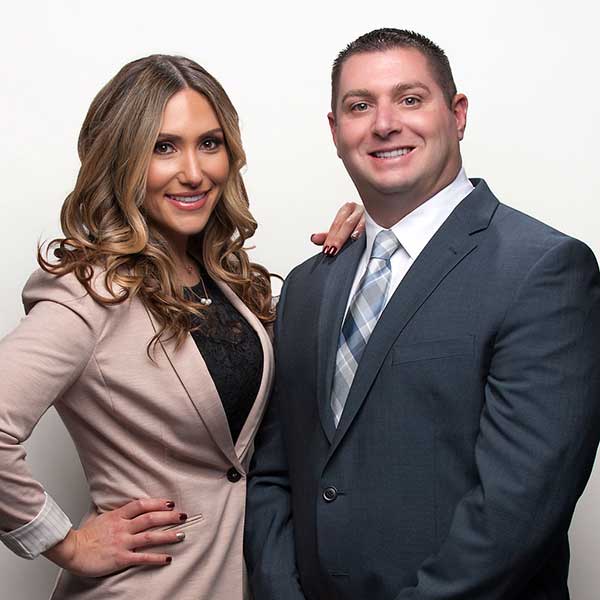 Villas/Madison Report Presented By
Matt & Meray Gregory
[email protected]

As Valencia REALTORS®/Brokers AND past residents at the Madisons, we are especially well suited to represent those looking to buy in this complex.

Your Madisons/Villas REALTORS®
DRE# 01463326
DRE# 01831112
Overview of The Villas/Madison at Town Center
Residents enjoy convenient, luxury style condo living, perfectly situated in the heart of Valencia. When it comes to location, few properties in Santa Clarita can match the amenities and local conveniences. Residents can work, dine, shop, exercise, swim, and enjoy entertainment, all without driving a car! In fact, some of these amenities are located in the community and everything else needed is within easy walking distance!
This community is officially called the Madison@Town Center, but around 2015 they begin re-marketing some units, calling them the Villas. Just so you know, there's no difference between the two.
Buyers will find a mix of 1, 2 and 3 bedroom attached condos. Generally, the one bedroom units come with one bathroom. The two and three bedroom units have two bathrooms. You won't find many 3 bedroom condos, but there are a few. The units are sized from approximately 730 sq ft to 1,608 sq ft.
Scroll down to see the condos for sale, more information about the amenities, local conveniences and a first had description and experiences of a past resident.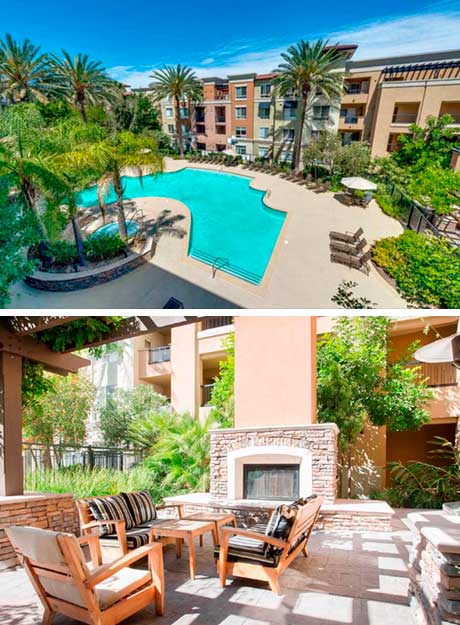 Amenities for the Villas/Madisons
Walking through the community feels like a hotel resort! Visitors immediately notice how the entire community is clean, well maintained and ready for a weekend party!
The swimming pool area is quite large and a popular spot for residents, especially on hot summer days. On weekends it's sometimes like a party at a casino hotel! There's also a spa, outdoor fireplace, barbecue's, a gym, billiards room, movie room, office area and more. We really enjoy that outdoor fireplace. A perfect spot for a warm drink on a cool night. There's also a well placed parking structure serving residents and their guests.
The entire complex is gated, safe and secure. This includes the assigned parking stalls in the parking structure.
We are local realtors, Matt & Meray Gregory and we actually lived here in this community for a number of years. It really is a terrific place to live and if you are considering buying a condo here, we're happy to provide representation. Contact us to schedule a consultation.
Town Center Drive Local Conveniences
Nearby schools include West Ranch High, Rancho Pico Junior High and there are multiple nearby elementary schools.
Local Conveniences
Since the Valencia Town Center Mall is just across the street to the east, there's plenty of great restaurants and top brand name shopping locations. Then, just across Magic Mountain Pkay there another large center with even more shopping & dining locations. A partial list of examples include:
Olive Garden
Peet's Coffee
Jamba Juice
Nordstrom Rack
Red Robin
Banking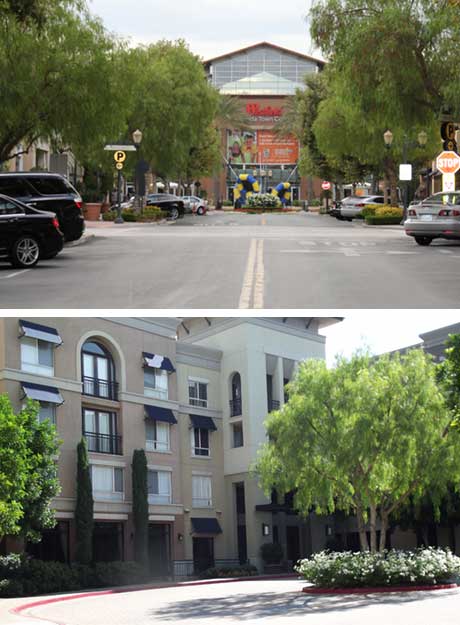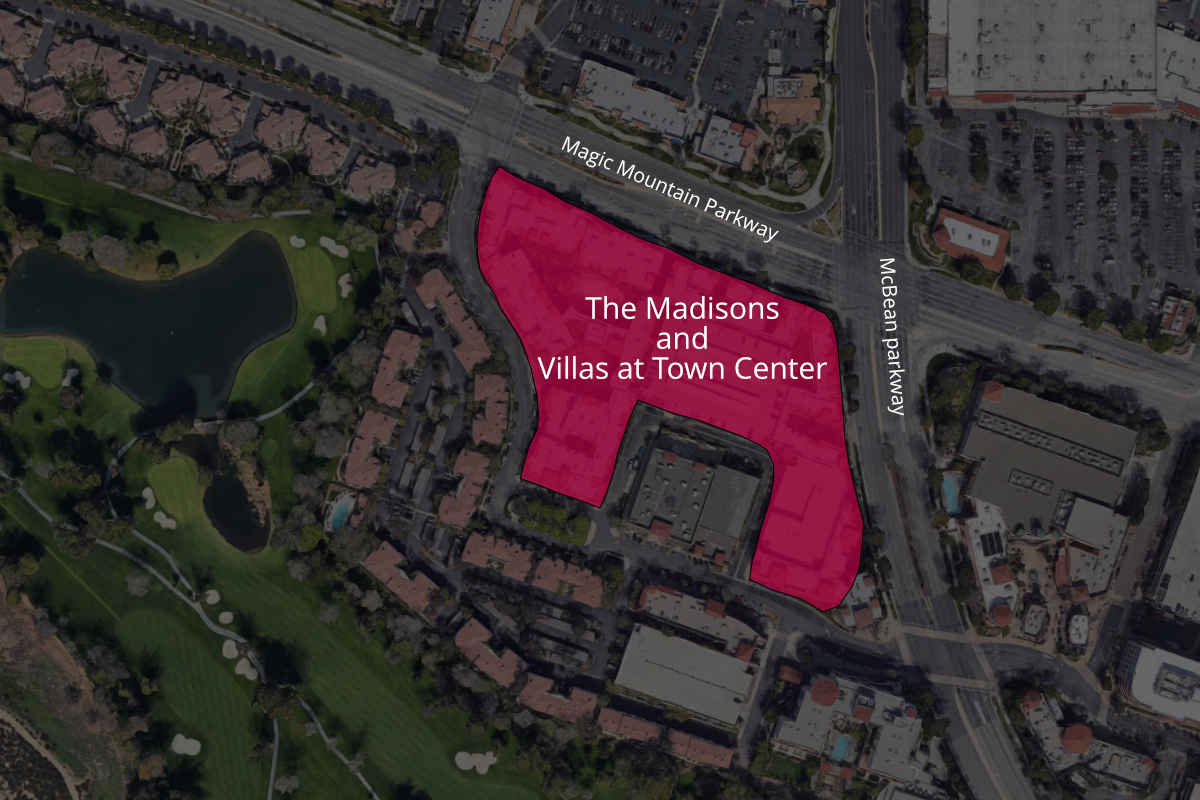 Condos for Sale in the Heart of Valencia
Click here to check if there are any Madison or Villa condos on the market. Otherwise, click the blue button to see all condos for sale in the "Heart Of Valencia", including the Villas at Town Center.

The Floor Plans
There are more floor plans but those shown above represent the most common layouts for the Madison or Villa condos. The architects and designers made good use of the space without sacrificing that special decorators touch. Although there are some larger 3 bedroom units, generally, the two bedroom units are the largest. The master bedroom has it's own master bathroom and the bathroom for the second bedroom is shared with the living area.
New owners should be careful when buying new furniture so that it's sized appropriately for the amount of given space. Villa units we've seen can appear roomy or cramped, depending on furniture size and placement. We also like the large walk in closets and having indoor laundry with room for a small washer and drying is certainly a plus!
1 Bedroom Type 1 Unit: Unit includes 1 bedroom with a walk-in closet, 1 bathroom, living room, dining area, linen closet, coat closet, kitchen, utility room, desk niche and a patio.
1 Bedroom Type 2 Unit: Very similar to the first one bedroom condo, this unit is a little larger and includes a Foyer. It also comes with 1 bedroom with a walk-in closet, 1 bathroom, living room, dining area, linen closet, coat closet, kitchen, utility room, desk niche and a patio.
Typical 2 Bedroom Unit: This unit is perfect for two roommates sharing expenses. Both bedrooms are nearly the same size and each has it's own full bathroom & walk-in closet. The primary bedroom is slightly larger with it's own private bathroom. There's a larger closet and a sliding door leading to the patio. The second bedroom also has a full bathroom, accessible from the kitchen area and shared with guests.
3 Bedroom Unit: There are some 3 bedroom units but very few and rarely do they come on the market. They start at around 1,400 sq ft and the largest we've seen is 1,608 sq ft.
Not Shown on the Floor Plans
Of course, the Villa floor plans don't include elevations or sections. Most units have high cathedral ceilings with ceiling fans and track lighting. Interior decorators know how important overhead lighting is to the overall look and feel of any space and it worked well for the Villas. The moulding, door style and baseboard is a nice added touch as well.
Madisons and Villas at Town Center Photos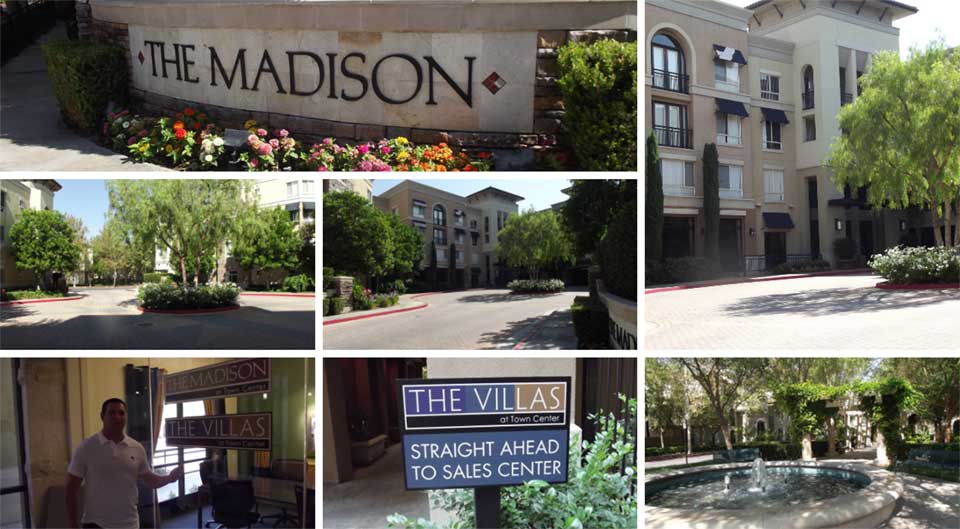 What is it Like to Live in the Madisons and Villas
If you're searching for that elusive convenient lifestyle, and want to live "in style," have a look at The Villas at Town Center. The complex is perhaps the most sought after in the entire Santa Clarita Valley. When talking about easy living, it doesn't get much easier than this!
Located here in the heart of Valencia, some residents enjoy the New York City lifestyle, with no car! This no car lifestyle is almost unheard of in most of greater Los Angeles, but if living at The Madisons, it really is possible. The old real estate adage of location, location, location, perfectly applies to the Villas.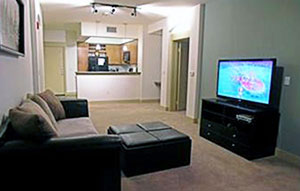 The adjacent pic shows the living room and kitchen of a typical two bedroom unit. Because everything was within walking distance, residents can go for quite some time without needing to drive a car!
Some folks work right across the street in one of the office buildings and can walk to work. They can also go shop for the basics right next door. Getting a workout is easy in the community gym within the complex. There are a variety of choices for a tasty meal with everything from fast food to the most popular Sushi, and everything in between. There's even a private movie theater right in the community. Since the Mall is across the street, residents really have everything needed without driving anywhere!