Redmond Neighborhood in Valencia, CA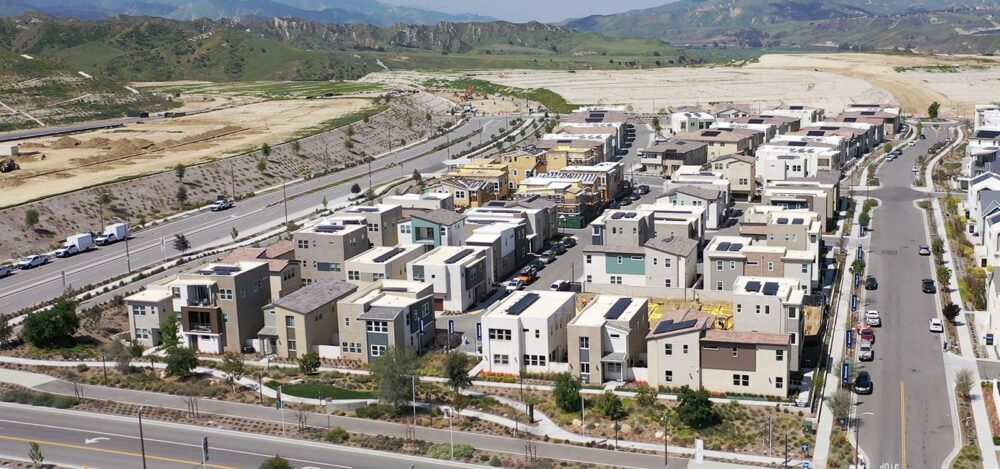 Built from 2021 to 2023, the Redmond neighborhood is located in the new housing development next to Magic Mountain, just north of Magic Mountain Parkway, between Adventure Avenue and Chaparral Avenue. Scroll down to read our first hand descriptions, watch the video and view our pics. Those interested will also find links to listings of new homes for sale in this same area.
NOTE: This website is NOT associated with the builder or HOA manager for this neighborhood.
Redmond Real Estate Listings
Click the blue button below to see current listings (if any) of detached condos for sale in Redmond. Since you may not see any Redmond homes on the market at this time, we've also provided a link to similar homes nearby.
MORE NEW RICHMOND AMERICAN HOMES IN TORRIN. Torrin is another new neighborhood with the same style model homes located just across the street, on the other side of Magic Mountain Pkwy. If you missed buying a Redmond home, be sure to check out our report about the new Torrin neighborhood.
Listings of ALL Condos and Townhomes in Nearby Neighborhoods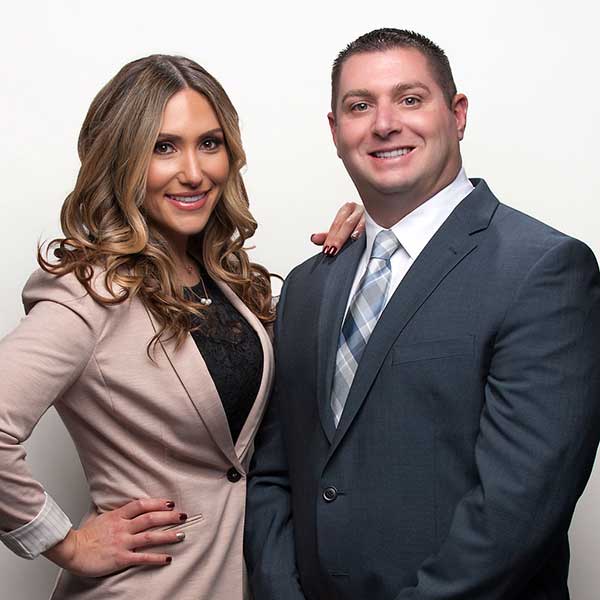 Redmond Neighborhood Report By
Matt & Meray Gregory
Contact Matt & Meray

As SCV REALTORS®, brokers AND lifetime residents, we are especially well suited to represent buyers in the neighborhoods we serve. Remember, with us there's NEVER any sales pressure, whatsoever!

Your Local REALTORS®
DRE# 01463326
DRE# 01831112
Redmond Neighborhood Video
Redmond Neighborhood Overview
Built by Richmond American Homes from around 2021 to 2023, these detached homes are designed for convenience and contemporary living. One thing you'll notice about Redmond homes is their unique design. Unlike typical single family homes, many of these homes have flat roofs and minimal landscaping consisting of drought-tolerant plants. But don't be fooled by their unconventional appearance – these homes are spacious, inviting, and a terrific option for those interested in a more simplistic lifestyle.
With four different models to choose from, Redmond homes range in size from 1,510 to 2,070 square feet. Each home has 3 or 4 bedrooms, 2.5 to 3 bathrooms, a laundry room, a two-car garage, and roof-mounted solar panels. The main interior living space is open to the kitchen, creating an even more spacious feel. The 3 story homes have outdoor balconies with one connected to the first floor living room area and the other accessed from the second floor.
Yes, There is a HOA and Mello Roos!
Those interested in buying a home here should be sure verify and factor the HOA AND Mello Roos amounts into their budget.
Discover more new housing available here in Valencia, CA next to Magic Mountain.
Redmond Home Plans
Wondering what the Redmond homes are like? The condos come in four different plans as briefly described below. Keep in mind, we only provide general descriptions and do not include specific details. Also, depending on any additional builder options selected by the original buyers, the plans will vary.
Naylor Plan 1510: A two story home sized at approximately1,510 SF with 3 bedrooms, 2.5 bathrooms and a 2 car garage. The 1st floor consists of a garage, entry, kitchen, 1/2 bathroom and primary living space. The 2nd floor includes the laundry room, primary bedroom & bathroom with a walk-in closet. The second and third bedrooms share a connected bathroom.
Nevett Plan 1760: 3 story sized at approximately 1,760 SF with 3 bedrooms and 3 bathrooms and a 2 car garage. The first floor includes the entry, garage and a study or office. The second floor includes the kitchen, primary living space and deck. There's also a laundry room, a third bedroom with a walk-in closet and a small bathroom. The third floor includes the primary bedroom and bathroom, a second bedroom and bathroom, a deck, linen closet and hallway.
Nassee Plan 1790: 2 story sized at approximately 1,790 SF with 3 bedrooms and 2.5 bathrooms and a 2 car garage. The 1st floor consists of a garage, entry, kitchen, 1/2 bathroom and primary living space. All the bedrooms and the laundry room are on the second floor. There's also the primary and second bathrooms. The primary bedroom includes a large walk-in closet.
Norton Plan 2070: 2 story sized at approximately 2,070 SF with 4 bedrooms and 3 bathrooms and a 2 car garage with NEV parking. The 1st floor consists of a garage, entry, kitchen, fourth bedroom, full bathroom and primary living space. The remaining 3 bedrooms, hallway, linen closet and the laundry room are on the second floor. The primary bedroom includes it's own connected bathroom and a large walk-in closet.
HOA Amenities
One unique aspect of Redmond homes is that they have no yards or lawns, and instead feature minimal landscaping with drought-tolerant plants. However, this is part of the appeal for busy residents who want to spend more time enjoying recreational areas that are well maintained by the HOA.
Aside from the modern design of the homes, Redmond residents have access to some of the best amenities around. Confluence Park, located nearby, offers a huge multi-use clubhouse, swimming pools, a hot tub, lounge areas, bathrooms and much more. It's the perfect place to relax and enjoy the beautiful Santa Clarita weather.
Parks & Trails
Like most Valencia neighborhoods, Redmond also connects to developed trails and parks. There's even a community garden, shaded rest areas and we love the unique Pump Track.
Schools & Local Conveniences
Currently, there are no schools, convenience shopping or dining in this community, but it's about 2-1/4 miles to plenty of nearby locations. Also, it's about 4 miles to the mall.
Valencia Westridge community is home to several schools, including West Ranch High, Rancho Pico Junior High, and Oak Hills Elementary, which are all located in close proximity to one another. This makes it convenient for families with children of different ages who attend different schools.
The high school and junior high are part of the William S. Hart school district and the grade school is in the Newhall School District.
Map of Redmond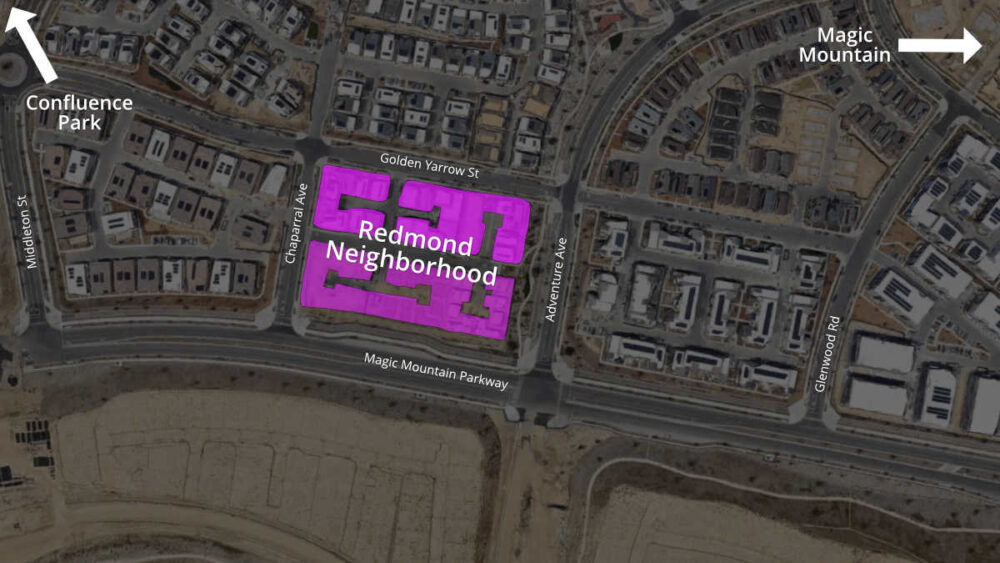 Maps to More Condo and Townhome Complexes
There are many other condo and townhome complexes here in Santa Clarita. As a result, we created some handy maps displaying the location for many complexes throughout SCV. They also contain links to more neighborhood guides!
Canyon Country Mapped Locations