See below, listings of all condos for sale in Stevenson Ranch, CA. We also include some general information about the community, but you can find more more listings of houses and extensive information about the Stevenson Ranch community here.  If you're unfamiliar with the community, our community page is a wonderful local resource.
Located about 35 miles north of downtown Los Angeles, Stevenson Ranch is a popular stop for prospective condominium buyers. See below, all current listings of condos for sale in Stevenson Ranch. They should also include townhomes as well.
Overall, it's a wonderful area, well loved among residents and a popular stop for homebuyers.
Listings Include Townhomes & Condos for Sale in Stevenson Ranch
Status
Active Under Contract
Property Type
Condominium
Status
Active Under Contract
Status
Active Under Contract
Usually there are not many condos or townhomes on the market at any one time here in Stevenson Ranch. As a result, we have included active listings AND other listings that may be pending or under contract. Just be careful viewing the listings to know of the status.
It can be difficult to find the right condo in any community and often it's beneficial to search more areas. You'll find more options by having a look at ALL condos for Sale in Santa Clarita.
Complexes Within Stevenson Ranch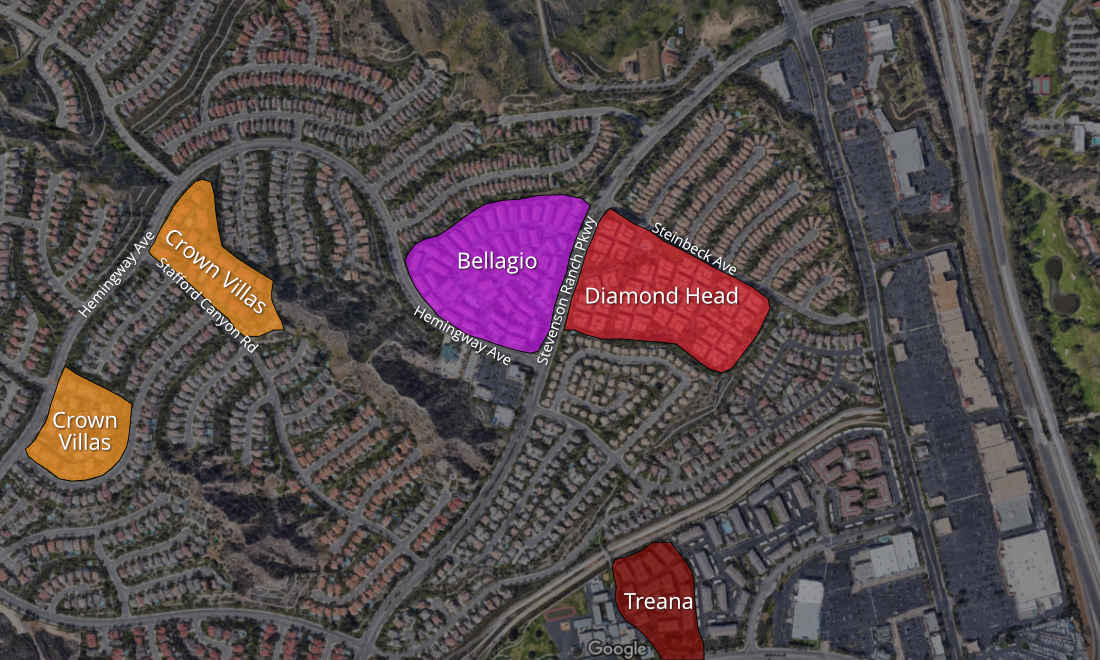 Stevenson Ranch has 5 primary neighborhoods that include condos or townhomes. The thing is, there is confusion between the names of the neighborhoods so no matter how many subdivision names you might see, it's really broken down into five areas. The subdivision names in the list below represent some of the community identifiers you might see when viewing a listings of a condos for sale in Stevenson Ranch. I wouldn't pay too close attention to that, except as it might be related to the homeowner's associations.
Just to give you an idea, we display a partial list of some of the subdivision or neighborhood names you should see when searching for Stevenson Ranch condos and townhomes for sale.
Stevenson Ranch Condo Complex HOA's
Before making an offer to buy a condo, find out everything about the facility in advance. Research all you want, but the best way to find out about any community is by talking with the residents. Here are some things to consider when sorting out condos in Stevenson Ranch CA.
Verify HOA monthly costs.
Verify if there is a Mello Roos tax and if so, double check the cost.
Read through the HOA Rules and Regulations. Regardless of what is stated in the rules, ask a resident if the HOA is passive or strict.
Find out where you will park. Often, condos will be listed stating there is two car covered parking, but that is not always side by side. Also, indoor parking is not the same as "covered," parking.
Visitor parking. This might not seem like a big deal now, but you won't be happy if you have guests over and find out there is no convenient parking.
Verify all amenities and hours of operation.
Most facilities have reasonably good security but sometimes it can be very inconvenient. What happens if you lose your access card or keys? What does it cost for replacements?
There's more, but at least you have somewhere to start.
Search Condos On the Go in
Stevenson Ranch
As you can see from the listing above, Stevenson Ranch Condos are available different types and sizes but finding the right one will probably have more to do with the community. To help make your job easier we offer our FREE home search app. It works on all mobile and tablet devices. It's simple to use and unlike apps offered by the large nationwide real estate websites, no agents will call on you.
Your Stevenson Ranch REALTORS®
Matt and Meray
661-713-4799
FHA Financing - Stevenson Ranch CA Condos for Sale
Not all facilities in Stevenson Ranch are pre approved for FHA financing, and these approvals can change as the approval expires. Have a look at our FHA list of approved facilities to see if the unit you might be considering is in an approved facility. Then, be very sure to verify with your lender and/or realtor before making an offer to buy.