Old Orchard Homes, Neighborhoods and Real Estate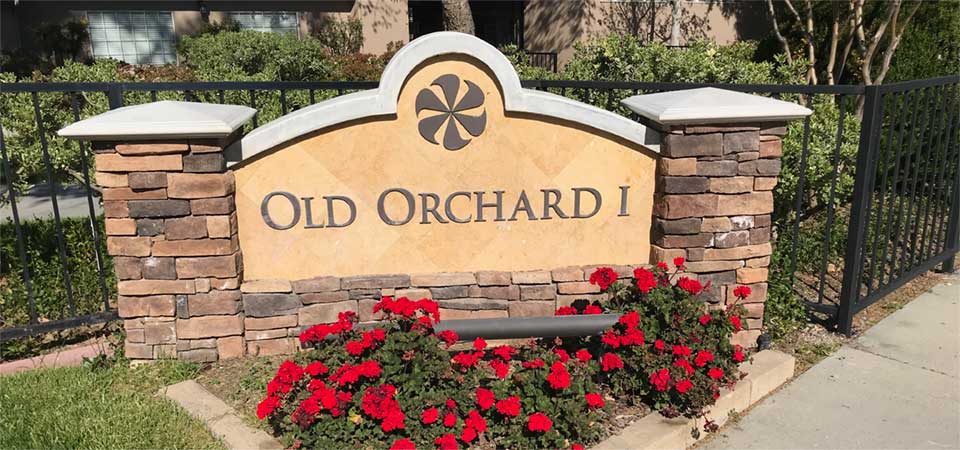 Developed in the mid to late 1960's, the Old Orchard neighborhoods are classics and among the very first Newhall Land and Farming master planned communities in the heart of Valencia.
All 3 Old Orchard neighborhoods are located on the map just north of Lyons Avenue on both sides of Orchard Village Road and south of Wiley Canyon.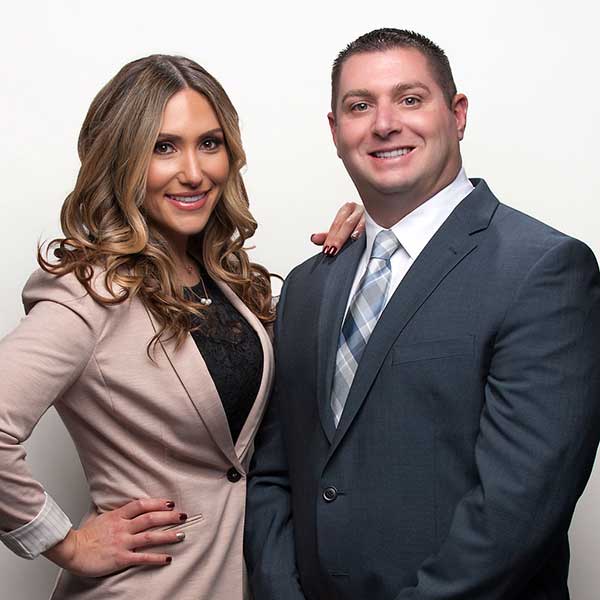 Old Orchard Shared By
Matt & Meray Gregory
[email protected]

As local REALTORS®, Brokers & Valencia residents, we are well suited to help anyone considering buying or selling a home here in Old Orchard.

Your Old Orchard REALTORS®
DRE# 01463326
DRE# 01831112
Old Orchard Overview
When Old Orchard was first developed, the concept of a homeowner's association was something new to the local real estate market, especially for those relocating to Santa Clarita from other areas.
The Old Orchard community consists of 4 subdivisions including Old Orchard 1, 2, 3 and then there's a condominium complex. Home buyers will find a nice mix of 1 and 2 story houses sized from approximately 1,225 sq ft up to over 2,600 sq ft. The homes mostly come with 2, 3, 4 & 5 bedrooms. There are also the cozy 1 & 2 bedroom Old Orchard Condominiums, sized from approximately 482 to 987 sq ft.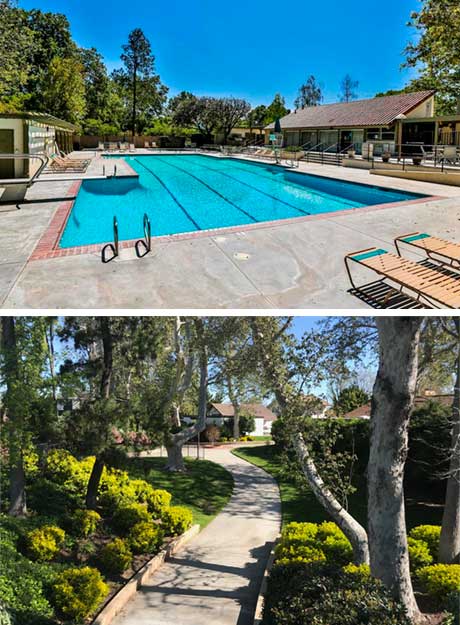 Old Orchard Amenities
There are separate amenities for residents living in Old Orchard 1 and 2. This includes swimming pools, hot tubs, clubhouses and recreation. There is no HOA or amenities in Old Orchard 3. The condo community has their own amenities. If you're not a fan of HOA's, Old Orchard 3 might be just right!
Trails and Preserved Nature
Old Orchard locals all enjoy an amazing trail system and it's just perfect for walking, jogging and bicycling. We especially like the underground tunnel as well as the preserved oak trees providing shade and beauty along the way. Just gorgeous!
Parks
Old Orchard Park is located at the base of the community and open to the public. It includes a playground, basketball court, picnic areas, an expansive grass area with plenty of mature shade trees. This especially nice for the residents living in Old Orchard 3, since they don't have amenities built into their neighborhood. This is one of the more well known and much loved parks in all of Santa Clarita.
Schools and Local Conveniences
Nearby schools include Old Orchard Elementary, Hart High School and Placerita Junior High. The elementary school is conveniently situated directly within Old Orchard 1 and fits in nicely with the neighborhood. The high school and junior high are next to Old Orchard 3.
Local Conveniences
There are many nearby stores and restaurants. Perhaps the closest is Old Orchard Center situated at the south edge of the community along Lyons Avenue. Examples include:
Aldi Market
Walgreens
Vallarta Markets
Whole Foods Market
The Social Fine Dining
Banking
Yes, there's plenty more!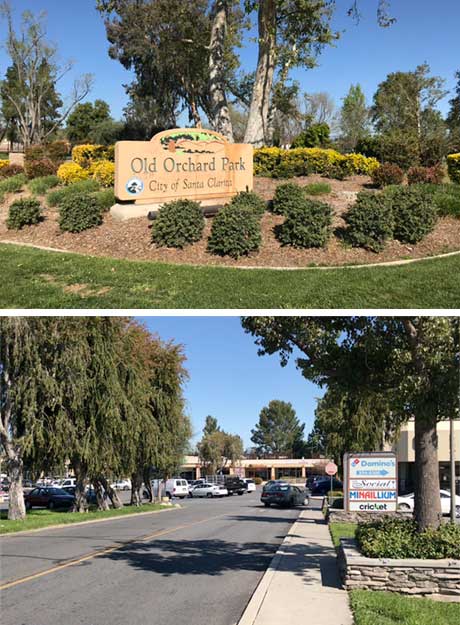 Homes For Sale in Old Orchard & Nearby Neighborhoods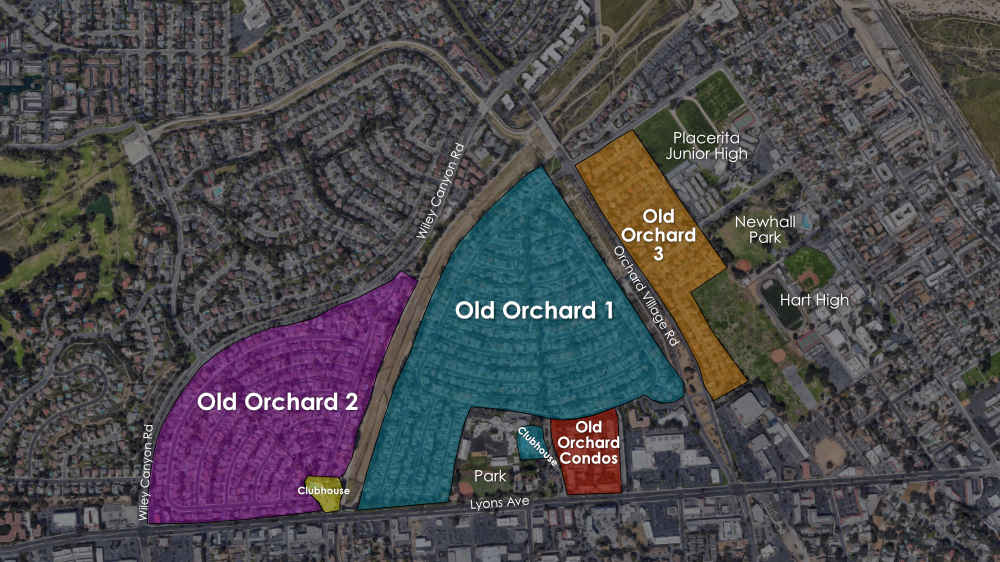 Because the homes of Old Orchard were built from an earlier time, buyers should expect to find homes with more traditional floor plans and perhaps a few more single story houses as well. Click the blue, View ACTIVE Listings button below to see Listings of Homes For Sale in ALL 3 Old Orchard neighborhoods.
More Home Search Options
If you're not seeing many listings of Old Orchard homes on the market, we offer the following options:
Old Orchard Neighborhood Descriptions
Each of the 4 Old Orchard neighborhoods are actually subdivisions of the Valencia 1 area, also known as, the Heart of Valencia.
The Old Orchard Community of Valencia was built in the mid 1960's and actually consists of four beautiful and well established neighborhoods.
Old Orchard 1 (438 homes)
Old Orchard 2 (389 Homes)
Old Orchard 3 (no HOA)
Old Orchard Condominiums
Old Orchard 1 and 2 each have their own homeowner's association as well as amenities which include pools, spas, clubhouses and picnic areas. Old Orchard 3 does not have a HOA, so if you're not a fan of HOA's Old Orchard 3 might be just right! Of course, the condo complex has their own HOA and it's more costly, but the owners get much more.
Need Representation to Sell Your Old Orchard Home?
The homes in all 3 Old orchard neighborhoods are classics and we're happy to help buyers and sellers. Please contact us with your questions or to schedule an appointment. There's NEVER any sales pressure whatsoever.
Email Matt & Meray
[email protected]