Stetson Ranch Community, Homes & Real Estate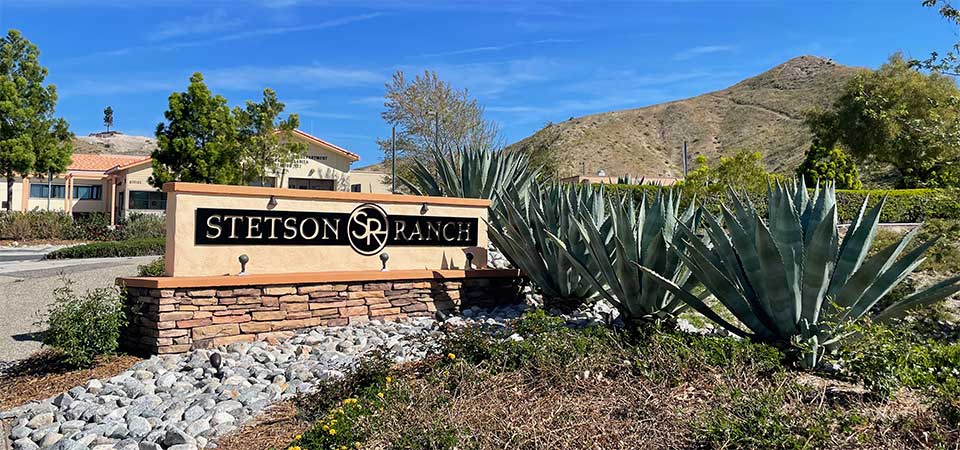 The Stetson Ranch community is interesting and a bit different than most Canyon Country neighborhoods. The community is situated just off of Sand Canyon Road about a mile north of Soledad Canyon Road. If looking for homes in a quiet, secluded neighborhood with lovely mountain views, this is it! Scroll down to watch the video, see the photos, links to real estate listings and more.
Stetson Ranch Quick Facts
Community Theme
Traditional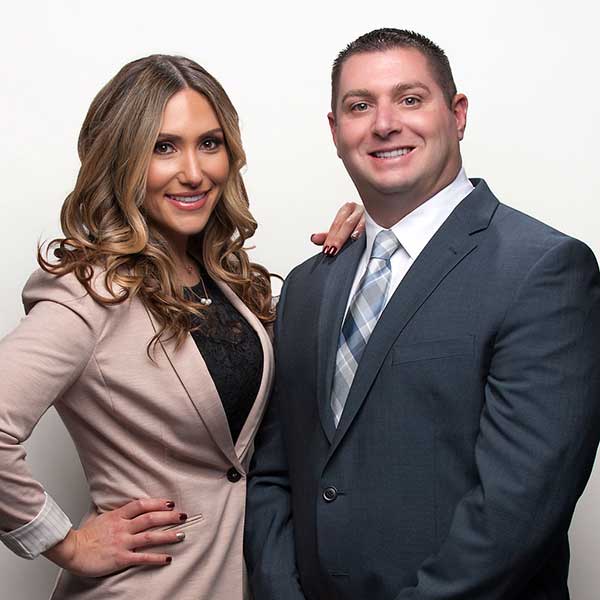 Stetson Ranch Report By
Matt & Meray Gregory
[email protected]

As REALTORS®/Brokers AND lifelong SCV residents, we have the expertise & local knowledge to represent anyone interested in buying or selling their home.

Your Stetson Ranch REALTORS®
DRE# 01463326
DRE# 01831112
Stetson Ranch Video
Stetson Ranch Community Overview
Built from 2006 to 2012, Stetson Ranch consists of 2 subdivisions called Remington and Winchester. Together, they contain a variety of large, 2 story homes with good sized yards, some with mountain views.
The houses are sized from approximately 2,900 to just over 4,000 SF. Not all, but most homes come with 4 or 5 bedrooms, 3 or 4 bathrooms, a dining room, bonus or family room and they all have 2 or 3 car garages. There are a few homes with 6 or even 7 bedrooms. There are no condos or townhomes in Stetson Ranch.
At the top of the community, there is a unique circular drive with a lush greenbelt in the middle to form a perfect circle. The community is surrounded by mountains and although this could be a bit of a fire hazard, residents enjoy peace of mind knowing Fire Station 132 is situated at the base of the community!
Although there is no Mello Roos in Stetson Ranch, there is a monthly HOA fee. As a word of caution, we always advise our clients to VERIFY the existence and amounts for any mello roos and HOA. Sometimes there are other hidden assessments, so be sure to check into that as well.
Additional Comments About Stetson Ranch
We previously mentioned, this community is a bit different than most. Why? First, the community is secluded, off the beaten path, offers plenty of privacy and the homes have terrific curb appeal! There's no thru traffic to other neighborhoods, so vehicle traffic is limited to those living in or having business in Stetson Ranch. We have always been impressed with the condition of the grounds and the homes. The traditional homes and nicely landscaped properties are quite attractive.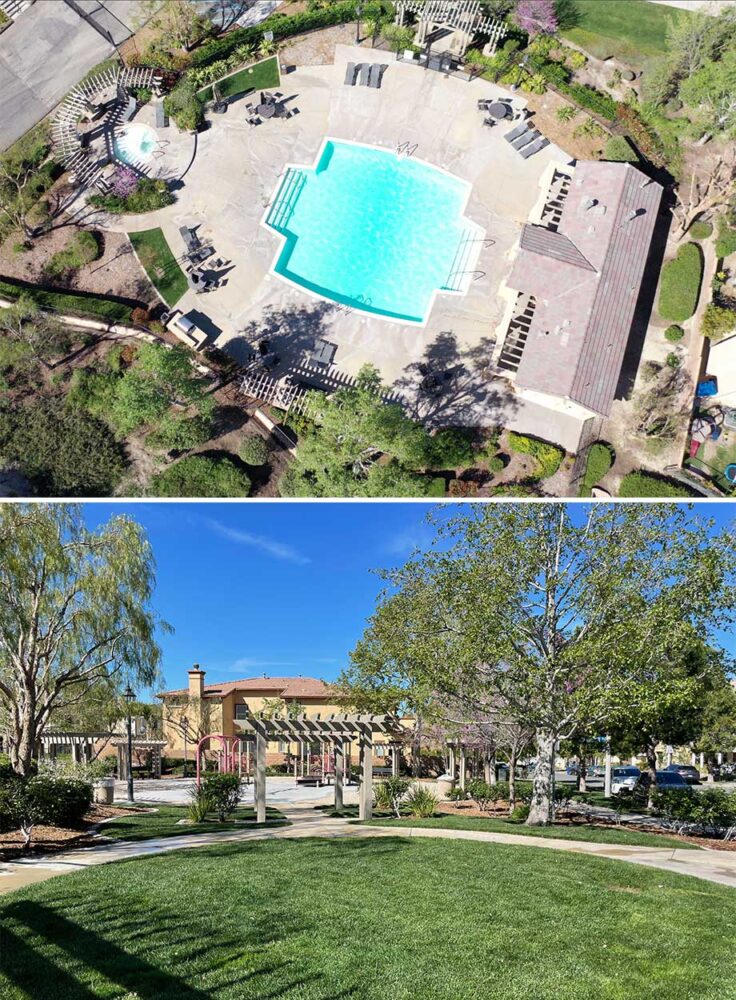 Amenities and Common Areas
The grounds and common areas are nicely maintained and include some well appointed amenities. Residents can enjoy a refreshing swim in the large, custom designed pool at the main recreation area. There's also a hot tub, plenty of lounge areas, a small playground, park and picnic areas. There are multiple park benches and shade trees, perfect for a little relaxation while enjoying the quiet surroundings.
Often, it's the little things that make a difference! Yes, like most neighborhoods there are sidewalks throughout, but here, the sloped ramps for the driveways begin in front of the sidewalks so the sidewalk surfaces remain flat. It's a very small thing, but it sure makes for an easy walk! We have published nearly 100 community reports and do not remember seeing this special detail in any other neighborhoods.
There are also lovely developed trails within the neighborhoods intended for residents only. In fact, there's even a sign saying NO TRESPASSING! Strolling through the community visitors will come upon some small, park like areas in multiple locations. For the more adventurous, there are plenty of challenging foothills, but they won't be an easy climb. Keep in mind, the locals suggest keeping a close eye out for snakes, especially during the warmer weather.
Schools & Local Conveniences
Schools
Although there are no schools directly in Stetson Ranch, it's just a short drive to Pinetree Community Elementary school. Other nearby schools include Canyon High and Sierra Vista Junior High.
Convenience Shopping & Dining
There is a shopping center located about one mile down Sand Canyon at Sand Canyon Plaza. There's a Vons, a drive thru coffee spot, a bank and more locations to purchase everyday necessities. There are also restaurants such as Denny's and the local favorite lunch spot is In-N-Out. Yep, of course there are more!
Local Parks
Although there is a small park and greenbelt near the recreation center, there are no city parks in the community. However, it's a short drive to Oak Spring Canyon Park.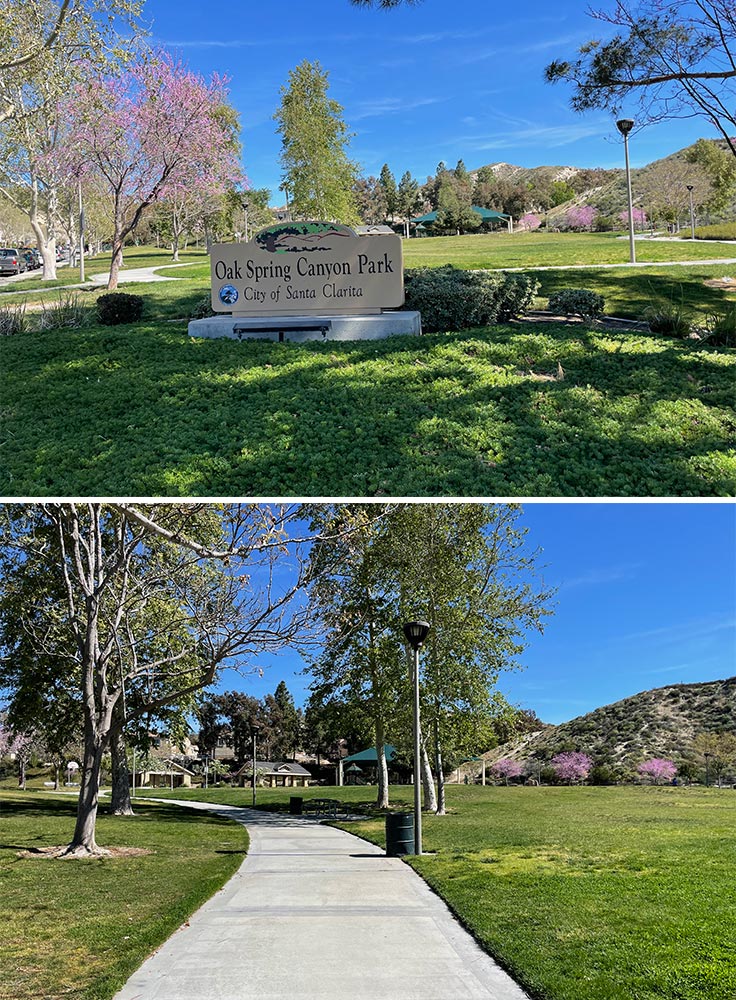 Homes For Sale in Stetson Ranch
Click the blue button below to see homes on the market in Stetson Ranch. We also offer a terrific free app, perfect for all smart phones and tablets.
Remington & Winchester Subdivisions of Stetson Ranch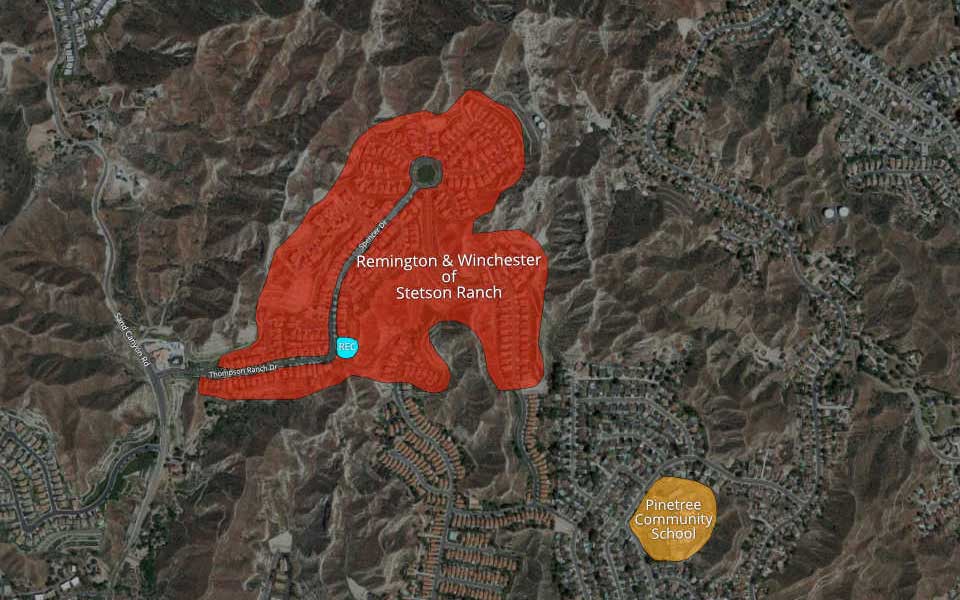 When driving to the community, visitors will see a Stetson Ranch sign visible from both directions on Sand Canyon Road. The community is officially made up to 2 subdivisions named Remington and Winchester. Honestly, there is little difference between the two subdivisions which is why everyone refers to either collection of homes as simply, Stetson Ranch.