Aliento Community, Homes, Neighborhoods & Real Estate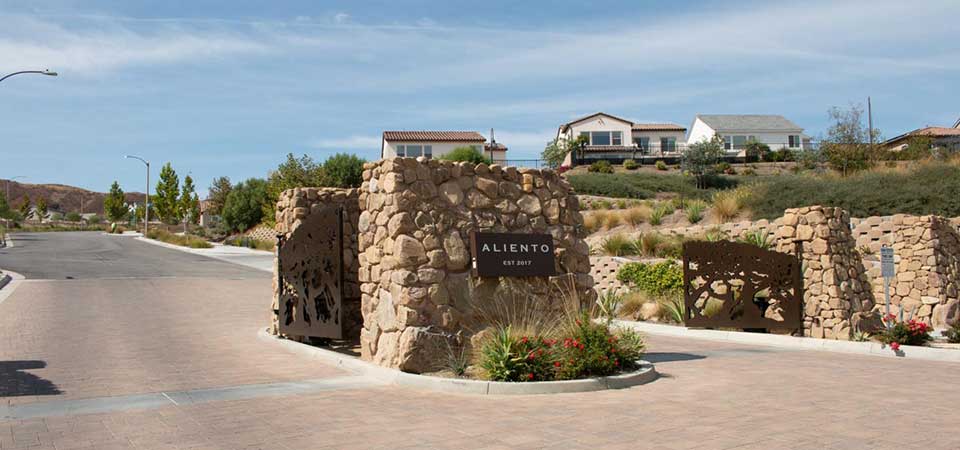 Aliento is a new, gated community located on the map at the north east end of Santa Clarita & situated in the hills on 900 acres, offering some amazing views. We hope the information provided below helps you get a better feel for this wonderful, new community.
Scroll down to watch the video, find links to real estate listings and check out the full report.
Community Theme
Rustic/Natural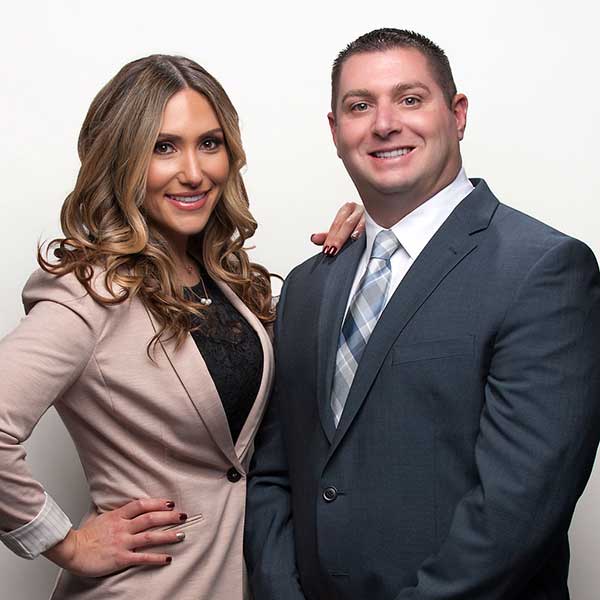 Aliento Community Report By
Matt & Meray Gregory
Email Us: [email protected]

As experienced REALTORS®/Brokers AND lifelong SCV residents, we have the expertise & knowledge of Aliento to help everyone buy or sell homes.

Your Aliento REALTORS®
DRE# 01463326
DRE# 01831112
Aliento Community Video
Aliento Community Overview
Development of Aliento began in early 2017 by two highly regarded builders, TRI Pointe Homes and Pardee Construction. The housing consists of 2, 3, 4, 5 and even a few 6 bedroom homes, generally sized from 1,599 sq ft to over 4,000 sq ft. Walking through the models, it's clear the architects made good use of space. Some homes even include a small alcove, specifically intended for fido's long naps.
There are 5 master planned neighborhoods called, Arista, Tierno, Cresta, Verano & Lucera. Verano is a 55 Plus active adult community.
Aliento turned out to be a popular new development but it is now sold out! If you are looking to buy a home in a new development there are more here in Santa Clarita. We offer full reports on nearly all Santa Clarita communities, including more neighborhoods in Canyon Country, Valencia, Saugus, Stevenson Ranch and Newhall.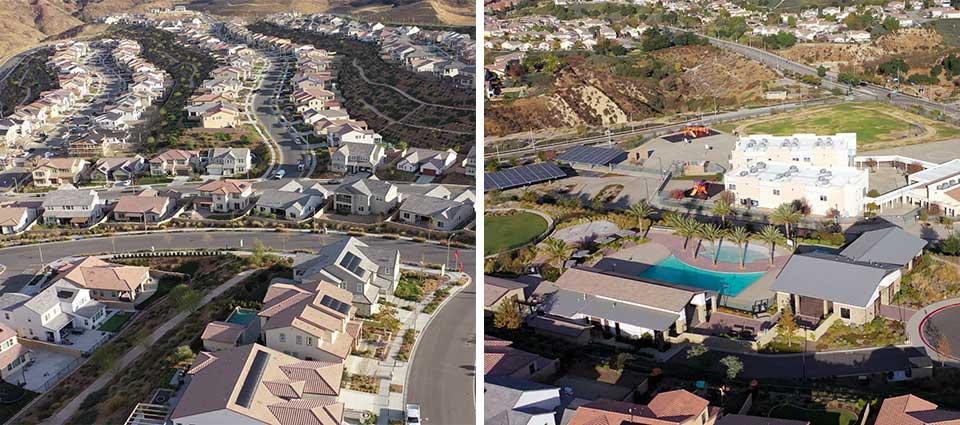 Our Comments About Aliento
We think this community is just terrific but no community is perfect. Although we know it's become common, we're not excited with the extra Mello Roos tax. In most of Aliento, the tax rate is approximately 1.75%, including Mello Roos and any other special bond assessments. Although the 55 plus Verano community does not have Mello Roos, it does require homeowners to pay a second HOA. Of course, they have their own (second) gated entry, clubhouse and pool, so the residents do get something for it.
Fire Zone
The hills surrounding Aliento are beautiful however there is more of a fire risk. Thankfully, there's a fire station right next door.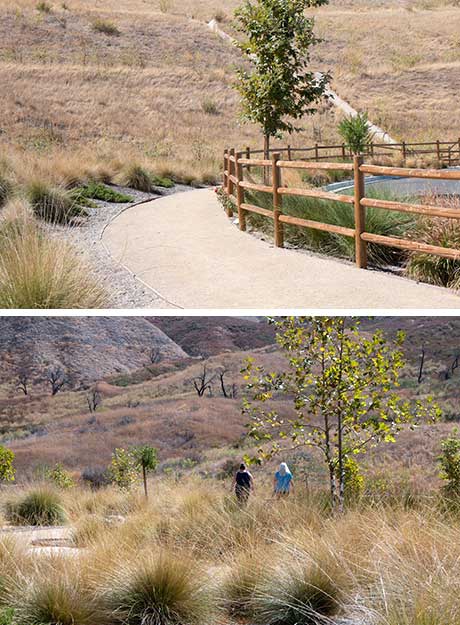 Aliento Common Areas and Trails
This new Aliento community comes with some wonderful common areas and in some ways they are quite unique. You'll notice the trails are not constructed of concrete or paving but instead, they have built hard, sand type surfaces, similar to the base paths on a baseball field or the old tracks around the football fields in local high schools. It really is a nice touch though and when walking or jogging the trails you definitely get the feel of hiking through the hills.
Throughout the neighborhoods you will not see many green lawns or the expansive greenbelts we have come to expect in other local communities. That's because the plan for Aliento is to take advantage of the natural landscape. It's kind of nice the developers were thinking ahead with water conservation in mind, especially helpful for future droughts. Similar to the Aliento common areas, the landscaping for most homes includes drought tolerant plants.
Community HOA Amenities
The private amenities include a large swimming pool for all residents and a second pool, only for Verano residents. There's a wading pool, hot tub, cabanas, play areas, lawn, large clubhouse and recreation center, fitness center, outdoor grilling areas, dog park and the trails mentioned above.
All of Aliento is secured with two sets of gated entries and the residents in Verano have their own set of gates. There is no guard house or anything like that so we assume friends and visitors will have to call a resident when they arrive in order to gain access.
Our Comments on the Aliento Amenities
Yes, we like the natural look and rustic feel of the community and residents will surely enjoy themselves. The dog park is a nice touch and we also noticed the main trailhead at Bothwell Park has bathrooms and a drinking fountain. Very nice indeed!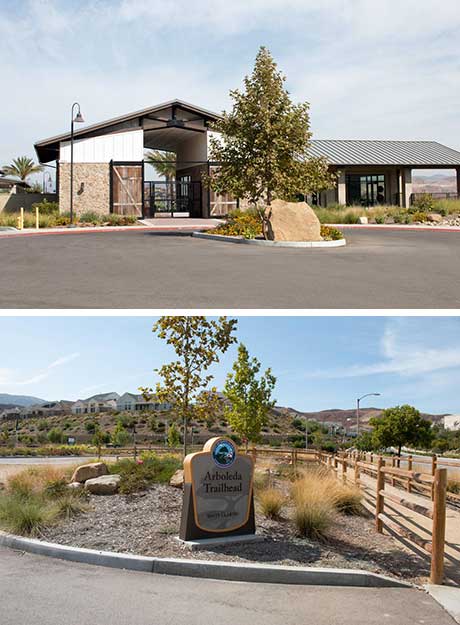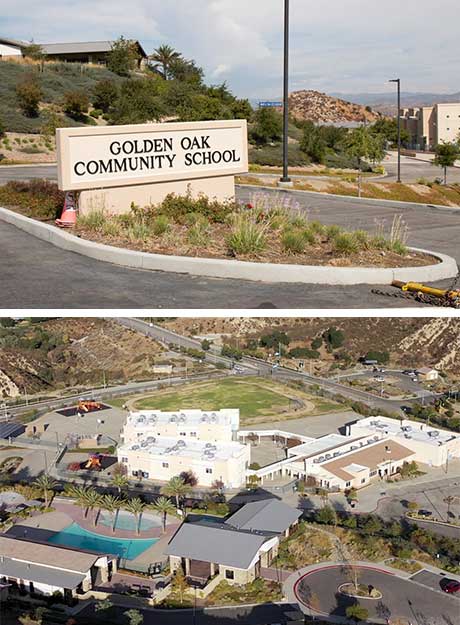 Public Schools & Transportation
Most parents will tell you, the schools in Santa Clarita are fantastic and the schools nearby Aliento are great as well. The elementary school is Golden Oak Community School, located just outside the edge of the community. Golden Valley High and La Mesa Junior High are both a short drive.
We have plenty more information about all the local Santa Clarita schools which includes our handy interactive charts.
There is also the College of the Canyons, Canyon Country Campus located just a few miles north of Aliento. Of course, the full campus is located across town in Valencia.
Transportation
There are bus stops a the edge of the community and the Via Princessa Metro Link station is just a short drive. Residents can park their cars and take the train to work or play.
Nearby Shopping & Dining
At the SW edge of the community residents enjoy easy access to The Plaza at Golden Valley. Then, a little further down the road you'll find perhaps the most popular store in Santa Clarita, Costco!
The Plaza at Golden Valley includes a large variety of stores where residents can find just about anything needed. Locations include:
Lowe's
Costco
Kohl's
Chili's
Chipotle
Target
Panera Bread
Wells Fargo Bank
BevMo!
McDonald's and other fast food
Aliento Homes For Sale
Click the blue button below to view ACTIVE listings of Aliento homes for sale.
Aliento Community Subdivisions and Home Descriptions
All homes in Aliento come with HOA costs which tend to vary depending on which neighborhood you are in. We are seeing monthly dues of $277 or $225 per month but this will change in the future so ALWAYS VERIFY before buying. The Verano 55+ community comes with 2 HOA's. Also, with the exception of Verano, all homes come with Mello Roos.
Verano 55 Plus Homes in Aliento – Built by Pardee Homes

Verano is a 55 Plus, active adult community and is separately gated within Aliento. It has its own clubhouse, pool and recreation areas. Verano residents can enjoy all the amenities in Aliento, plus their own private amenities in Verano. Unfortunately, residents must pay for the extra HOA cost. There is no Mello Roos for homeowners in Verano.
There are a mix of single story and two story homes but if we're being honest, we are a bit disappointed there are not more single stories. Even if you are an active senior, stairs can be difficult.
The single story homes in Verano have 2 or 3 bedrooms and 2 or 2.5 bathrooms, sized from 1,599 sq ft up to 1,686 sq ft. The two story models are sized from 2,063 to 2,470 sq ft with 2 or 3 bedrooms and 2.5 to 3.5 bathrooms. These are super nice homes and would make a perfect place to call your home. We love the look and feel of the entire neighborhood, even though we would like to have seen more single story models.
Be sure to check out more 55 Plus Communities of Santa Clarita.
Arista Homes in Aliento – Built by Pardee Homes
Typically, the Arista homes are larger than most and include some single story homes and even more two story homes. The single story homes are approximately 2,530 sq ft with 3 or 4 bedrooms and 2.5 to 3 bathrooms. The 2 stories have 3 to 6 bedrooms, 4, 5 or 6 bathrooms and sized from 2,976 sq ft all the way up to 4,095 sq ft. We're guessing the average is a little over 3,000 sq ft.
According to the developer, the Arista homes are available in 3 different floor plans. Of course, looking at the photos the homes are quite lovely but keep in mind, these are usually model homes that come with lots of added options and are staged by professional designers. Some of what you see is not what you will get when buying.

Tierno Homes in Aliento – Built by Tri Pointe Homes
Built from 2017 to present the Tierno subdivision includes a nice mix of single story and two story models. Prices originally started at about $650K but most will cost considerably more once you consider the options.
Generally, the single story homes are sized from 2,062 sq ft to 2,408, all with 3 bedrooms and 2 or 2.5 bathrooms. The 2 story homes have 4 or 5 bedrooms and range in size from 2,699 sq ft up to just over 3,200 sq ft. Some of the larger homes come with a casita and/or an outdoor enclosed patio room.
There's so much to share but basically, the interior and exterior designs follow the same basic guidelines as the others. All of the homes utilize the open floor plan design and some of the two story homes include a loft or office.
Cresta Homes in Aliento – Built by Pardee Homes
The homes in Cresta might be considered by some to be the most elegant in Aliento and most are elevated, offering some gorgeous views. Of course, when you combine the oversized houses and amazing views, the prices go up!
As a group Cresta homes are very large, from 3,144 sq ft up to 4,290 sq ft. The single story model comes with 4 or 5 bedrooms, 3.5 to 4.5 bathrooms and sized at approximately 3,144 sq ft. That's one big single story! The two story houses come with 4, 5 or 6 bedrooms and 3 to 5.5 bathrooms. Of course, they follow the same open floor plan layouts with center island kitchens, walk-in pantries, enclosed porches, lofts, offices, dens and much more.
There are so many features included with these homes, it's way too much to describe. Certainly, if your budget enables you to buy homes like these, you MUST visit to have a look. Looking at enhanced photos just doesn't accurately describe what you will actually feel when visiting in person.