Verano Community, Homes and Real Estate
Discover the Verano 55 Plus Community located in Aliento of Santa Clarita. Here we share a full report about this new and dynamic community. Begin your tour by scrolling down to see the video, photos, real estate listings and descriptions about the amenities and more.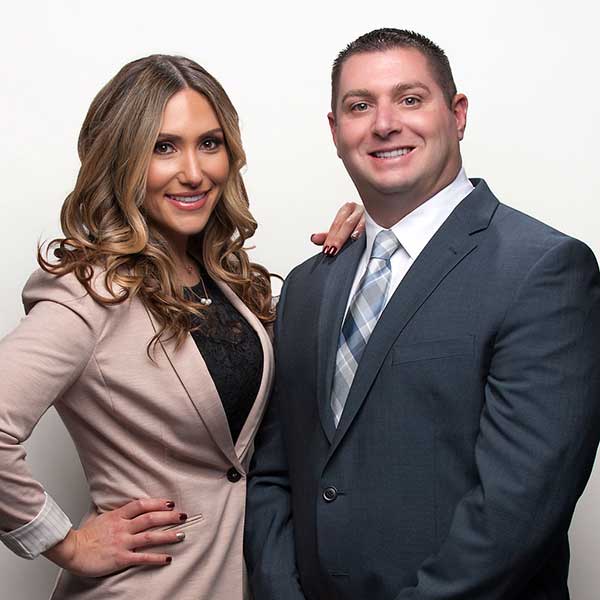 Verano Community Report By
Matt & Meray Gregory
[email protected]

As experienced local REALTORS®, Brokers and Senior Real Estate Experts, we have the expertise & local knowledge to help active adults when buying or selling homes in Verano. Never any sales pressure, whatsoever!

Your Aliento & Verano REALTORS®
DRE# 01463326
DRE# 01831112
Verano 55 Plus Community Overview
Verano is a 55 Plus neighborhood, nestled within the popular Aliento community. You can view it on the map, here. The neighborhood was first developed around 2017 by popular home builder, Pardee Homes. Although Verano itself is in a village like setting, the common areas throughout Aliento have a rustic feel.
Driving to Verano, you first pass through the gates to Aliento, then a second set of gates to gain access to Verano. With two sets of gates, residents are sure to feel safe and secure.
Verano is actually a subdivision of Aliento, but after visiting many would characterize it as more of a village as opposed to a typical neighborhood. It really is quite charming. Residents enjoy their own private amenities at The Club, a popular hotspot with activities and social events well suited for active adults. While visiting on a hot summer day we noticed a number of residents having fun while keeping cool at their resort styled community pool.
Verano is a wonderful community offering a much needed option for active adults looking to purchase a home in an age restricted neighborhood.
Brief Home Descriptions
Typical homes are sized at 3 bedrooms, 2 baths, and an attached 2-car garage. Homeowners enjoy open floor plans and roomy kitchens with quartz counters, stainless appliances, center island with sinks, plenty of cabinet storage and walk-in pantry. Usually, the master bathrooms include dual sinks with separate tubs and showers. The homes include laundry rooms with utility sink.
Scroll down to the bottom of page for more detailed information on the home styles and designs.
Find More Adult Communities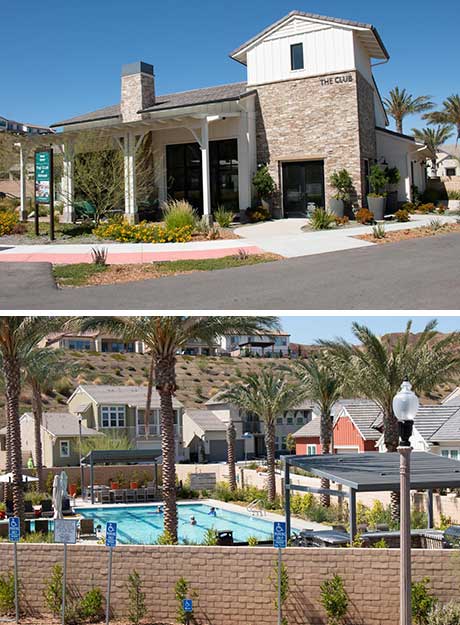 Amenities Geared Toward Active Adults
The amenities here are quite nice. The Club is the social hotspot and a perfect place to gather and socialize. As mentioned, Verano has its own set of gates and amenities but potential buyers should be advised, it comes with a SECOND HOA cost. The upside is, residents also have access to ALL the Aliento AND the Verano amenities. The downside is, there are 2 HOA fees.
Partial List of Amenities for Verano Only
Nicely Appointed Clubhouse & Fitness Center
Outdoor Pool & Hot Tub
Social Bar & WiFi Stations
Bocce Ball & Billiards
Outdoor Meeting Areas
A Great Room & Indoor Fireplace
Community Vertical Garden
BYOB Bar
Wine Lockers are Available
Trails & Dog Park (Aliento)
Nearby Local Conveniences
Everything convenient to Aliento is the same for Verano! Shopping and dining is available at The Plaza at Golden Valley. Then, there's a COSCO located just a short distance further. Locations at The Plaza includes popular spots such as Kohl's, Target, Lowe's, and a few boutique stores. For a nice meal check out Chili's, Panera Bread, The Habit, and yes, even McDonalds. There's also a BevMo!, Wells Fargo Bank, a cleaners, etc.
Have a look at our Aliento community page for more extensive information. It's a helpful resource for anyone considering buying a home in Verano.
Nearby Parks
There are some nice park areas directly within Aliento. Residents also enjoy Fair Oaks Park which is open to the public and located less than 2 miles away. It's quite nice with more trails, a playground, basketball court, sand volley ball and more.
Schools
Nearby schools include Golden Oak Community School, Golden Valley High and La Mesa Junior High.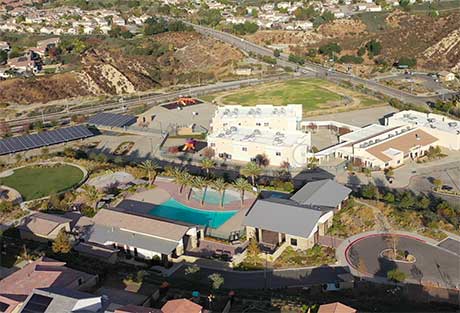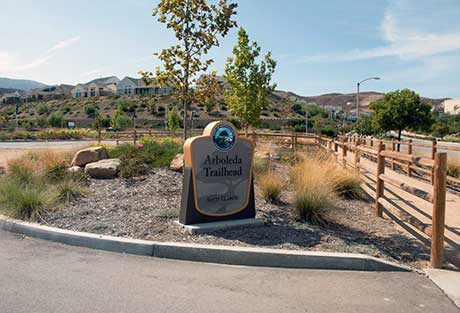 Homes For Sale in Verano AND Other 55+ Neighborhoods in SCV
Because Verano is a small community and still quite new, there may be few, if any homes on the market at a givesCV n time. Click the blue button to see active listings in Verano only. If there are no listings, take a look at listings in multiple 55+ communities. Includes Belcaro, Galloway, Friendly Valley & Verano.
Description of Homes in Verano
The Verano farm style homes are super cute, nicely designed and built to suit the needs of active adults. The architecture fits in nicely with the natural surroundings and picturesque hills of Aliento. There are no condominiums or townhomes and all of the homes are considered to be houses, or single family homes. The homes include a mix of single story and two story homes, but in most two story homes the master bedroom is conveniently located downstairs.
Home Layouts and Sizes
The Verano homes come in a variety of floor plans, sized from 1,599 to 2,470 sq ft. Homeowners enjoy large, open floor plans with 2 or 3 bedrooms and from 2 to 3.5 bathrooms. Walking through the model homes, we noticed some include convenient features such as a curb-less shower entry, pet wash sink, and even a small pet bed alcove located adjacent to the master bedroom. Most of the two story homes have a loft and/or a upstairs balcony, a perfect spot to relax and enjoy a cup of coffee in the morning or perhaps a cool beverage in the evening.
Our Thoughts about Verano
We love everything about the Verano community, especially the homes. Even though we'd like to see more single story homes, the two story models can work as well. Most active adults can make their way up the stairs and the second floor is nicely laid out for guests and the grandchildren will love it!
Remember, the model homes shown in the gallery above are professionally staged. They often include options that are NOT included in the starting prices. Also, when considering price don't forget about your (2) monthly HOA costs.
Professional REALTOR® Representation
Please contact us to schedule a consultation. Once we know of your needs, we'll go to work finding a suitable home, provide expert representation and share everything we know about Verano, Aliento and any other active adult communities in SCV.
It costs you $0 for us to represent you with your purchase. Most importantly, we will provide you with the information you need to make accurate and informed decisions. We'll guide you every step of the way.