Galloway 55 Plus Community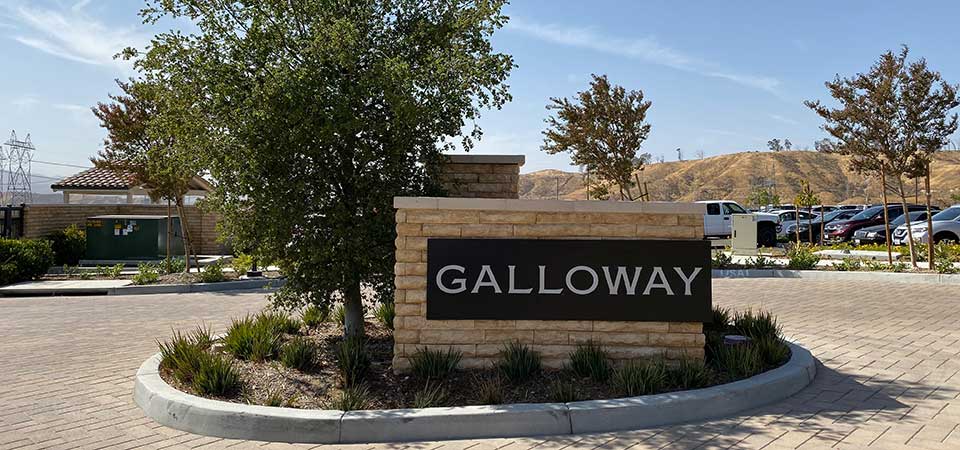 Galloway is an active adult community located on the map in Saugus of Santa Clarita and part of the Five Knolls masterplan. The neighborhood is situated in it's own separate gated subdivision, just across the street on the other side of Golden Valley Road. Scroll down to see our community video, listings of homes for sale, photos and first hand descriptions of the homes and amenities.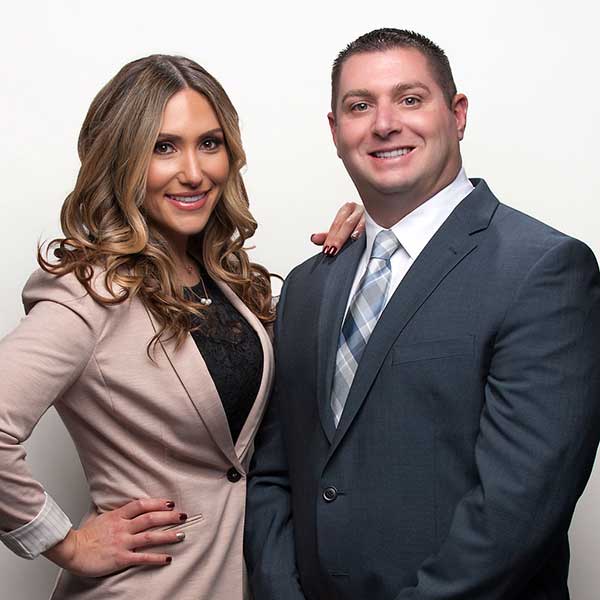 Galloway Community Report By
Matt & Meray Gregory
[email protected]

As experienced local REALTORS®, Brokers and designated senior real estate specialists, we'll provide the advantages you need when selling your home and buying in Galloway.

Your Galloway SRES REALTORS®
DRE# 01463326
DRE# 01831112
Galloway 55 Plus Community Introduction
Built by Lennar, Galloway was the last neighborhood built as part of the Five Knolls development. This 55+ neighborhood is quite beautiful and designed specifically for active adults at least 55 years of age.
The contemporary styled homes are designed with open floor plans, with the 2 story models sized from approximately 1,840 sq ft up to 2,458 sq ft and come with 1, 2 or 3 bedrooms. There are a few single story homes sized at 1,401 sq ft. In the 2 story homes, the master bedrooms and primary living space is situated downstairs. Depending on the home, many include a loft, bonus room, den, outdoor deck or perhaps a California room. The homes also come with a 2 bay garage.
The Galloway homes are energy efficient, WiFi certified and include smart devices with voice control by Alexa.
Although the neighborhood has it's own recreational amenities, it's also next door to the Santa Clarita Senior Center. Residents can enjoy recreation and activities within Galloway, or step next door to join the fun at the senior center. How cool is that?
Our Thoughts About Galloway
Overall, the community comes with plenty of benefits and there's a lot to like! First, Galloway is very new and the overall Five Knolls is just beautiful. We really like the dog park at Golden Valley Park and the Bella Vida senior center in such close proximity. Certainly, if you're an active adult looking to buy a great home in a new, comfortable neighborhood, be sure to check out Galloway.
We would have liked to have seen more single story homes. Also, when you combine the cost of a new home, the monthly HOA cost, these homes could end up being a bit pricey for some local seniors.
Helpful Tip
NOTE: Just because some neighborhoods are NOT specifically designated as age restricted for adults, that does NOT mean there are no other suitable neighborhoods that would work well for active adults. In truth, there of plenty of homes in other neighborhoods that would work just fine. As longtime realtors and lifetime SCV residents, we're able to use our local knowledge to help our clients find suitable homes, sometimes when others cannot.
Matt & Meray Gregory
Find More Adult Communities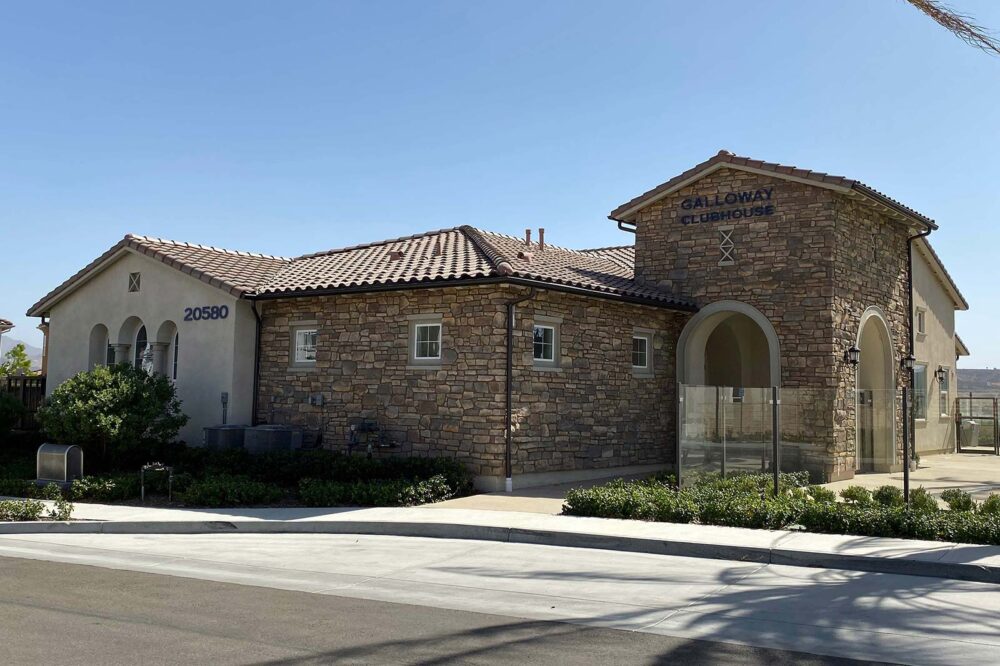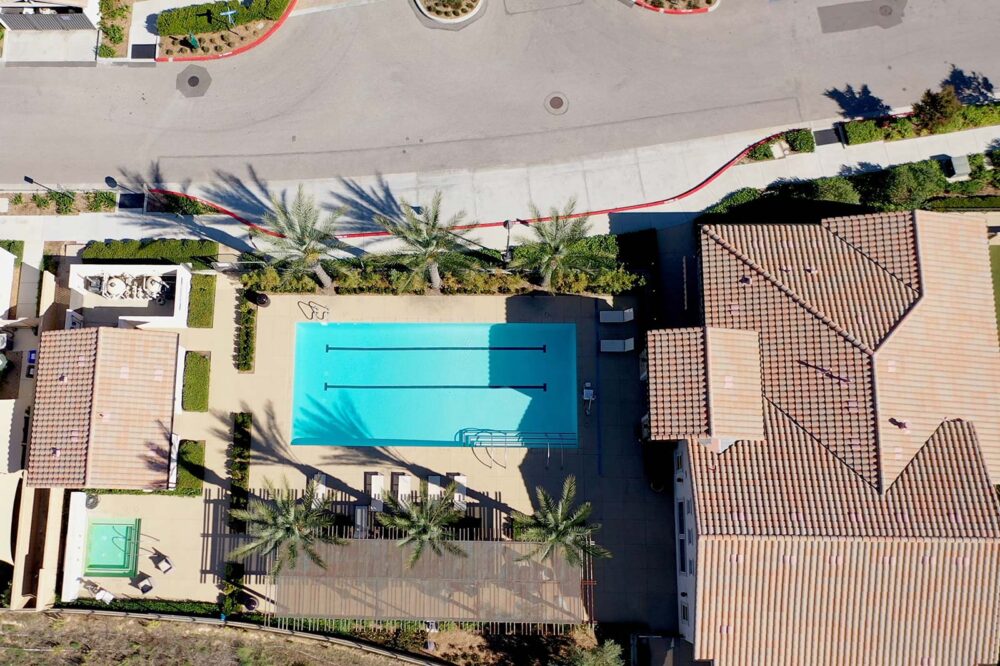 Galloway Amenities for Active Adults
Although we've seen more recreational amenities in other neighborhoods, those here in Galloway are not bad and since the Senior Center is just next door, residents are all set. Galloway is a gated community so residents can rest easy with an added layer of security. There's an upscale clubhouse, outdoor kitchen, fire pit & enclosed lounge. The swimming pool is intended for healthy lap swimming as opposed to just fun and games. Then, there's a wonderful whirlpool type spa, perfect for warmth and relaxation.
The Club is the HUB for a variety of fun activities and social events. This really is a terrific community to make your home and has become quite popular among the 55+ crowd.
Trails
Local residents also enjoy easy access to developed trails that extend for miles throughout most of Santa Clarita. There's gated access main trail system located at the west edge of the neighborhood.
HOA Cost
Before making an offer to buy, be sure to verify the monthly dues and review the HOA rules and regulations.
Nearby Local Conveniences
It's just a short drive to shopping and dining at locations such as Walmart, Sam's Club, Backyard Grub N' Brews, Rattler's Restaurant and more.
Golden Valley Park
Golden Valley Park is located just across the street at the base of Five Knolls. The park includes 2 large enclosed dog runs, a playground, expansive greenbelt, covered picnic areas, trails and more.
Senior Center
The Santa Clarita Senior Center is conveniently located just next door to Galloway. Also known as "Bella Vida", the center was also built around the same time as Galloway and it really is a terrific resource for local seniors.
For information about schools and more local conveniences, check out our Five Knolls community report.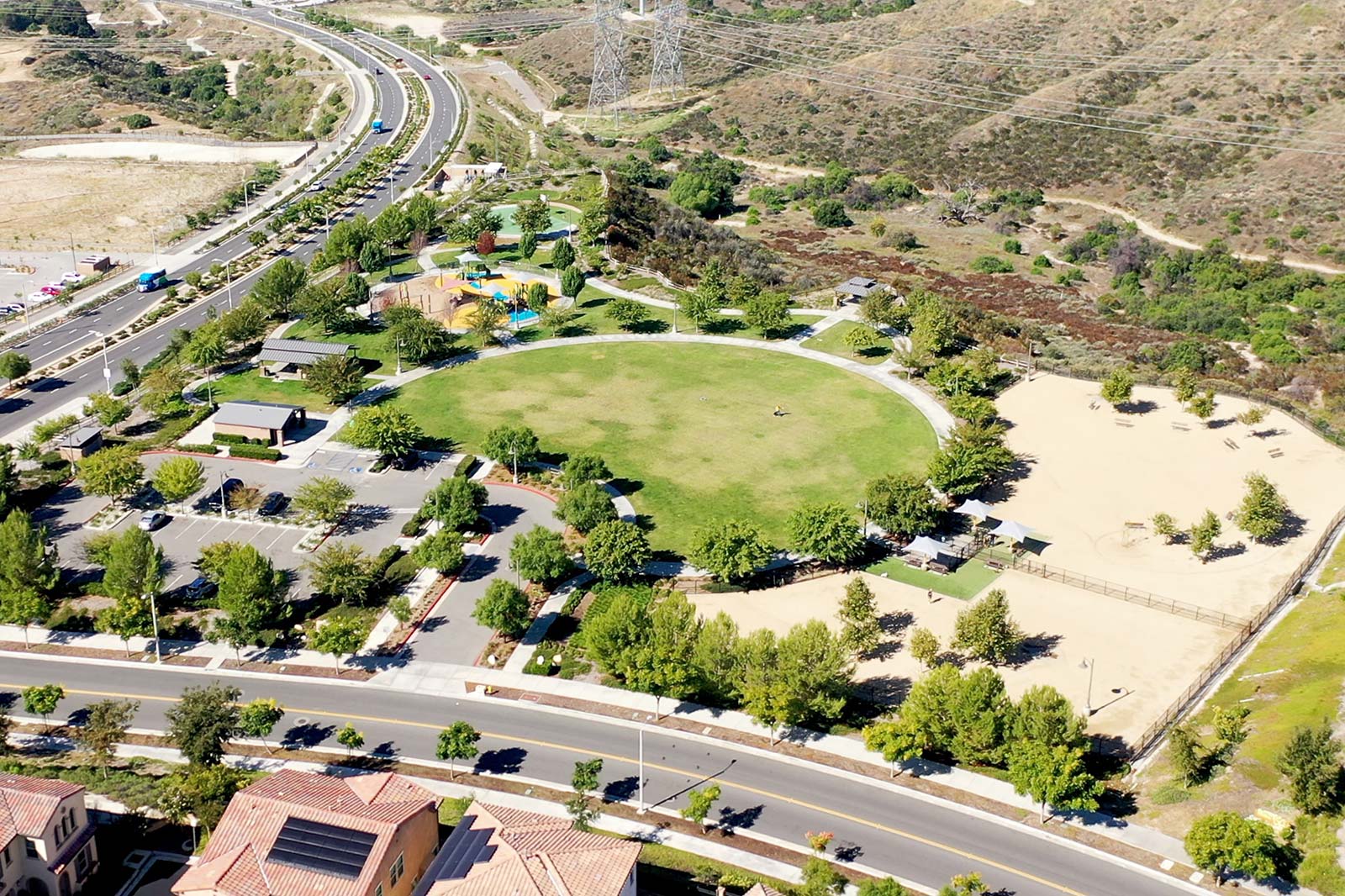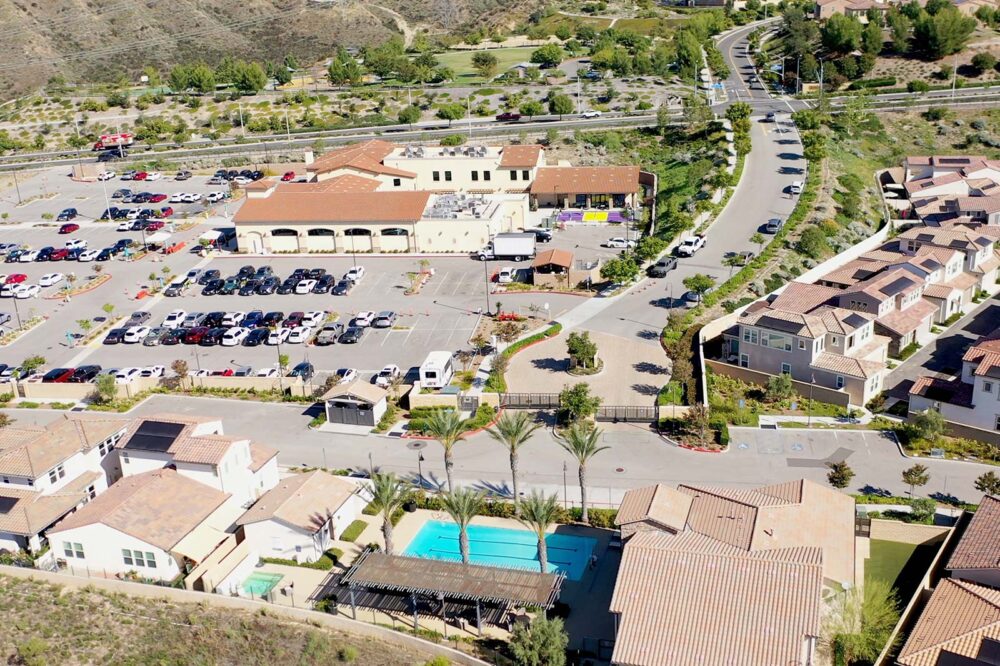 Galloway 55 Plus Homes For Sale
Galloway is a relatively small community and it's very possible there will be few homes on the market at a given time. For more options, see our community reports for other active adult communities in Santa Clarita.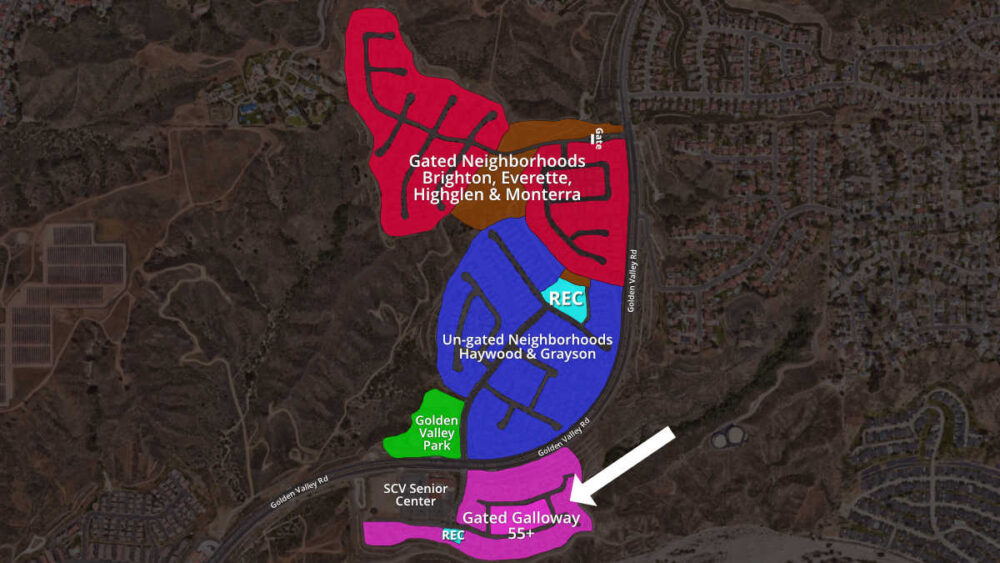 Descriptions of Homes in Galloway
The homes in Galloway are mostly 2 story homes but they also offer a number of attractive single story houses as well. The 2 story homes in Galloway are nicely styled with open floor plans and all the most important living space is downstairs. Each home has a covered patio, laundry room, walk in closets and more. All homes are solar powered, energy efficient and there's Wifi throughout. Residents can connect their smart home to their smart devices throughout the entire home and manage everything via Alexa.

Below, we provide a brief summary of each home type. If you are even slightly interested in buying a home here, be sure to contact us for a consultation. We've toured all the models and the home interiors are quite impressive. Also, if you're not a fan of yard maintenance, the majority of the homes have small, patio sized back yards. While there are a few homes with larger yards, most are very small.
Home Type 1
Sized at approximately 1,840 sq ft, these homes are available in a few different designs. This home type typically includes 1 bedroom, 1 bathroom, 2 half bathrooms, bonus room, den or office, a California room and a 2 bay garage. Some homes might come with a second bedroom and bath instead of the den or office and powder room.
Home Type 2
Sized at approximately 2,056 sq ft, the houses are also available in a four similar but unique styles. Out of the box, homes come with 3 bedrooms, 3 bathrooms, bonus room, California room and a 2 car garage.
Home Type 3
Sized at approximately 2,458 sq ft, this third home is available in 2 similar designs. This home type typically includes 3 bedrooms, 3 bathrooms, bonus room, California Room a covered deck and a 2 car garage.
Single Story Home
Sized at approximately 1,409 sq ft, this home makes great use of space and certainly feels larger than it is. The home comes in 3 different designs and includes 2 bedrooms, 2 full sized bathrooms and a 2 car garage.