Five Knolls Community, Homes and Neighborhoods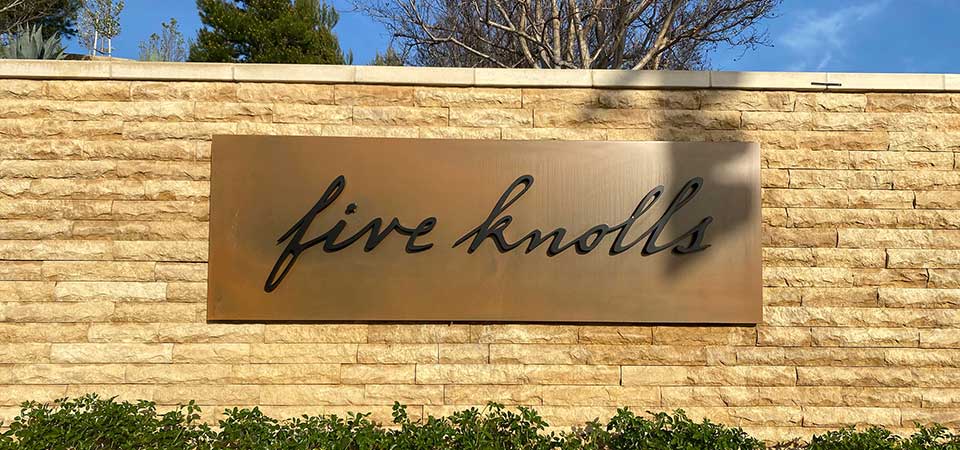 The Five Knolls community is located on the map, situated on both sides of Golden Valley Road, just north of Newhall Ranch Road. Development began around 2015 making Five Knolls a welcome addition to our neighborhoods in Saugus. Also, as of late 2021, the new Galloway active adult neighborhood is complete.
Scroll down to watch the video, see the photo gallery, find links to homes for sale and read our first hand descriptions about each subdivision in this popular community.
Mello Roos
Most Neighborhoods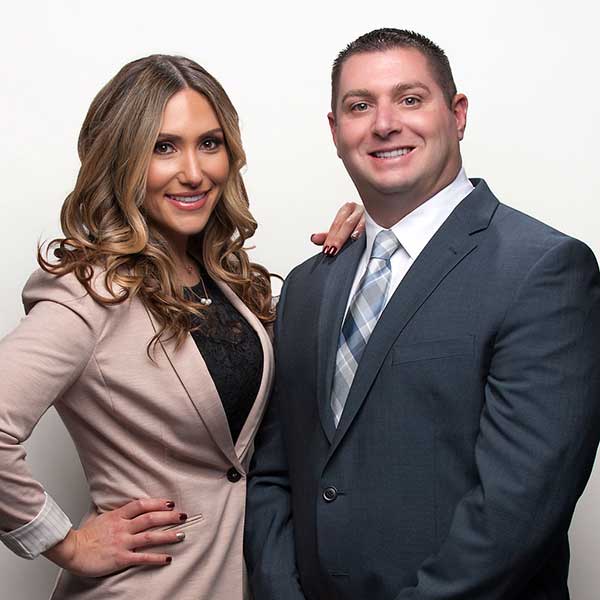 Five Knolls Report By
Matt & Meray Gregory
[email protected]

As local REALTORS®, Brokers AND life long Santa Clarita residents, we have the expertise & local knowledge to help when it's time to buy or sell your home.

Your Five Knolls REALTORS®
DRE# 01463326
DRE# 01831112
Five Knolls Community Video
Five Knolls Community Overview
Those interested in visiting Five Knolls should know, there are 3 different entry points as indicated on our map displayed further down the page. There is un-gated access to the Grayson and Haywood neighborhoods via Five Knolls Drive. Next is the gated entrance to The Heights, accessible from Claremore Way. The Heights is generally thought to consist of 4 neighborhoods called Highglen, Everett, Monterra and Brighton. There's also a separate gated entry to the new 55 Plus Galloway community, also located off of Five Knolls Drive, but on the south side of Golden Valley Road.
The homes in Five Knolls are known to be spacious, energy efficient with open floor plans and include some of the latest in home technology. Most homes include a primary bedroom and bathroom suite, a loft, an upstairs laundry room and often there is one bedroom and bathroom situated downstairs.
Five Knolls has been subdivided into 7 amazing neighborhoods and each has something a little different to offer. If you're interested in a large home with a view, you might like the Everett or Highglen neighborhoods. If you prefer a smaller home take a look in the Grayson or Haywood neighborhoods.
We love how the primary clubhouse and recreation area are laid out in relation to the neighborhood. In some communities the recreation areas are tight and seem to be squeezed in. That's not true here in Five Knolls. Overall, the builder allocated plenty of land and some areas have a resort like feel!
Our Thoughts About Five Knolls
As longtime local real estate professionals and lifelong Santa Clarita residents, we think Five Knolls is a terrific community. The homes here are well built, common areas are nicely landscaped and the amenities are lovely. Yes, we would recommend this area to our family and friends. The only downside is, there Mello Roos in all neighborhoods except Galloway. Although possible, it's tough to find a home in a newer neighborhood without a Mello Roos.
If considering buying a home in an active adult community, check out our 55 Plus communities in Santa Clarita. Should you determine Five Knolls is not what you were looking for, we have plenty more reports about most Santa Clarita communities.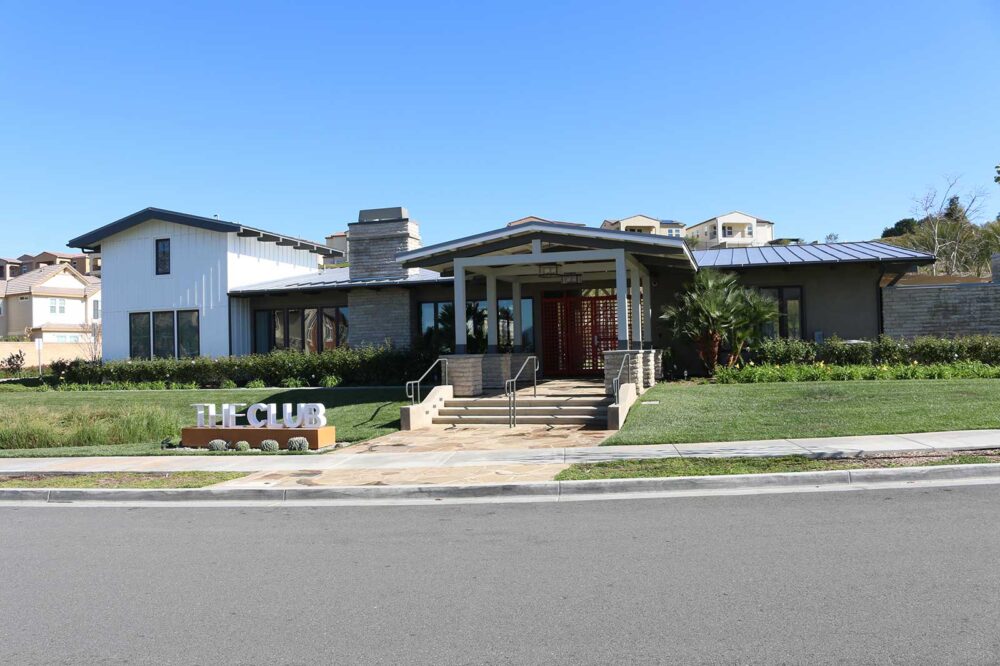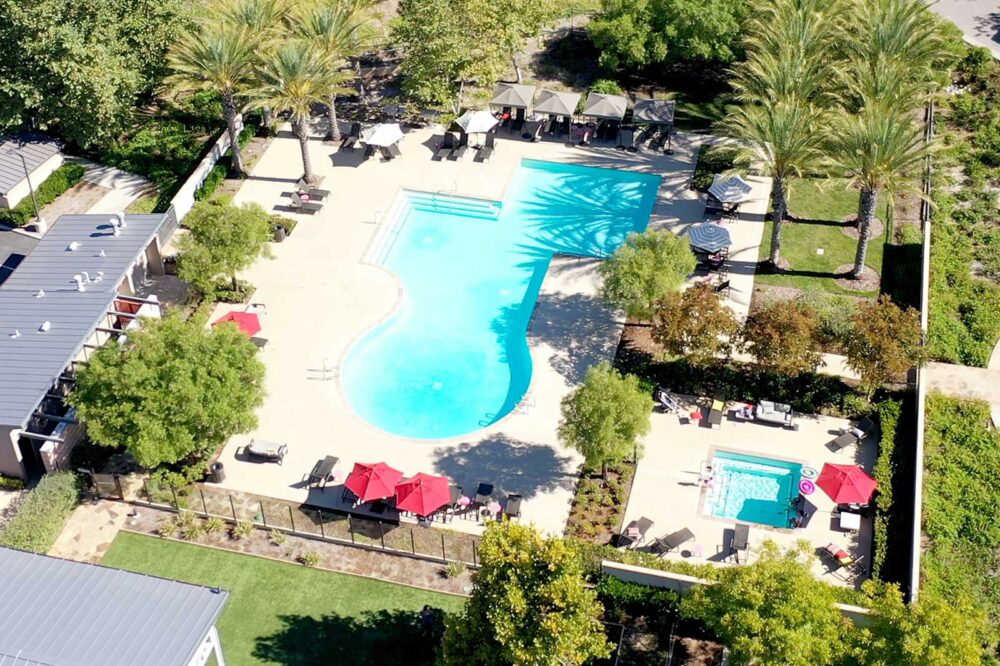 Five Knolls Community Amenities
The amenities of Five Knolls are terrific and remind us of a mini resort. There's are hiking trails which conveniently connect the upper and lower portions of the community. Hikers will find a lovely Butterfly Knoll along the way.
The HOA clubhouse is called "The Club" and conveniently located at the un-gated portion of Five Knolls. There's a swimming pool, hot tub, clubhouse, playground, barbecues and a sport court. The large designer swimming pool is gorgeous, with plenty of room for lap swimming or fun & games. The Clubhouse fits nicely within the community.
Hindsight is perfect, but it would be nice if there was a second recreation center within the gated neighborhoods. Galloway has their own amenities.
The HOA amenities are appreciated but it's no surprise, they also come with monthly dues. With the exception of Galloway, there is also a Mello Roos. The amounts vary, so if planning to buy in Five Knolls be sure verify first. It's so important to know the correct Mello Roos and HOA amounts, because the final numbers are factored into the loan equation.
Schools & Local Conveniences
Nearby schools include Emblem Academy Elementary, Golden Valley High and La Mesa Junior High. There is no elementary school in Five Knolls or within walking distance. If planning to buy a home in Five Knolls and have children, be sure to verify the attendance boundaries. As it happens, Five Knolls is smack in the middle of the boundaries. You can view the William S. Hart School boundaries map here. For elementary schools, check out the school locater.
Local Conveniences
Although there is no convenience shopping and dining within walking distance, it's a short drive to places such as Dick's Sporting Goods, Rattler's Bar B Que, Starbucks, Walmart, Sam's Club & more.
Golden Valley Public Park is situated at the base of the community. There's a picnic area, dog park, playground, basketball court, trails and an expansive greenbelt. The dog park has two separate areas, one for larger dogs and another for the little guys. There's lots of room for the dogs to run & play without residents having to worry about them running amuck!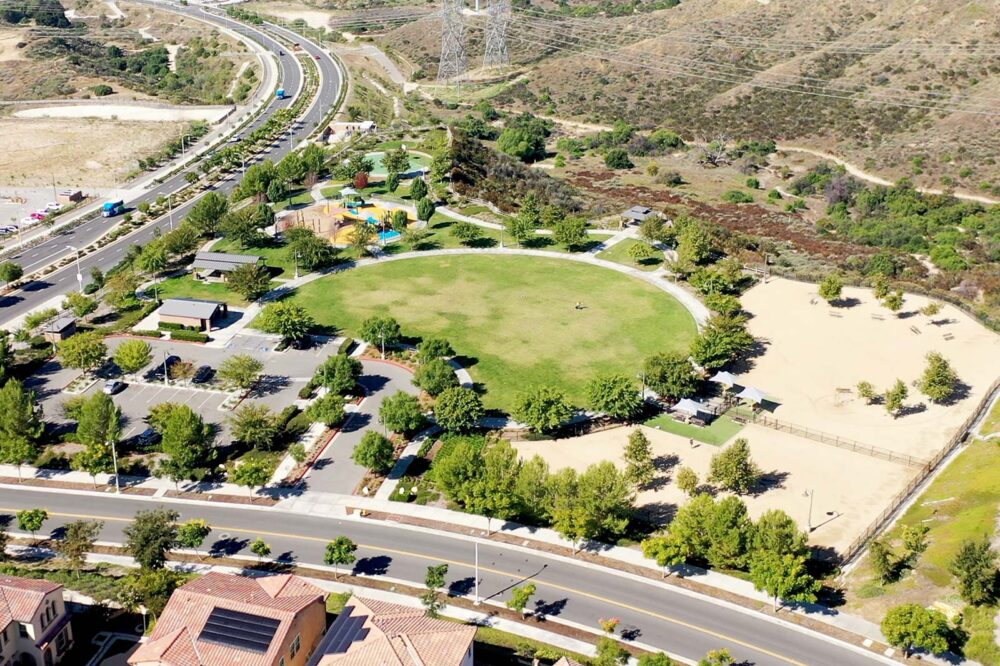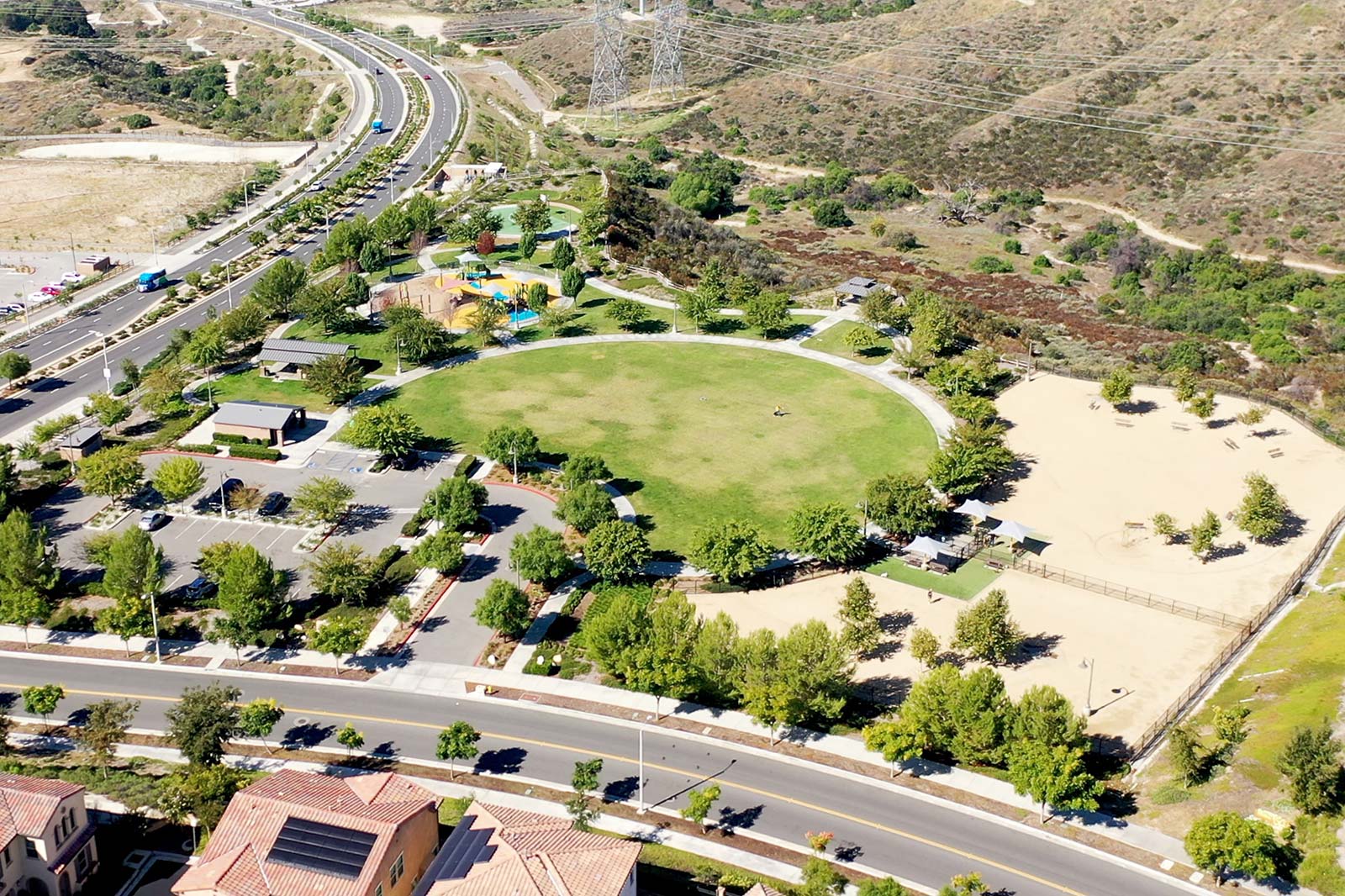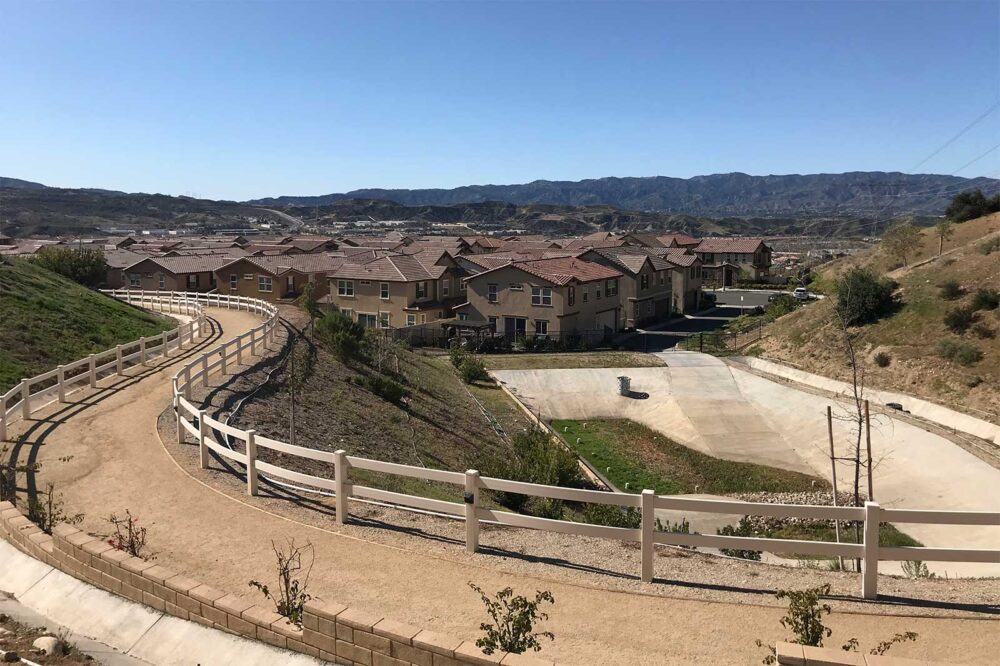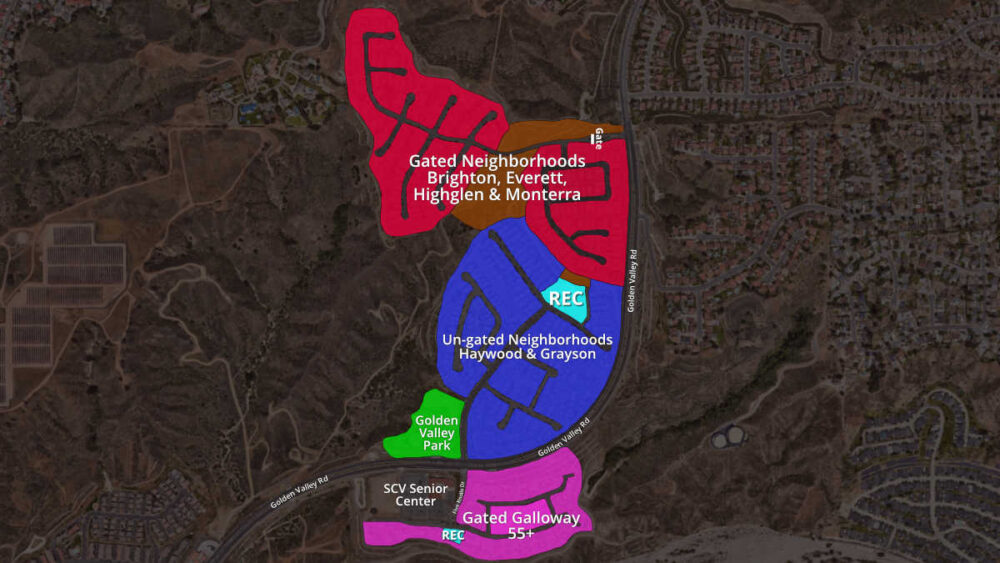 Five Knolls Homes For Sale
Click the View Active Listings button to see homes on the market immediately. We also offer our FREE home search app, perfect for those on the go. Works great on all smart phones and tablets.
Not Finding Your Perfect Home?
Homes For Sale in ALL of Saugus
There are plenty more Saugus communities to consider and you can also contact us to schedule a consultation. With us, there's NEVER any sales pressure and we enjoy helping our clients find suitable homes in all communities. Contact Matt & Meray Gregory by sending an email to [email protected].
7 Neighborhoods of Five Knolls
Five Knolls is one of our personal favorite newer communities. We love the unique Butterfly Knoll and encourage all interested buyers to take a walk along the trails to get a good idea of what the neighborhoods are like.While there, be sure to visit the park at the base of the community.
The first four communities, Brighton, Everett, Highglen and Monterra are located in the gated section of Five Knolls. The Haywood and Grayson neighborhoods are not gated, however, The Club and other amenities are also conveniently located in this area. The Galloway 55+ community is also gated but it's situated separately, in its own area.
Brighton
The typical homes in the Brighton subdivision are sized from approximately 3,000 sq ft up to 3,600 sq ft and come with 4 or 5 bedrooms, 4 bathrooms and a loft. Yep, these are large and beautiful homes. Many have covered front porches, vaulted ceilings, and tandem 3 car garages. You might also find a cute upstairs Juliet type balcony or a deck. Most homes come with one bedroom downstairs with a connected bathroom and a powder room for guests. There should also be a convenient upstairs laundry room.

Everett
As the name implies, many homes in this neighborhood come with a view. Built in 2015 thru 2017, homes are sized from 2,724 sq ft to 3,159 sq ft. Although you might find a few 5 bedroom homes, most come with 3 bedrooms and 2 or 3 bathrooms. Then, there is usually a spacious loft that could easily be turned into a 4th bedroom.
Highglen
The Highglen neighborhood is where you'll find the most luxurious homes in Five Knolls. These are elegantly styled, large 4,000 sq ft + homes typically featuring 5 bedrooms, 4 or 5 bathrooms and all the trimmings. There are master suites, lofts, family rooms, dens and more.
Haywood
3 or 4 bedrooms and 2.5 or 3 bathrooms sized from around 1,856 to 2,241 sq ft.
Monterra
The homes in Monterra are sized from 3,500 to almost 4,000 sq ft and although you might find a few 6 bedroom homes, most have 5 bedrooms and 4 or 5 bathrooms. Just gorgeous, the homes come with everything you might expect to find in a modern and contemporary new development.
Grayson
The Grayson neighborhood generally consists of 4 bedroom, 3 bathroom homes, typically sized from 2,121 to 2,563 sq ft. The contemporary Italian or Spanish exterior architecture is a nice touch and a common theme throughout the neighborhood. There is usually a bedroom and bathroom located downstairs. Usually the Master Bedroom/Bathroom is actually a spacious suite.
Galloway 55+
Galloway is a lovely active adult community for those at least 55 years of age. Learn more about Galloway here.