Valencia Belcaro Community, Homes and Real Estate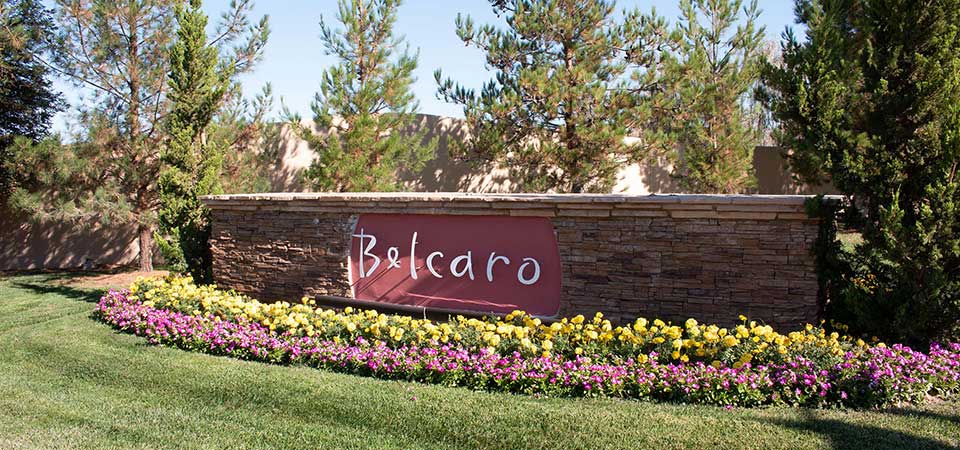 If you've been looking to buy a home in that special 55 Plus community, Belcaro is the place to be. Belcaro is located on the map in Valencia, CA, just west of McBean Parkway and south of Copper Hill Drive. Here we provide extensive, first hand local information specifically about Belcaro. Of ALL the active adult communities in Santa Clarita, some feel Belcaro is the BEST! Scroll down to watch the video, view the photos, find information about the amenities, neighborhoods and listings of homes for sale.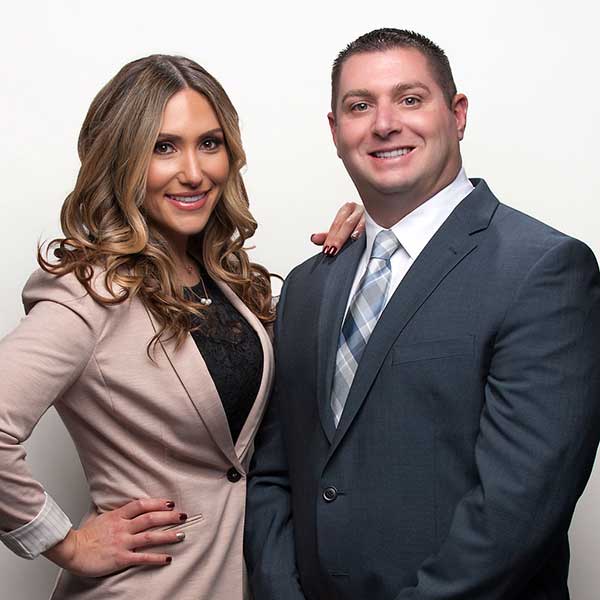 Belcaro Community Report By
Matt & Meray Gregory
[email protected]

We are local Valencia REALTORS®/Brokers, designated Senior Real Estate Specialists, AND lifelong residents. With us there's NEVER any sales pressure, whatsoever.

Your Belcaro REALTORS®
DRE# 01463326
DRE# 01831112
Belcaro 55 Plus Community Overview
The exclusive homes and neighborhoods in the Valencia Belcaro community were built from 2003 to 2005 and intended for residents at least 55 years of age. Driving through the community for the first time, you'll notice it really is quite beautiful. The entire neighborhood is fresh, clean and well maintained. When you see the amenities you'll immediately be reminded of a mini styled resort. Yes, the amenities here are remarkable and include a variety of activities especially suited for active senior residents.
Belcaro Security
There are 2 gated vehicle entries off of McBean Parkway. The main entrance at Grove House Drive has a gate and a guard. The 2nd gated vehicle entry is on Creek View Drive but there's no guard house.
There are numerous other pedestrian gates throughout the community including the gates at the back of the property enabling residents easy access to the Santa Clarita trail systems.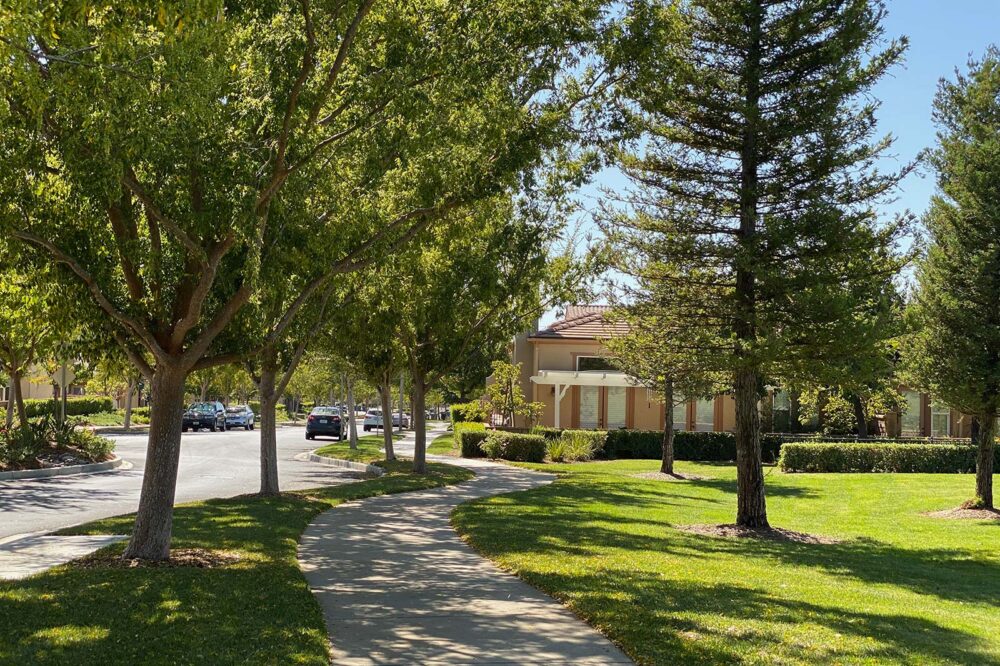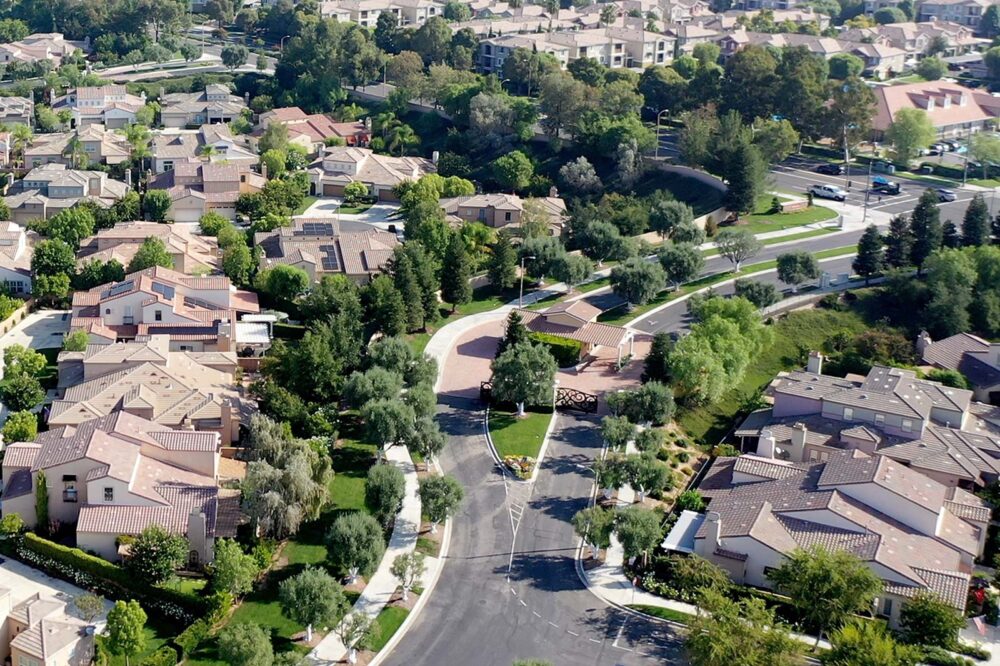 Valencia Belcaro Senior Living Neighborhoods and Homes
Overall, the homes are just outstanding and almost every real estate listing accurately refers to the community as a 55+ resort! Most of the home interiors we've seen have an elegant look and feel. Many have been extensively upgraded so you can expect to find some stylish interior decor.
Most homes come with a 2 car garage and laundry room. Even if the listings say there are 2 or 3 bedrooms, you can bet there's an extra room to be used as an office or den. We've seen homes that have a separate guest quarters, perfect for those caring for elderly family members.
With regard to the housing prices, the homes do run on the expensive side. Unfortunately, Belcaro may not fit the budget for some seniors.

Gregory Real Estate Group Comments
This really is an amazing community with a ton of upsides and there's very few downsides. However, no neighborhood is perfect. Belcaro is considered an active senior living community and it would have been nice if there were a few more single story homes. Maybe a 55 year old has no trouble going up and down stairs, but as we age it becomes much more difficult.
There is 1% enhancement fee required when you purchase a home in Belcaro. Although the HOA dues are on the higher side, we think it's worth it for the added security and terrific amenities. It is truly an exceptional community!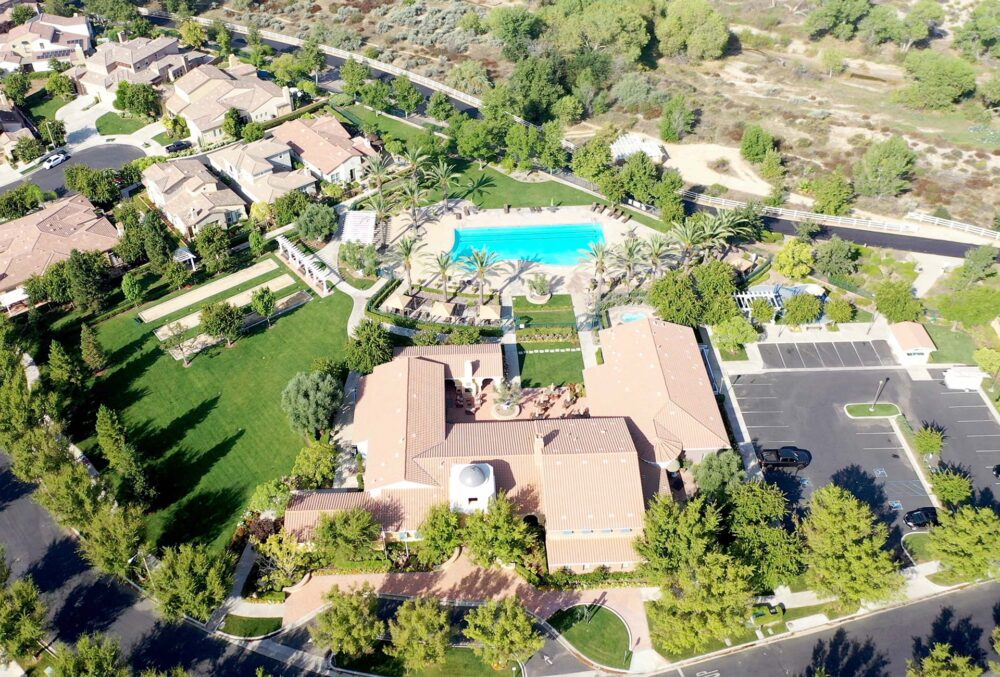 There are two Belcaro neighborhoods, the Greens and Liberty. What's the difference? The answer is, not much. Be sure to scroll down near the bottom to read accurate descriptions of each subdivision.
Neighboring Communities
Some locals think Valencia Belcaro is a part of the North Park community, but this is incorrect. Belcaro is on it's own, actually nestled between the North Park and West Creek communities.

Senior Communities With Age Restrictions
There are plenty of 55+ apartment communities but those are for rentals only. If you're looking to buy a home in an active adult living community, see the following list.
Find More Adult Communities
Non Age Restricted Communities
A home does NOT necessarily need to be in an age restricted neighborhood in order to be suitable for active adults! There are plenty more neighborhoods in Santa Clarita with homes appropriate for active adults. As active SRES REALTORS® and life long SCV residents, we have the local insights to help our clients find suitable homes, even if not specifically labeled for active adults. [email protected]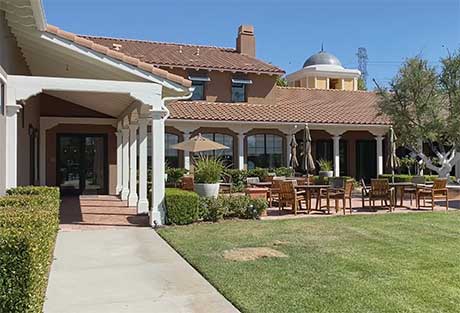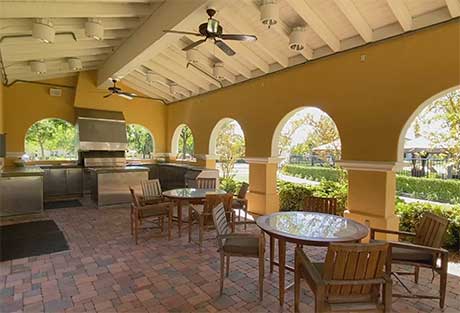 Belcaro Resort Style Amenities
Belcaro residents enjoy the use of a nicely appointed clubhouse called Grovehouse. The building is sized at over 9,000 SF and conveniently located within the community, setting the stage for all the amenities.
Since the amenities include a nicely equipped gym some residents have even dropped their outside gym memberships! All the workout equipment needed is available including a variety of machines for many types of exercise. Once done with workouts the locals can get a coffee or refreshing beverage at the juice bar. It doesn't stop there! There's a spa where you can get a healthy massage, then perhaps check out a show at the performing arts studio. There is even a concierge for scheduling reservations or buying admission to various events. There is also a very nice banquet room, library, conference area, card room, and even a game room.
Visitors are often impressed with the large community swimming pool surrounded by well designed cabanas and a stylish terrace overlooking the works. The pool is 25 meters long, perfect for lap swimming doing whichever stroke you prefer. The hot tub is great way to warm up on those cooler evenings.
More Belcaro Amenities
All Belcaro residents enjoy the pool area, especially since they can utilize the kitchen area and outdoor fireplace. Some of the barbecue events of the past have become legendary!
More amenities include basketball courts, paddle tennis courts, a tennis court and even a small playground for when the little ones come for a visit. Oh, we love the community garden located at the south edge of the community. Overall, the amenities are terrific and geared especially for the interests and comfort of the residents.
Access to Developed Trails
Residents can hit the trails, easily accessible via two secure gates at the rear of the community. The San Francisquito trail runs parallel to the community and connects to over 100 miles of trails in Santa Clarita.
The trails are paved and intended for walking, jogging, bicycle riding and skating. Belcaro residents are often seen gathering just outside the back gates, both before and after using the trails.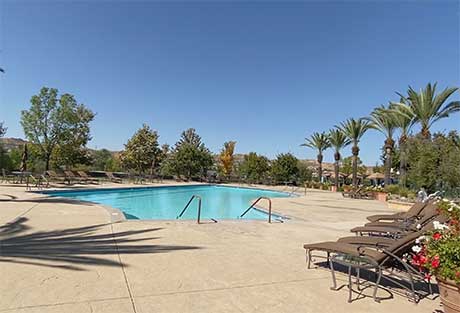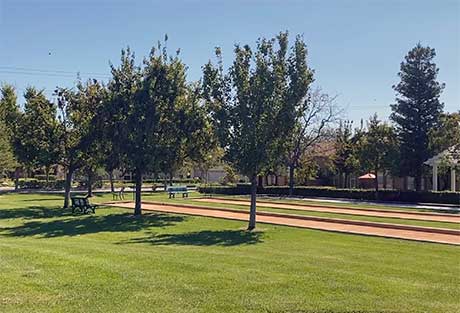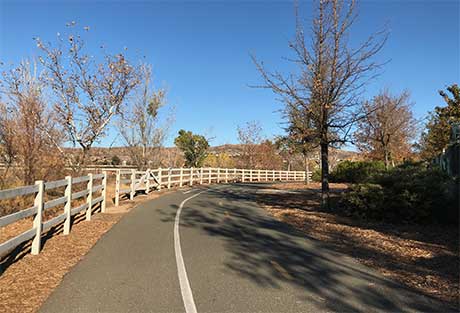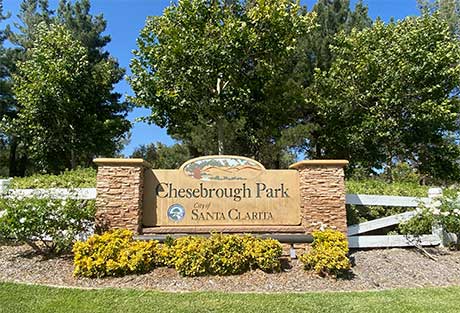 Schools And Local Conveniences
Schools
Since Belcaro is a "55 plus" community this may be a mute point. The schools nearby include North Park Elementary, Rio Norte Junior High and Valencia High School. North Park and Rio Norte are both within easy walking distance.
Public Transportation
Another nice tidbit of information is, Belcaro has a bus stop and bench located just outside the main gates on McBean Pkwy.
Convenience Shopping
Residents have easy access to either the Tesoro Village shopping center or the North Park Village Square. Combined, the 2 shopping centers offer plenty of convenience locations for local residents.
Parks
There is no park directly within Belcaro however, residents can easily access North Park's Chesebrough Park, located perhaps 1/4 mile down McBean Pkwy, on the east side of the street. Also, it's an easy walk West Creek Park which is accessible via the trail system. There's also West Creek Park a little further away to the west.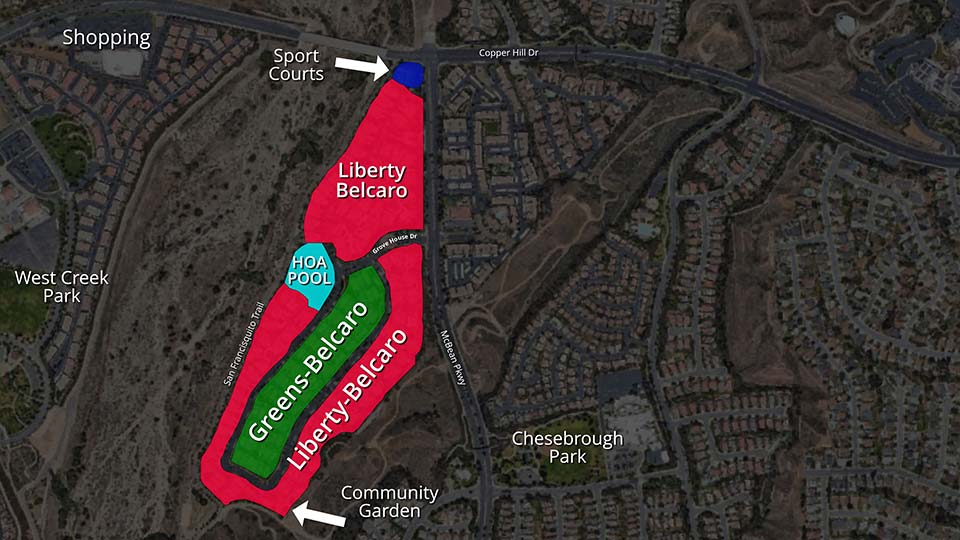 Belcaro Community Real Estate for 55+
Click the blue button to see current listings of homes for sale in Belcaro only. If there are no homes on the market at this time, try having a look at ALL SCV 55+ Listings.
TIP: While doing a quick scan of listings in Belcaro or any other neighborhood, don't be fooled with the number of bedrooms listed. Don't automatically think there are not enough rooms in the homes. For example, when a listing is shown as a 3 + 2, there might also be guest rooms, bonus rooms, offices, lofts, flex rooms, family rooms or dens.
Description of the Belcaro Subdivisions
There are two primary Belcaro neighborhoods, subdivisions called the Greens and Liberty.
The GREENS-Belcaro Subdivision
The Greens are a smaller grouping of homes situated in the center of the community. These are considered to be garden type homes, thus the Greens name. The homes are sized from 1,693 sq ft to 2,430 sq ft come with 2 or 3 bedrooms. Generally, the smaller homes have 2 bathrooms and the larger have 3, or at least a half bath as the third. There are no extremely large homes over 3,000 sf, but they are very nice and often feel quite roomy due to the open floor plans. Some of the homes have courtyard type entrance.
Example Listing Description for 1,696 sf Home in The Greens
A typical description for one of the smaller homes might be something like this:
Kitchen With breakfast bar with ample storage! Living rooms often have a fireplace and a formal dinbing to the side. There's usually an office or den. Many of these homes have a terrific master suite with walkin closets. The rooms sizes are large and most homes have a front patio. Each home includes a laundry room and a 2 Car Attached Garage.
The Liberty-Belcaro Subdivision
The Liberty houses are situated around the perimeter of Belcaro. These are 2 and 3 bedroom homes sized from 1,830 to 2,392 sq ft. MOST of the homes are sized the same, at 2,287 sq ft. Honestly, the homes are very similar to those in the Greens. It appears, the major differences have to do with size of the interior and some homes have good sized front yards or "courtyards" while others have very small yards.
We do not include an example description for these because it's so darn similar to the one we provided for the Greens. We have seen some of these homes include a large loft upstairs and an office down. Yep, that's darn handy not to have to trudge upstairs all the time.