East Castaic Neighborhoods, Homes & Real Estate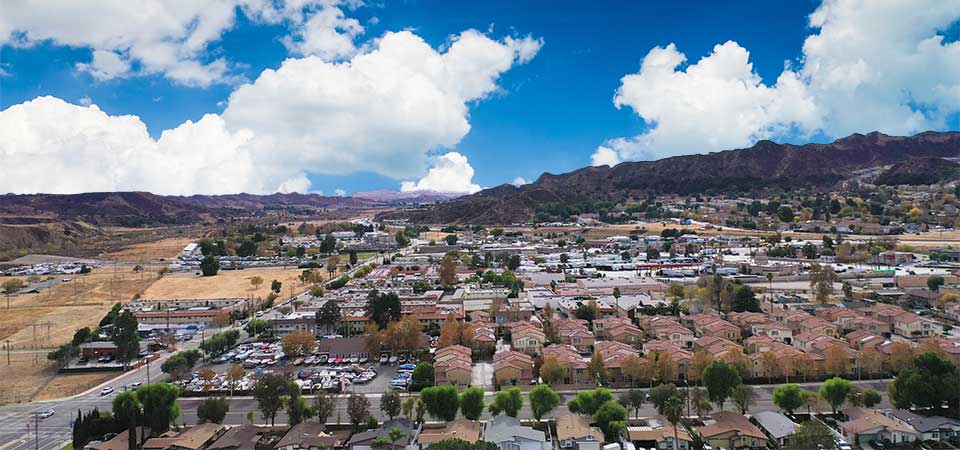 Today we're sharing about the East Castaic community located on the map here in Castaic, CA. Scroll down to view the video, neighborhood descriptions, homes for sale and our insights about the local amenities and conveniences. Also, don't miss more community reports about nearly all the neighborhoods in Castaic.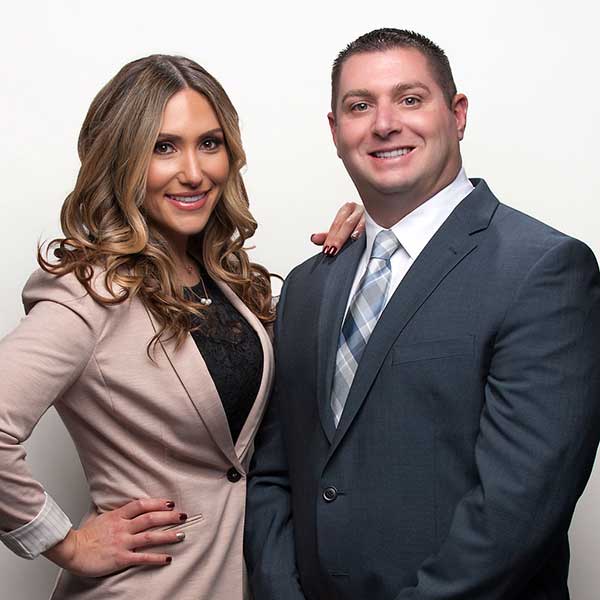 East Castaic Neighborhoods By
Matt & Meray Gregory
[email protected]

Your Castaic REALTORS®
DRE# 01463326
DRE# 01831112
East Castaic Community Video
East Castaic Community Overview
The community consists of 3 separate subdivisions including Stonegate, Camino Del Lago and Villa Castaic Condos. Although you may find a few older homes, nearly all were built from between 1980 to 2007. Each of the 3 neighborhoods have their own separate amenities and HOA's. By the way, did you know that Castaic itself is not a city? It's actually an unincorporated area in the County of Los Angeles, but also considered to be within the Santa Clarita Valley.
Typically, the homes here are more affordable than most, especially the condos in Villa Castaic. There are a variety of home types and sizes. The largest can be found in Camino Del Lago and the smallest are in Villa Castaic. The most notable and largest neighborhood is Stonegate. The homes there are quite nice and residents enjoy the best amenities.
All 3 schools are located within Castaic and the elementary school is next door in the Northlake community.
Get Answers to Your Learn Questions
If you'd like to learn more about East Castaic or any nearby communities in Castaic or Santa Clarita, be sure to contact Matt & Meray Gregory of the Gregory Real Estate Group.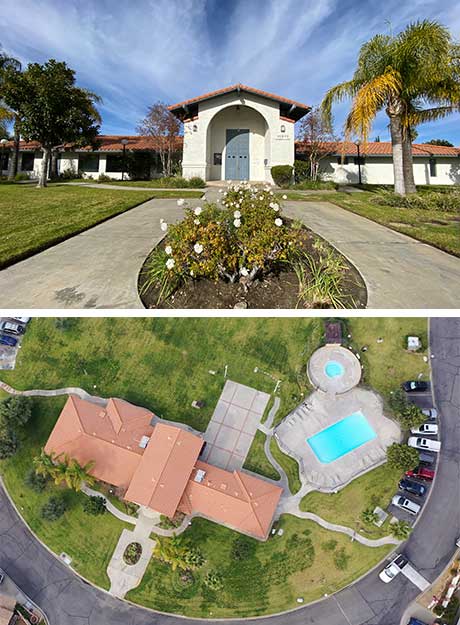 East Castaic Community Amenities
There are no shared HOA amenities in East Castaic, however each neighborhood has their own. The shared amenities in Stonegate are the best of the three and includes a clubhouse, good sized hot tub, expansive greenbelt and a terrific swimming pool. Camino Del Lago has a small pool and a hot tub while the Castaic Villa Condos have a small swimming pool.
Reasonable HOA Dues
Each neighborhood comes with its own HOA and the amounts vary. There is no Mello Roos. As far as HOA costs go, the amounts are reasonable, but if planning to purchase a home in any neighborhood, be sure to verify what's included and read the rules and regulations.
Local Parks and Attractions
The locals enjoy easy access to the upper and lower Castaic Lakes. There are a variety to activities available at the lower lake including a beach, camping, picnic areas and loads of hiking trails. The large upper lake is perfect for boating, fishing and water skiing.
Schools & Local Conveniences
Northlake Hills Elementary School is conveniently located at the top of the community, an easy walk from most neighborhoods. There is also Castaic Middle School and the new Castaic High School, both located in Castaic, not far from Northlake.
Local Convenience Shopping & Dining
In addition to the lakes, located less than 1 mile away is the Castaic Sports Complex. This amazing facility was built in 1994 and includes the Aquatic Center, gym, baseball fields, gymnasium, trails, horseshoe pits & more.
There is local convenience shopping & dining at the nearby Castaic Village Shopping Center. A partial list of locations include McDonald's, 7-Eleven, Starbucks, Panda Express, etc.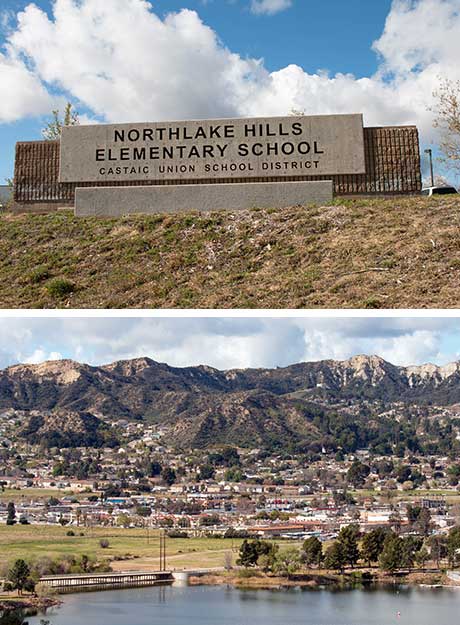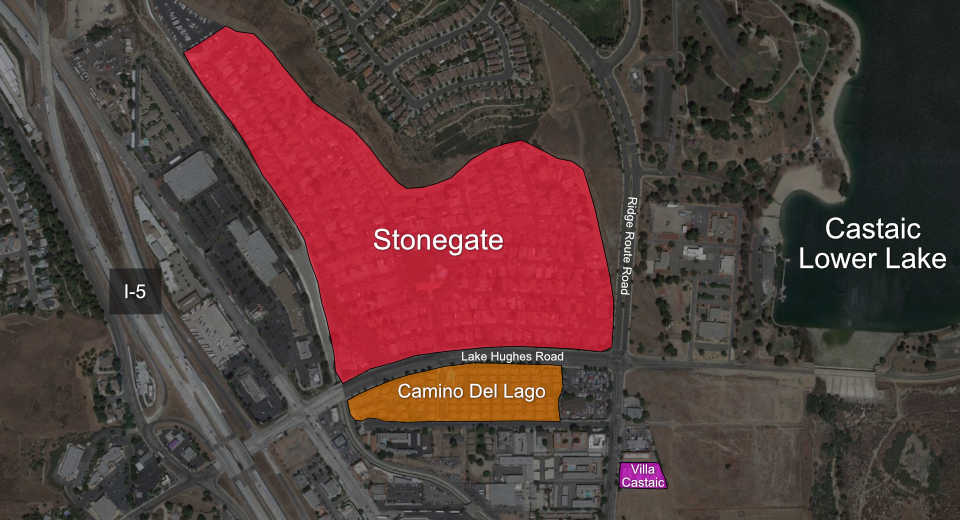 East Castaic Homes For Sale
Don't be confused when viewing the listings! The East Castaic community includes just 3 neighborhoods. Yes, geographically there are more communities in the East Castaic geographic area, but they are not specifically in the designated East Castaic community. This is just how the MLS organizes the various communities.
3 Subdivisions in East Castaic
First, this is the East Castaic COMMUNITY and not necessarily the geographic area that includes all communities in the East Castaic AREA. There are other communities and neighborhoods such a Northlake, located just above this East Castaic community.
See below brief descriptions for each of the 3 separate subdivisions or neighborhoods in the East Castaic community of Castaic, CA.
Stonegate
Stonegate is by far the largest of the 3 neighborhoods in East Castaic. This subdivision was developed over a 3 year period during the mid 1980's. The homes here are all single story detached homes sized from approximately 1,020 to 1,526 sq ft. Most of the homes come with either 2 or 3 bedrooms and 2 bathrooms. It really is a charming community with nice amenities and a low monthly HOA. There's a clubhouse, large pool, hot tub, greenbelt and barbecue areas.
Camino Del Lago
Built from 2006 to 2007, Camino Del Lago is the newest subdivision in East Castaic and is quite nice. Of the 3 East Castaic neighborhoods, the homes are the largest, sized from approximately 1,626 up to 2,338 sq ft. Although you might find a rare 4 bedroom home, most come with 3 bedrooms and 2 or 3 bathrooms. Some homes also have a private courtyard area. Click on the Amenities tab for more information.
Villa Castaic Condos
Built in 1980, this is a very small gated condo neighborhood is situated on the south side of Lake Hughes Road and consists of smaller 1 or 2 bedroom units sized from approximately 681 to 976 sq ft. Typically, the 2 bedroom units come with 2 bathrooms and the 1 bedroom homes come with 1 bathroom. These homes are some of the most affordable in the area and a terrific option for those buyers just starting out.
Amenities include a small swimming pool, perfect for a quick dip during those SoCal summer days.
Questions About Buying or Selling?
Should you have any questions about buying or selling in East Castaic or any other community, please contact us.
Matt & Meray Gregory
Email: [email protected]