Valencia Hills Neighborhood, Homes and Real Estate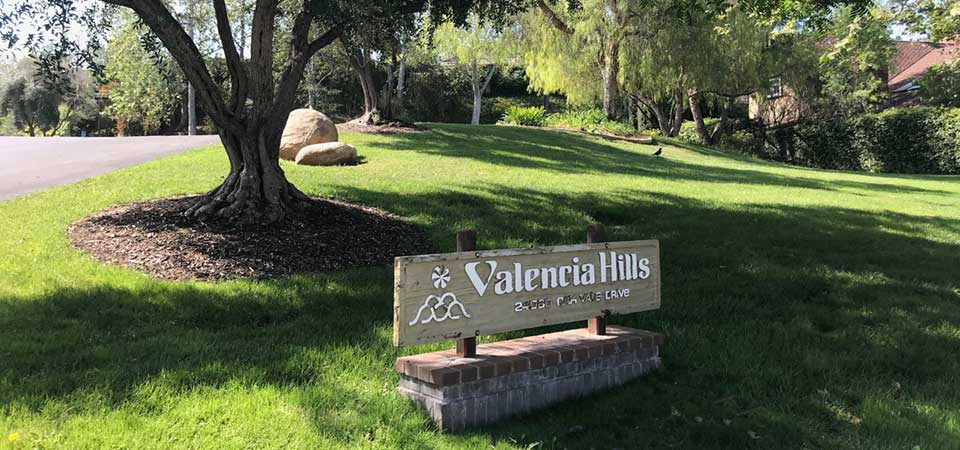 Developed from 1968 to 1972, the Valencia Hills community is located on the map in the Heart of Valencia, just north of Wiley Canyon and east of Tournament Road. Visiting Valencia Hills, the first thought that comes to mind is classic beauty. Take a look below at the video, photo gallery, descriptions and find links to current listings of home for sale.
Valencia Hills Quick Facts
Community Theme
Classic Beauty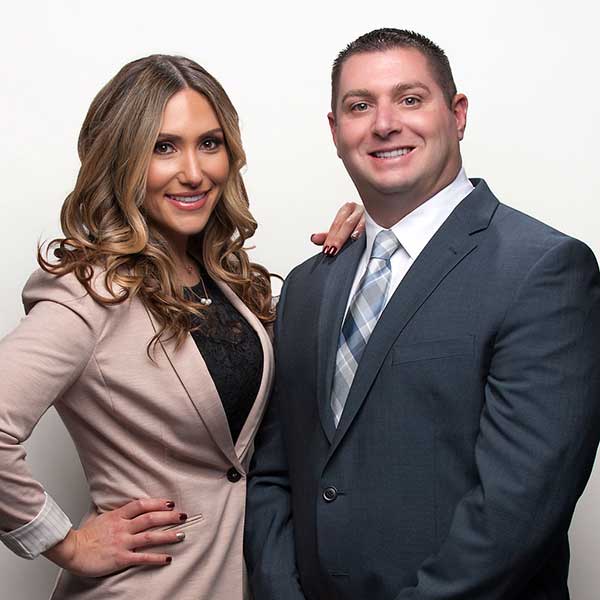 Valencia Hills Report By
Matt & Meray Gregory
[email protected]

As Valencia REALTORS®/Brokers AND life long Santa Clarita residents, we're well suited to represent those looking to buy or sell a home here in Valencia Hills.

Your Valencia REALTORS®
DRE# 01463326
DRE# 01831112
Valencia Hills Video
Valencia Hills Neighborhood Overview
This one of a kind subdivision is filled with classic beauty and lovely homes. Although some might think of it as an older neighborhood, it's obvious the homes and common areas are perfectly maintained. Everything is in tip top shape and no matter how some might feel about homeowner associations, it really is the reason this neighborhood remains so beautiful. Also, unlike most newer communities, the HOA costs here are very low. Interested buyers will find low HOA costs to be typical with other classic neighborhoods in the heart of Valencia. We challenge you to find a home in a new Valencia community with lower HOA costs.
If you don't find that one perfect home you've been hoping for, consider expanding your search and have a look at more popular Valencia communities.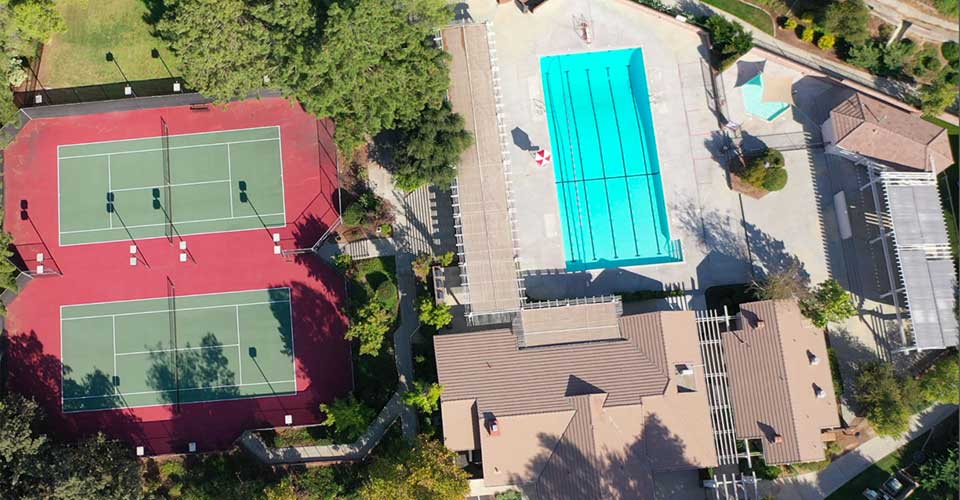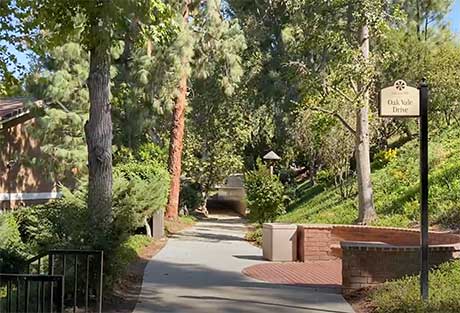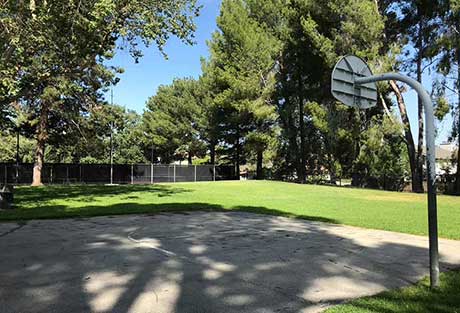 Valencia Hills Amenities
Local Valencia Hills residents enjoy terrific community amenities including a large swimming pool, hot tub, tennis courts, basketball 1/4 court, large playground and more. There's an outstanding clubhouse which is also available to residents within the homeowners association.
Paseos
There's also a lovely paseo system of trails that wind throughout the neighborhoods, connecting to the community clubhouse and recreational facilities. As shown in the photo, there are even benches spread out along the trails. It's such a peaceful and serene walk, even if you are not a resident, it's worth a visit for a morning jog or an evening stroll.
Low HOA and NO Mello Roos
Yep, unlike many newer communities, the monthly HOA dues for Valencia Hills are very low and there is NO Mello Roos. When you visit the neighborhood you'll see why it's one of the most coveted in all of Valencia.
Schools & Local Conveniences
Although there are no schools directly within Valencia Hills, the nearby schools include Hart High School, Old Orchard Elementary and Placerita Junior High.
Meadows Elementary school is also nearby so if you're planning to move into the neighborhood, be sure to verify with the district. The high school and junior high are both part of the William S. Hart School District and the elementary schools are part of the Saugus Union School District.
Links to School Boundary Maps
Boundary Maps for Saugus Union School District
Local Convenience Shopping & Dining
You won't find any convenience shopping or dining directly within the neighborhood, but it's a very short drive to everything residents might need or want. In fact, locals have a wide variety of convenience shopping opportunities available on Lyons Ave , just down the street off of Wiley Canyon. Also, the Valencia mall is also nearby so it doesn't get much better than that.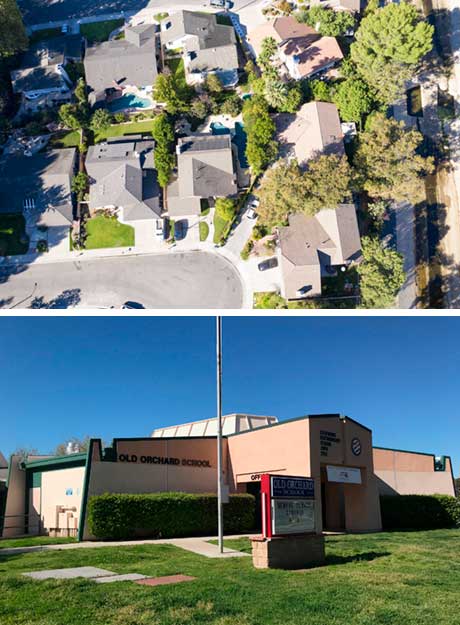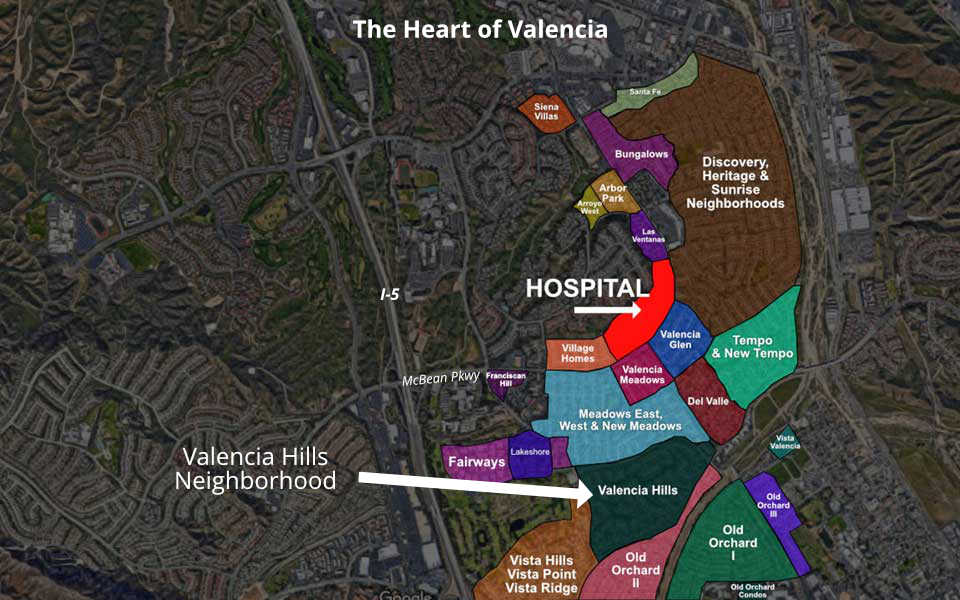 Homes For Sale in Valencia Hills & The Heart of Valencia
Click the blue button to see ACTIVE listings in Valencia Hills and ALL homes on the market in the "The Heart of Valencia" (Valencia 1 MLS Area) as displayed on the map above. Not seeing that one perfect home? Consider expanding your search and have a look at more popular Valencia communities.
Valencia Hills Photo Gallery
This neighborhood is a true Valencia classic! We love walking different neighborhoods for our early morning hikes and this is one of our favorites. There are plenty of gorgeous trails, meticulously maintained and the homes are as lovely today than when they were brand new.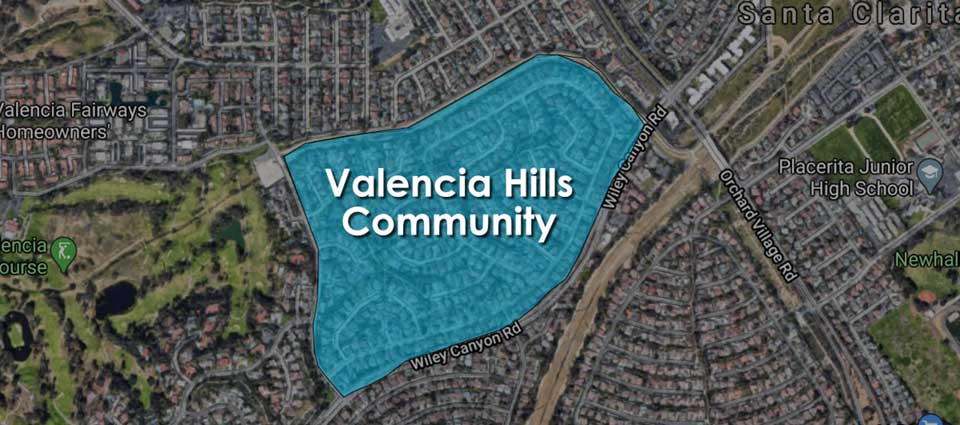 Valencia Hills Subdivision
The homes in Valencia Hills are all single family homes, similar in design to those commonly built throughout the 1970's. Unlike newer communities of today, here in Valencia Hills there are a nice mix of single story houses and two story homes.
Typically the homes are sized from approximately 1,769 sq ft to 2,735 sq ft. The smaller homes generally have 3 bedrooms and 2 bathrooms while the 4 and 5 bedroom homes typically have 3 bathrooms. There are no condos or townhomes.
Also, as previously mentioned, the HOA cost is very modest and there is no Mello Roos. How cool is that?
Want to Sell Your Valencia Hills Home?
Valencia Hills is a classic neighborhood and we're happy to provide representation to buyers and sellers. Please contact us with your questions or to schedule an appointment. There's NEVER any sales pressure whatsoever.
Contact Matt & Meray
[email protected]