Find Houses For Sale by Zip Code
View Homes in Your Preferred Zip Code Area
When using a phone for viewing real estate listings it's often easier to just tap on links as opposed to filling a form. That's why we created our zip code home search page. It's a simple way to search and find houses for sale by zip code. Each zip code includes links to all the current listings of real estate in the selected local zip code area. All zip codes are for areas within or nearby the Santa Clarita Valley vicinity. For your convenience, we also include a handy Santa Clarita zip code map for your reference.
View Map with Zip Codes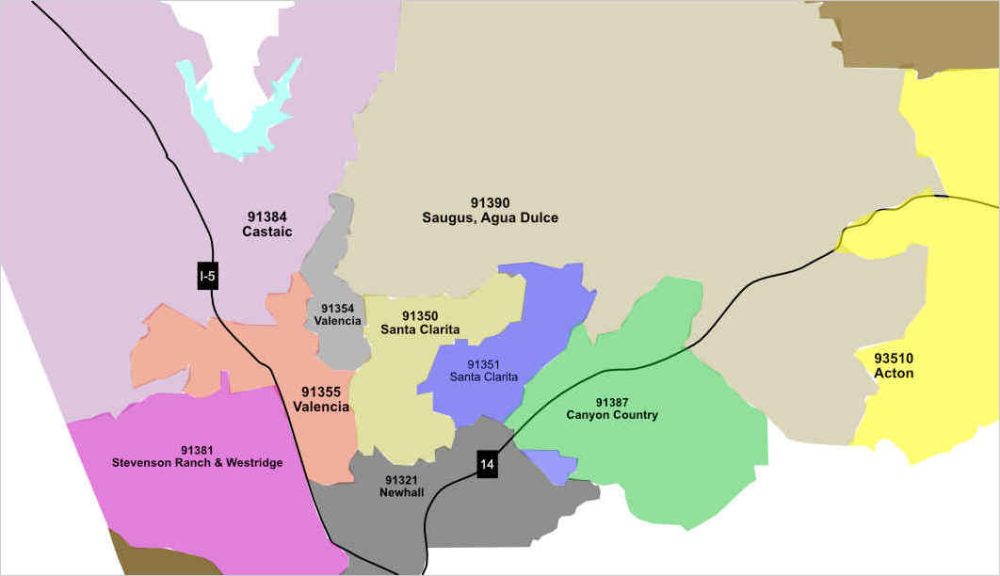 Quick Home Search Using Filtered Zip Codes
The map is for reference only and displays the approximate locations of the zip codes within or nearby Santa Clarita. Each city or area may have more than one zip code. For instance, Castaic CA only has the one 91384 zip. On the flip side, Valencia has 91354 and 91355.
Popular Santa Clarita Vicinity Zip Code Areas for Home Searchers
When searching homes for sale in specific zip code areas it can make the job a finding a home a bit easier. Once you nail down your preferred zip code area, you'll want to start focusing in on specific areas and neighborhoods. After all, when buying a home it always boils down to location, location, location!
As active local realtors we have helped many buyers find housing for sale by zip code in the areas mentioned above and even further out. We can tell you, the most popular zip code areas are 91354 and 91355 in Valencia, 91381 zip for Stevenson Ranch and the Castaic, 91384 zip code. The 91390 zip code area for Saugus continues to grow in popularity, mostly due to the availability of homes in many of the newer developments.
Search the MLS to See Real Estate for Sale in All of Santa Clarita
Another very popular area is the Copper Hill North community, located in the Saugus area zip code of 91390. The Plum Canyon community is also located in Saugus, but the zip code for that neighborhood is 91350.
LOCATION TIP! Yes, there are affordable condos to be found in Valencia! We love the Santa Fe community for it's location and prices! In Valencia, the best condo deals are usually found in the Heart of Valencia. Click here for more.
If you're looking for some good home values be sure to have a look the Hasley Hills community in Castaic. Here you will find houses for sale using the zip code, 91384.
Generally, all of the Newhall community is referenced by the 91321 zip code. This where buyers can find some very unique homes, some quite large and a few with guest houses. Certainly not the cookie cutters commonly found in recent developments.
If you want to find housing by zip code in Canyon Country, have a look at 91387 and 91351. The popular, new Aliento neighborhoods are in the 91387 zip code. Also, the hidden gem in the same area might just be Fair Oaks Ranch. This is also where first time home buyers can find affordable condos or townhomes.
Our team here is always ready to help with all your real estate needs. Should you need any help please contact us, Matt & Meray at 661-713-4799.