High Quality Home Pics Attract More Buyers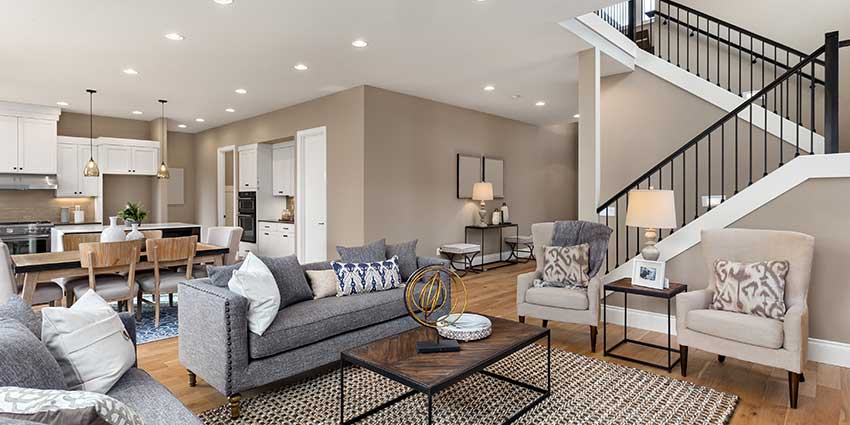 As realtors, it's our responsibility to provide our home sellers with high quality home pics! To sell homes at the highest possible price our home sellers deserve our best marketing effort, and good real estate marketing should always include high quality home pics! Of course, there is much more involved with marketing and selling homes, but how will you get the best price if buyers aren't visiting your home? This is exactly why it's important to display great photos!
It's not necessary to hire a professional photographer, but the photos used for marketing our homes should be something better than a few quick shots with a cell phone! To receive the highest and best offer, we need eye catching photos to display the homes in the best light possible.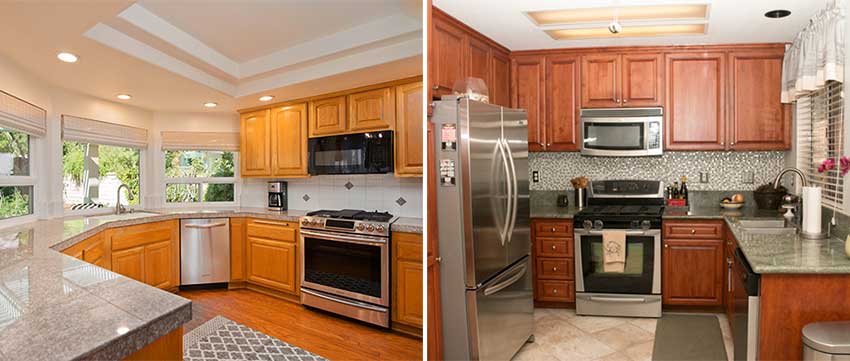 Compare the top row photo lighting and camera angles as opposed to those on bottom.
As an example of what some agents are using for marketing photos, have a look at 91355 homes priced from 600k to 700k or perhaps 700k to 800k price range. Don't be surprised to find poorly framed snap shot type photos as opposed to photos taken by a professional photographer. On the other hand, when viewing pics in the higher price ranges you'll likely see the higher quality photos. The truth is, there is no reason the lower priced homes shouldn't have great photos too! In fact, we provide professional photography and video tours for ALL our listings, regardless of price.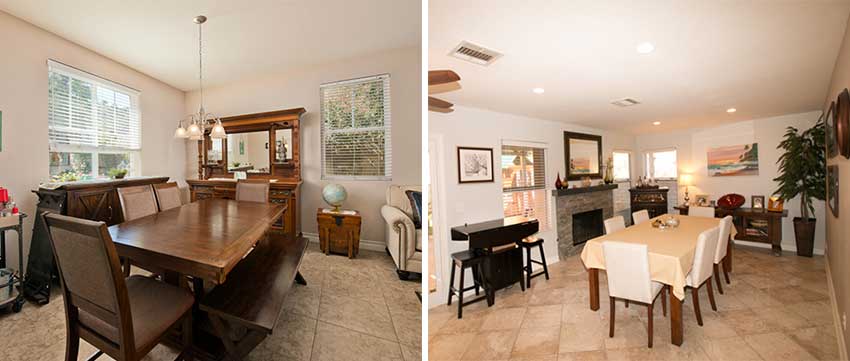 Photo Comparisons
We did some research and found an outstanding website displaying comparisons of real estate home photos. You can easily see the difference between poor photos and high quality home pics. It's worth a look.
Recently we enjoyed a short stay in the historic, Ventura Beach Bungalow 32. We noticed their website displayed some terrific photos and even past guests have complimented on the quality of their marketing photos. So, great photos do in fact, make a difference.
Typically, the more homebuyers interested in a home, the more offers the sellers will receive. Multiple offers often result in competition and higher offers! One thing for sure, it's not going to happen without upping our marketing game, with high quality home pics.
Recently, while searching listings for upscale homes, we were embarrassed to view some home photos of such poor quality. Honestly, it's hard to comprehend how a homeowner can accept such poor pics. The listing we looked at was priced higher than average, but the photos were dark, narrow and uninviting. Come on now agents! As realtors and real estate marketing experts, we owe it to our sellers to present their homes in the best possible light. Literally!
The gallery above includes a few of the professional photos used for our past listing. We think they look terrific, so did the sellers AND the new buyers!
Why Bother with High Quality Home Pics if Home is in Poor Condition?
Some might argue, why do we need good photos if the home being sold isn't in the best of condition. Well, this might have a grain of truth to it, but consider this. Why do major, nationwide retailers such bother marketing products such as toilet paper? It all pretty much looks the same, but who hasn't heard of Charmin or seen their advertising? They've managed to entice millions of people to buy their higher priced product, due in part, to the marketing photos they advertised. Somehow, they managed to make their toilet paper brand look like something you want to add to your grocery list!
We still believe pics of high quality are the way to go, regardless of the home's condition. Camera angles, framing and lighting can still be used to make the home look worth viewing.
As an example of great property photos, have a look at one of our past listings for a home on Oak Vale Drive in Valencia. You'll quickly see how the attractive photos make the home appealing and inviting.
Hire a Pro or Learn Photography Basics at Youtube
We're not professional photographers and we usually hire a pro to provide our sellers with high quality home pics. If on the rare occasion we go the DIY route, we just follow simple best photo practices. You can do the same by going to Youtube and looking up home photo basics. You'll quickly learn, taking a good photo is more about lighting, framing and focus. With the right framing, angles and good lighting, anyone can take decent home photos, even with an iPhone.
We don't pretend to be photographers, but when it comes to marketing and selling homes, we're darn good at it! We know exactly how to provide our home selling clients with best opportunity to receive the highest and best offers. We also know how high quality home pics make a positive impact and help bring buyers to your door.
It doesn't matter if you're selling your home by owner or you have a realtor, if you want the best possible price you need good photos. You don't necessarily need a professional photographer, but high quality home pics are worth their weight in, well… gold.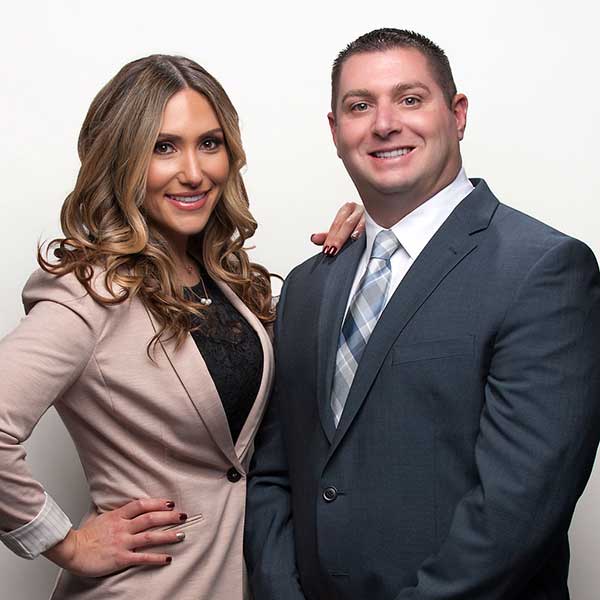 Local Realtors Matt & Meray Gregory
[email protected]

We provide video tours with drone footage and professional photography for every listing. Should you have questions or need help to buy or sell your home, please contact us.

Your Local REALTORS®
DRE# 01463326
DRE# 01831112